Here is what's fixed and what's broken in Windows 10 PC preview build 14267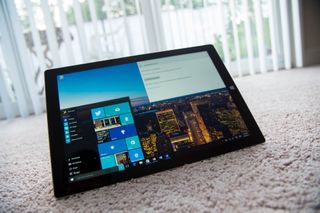 Microsoft has provided a list of what's been fixed and what is broken with the just released Windows 10 PC preview build 14267 for members of the Fast Ring of its Windows Insider program.
Here's a list of what is fixed in this preview build:
Choosing "Reset This PC" under Settings > Update & Security > Recovery should now work as expected.
You should no longer see a WSClient.dll error dialog after logging in.
The front-facing camera should be usable again on PCs with Intel RealSense cameras and you should be able to use Windows Hello again.
We fixed an issue where incorrect storage capacity was provided for the system volume (the hard drive in which Windows is installed on) under Settings > System > Storage.
As far as known issues with build 14257, there is just one bug:
If you're using Hyper-V and upgrade to this build with more than one vswitch or have multiple virtual networking adapters (including legacy), you may lose networking connectivity after upgrade. To get network connectivity back, there are two workarounds available:
Remove all the virtual network adapters connected to the vswitch, delete the vswitch and recreate it, then reconnect their virtual NIC to the new vswitch.
Admin command prompt, do "netcfg -d" will wipe-out all the vswitch settings so that you can start from scratch.
Source: Microsoft
Whattttt, no performance upgrade in EDGE. wow, it really sucks after the last update for some reason

Not for me, graphics drivers might be key problem here?

Looks good to me. Updating. Hopefully it brings hey Cortana back on my sp3 (Canada)

Just started downloading it now

I agree!!! How dare he sit there and program Windows by himself. They really should hire some developers to do this instead of him... Oh wait they do!!! Nadella would not have anything to do with this update, and most likely finds out the same time we do, or shortly before or not even at all. After all the guy is running a 80 Billion dollar business.

But what he did do was make some serious management misdecisions for Windows Phone. It was all going in the right direction and suddenly Microsoft retrenched for over a year and now they're virtually done in that space.

Some of the ongoing issues I have with new builds:
1. Resets the touch keyboard I've selected on SP2. I use it mostly as a tablet without the kb cover. Whenever a new build is instlaled, it resets back to default KB 2. I have rotation lock in landscape, new builds reset to auto. Those are not show stoppers, just minor annoyances. I still have an issue where if the PC is on for more than 2 hours, wifi stops working. A reboot or disabling the nic and enabling it resolves it..this one is and odd issue.

The hyperv thing is the only bug compared to 10586?

Post update that included the Intel graphics driver and the reinstall 2/4/2016 Surface Hardware Update: Surface 3 won't play youtube videos with either browser. Stutters immediatly and then "error" message from youtube. Surface 3 won't play Netflix with Netflix app - Error code from Netflix U7361-1253 800705AA. Surface 3 won't play Amazon Video - Error 7135

Continues from my post above because "Edit" option not visible Edit: iHeart radio does not work.
Edit 2: Groove Music doesn't work.
Edit 3: Tubecast app doesn't work.
Edit 4: Movies and TV app doesn't work...perpetual spinning balls.
Windows Media Player WORKS!

Sounds like just your pc, I don't have any of your issues, have you reset your pc at any time? Or are you trolling?

What's the method to download the latest build? The update in settings for me just wont work... Using wifi, LAN, or Modem won't make the progress bar go beyond 0%... Its annoying.

Still just as retarded, just enrolled? Your up to date, want to unroll? There's a random build always waiting

Just started download it now

Windows 10's build11082 bug ...copy, move, delete dialogue is not showing ...can u help me .. Is this bug is fixed ??? Thank u.

it was fixed a long time ago in 11099 build
Windows Central Newsletter
Get the best of Windows Central in in your inbox, every day!
Thank you for signing up to Windows Central. You will receive a verification email shortly.
There was a problem. Please refresh the page and try again.