Here's the what and where (so far) on the Lumia Denim update in Latin America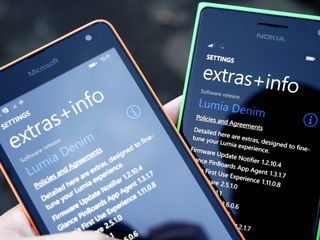 The Lumia Denim update is most certainly underway worldwide. With reports from all corners of the globe coming in thick and fast, it's tough to keep up. Fortunately help is at hand, and as we've collated for Asia and Europe, below you'll find a comprehensive list of the what (device) and the where the Lumia Denim update is pushing out for Latin America.
As always, this will be an evolving list as time progresses. But, here's what we've got right now:
Brazil
Lumia 520 - Country variant
Lumia 520 - Claro
Lumia 530 Dual SIM - TIM
Lumia 620 - Country variant
Lumia 620 - Claro
Lumia 625 - Country variant
Lumia 720 - Country variant
Lumia 720 - Claro
Mexico
Puerto Rico
Lumia 620 - Country variant
Venezuela
Source: Microsoft (opens in new tab)
Windows Central Newsletter
Get the best of Windows Central in in your inbox, every day!
Managing Editor - Tech, Reviews
Richard Devine is a Managing Editor at Windows Central with over a decade of experience. A former Project Manager and long-term tech addict, he joined Mobile Nations in 2011 and has been found on Android Central and iMore as well as Windows Central. Currently, you'll find him steering the site's coverage of all manner of PC hardware and reviews. Find him on Mastodon at mstdn.social/@richdevine
hopefully 1520.3 soon! =D

Can't wait to get the speedier camera! I hope it comes before Christmas so I can take some awesome shots!

But I don't get it, I have an unlocked 520 and now the carriers are getting Denim firmware before. When cyan was being released, I had to flash my phone with an unlocked firmware because carriers wasn't rolling out cyan. Unlocked phones are not receiving updates first?

my RM 937 1520 got Denim last week, according to the notifier message. Haven't seen anything different though. And it's been saying Denim on the extras screen for weeks.

Waiting Denim for 930 in Brazil

Me too. Even though I own a 925 right now, I'm bound to buy a 930 soon!!

Come on MSFT ? Why the hell didn't you rolled it out to the custumers os your supposed flagship device ? The people who buys a hight end phone expect to be beetween the first to get the latest updates. Completely disapointed with the platform.

I honestly don't get why the USA is last! Kinda irritates me having the 1520

Have it on my 920att phone on tmobile

I don't like being last with my 1520 also,but I guess this time around,their showing the rest of the world the Love First.....i hope they keep going north...and by the 24th at the latest,we here in America get Denim

Yep AT&T USA here waiting as well. :)

I'm fine with it. I know it's coming to my At&t 1520. Don't care who gets it first as long as I get it.

There's a lot more to Denim on the 1520 (and the 930) than on most other devices, thanks to Hey Cortana. Perhaps that's part of it. Denim is a pretty minute update on the 520, for example.

That is what I want to use the most. I like to talk to Cortana.

Cause USA have really low market share maybe?

I'll ask the generic questions: When to India? What about Icon on Verizon? What's the meaning of life? How do SpongeBob and Patrick make those noises in the box?

At least I know one of the answers. 42.

The Lumia 520 on Vivo in Brazil also got updated last night.

Are you saying this because you got a "welcome to lumia denim' notification?? THAT is not Lumia Denim...

Uhh, yes it is. I compared the firmware details with Cyan and it is Denim...

Even in the pic, Lumia 730-35 is certainly looking brighter than Lumia 535

ClearBlack display helps a lot.

Lumia 620 in Indonesia...
When..!!??

Guess I missed when Indonesia moved to Latin America? ;-)

Me too. That was a huge continental shift we missed.

Indonesia is part of Latin America? wow the move must been hell

I also like the Puerto Rico country variant... They are a territory of the U.S.

My device is preview for developer activated and it shows cyan. But when I disable preview for developer option it shows Denim. There was no update ever since denim was released.

Shit. I just checked. Its true. L520.

What is so amazing about this Denim update anyway? If its been like any other update, it probably brings one or two borderline useful features. Still have Black update on my Verizon Nokia 822 here in the states..

It's a firmware update also, so it helps your phone runs smoother. :)

Well get to updating, they just released Windows Phone 8.1 Update 1 and Denim for the 822 on Verizon.

No Lumia 630 T_T. P.S. I live in Thailand, but the review lots of Lumia 630 (from Microsoft Devices Thailand) is from Latin America.

I'm not even sure if I have the update because my 925 is showing Lumia denim but I don't remember updating my phone..... And I am in Canada right now

Firmware update by Microsoft has always been messed up.

Why Microsoft is not releasing updates together for all phones?

I think that is about their servers or things like that.

The page about Windows Phone updates from Microsoft forgot the Lumia 930 in Brazil... It's not listed there. So, my phone is from where? Paraguay? lol

I bought a carrier free 930 in Portugal and it came with a UK country variant firmware, yours might be in the same situation

Yesterday I got a "Welcome to Lumia Denim" from "extras + info". It says Lumia Denim inside "extras + info" but got 8.10.14219.341 México - es-MX - Telcel - Lumia 920

Yeah MS still hasn't fixed that glitch in the "extras + info" app even though they just released an update for it.

They are faster now releasing Denin than they were with Cyan.

Still waiting. Lumia 920 in Argentina

Unless you've got a country variant rom, you'll keep waiting

Yes. I installed some time ago the country variant. Claro Argentina is horrible!

Support for WP in Argentina, regardless of the carrier, is horrible. You should consider flashing a ROM from another country and carrier or just some country variant.

Denim for 920 CV in Brazil

My Cyan 1520.3 is downloading an update. I hope it is Denim.

Wellp false alarm, sorry. Still cyan pfd. I have been hitting "check for updates" since last night and finally got something today so I got exited.

I will just keep waiting for any updates on my 925.2

Nothing in 630 Paraguay/Uruguay CV

Waiting for it in Costa Rica...

A mi ya me llego Lumia Denim a mi Lumia 520 soy de Ecuador per tengo arOM de Costa RIca CV

Waiting for my Lumia 525 in Turkey.

Lumua 720 CV from Bangladesh is also getting Denim officially. Include it!

I've got mine last night.. I'm on denim

So I already have Denim on my 635. AT&T.

I woke up, in action centre extra +info says welcome to Lumia denim. CV920 Australia. Installed Automatically in the night PFD user.

I was hoping the 1520.3 would be on this list.

Nothing here.... L520 cv Brazil

My gf got a notice about denim on her unlocked 520 here in Greece x.x and my 920 is on waiting list as always...

No puedo creer que Iusacell haya lanzado antes que nadie la actualización!! Siempre es telcel o movistar. Bueno espero que no tarden mucho para mi pequeño 620 :3

Reporting update in Colombia with Claro Lumia 520

Do you know if it's also available for the Lumia 530? My girlfriend is in Bogotá and has a Lumia 530 on Claro.

Lumia 520 not updated now you India country is what time now you update is

There should be camera improvements for L1020 in deinm, white balance,low light,indoor.Its awfull to see yellowish picture while caturing photo indoor!

I'm from Chile and I'm pretty sure Denim rolled out for Nokia Lumia 520 on Movistar here. A friend of mine, who has a Lumia 520 on Movistar and has no idea about firmware updates, asked me to help her update her phone in order to be able to use folders. I was talking to her on WhatsApp telling her how to do it when she said "there's something about a Denim update and it prompts me to download it, what's that?". I have a Nokia Lumia 1520 on Movistar and I haven't gotten the Denim update yet, but I'm hopeful I will get it soon since Movistar has a great support for Windows Phone 8.1 unlike the other carriers.

My mom have a 520 and always gets from the first the upgrades from entel but I, wonder why should we wait if is a software upgrade why the operators must approve the operative system upgrade , to Apple even release flawed operative systems and the operators are muted to that, being that get messed the phone by being unable of get connectivity is the worst that can occur, so don't understand why to apple they let the updates be not controlled by operators but the Microsoft ones must pass the operators controls

By the way movistar have an agreement with Nokia or now Microsoft mobile of exclusivity that mean must get the Nokia devices and promote also they get full support from Microsoft in terms of updates

Not all carriers in south America are good known by release updates ,Claro carriers are the worst in release updates, my phone the 820 always gets of the last time the updates because that carrier is so far the worst in terms of release upgrades, at least in Chile Movistar and entel gives the updates first but haven't shown the upgrades of denim to any terminal yet

Yep, keeping an eye on those Latin american country variants.

So when will Jamaican can get the demin update?..

Installed Denim yesterday on my 930 DK-IS Version (in Germany). Lumia Camera 5 is extremely fast. 4k and Dynamic Flash are also great. Missing now only "Hey Cortana" in German.

RM-846
059S1C1 <- this information is more valuable, saying "country and model" is vague
Lumia 620
Country variant
No Denim yet... is Cyan
8.10.14219.341
3058.50000.1425.0002

You add Puerto Rico in this list and not Dominican Republic???

Updated my Lumia 520 to denim and the battery life is much better, Kenya
Windows Central Newsletter
Thank you for signing up to Windows Central. You will receive a verification email shortly.
There was a problem. Please refresh the page and try again.