Here's what experts think about Microsoft's Surface Duo 2
The Surface Duo 2 impressed reviewers but still has its flaws.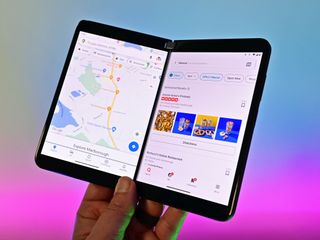 (Image credit: Daniel Rubino / Windows Central)
What you need to know
Microsoft launched the Surface Duo 2 today.
Reviews for the device include many compliments, with many noting a marked improvement over the original.
Software bugs hurt the Duo 2 in the eyes of many reviewers.
The Surface Duo 2 is available today starting at $1,500.
Microsoft's Surface Duo 2 officially launched today. Reviews for the foldable started rolling in today, including quite a bit of praise for the unique device. Many outlets highlight improvements in the Duo 2 compared to its predecessor, including a better processor, improved camera setup, and refined design. While most reviews gave the Duo 2 praise, the device has its flaws. Here's a collection of what industry experts think about the Surface Duo 2.
Our executive editor Daniel Rubino said in his Surface Duo 2 review:
He concluded:
The folks over at XDA had plenty of compliments to give the Duo 2, especially surrounding its design:
Brad Sams complimented the Surface Duo 2 for embodying the Surface brand in his review for Petri:
Marques Brownlee is more critical of the Surface Duo 2. He asked if the device can be "saved," claiming that the form factor of the Duo 2 might be flawed at its core. The description of his review reads, "Microsoft Surface Duo 2 is both better... and worse? Does this dual screen passport fold have a future?" His review echoed those sentiments several times.
PCMag's review of the Surface Duo 2 highlighted that the device is unique;
Android Police made a similar claim. It explained that the Surface Duo 2 can do things no other device can, but that the Duo 2 has some noteworthy problems:
CNet's review called the Surface Duo 2 a "step in the right direction," but that the device is "another step, not the destination."
The Verge's review of the Duo 2 also criticized the form factor of the device:
Engadget's review claimed that the Duo 2 missed the mark:
Overall, it seems like reviewers believe Microsoft did a good job improving upon the original Surface Duo. The internal specs are better, the camera is improved, and the design is a natural evolution of the form factor. Whether that form factor is worth the pricetag the Duo 2 holds differs greatly from expert to expert. Bugs and software issues also pop up in many reviews.
News Writer and apps editor
Sean Endicott brings nearly a decade of experience covering Microsoft and Windows news to Windows Central. He joined our team in 2017 as an app reviewer and now heads up our day-to-day news coverage. If you have a news tip or an app to review, hit him up at sean.endicott@futurenet.com (opens in new tab).
The Verge sucks, and that quote is a perfect embodiment of why. They added NFC, so why would you need to carry another device for mobile payments, unless you're an Apple Pay user (which is an ecosystem issue, not a Microsoft one)? What's a sad reality is that most mainstream reviewers are going to give the SD2 unfairly bad reviews because, at the end of the day, they're not the target audience. People like Marques are closer to a lifestyle vlogger than a technically intensive power user, I would suspect. He probably cares more that the SD2's cameras are passable, but unimpressive, since he's more of a social media streamer than anything. IMO, someone like LTT is likely to get a more fair review, since he does a better job of assessing a product in its intended use case. He'll note the bugs and the so-so camera, but he'll probably try to make the dual-screen use case work for him and try that out to its fullest.

Just like MacBooks. They are all video editors. MacBook is best for video editing. So they say the MacBook is the best laptop.
But... If they were gamers (like me) they'd think that the Rezer Blade Pro 17 was the best. Hey, I just did a duo thing! While writing this comment, I opened the Razer website on the other screen so I could refer to it. Yes, LTT will give a better review because his tech life isn't one dimensional. He's not just a blogger / video editor, but also a gamer.

You took the words right out of my mouth. My Razer Blade Stealth and Core X plus Surface Duo suit my use case... A Mac Book and iPhone are not compatible with my life style... Just couldn't go back to a slab phone and laptop without a touch screen...

"The Verge sucks" Amen to that. Actually I find that most tech reviews are completely unhelpful. They're done by enthusiasts who don't care at all about things like target audiences or use cases or the competition. They're not there to help readers make a decision, they're there to talk about things they find fun.

Definitely many of those reviews are nowadays mainly about discussing their personal opinions for their type of usage. Also many of these reviewers are now mainly Apple only users, so not sure if they are as interested in these products. Fortunately there are still some individual user reviews on youtube that go bit deeper in specific use cases which is for this type of device important. Lots of stuff missing otherwise.

For laptops, both Daniel Rubino here and Lisa Gade at MobileTechReviews come to mind. Both are just extremely professional and helpful to buyers. There are others of course. It's just a bit crappy that they're a tiny minority.

Agree with your comments regarding Brownlee, Mr Mobile gives a much more comprehensive appraisal in my opinion...

Not to defend someone I don't know, by MKBHD specifically said in his video that it wasn't a review, since he hasn't spent much time with it... but rather a first look/impressions opinion piece. If you're going to criticize someone, at least be accurate...

I'm strangely reminded of the movie "Ratatouille", and how the movie seemed to question about whether or not critics actually contribute to anything. The "big bad" critic was made to look like a vampire. That is, he was symbolically a parasite enjoying a living made off other people's labors. For what it's worth, I've loved everything I heard about the Duo 2, and my only reason for not jumping out of my 1 is that I tend to make phones last a few years. Two screens are very useful to me. I can make a post on one screen while referring to an article on the other and being able to eyeball it directly. I can watch a movie and surf the web at the same time. I can have a book on one side and a notebook on the other. I can spread out a comic book on Viz, Manga Plus, or Kindle. Heck, I remember one reviewer of the original duo making a point that it was handy for bible study. All the stuff added to the Duo 2 just feels like extra goodies and bonuses. Can't wait to see what comes out in following years...when I'm finding myself in the market for another one. :)

I felt mkbhd didn't really put in the effort. While am a fan, felt like he rushed it. Am sure he got other devices to go through.

I get that different people will have different opinions and one device is clearly not for everyone, depending on your priorities, preferences, and use case, but for the Verge to talk about the "inherent awkwardness of the form factor" is just alien to me. The form factor even of the Duo 1 is among its greatest strengths. Even if you don't care about multitasking, it's a great single screen phone for the wider form factor (wide enough to actually fit text, unlike many 18:9 candy bar phones that have become absurdly, uselessly narrow for reading or writing text) and the unused second panel folds around your hand for a better grip. Plenty of legit negatives with the Duo, but form factor is not among them. Not saying everyone needs that, but you have to be pretty narrow or small-minded to conclude that there's an "inherent awkwardness of the form factor." That implies it's a problem for everyone, which is provably not the case.

'you have to be pretty narrow or small-minded to conclude that there's an "inherent awkwardness of the form factor."' That's The Verge for you, and many other reviewers too. Not helpful. Don't care about target audiences, use cases, the competition, or their readers for that matter. They just assume you're there because you think gadgets are cool and you want some fanboy fodder and that's as deep as it goes. Imagine actual consumers who buy devices based upon needs!

The thing I found with most of the reviews were that they didn't use the duo 2 properly I'm not going to watch YouTube across both screens but on one and do something on the other. I liked ijustine's review she understood the phone and her enthusiasm was like a kid with a new toy. Just waiting on Mr Mobile's review. His is comprehensive and he understands the concept of a foldable. I'm upgrading from a OnePlus 6T so the Duo 2 is a big upgrade for me but I will be using it as a productivity tool so I don't need to carry my surface book 2 all the time.

This. Heck, if anything, if I'm watching something on one screen I almost feel obligated to do something on the other. :)

MrMobile's review of SD1 was harsh, but it was fair. Actually, it came from a person who clearly really wanted to love the device and really was the target audience (power user on the go). So I'm very much looking forward to his review as I think it'll be particularly helpful.

Windows Central's review by Daniel was the most in depth, experienced and informative, therefore its the best. End of story

Haha true but MrMobile may have something to say about that!

It really boils my piss. The Duo is a "specialist" device. It's not for everyone. To criticise a dual screen device for being expensive and specialised just shows how terrible most reviewers are. Is the Duo being marketed as an affordable everyman device? No. Will the S22 be criticised for only having one screen by the same reviewers?
Windows Central Newsletter
Get the best of Windows Central in in your inbox, every day!
Thank you for signing up to Windows Central. You will receive a verification email shortly.
There was a problem. Please refresh the page and try again.