Here's what Microsoft says about Windows 10's version of Solitaire and its ad-supported model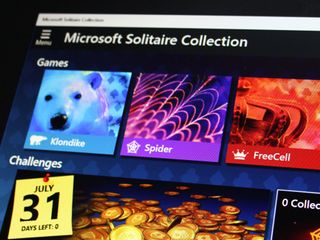 Microsoft has taken some heat in both the tech and mainstream media over the version of the Microsoft Solitaire Collection game that's bundled with Windows 10. We reached out to Microsoft to get a feel on its view after seeing the reactions.
Microsoft has already released a version of the classic card game for Windows 8 and 8.1 that generates in-game ads that can be turned off for a monthly fee of $1.99 or a yearly subscription for $9.99. A version of the game is also available for Windows Phone as well. That same business model has been used for the Windows 10 version of the game, but many users and reviewers think the use is different because it comes with the operating system, rather than as a optional downloadable game from the Windows Store.
Windows Central got in touch with Microsoft and asked if, in light of these complaints, the company might consider modifying its business model for Microsoft Solitaire Collection in Windows 10. Here is their response, via a company spokesperson:
That response would seem to close the book on the company making any changes to Microsoft Solitaire Collection in Windows 10, at least as far as its use of in-game ads.
This is so foolish. The money isn't worth this bad press

I agree. Solitaire on Windows is one of those pop culture icons that tend to get people riled up.

Agreed. It's a real shame they've gone the all is good for ads route. Yes, it was like this in win 8.1: That doesn't make it any less ridiculous our any more justified. This is a cynical money grab by a company that doesn't need it. But then look at w10 - if you out into it it's a massive privacy breach designed to do one thing: Hoover up your life so it can be sold for advertising. That's nuts. Yes, one can opt out. Provided one goes through hoops. All for convenience. Just because google and IOS do out doesn't make it right. But then that's a lot of ad dollars. Anyway, sad. Check out rock paper shotgun for a good read on privacy. And shame on msft. Solitaire goes with all the other Bing junk apps: The uninstall hole.

That is what you get when Windows is "free"; the money still has to come from somewhere so now instead of paying $300 up front and having clean Windows you can trust, you get it for "free" and are obliterated with ads and other data mining practices like encoraging you to use you MS account for log in, using advertisement ID's, cortana sucking up all you data for "product improvement purposes", etc... sure you can disable or opt out from most of this but a normal user will just leave it on default, and crap like ads in aps that were free with previous Windows versions you have to pay extra for to get a clean experience.

Yup. Cortana is now Google. So, off she goes!

Precisely why I pay wherever I can. I'm not getting a free update to w10, I'm getting Enterprise, going live tomorrow (though I won't be upgrading for a while yet, want to wait and see), but yes: They're should be an option to pay and so not be commoditised. But they're isn't an option.

Good point. What is the update for enterprise windows 10?

Most of Microsoft's revenue comes from their involvement in enterprises, not from regular consumers. Read up before you post.

Maybe, just maybe Microsoft is looking to expand on where their money comes from.

Which is why they're doing "free Windows with Microtransactions" now. To get more money from the consumer market via services and things like that...

What? What other "Microtransactions" or even services besides Solitaire are there for things that havem't always been that way?

If you don't like it, don't use it.

Thing is: this Sollitaire app is also available for Win8 (and just an upgrade). But the previous version also had ads and also had a premium adfree variant. So there isn't any change from what they already had. And the ads aren't obtrusive. You aren't getting a fullscreen forced unclosable video. Its just on the homepage and in some menu's (like finishing a game). Its not annoying and you can go perfectly without them. I don't mind them doing this and i feel that people are only angry because of the screenshot they saw, not because what it actually meant and how things actually looked.

Exactly, it's a piddly little advert that you virtually never notice. MS give a lot for free with Windows 10 (including the OS itself), but they have to pay their developers somehow and I think having premium features or ad supported stuff is a small price to pay. The fact is Google has changed the landscape by commoditising us and making everything ad supported. Much as MS don't want to play that game they have to compete with Google as people just prefer getting things "for free" these days.

No! MS solitaire now has 15 to 30 second commercials TV ad commercials =/

The big problem is though that the ads ARE very obtrusive at least for me! I had to sit through a 30 second forced unclosable fullscreen video. And on the main menu there are banner ads reminiscent of shady copy-cat games that install adware if you accidentally click on the ad

No. You don't HAVE to sit through adverts as you have a choice.

Uninstalled this immediately after upgrade. Plan to replace my Windows Notebook with a MBA in a couple/few months. I don't like the direction they're going with the rampant data collection (settings littered everywhere it takes an hour just to go through everything to make sure you're not giving too much) and ad-supported pre-loads nevermind the defaults to Ads on the Start Menu and Lock Screen.

Pay for the app and you don't have to sit through anything. Everything isn't free.

Sure they need money, every company needs money how else can they pay their developers? The ads are unobstrusive I forgot they were even there, nobody forces you to pay and you can play the game fine without it. These days the world is more open, people have to accept giving up a little privacy in the name of progress. If you really are that paranoid, sure switch these things off and uninstall stuff, but you're giving up a lot for the sake of some bizarre feeling of privacy.

They are full screen video ads like the ones you got when trying to listen to XBox music's some months back. THey are extremely intrusive. No one wants to blast a video add across starbucks just because they decided to play Solitaire while waiting for a friend to arrive, and the Ad Removal would be okay if it was a $0.99 to 2.99 charge or something, but an ongoing subscription that costs as much as a 20GB+ cloud storage plan? No, that's just a shady way to do things, especially when you're completely removing the full free and working version from people's machines and replacing it with this piece of shit.

While from user's perspective it might not be right, it might be very good for developer's ecosystem. Microsoft shows that it doesn't want to use its position to leverage over independent developers. And then in the end it might be a good thing for a user.

Here is the Rock Paper Shotgun article that talks about Windows 10 spying on its users: http://www.rockpapershotgun.com/2015/07/30/windows-10-privacy-settings/

Microsoft doesn't own an ad business anymore, they aren't collecting or selling any of your data for ad purposes.

Microsoft still owns an ad business. They sold part of their ad business, not all of it. You don't think Bing advertises? Do you think they are just using Google Adwords, now?

They would just find something else to complain about.

Not at all -party and be done for it. No one should feel entitled to free anything. Pay and no ads our other bs. Then one can't complain.

Soooo, getting a brand new free OS isn't enough, people need to get upset cause Microsoft is charging for a version of Solitaire without ads? Some people are never satisfied. I don't understand how people expect Microsoft to make any money if they keep giving everything away for free. They're trying to be a service company, so you have to expect they are going to have things like this.

I think Microsoft is in the right, but for pr they should just relent for now.

Sorry but you are wrong. Windows is not free, it's just a promotion for a year. If you buy it next year, you will still have ads in Solitaire.

? Windows is free. Solitaire without ads is not. Pretty easy to understand.

Windows isn't free. The upgrade is free on limited promotion, for a year. If you buy a new PC, the OEM will have still paid Microsoft for Windows 10. If you build a PC and need a Windows OS for it, you have to pay. And in those cases, you'll still have Ads in the OS. People coming from XP/Vista aren't getting Windows for free, either. We're already paying for the OS with the massive "above Google" level of data mining they've built into it. Paying to remove Ads in a game like this is dumb. I'm sure someone will have the Windows 8.1 Win32 Games available for download and install in short order, though, so I removed this instantly and will wait until that happens.

@bjax. Thank you. Exactly what I thought. First this is really no different than any other app on the market, and second Microsoft has to make money on the services because obviously they lost alot of revenue by giving 10 away for free to millions of people. The part I find most interesting here is that people just now complain. Solitaire has been like this for 2+ years now. Really shows the attention being paid to Win 10 this time around, and that people are upgrading from earlier versions (the only people that could complain I figured are ones that used 7 or earlier before)

"I don't understand how people expect Microsoft to make any money " The thing is, they do not expect that. They think Microsoft owes them something because "The OS is shit and everyone knows it. Linux is better! Lets hate MSFT for the sake of it" Besides, I would be annoyed (but not upset) if Fable Legends had adds... but being upset because Solitaire has them? Seriously?

I thing you're spot on. Windows shouldn't be free. Pay for it. If you want it free it needs to be supported somehow so ads. Perhaps a two tier ownership. And definitely so subscription model.

That's called the Pro version of Windows 10.

it's a game and there are dozens of other solitaire games available. Hard to believe people are making a big deal over this. This is an optional downloadable game. they just installed it for you, like with candy crush. you are free to uninstall. i'm keeping it because it's the best solitaire game I've seen. im not payimg the subscription and will deal with commercials between games, just how i deal with commercial between videos on youtube and when watching streamed tv shows.

Windows 3.1 came with Solitaire bundled. It was ad free, but it was still a part of the OS. Same with Minesweeper. Don't know why people are getting so riled up about something that has such a precidence. You can probably still find the original executables floating on the internet somewhere if you want an ad free digital card game experience.

I have problem with subscription. I'd rather Pay $5-10 once to get rid of ads, but imagine paying for three years And then deciding not to pay anymore and the ads return! Now you have paid more than it may be worth and still have ads.

Uninstall after your subscription runs out - problem solved. Or better yet, don't use it at all and just uninstall it at the first instance..

That's what I did, uninstalled it immediately. My mom will be pissed since she plays them a lot, but I'll uninstall it before I send her laptop back to her and replace it with a cheap or free Win32 card game.

Well that's the point of a subscription, what you think you should get free cable or electricity after you stop paying your bills?

Did you actually read his statement. He said "..​.. is identical to the Windows 8 version that has been available for purchase for years." Why was the Windows 8 version not criticised? Instead, it was criticised now when in fact you are getting a free OS. It simply appears to me that these are all manufactured press, including the news that Windows 10 opens your wireless network to your friends on default; Microsoft will charge your for upgrade after 3 years etc.

Because no one used Windows 8.

"No one used Windows 8" You for real now?

Because people are stupid and complain for the sake of complaining. End of the day though, if the biggest problem MS have with Windows 10 are some fools moaning about ads in a card game, then I think they've done bloody well.

I have a solution Microsoft should implement for all the whiners, they should have a button in the app that allows them to install "Solitaire Classic" and have it ad free, then they can play the old application with no ads for life. But you know they would still complain they can't play the 100 times better "free" version ad free. I paid 9.99 for the 1 year ad free version because the application is really that good and deserves support. For those that have never impemented an app before, let me clue you in, it takes lots of time and thus money to develop and maintain an app of this caliber and complexity. It also takes cloud rsources for each player that plays, and cloud resources aren't free. Thats why it's ad supported, not because Microsoft is greedy.

No, the solution is unbundle the app so that it is EXACTLY how it was with Windows 8: Ad-supported and installable through the Store.

You got Windows 10 for free, a $119 value at least. I'd GLADLY let Microsoft put in ads for that trade -off.

*$15 - that's what I paid for the W8 upgrade

and you have not used W8 and just wait for W10 free upgrade before using the license, right?

wut? I have W8 on my desktop PC (using aforementioned upgrade) and on my SP3 (pre-installed)

Will it be OK to complain about it once the limited time free offer is gone ?

Why is it when Google has some service, the fanboys are defending Google left and right about how their products are free so them taking your data and doing whatever they wish to with it or shoving ads down your throat every chance they get, is justified because they need to make money some how and it is their business model? But show an ad in a free program, and on Microsoft hating web sites the internet melts down because it is a Microsoft app. The hypocrisy is astounding.

And anyone who defends MS is just shilling. The best part are the people critizing "X" part of Windows 10 while using Google services.

Well I still enjoyed it on Windows 8 and I didn't pay anything then. I dont think there should be this much hubbub about nothing. I think only a year of ad removals at best is dumb. That should be a permanent purchase if someone felt so inclined.

That is what I have the issue with, they should put in a one time price to remove the ads forever, not this stupid subscription ad removal, what idiot would pay a subscription to remove ads, in the long run it will cost you more then any other AAA game on Steam, and that is for a stupid card game without ads.

I agree with this entirely.
A big deal about a silly timewasting game. Who cares. But monthly and yearly fees for said game is entirely too greedy.

Microsoft uses cloud resources to support the application, those aren't free so a one time purchase doesn't really make sense. It's like those lifetime memberships at a gym that don't make business sense, if enough buy them then the gym runs out of money by year two and go out of business because expenses continue, but revenue drys up. It happened to me and my Wife. Businesses require recurring revenue to support the app/service.

Cant say ive seen the ads in the wp8 version guess maybe they have some type of setup based on speed of internet connection or my isp is blocking these ads somehow?

I don't see the problem. Damned if you do, damned if you don't. Sure it takes more resources to run and has adverts, but is a far better game with more options. Everyone wants something for free these days. If you don't like the business model, uninstall.

Not free, just one time purchase is what most of us are looking for.

Yes, if you don't like it, uninstall - problem solved. Or don't use Windows 10 at all.

Brilliant salesmanship there. This strategy has worked out wonderfully for Maxis, hasn't it? ;-)

Just uninstall it from everyone's computers with the next windows update. Let them download it which apparently will make the complainers happy. Morons.

Having ads just stokes up the fear of Windows users that "Windows as a service" means Windows as an ad platform or Windows as potential subscription service. It damages confidence of upgraders.

Those exact sentiments crossed my mind.

It's an app it's not like they are scrolling ads on the desktop. I do agree with whoswho about the yearly fee which to me is the actual issue. I do not want to see developers start to think this is a good idea.

One of the most used apps since Windows came out. It never had that before. What happens if they added ads to notepad? Sadly, some people will think that's where it's going. They should just put back the regular one and make this one a download

use a differwnt ntepad app or a different solitaire app. take a look in the store. it's not like there are no alternatives. the app that came before was a lot more basic than this. they took time to make this app really nice. they want to be paid for their effort. however, it should be a one time fee and not a subscription since the game doesn't involve hosting games between users. they can also remove ads for xbox live subscribers.

Just wait, if this stupid trend of people expecting "free" upgrades and "free apps and software" continues soon you will see ads on desktop and have to watch a two minute ad each time you turn on your PC, lol; people don't seem to realise that nothing is free, you either pay for it up front or you are forced to pay for it in other more insidious ways.

Exactly. Desktop was the last Haven away from such things. Make your cash on store, office and enterprise.

How about they make their money how they used to and properly sell Windows, and none of this "free" crap with ads and other compromises.

this is a store app. it's not the desktop.

free things come with commercials. If they do start runnimg commercials, then switch to another OS. Until then , enjoy your free update. i highly doubt they will ever run commercials directly in the OS. however, they might charge or use ads for value added services and apps. they have charged before for things like media center and addon packs.

Ok... Once again. It's not free. It's just a promotion to pull you into upgrading. I already upgraded. If you don't make use of the free upgrade, you'll be buying the OS next year. Even then, you will get ads in these apps and games.

So are you getting it for free or not? Microsoft has to put a time limit to give people an urgency to upgrade now. I mean it's a whole damn year and Microsoft is also advertising like mad about the free upgrade. You are also talking as if the apps and games is a part of the OS. Are you expecting all games and apps in the store to be free with no advertisement, including all the mobil office apps? If you don't like the business model, don't download and don't use the apps.

Not worth a penny. Just play the real cards, and enjoy with your family.

But Solitaire is a one-player game and is slow as hell in person and requires a lot of space to play.

Lol. One of the few card games that's actually better on screen.

People just love to hate on Microsoft. It got old years ago, and it's even worse now. Microsoft is damned if they do, damned if they don't.

Yeah. Got old is right. Enough said...

it's just a dumb game you can get everywhere, if people dislike this, they should uninstall it, or stop using a computer because many companies give free but on exchange give ads. Many apps use this, many websites use it too. but people can just never use this app and give ad money to Microsoft. I mean in store there are many solitaires, on emulators, on normal desktop games there are solitaires too. Hoyle makes nice card games. they could get that and don't worry about how an app has ads (like if this was the first time) so you are right, people just love hating on Microsoft for whatever dumb reason. like people complaining about how P2P updates are on by default, or how if you use Microsoft account you have to store some files on Microsoft servers... but all that can be avoided, included Solitaire.

I could be wrong, but don't the ads only run for premium like things like daily challenges and such? I see no problem with that, however, the quick, not for challenges games should be ad free. Just my opinion.

For me, the reason this is worrying is because of all the other language about Microsoft moving to being service-driven. I get that they need to make money somehow, and I'm somebody who is completely ok with paying for Windows and Office and any other quality software. This one is really only a problem because 1. It used to be free, and 2. Honestly how many hours did it take to update Solitaire for Windows 10 that they desperately need to cover their expenses? I hope this isn't an example of a new business model of nickel-and-diming every little thing. I would so much rather drop $200 every 3 years for a new OS than have ads everywhere. Yes, I just employed a slippery slope argument, and yes, I sort of hate myself for it.

There certainly is little evidence that this nickle and diming for every extra in the OS should become the normal practice. But its a logical conclusion despite that.

Try implementing AND maintaining an app of this compexity, and you will see that it isn't a write once and forget application. It takes cloud resources and that isn't free. BTW, it is still free to play, and it is also OPTIONAL to play. Download one of the other free solitaire games that are as good as the classic and be done with it. But you and others won't because this app is great and you want it for free.

I think that it should be a one time fee, BUT at the same time, it's not like you're limited in playing if you don't pay. I have the "free" version of solitaire for Android, and it has ad support as well. With my phone though, if I have my data off, with no wifi, I don't get ads. It's not like Angry Birds, where they won't let you play if you have no internet on the free version.

At least they didn't put Ads on the Desktop showing that Windows 10 is free....

you call it an ad. others might call it a notification. Apple downloads updates and notifies you that it is ready. Microsoft is asking your permission to start the download when available. it was a one time thing and just tells you a little bit about the update. it intrude at all after reserving the update. i have no problem with this.

Advertisements were originally notifications that people paid for so the point is moot. A strong argument against your point however would be that it's a notification you couldn't dismiss easily, really making it more of an ad.

I don't know what people expected. If you want Windows to be free or really cheap as Win8 was for some time after launch for just $40 you are going to have to suffer through a compromised experience with ads and data mining. I would much rather have the old model of paying $300-400 for new Windows version without all this BS, but thats what you get when you want free or cheap crap.

Actually, one of the biggest reasons they can afford to offer a free upgrade the first year is to get as many people off other OS versions as possible. That way, they save a -lot- of support expenses by being able to avoid another "Windows XP scenario". Also, they can make a lot more money in the long run if they can finally get people interested in the Windows Store.

W8 was actually $15 for the first 6 months

I agree with you. But the reality is that people want things for free, and Google and Facebook have proven that point. On the other hand, Windows 10 is not cheap crap. If you don't want the ads, don't download and use the apps.

People want everything for free! I am not a fan of the subscription model though. They should have a one time charge, maybe. I haven't played it, I wonder how intrusive the ads are?

Not intrusive enough to ruin your experience. Just a bit annoying.

"is identical to the Windows 8 version that has been available for purchase for years" I guess Microsoft missed the part where almost everyone hated Windows 8. That said, it's a corporate response. I would have probably felt more compelled to answer something like "We already gave you f*cking Windows for free! What the hell do you want next? Free Microsoft stock?"

People hating Windows 8 had NOTHING to do with Solitaire having ads. It's a perfectly reasonable response.

Windows 8 + Windows 8.1 have over 10% of the OS share. That's not a chump change of users.

They are giving windows 10 away for free and the solitary game is free they need to make money somewhere everybody on her bitches about having to pay for apps they want them free. Then turn around and bitch it has ads in it these developers and software companies can't make there apps and games and OS's free. So either stop bitching about the payed apps and software or accept the fact of ads in games and apps simple people.

I would much rather pay $300 for Windows up front then have it "free" and deal with all these stupid ads and other compromises that make MS money in other ways.

So you would rather pay $300 to get Solitaire ad free? For $300 you can make Solitaire ad free for the next 30 years!

The funny part is that nobody said how annoying these ads are. Nobody here is playing that kind of games... Now I have to play to see how bad it is :). M$ should pay for this article :)

Totally :p I actually had to start it up to see what the fuzz was about and at first I couldn't find(lol) the ads.. then I scroll down and there's a pitiful banner. Damn people just HAVE to have something to complain about.

there are ~30 sec commercials before starting various challenges. they're not that bad. but they are unavoidable & now in win 10 version you can't mute them. it's the same for all of microsoft's card/puzzley games. meh. the games are still good

I agree with several others: it's a free OS so MS can charge if they want to, BUT.... they're looking like d-bags over this. Save face right now and make it free.

Windows upgrade is Temporarily free

and the apps are not part of the OS and are not free.

What I don't get is how much revenue is generated by the ads for the companies doing the advertising? Do people really click on them? I have subconsciously trained myself to be practically blind to them. Or if I do notice them, I almost always have a NEGATIVE opinion about the product or service because of the ad.

Same here, I am surprised these ads work at all to generate clicks, if I see an ad I am just annoyed and are far less likely to buy whatever is on it, and ads before online videos are even worse especially when you see the same one several times in a row, that product/company is dead to me after that.

​these are videos between games. they are hard to ignore. i don't click on them, but after watching that nissan sentra add a few dozen time, i preety much memorized it. Still don't plan on buying a sentra. however, a person in the market for it might consider buy it. It like a coke commercial. Everone knows about coke, but they keep advertising to keep brand awareness really high.

Some rely on accidental clicks and/or hover activation.

They get paid for every 1000 veiws, no clicks required.

Nice going. They ruined solitaire. You know, the game people want to play and be left alone.

Hardly ruined it. i've enjoyed this version more than the previous basic version. if you still want a basic version with no ads, there are at least a dozen of them in the store.

No solitude in solitaire. Haha!

Stop the nonsense and being a fan boy. Ads on any core application of the OS is unacceptable. There are two ways to look at it. MS is adding more and more ads and micropayments to its bundled applications, or MS pre install junkware.

It's not a core application, it's from the Store...

please tell why Solitaire is a core application of the OS. are you going to say next that all office apps are core applications of the OS?

So it's a junkware. Solitaire is bundled with Windows for 25 years now, it's safe to say it's bundled. Just like paint, mail, notepad, calculator. Guess you wish they will have ads too...

Maybe you need to define what you mean by core. I sort of think that means the parts essential to the fundemental operation of whatever you are talking about. I find it hard to think of any game to be core to an operating system. 25 years ago solitaire was bundled with the OS so people would learn to use the mouse. click, douple click, click and drag were not intuitive and part of every human's inherent abilities. You needed a game to get people used to it. At this point solitaire is a bonus. If you compare the solitaire that came with Win 3, 7...to that that comes with Win 8/10, it is a significant bonus.

A core application is an application that comes pre installed from microsoft (not OEM). Doesn't matter if it's a game or not.

I don't care about solitaire. But I feel ya! This is some bulls.... Tryinna charge from cheap ass game y' know!?

Are we able to delete/uninstall the game?

Yes, because it's an app that you get from the store and not highly integrated like Xbox is.

I will have to quote Roy from the IT Crowd here: "People, what a bunch of bastards"

Honestly the complaints people have over this are the stupidest I've ever heard. You want to play solitaire without ads but don't want to pay the subscription? Try and find another app that does the same, or better yet get a deck of cards! It's free solitaire with no ads that you would actually own instead of licensing.

I can understand the ad and ad free model. Sure charge a premium for an ad free via an in-app purchase but a sub?
For example at $3 dollars month, that would equate to $36 for a year, $72, $108 and so on. Not really worth it. The other question is if someone subs for a year on the monthly do they get credit on account as the annual subs is cheaper?

This is the most trumped up controversy I've ever seen related to a new OS. This is a Store App, not some highly integrated program. It is CLEAR that people don't mind ads in their games because of Androids control of the mobile market.

Not really. Apple doesn't bundle Adware into their new OS releases, and they have a lot more useful software bundled in, as well (iWork, iLife, etc.). Microsoft HAD to give Windows away on that promotion, the same way they did Windows 8. People don't typically upgrade Windows due to the high cost so the only way to get them to do it is to give it away for free and put a program on their PC to automatically get it for them (download and then tell them "let's install this" when it's ready). People are acting like this is microsoft acting in good will, when frankly they had no choice. Otherwise Windows 10 would have had proliferation comparable to that of Windows 8 because people don't care to pay for OS updates. The Adware, the Data Mining, etc. are just ways for them to make up for it, since they don't sell devices like Apple and their services aren't industry-leading like Google... They want to recoup the costs. The reason why they're in this situation is because of their own bad choices. Vista Launched with insane system requirements and Windows 8 was a middle finger to desktop users. If they had launched this instead of Windows 8 (minus Cortana and the massive data mining built into the OS), they likely wouldn't have had to resort to nickle and diming their customers this way. I rather pay a hundred up front than have to deal with display ads, subscriptions, etc. peppered all over stock/default apps and preloads.

I delete bloatware off of my machines as soon as I get them...or install an operating system. Solitaire, Candy Crush, all of that is just so much bloat.

My only suggestion is that these ads need to be accessed by a long hold... Far to often you accidently hit them and it kicks you out of the app.

Its a controversy now because the vastmajority of Windows users stuck with Windows 7 and never experienced ad-ridden solitaire. Quite frankly its perfectly understandable that people are upset about a company like microsoft suddenly shoving unwanted ads into the faces of their customers.

Ads are a fact of life. Windows 10 is free now, which saved you at least $119 ($199) if you have Pro. I'd GLADLY allow Ads as a trade-off for a free OS. That's the new business model for Microsoft. Take it or leave it. :)

Going to leave it. Already have an iPhone and iMac. Mind as well replace the Windows Notebook with a MBA. The Ads are only part of hte story. The amount of data mining Microsoft does in this OS (and by default, it's literally all opt out and spread across 10+ different settings categories throughout the OS) rivals even that of Google or Facebook.

One more point that people miss and Microsoft is doing developers a BIG favor by implementing this ad Model in their app. They are creating an expectation in users that if you want and like an app, you should support it with ads or pay to get rid of them. This is the exact model that many other apps need to make it worthwhile to actually write/maintain an app. I have written an ad supported "free" app and it doesn't even come close to paying the cost to develop/maintain yet so I'm glad to see that Microsoft isn't sabataging the market by making it totally free. Its the same thing they did with Surface, they charge a premium, actually giving competitors the ability to compete on price and still make money. If Microsoft charged half of what they do for Surface, it would put many OEM's out of business. Likewise if they made this solitaire ad free they would kill all the other solitaire options in the store and set an expectation that all apps of this quality should be totally free.

I can get behind the uproar. It was a dumb move and if anything, Microsoft should really just recompile Solitare from Windows 7 and offer up it up as a free app. And while they're at it, bring back Skiing and Pinball! (yes I know the convoluted backstory of Pinball, but I can dream)

Isn't Pinball FX the new Pinball?

Is it still turning phones into hot potatoes?

Who would pay for Solitaire? I'd love to know how much revenue this game brings in in relation to the bad press.

I don't think it's the ads or the fact you have to pay to remove them. I think it's the price and the fact its a subscription. Even a $4.99 one off would be pushing it. Personally I doubt I'll ever play it anyway. Not sure it's going to push my GTX 980Ti 2x SLi's.

You all are crazy, it's just an ad banner what harm does it do? Not like it pauses your game and pops up like Android games. Get over it. Quit whining you got something free and you want to complain about one game that has an ad? This is probably the most ridiculous argument and article ever made. Smh Posted via the Windows Central App for Android

Microsoft + ads = horrible UI. They always test the grounds first, you want to see where it could be going ? Have a look at the Xbox 360 dashboard.

They certainly have the power to remove the ads even if "it's identical to the Windows 8 version that has been available for years" which by the way is besides the point. Like someone already said, the money they get from this subscription is not worth the bad press. I mean, they made the $200.00 Windows upgrade for FREE foe goodness sake, and that worried many saying how MSFT would make its money now. Saying they can't do the same foe Solitaire (which by the way I'm more surprised the fact its got it's own fandom) is dumb. Remember when "Bing Weather" used to have that ugly ad? And now it's gone...

Damn lol they shut everyone up by saying it is what it is

It now has 15 to 30 second commercials =( The good news there's hundreds of other apps in the store without them. I use simple solitaire and it has a simple banner ad at the bottom of the screen =)

Yes, just get a different Solitaire app from the store, pay once for the Premium version and voila, no ads. Better yet, buy a deck of cards.

$10 bucks a year ins't bad. You'll pay 12 times more than than on some of iOS apps per year. I'm pretty sure this wiil be added to Bing Rewards.

I don't get the fussing about it.
Yes, it comes with the OS, but it is still just a game.
A game like thousands out there. Want it free, accept ads, don't want ads, pay for it.
And if you used the OS to play solitaire, you're doing it wrong to begin with.
Heck, I only found out after reading this, that solitaire is still a thing in Windows.

I don't understand the fuss. The only place the ads/payment comes into play is the challenges. These were new features in windows 8. The rest of the game has been prettied up, but is otherwise unchanged. You can do everything you did in win7 and below, ad free. Only you can decide if a solitaire leader board is worth ten bucks a year.

My mother in-law recently got a new B M W just by parttime work from a p c online. why not look here >>> +__+__+__+___+__+ WWW.NetPro8.com

I think people are hilarious. So what it has a few little ads. I've been playing it and didn't really notice. Its free, and doesn't hamper the game at all. People are to entitled when something Is free. Just play it for free and stfu.

Here's whats different between the windows 8.1 version and windows 10 version (that I can tell) Windows 8 allows you to choose from different deck themes and even create your own theme by using an existing photo from one of your libraries. In Windows 10 those options are grayed out and coming soon. My HOPE is that they are coming soon and free, not coming soon in DLC form. Otherwise I don't really care about the ads. On a windows 8 7inch tablet, it took 5 entire screen swipes in landscape mode before I saw the advertising batter. And in portait mode, 7 full screen swipes. This is hardly intrusive. As far as the coin system. I have no idea how it works or what you use coins for inthe first place. I've used the app on windows 8 a handful of times and the games worked fine. I really don't understand the big deal, unless of course as I mentioned, the coming soon features (that were totally free before) become DLC.

Minesweeper tiles should be advertisements. Clicking on a mine plays a video ad. lol

Cheap. Reeks of cheapness

Cheap are the users that always want a free ride on the back of developers.

People will always complain. The game is much improved; whilst it seems simple to the end-user, a lot of time will have been spent on it, and Microsoft needs to pay the employees wages. I don't mind an advertisement if it supports that.

"Windows 10 as a service"

Definitely not a fun of the subscription model for Solitare. I can understand the Ads and one time pay to remove ads as in-app purchase. But a sub to remove ads? Nope, that does wash with me.

too busy playing the game to really notice the ads....

so many whining and BoooHoooing no matter what MS does. If its free, you guys BoooHooo, if its not free, you guys whine about something else, and why its not free. No matter what MS does, there will be those who cry about something. My gosh people, are ever you happy with ANYTHING in life??????? What is wrong with you people?????? you go and pay HUGE money for CrApple iJUNK trash that is 4 years behind other brands technology and get ripped off by them on EVERY device they sale, go to black market and pay 50x more than what an iJUNK MSRP is, still paying pay $3 a gallon for gas when crude oil has fallen to $47 a barrel from $120,.............but all of that is ok, except MS charging $10 (less than .03 cents a day)a YEAR to remove ads, is NOT OK, and lets have a cow. You guys really need to get your head examined.

Thank you my God people are increasingly getting more stupid by the day.

I do think it more than a bit crass that they include advertisements on any apps that come pre-installed as part of the OS, but that's a horse that's been beat to death over many months and deaf ears, so I've come to accept it and largely moved on.

People keep saying Windows 10 is free, so we should not complain or just don't use it. Actually it is not free, well not in my case, and most likely similair people. I bought Windows 8.0 Pro retail for full price as that had the EULA to uninstall and use it on a different PC. But.......... I was forced to Windows 8.1 or else loose support not long after. So my Windows version which I liked, was all of a sudden replaced with a Windows version that had crap pre-installed which could not be uninstalled. Now this crappy version gets replaced with an even crappier version. So in my eyes Windows 10 is not free, even more, they owe me a refund for windows 8.0 as at the moment I might as well install Linux.

Well this is what happens when you have a free version of a paid product. It is only free depending on how it is used. I don't mind an in app purchase one time to remove the ads. But perpetually? So some idiot will pay $100 for Solitaire, because they're hooked on it, and they can't stand to sit through the ads, over a ten year period. lmao. Imagine the possibilities. Getting held hostage when Microsoft Security Essentials finds a virus, but you have to pay a fee for it to remove the virus. I'm not mad at Microsoft, everyone else seems to be doing it and getting away with it. You have to make money where you can. The only thing is, Solitaire is not Farmville or Candy Crush. But to each their own. I might pay to get to the next level of Mahjong though.

Improvement to Solitaire are stellar. X-Box sign in let's your game progress to all your devices. Daily challenges give you a steady stream of goals. There are so many things to do. New GUI works well on std screens and touch.
For those who complain over ad I say get over it. They are really no bother and if it helps to keep improvements coming on the app I'm all for it. I have been a long time user of Microsoft Solitaire games and I have zero problem with the changes.
One feedback I have. Make the game for Android as my exposure to it on the Windows Phone was good, but now that I'm on Android I can't find a decent Solitaire app.
Final note. All the new Microsoft apps are awesome. Sudoku, Jigsaw, Bingo Jackpot are extremely addictive. Posted via Windows Phone Central App

Why are people even moaning about this? Creating/updating games like this isn't free... So MS decide to pay for it via advertisements. And if you don't like the ads, then you can pay to get rid of them. Simples.
Too many people want everything for nothing. You're already getting the whole operating system for free. I'm sure we can live with the adverts on a solitaire game too. Seems like a case of "haters gonna hate".

... so I'm guessing you didn't pay for Microsoft Windows?

Windows Solitaire is a classic, i dont care to be honest that it comes pre-installed on windows 10

I would imagine the main reason for this monetisation policy is not for the revenue from the app itself, although that probably helps cover the continued development costs (remember, there's a lot of new content in the app above the pre-Windows 8 version), but to highlight to developers what can be achieved on the platform. Microsoft need developers to become interested in building apps for the Windows ecosystem, but they will only do so if it is worth their while. I would think that Microsoft are sharing the revenue data with gaming developers/companies to prove that a popular game in the Window Store is a worthwhile investment.

my problem is it doesn't work as well as the Windows 7 version. I found Windows 8 and 8.1 repulsively unusable so I wasn't affected. and since I only play Klondike as a guest I am not affected by payment. it just is an inferior game of Klondike. mouse clicks work differently and it is slower to get started. I play solitaire while I am waiting for something else to finish. so I will buy a solitaire game that suits me from a different vendor. in my mind, Microsoft fell on their face again with Windows 10. it is inferior to Windows 7 Ultimate for compatibility, performance, and ease of use. they are so wrapped up in tilting at Apple they forgot that their version of Xerox PARC's windowing was superior for engineering and other applications. and for people like me who have used it since v1.03, it really is a P.O.S..

Surprise, surprise! The upgrade to W10 is not free. As I see it was not an upgrade, in fact, it is a downgrade. Why it was necessary to change the form, fit & function of features, for no purpose, other than marketing? It would have made more sense to minimize the learning curve rather than the loss of time just figuring out where things are located and how to navigate the new nomenclatures and displays. Computers should reduce work not create work. As for the solitaire fiasco, these games are executables that worked fine in previous versions and the decision to change them were made by Microsoft. To the best of my knowledge users not only didn't ask for them to changed but they didn't want them to be changed. What more important is the GPIB and USB devices can't use the drivers that have worked flawlessly for years. The time and effort to find work-arounds for the free upgrade is costing users plenty, if Microsoft was really interested in improving their operating system they have failed miserably.

First off, Windows 10 is complete garbage. When your windows start button will disappear or completely stop functioning you know you have garbage on your hands. When your task bar stops functioning you know you have garbage on your hands. Second, adding ads to windows games is just creating a bad user experience. I know some asswipe at M$ is sitting there with this smug contentment but that smug contentment is exactly what opens the door for competitors. M$ is, by its actions, creating the desire to move away from Windows. Larry Elison, NOW is the time for you to strike!!!

I am not a fan of Windows 10 - and the games that they are offering for free are not as good or as fun as the old Win 7 ones. The reactions of cards are different, the look is different, the ads are annoying and there is no way I am going to pay to turn off the ads. If I have to pay, then I'll buy a REAL software package of games and tell Windows to buzz off. Very annoying what Microsoft has done with this and hopefully enough people will make a stink so they resolve the issues and let us have our pitiful old games back!

Solitaire for Windows 10 is just another craplet from a company that is more interested in making money (to send outside the USA) than in creating quality software.
Windows Central Newsletter
Get the best of Windows Central in in your inbox, every day!
Thank you for signing up to Windows Central. You will receive a verification email shortly.
There was a problem. Please refresh the page and try again.