Here's what the Start menu will look like in the Windows 10 Anniversary Update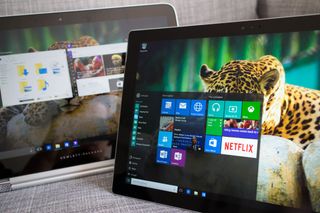 Microsoft has announced changes to the Start menu that will bring the All Apps list to the forefront, with the Settings and Account details tucked away in a hamburger menu. Microsoft's Jen Gentleman has now revealed what the changes will look like in a short GIF posted on Twitter:
The updated design will make its way into the Windows 10 Anniversary Update, which will be available for free to Windows 10 users sometime over the summer. Microsoft is soliciting feedback from the Insiders community on the changes, so if you like the design of the new Start menu or want to suggest improvements, be sure to let Microsoft know.
What do you guys think of the changes coming to the Start menu?
I hope that the full screen version remains unchanged because I'm perfectly happy with it.

Fullscreen version changes even more.

Yeah, well at least when it comes to All Apps where it's now full-screen with some similarities to Windows 8.X. Though I wish that All Apps must have the Sorting options from Windows 8.1 and maybe even more Filtering options. I loved being them organized by app type rather than alphabetical (which is still alphabetical on Category sort in Windows 8.1 by grouped under their type). I want to nitpick though that Hamburger Menu again must have an opening and closing sliding animation with swipe/drag gesture. The swipe gesture should've been part of Hamburger menu system from the start. They followed Android enough with Hamburger (though this UI control is been used longer on web), they should've just go all in with the features and UX enhancements done with Hamburger in Android implemented already.

I prefer the All Apps list from 8.1 but what I miss most from 8.1 is the ability to just type (without selecting Cortana) to search for......well anything. Just type con and up pops control panel etc. Same for music, files and video. Now you need to select Cortana first.

U can just tap windows button and start typing... Posted via the Windows Central App for Android

But unlike Windows 8.1, if you scroll or click anywhere else: Cortana become unselected and you have you tap/click her again before you can type to search. Really annoying when compared to 8.1 when typing anywhere, anytime on the Start Screen guaranteed Search would start-up. If I recall correctly, they have addressed this issue and restored it to how it used to work in 8.1 in the Redstone Builds, but it hasn't been fixed for the release builds just yet. (Just tested and it still doesn't behave like it did in 8.1).

You don't need to click Cortana/Windows Search manually, just open Start and start typing. It will search everything such as music, video, files, apps, etc, similar to Windows 8.1.

With an annoying defect for network users -- it doesn't search documents on network shares, even if "My Documents" happens to be on a network location and even if that network location is sync'd locally via Offline Files. Search works fine in Explorer, so it's something different about the Cortana search that it's limited compared to the built-in search box in every Explorer window. That's one of my current big pet peeves with Windows 10 (which I love overall).

See my above reply: The behavior still isn't quite the same as it was in 8.1, and many (Including me) would like to see it restored to the full screen Start Menu since it's supposed to be the replacement for the Start Screen.

Totally agree, the new behavior irks me too. Honestly, I really missed the Start Screen from 8.1 in general. There was so much to do with it, it was fantastic. The new full screen Start Menu replacement is really meh, not enjoyable to use. I'd like to see them get as close to emulating the old Start Screen from 8.1 as much as possible. The Start Menu isn't bad, and I would use it, but then Cortana gets shorter. I prefer the taller Cortana, so I guess I'll suffer right now.

I also miss Windows 8.1 Start screen alot. The Windows 10 Start screen is really just a glorified Start menu being full-screen, but its same behavior as the menu. What I love the Windows 8.1 Start screen is that when I'm using my multi-monitor desktop, I can make my Start screen leave it open on another monitor, making it as a dashboard and taking advantage of Live Tile to the fullest extent. Now in Windows 10, everytime I open Start screen and click to another desktop, it closes like a menu which is a huge bummer. This behavior is still not an option in Redstone at the moment, together with the boot-to-Start screen which I love than just booting to my blank desktop (though I love my wallpapers especially with my clean icon-less desktop). I even miss the opening Start screen animation alot which feels not just modern but futuristic and very pleasing everytime I login from shutdown/logoff. Now Start screen feels cold, bit boring and lacks character. I hope they will polish and bring back nice things from Windows 8.1 to Anniversary Update.

That's why I dual boot setup 8.1 and 10

The majority of users didn't like the start screen in 8.1. It hurt sales and marketshare. Windows 10 has been much better received.

But it's still there as an /optional/ feature in Windows 10, so are we wrong for wanting it to work the way we like? It's there for legacy purposes, but it's not up to par. Honestly, the full screen Start Menu in Windows 10 is just as poor a replacement for the Start Screen as the Windows button on the taskbar in Windows 8.1 was for the Start Menu.

Lets face it, overwhelming majority of Windows users did not like the Windows 8.1 fullscreen start menu experience. So, Microsoft listened and provided the overhauled start menu in Windows 10 that most of users like. Its annoying to hear some pissed of vocal miniorty keep brining that failed experiment on every Start menu thread. Move on guys, lets embrace the changes.

But I still think you're missing the point: The full screen Start Menu only exists as an option in desktop mode on Windows 10 because a bunch of 8.1 users were sad it was gone and gave their feedback asking for it's return. It was originally slated to only be available in tablet mode, but was later added as a desktop mode option based on feedback. If it only exists because 8.1 users wanted it, why does it exist in a way that it leaves something to be desired? In its current form: The full screen Start Menu doesn't interest those who liked the Windows XP and 7 way of doing things, and it doesn't please those who liked the 8/8.1 way of doing things. It's a bastardization of the once-beloved Start Screen. I agree with change and accepting changes, but we shouldn't blindly accept everything Microsifr gives us. The full screen Start Menu, in it's current v1511 form, is honestly a crappy echo of the Start Screen it's meant to emulate. It doesn't do a good job, and it shows. It's pointless right now. It only was ever created to appease 8.1 users. Either they need to do it right, or gut it entirely. Much like the Windows button on the taskbar in 8.1 was a crappy echo of the Start menu: Microsoft either needed to do it right, or gut it entirely. Windows 10 is popular because it did the former, 8.0 was unpopular because it did the latter. It's annoying to hear some pissed off vocal minority keep telling people to be quiet every time they try to give feedback. There's no one right way of doing software, different people have different things, lets discuss this as opposed to shutting people down. Move on guys, let's embrace a constructive dialogue.

Indeed, most users didn't like the Start screen in Windows 8.X, but that doesn't mean Start screen is a complete failed experiment. It still proven to be better for tablet users and making it optional for desktop mode ever since. The first iteration of XAML Start menu used to have toggle which was original planned from the start. It even shown on first Start menu mockup on first Windows 10 announcement too. Thing is, there is an advantages of having Start screen also for desktop and yes we still do have it. Though some behavior was gone which is many of us Start screen users keep requesting to bring it back. The boot-to-Start screen for example wasn't completely a bad one. Many of my non-tech savvy/average user family members actually loved the Start screen and it's behavior as it's easier for them to jump in and out of their apps and other things. Evertime they turn on the PC, the Start screen welcomes them and they just click the app they want. When they close the app, it goes back to Start screen automatically. Yes at first they're confused on first Windows 8, but after some introduction on what are the changes and giving the basics, they just accepted and easily use it. One of the biggest mistake in first Windows 8 that most blogs, news, people didn't mentioned is the lack of proper tour/short tutorial to use the new interface. Instead Microsoft lazily and poorly executed the ambiguous animation opening Charms and other things in a place that most people won't sit waiting, the "Installing Apps screen". If Microsoft thought out even just a little bit more like having Taskbar on Start screen, a Start button and windowed Metro/Modern apps for desktop. Windows 8 most likely going to be accepted and all fine. The issue was actually a classic Microsoft, pushing things half-baked, poorly communicated and poorly executed. This is still happening on current Microsoft, though fortunately their approach is now more clearer and acceptable. So think first the bigger picture. There are things that are poorly understood and poorly executed. Start screen, Hamburger menu, etc. we're not just random person comes up and put up there, it's been studied why it does make sense. Why they're not too accepted is because they're completely a failure, but instead it was a failure of properly executing things.

Press start en start typing, you can search anything and everything that way :)

As mentioned above if Cortana/Search is deselected then this is inactive until clicking on the screen or search or Win button - whereas 8.1 allowed typing anytime.

Press Windows Button and start typing. It works perfectly in Windows 10. It has nothing to do with Cortana/Search -- no matter how many times you repeat it.

What build you're on? As far as my experience goes despite I still consider Windows 10 bit buggy/gltichy, everytime I press Start key or click the Start button, I can start typing since Cortana/Search is always active ready for typing even I open the Hamburger menu (on Start screen), scroll to my All Apps, go back, etc. That was used to be an issue before but they fixed the behavior already in released build. If your issue is really true and you're on the latest released stable build, then most likely it a bug which I'm not surprised because of high amount of chances you will still encounter on stable build in Windows 10 at the moment. If it's on Insider build, then bugs as usual. Though this thing should've been very stable by now.

I want to edit my comment but I was too late. There is actually an animation when opening and closing the Hamburger menu on new Start menu/screen, it just was way too quick that it seems not even animating (especially on GIF where there are skipped frames). I think it needs the animation tiny bit slower to at least noticeable, or maybe it's normal and just the GIF skipping frames. But still it needs swipe gestures to open Hamburger menu I think than reaching that Hamburger button. Swipe to the right to open All Apps for Start screen.

That's not what it looks like in the example given. It looks like they aren't actually going w/full screen All Apps, in favor of that idiotic hamburger menu.

If this is a permanent list then I will not be updating.....that would just destroy the design and look a complete mess.

Lol yeah there were alot websites that used these flash based nav bars

Is this on the video from Build? Do they show the fullscreen version of the menu? I don't understand these changes, other than them wanting to push the "sponsored apps". Or changing things for change's sake. But well, it's not a big change.


As far as my I've seen, nope. I've watched some (still pending for others when I have time), they didn't show any signs of new Start "screen". Unfortunately, Start screen is kinda unpopular and even Windows journalist only asked for new Start menu changes GIF. We like it or not, Start screen just happens to be more interesting or Start screen always forgotten by many blogs, users, and others. Changes are not that big, it's basically just changing the layout but no real features really. Start menu got a minimal change where it just make All Apps visible (with no sign of able to be collapsed yet, this needs feedback) and they moved Recents and Suggested apps over there. The new Hamburger strip just contains system shortcuts and always visible, so you don't actually need to open the Hamburger menu. I think this change is in response to make Start menu balanced for those who still refuse using Live Tiles and unpinning all stuff, making Start menu compacted. So by having visible All Apps, it makes easier to browse apps while still showing Recents and Suggested apps (which is surely going to be turned off by Live Tile haters) and still have access to system shortcuts on the left on compacted form. Start screen will have a bigger change with now full-screen All Apps, kinda similar to Windows 8.1, but less dense. https://sway.com/i2B5HYeWtenFGty7 Similar to Star menu where Recents and Suggested apps are combined on All Apps making it single place to access, but not like Start menu, All Apps is always hidden.

https://twitter.com/JenMsft/status/716861387880812544 probably yes

I would be perfectly fine if everything in the start menu remained the same too. I have exactly 0 problems with it

I wish it were like 8.1 where the apps list was a complete screen and not that tiny scroll list.

A recent insider survey asked if we'd like full screen app list in tablet mode. I said yes.

Full screen apps list is coming in the Anniversay update to Windows 10.

If you've checked the Feedback Hub, they're having a survey and it shown here: https://sway.com/i2B5HYeWtenFGty7

Looks like the Xbox One's menu now. Hate the hamburger menu. Android and the web is moving away from it and Microsoft still hasn't forcefully added a slide-to-open universal gesture to ease it's horrible UI placement, especially on mobile.

Why can't they change the start menu on phone? Or at least a couple different variations.

I know I posted this before, but here's the feedback I submitted in the survey: 1.) Sync Start tile layout across ALL your devices (PC & Mobile), and let you use your phone apps on a PC (using virtualization) 2.) Option to easily resize the Start menu across entire screen to toggle Start Screen (without tablet mode) 3.) On Mobile, swipe from left to right to show all apps list (align with desktop, currently it's backward) 4.) Make "Start" truly universal. Right now they are clearly not the same code (e.g. desktop has more tile sizes than mobile, and mobile has live folders while desktop does not). 5.) Pinned website tiles should show the website's favicon (currently they only show the Microsoft Edge logo)

The resize from right to let doesn't work because it only he in 3-4 start column internets l increments

Sorry, I don't really understand what you're saying here.

In a start menu, if you were to create a group, the width of the group would be at the size of three medium tiles side by side. So rather than resizing smoothly, like it does when you make the start menu shorter or taller, it will be more of a blocky resize. Each one of those blocky sizes are at the size of a group.

1) Use your phone apps on PC Universal apps solves this without virtualisation. It is the point of UWP (Universal Windows Platform). As long as settings sync, it will be fine, which it does not always do. Yes, there is a shortage of of universal apps today, but with time it will work out.

5) The website owner should provide an image (just like they have to do for Android and IOS) You can even force the tile color and text.
But developers have to implement it ofc.If they would use the favicon it would be pixelated and you would start complaining all over again. What they should do:
6) Add a section for users to manipulate the tiles (change the color, icon, text, size, ...)

The crazy thing is you can have custom links to web pages on the start menu by creating a shortcut in C:\ProgramData\Microsoft\Windows\Start Menu\Programs ​ and then you can set the text and the icon, but you can't do it with the Edge browser.

I didn't know this. Good to know! Can you set the custom-made shortcuts to open in Edge?

They open in Edge by default. It probably opens whatever browser is your default browser.

Metro IE 8.1 was wonderful in that regard. You could even select the tile image among several types. The same sites now look pale Edge icons ffs..

1.) This is an interesting idea, though virtualization seems like overkill, unless that's the only way. I guess having a silverlight and related runtime to run WP apps on Windows 10 PC would do, basically getting some components from WP. 2.) Though this feature isn't really necessary (I use Start screen all the time btw, even nicer to use on desktop), I can see some people would like having easy way to transistion between menu and "screen*". * Because Start screen in W10 is basically just a full-screen menu, without the nice behaviour of original Start screen. I think what they can do is when the user resizing its corner up to the edge of the screen, it will automatically switch to Start screen. So there is no need for the button (though may not be so obvious), but still remains predictable when you are resizing the Start menu. When going back, maybe moving the mouse on the upper-right corner of the Start-screen will reveal the button to go back to Start menu after a second of hovering. 3.) I kinda disagree with this, I find the swiping to the right seems more natural just like going to the next page. It also shares similar direction of the homes screens from iOS and Android, giving some sort of familiarity and intuitiveness from those platforms. For me, reserve that right-hand side to something else and keep the All Apps on the right of Start. So I go for swipe to the right instead. 4.) I would like this to happen too, only if Microsoft can 'promise' not to remove features and other nice things in the process. Windows Phone/Mobile Start screen for example is superior in terms of Live Tile technical design with its custom animations (such as Cortana animating and the old WP Music+Videos Hub Live Tile). Though they actually manage to have custom animations for People app work on Windows 10 PC too (though I don't find its aesthetic tasteful). But yeah, on technical standpoint, they need to make this happen to streamline things. Hopefully we will get Live Folders from Windows Phone/Mobile in the process. 5.) Actually it does, but not on all websites which it requires web developers additional support (needs higer resolution favicon) and I think its Windows 10 bug. They have to fix the issue here. Anyways, still a great and quite detailed feedback that I hope Microsoft would consider. The number 5 seems more like a bug that needs fixing, the rest I'm still interested to make those being implemented (with 3 being swipe-to-right instead). About my feedback I've sent, I shared this GIF animation mockup: http://imgur.com/a/fTjzB

Really nice feedback. I appreciate your point of view on these issues. Also, WOW - great mockup! You should definitely tweet that to @JenMSFT and @Peterskillman to see.

Thanks! Feel free to nitpick my mockup too if you see a fault or issues too. Hmm...I was kinda thinking about that too, even though I already forwarded this on the survey form. I even planning to make similar feedback post too to the Feedback app. I'm thinking if I make another GIF because I want to show my another suggestion as an animation to have inline UI for app search while on App List. Basically, it's only filter/search apps on the App List only with Store suggestion on the All Apps rather than having to call Cortana/Windows Search UI. The aim is to have focused and instantaneous way to search apps while on Apps List.

I really like the sliding All Apps demoed as i am a fan of hidden menus and simple/easy access. This beats the silly little scroll lists currently offered. Agree....send this to MS.....NOW!!! Though I will add that my favourite search menthod is just type what you are looking for and it appears. Easy.

I actually included this as my additiona feedback on the Survey and I'm still going to make new Feedback post on Feedback Hub and most probably forward these on Twitter too (I think I will use Sway too). I'm just going to make another mockup for All Apps searching just like I mentioned above. I just need more free time though since animating on Photoshop is bit tedious but faster to prototype than After Effects.

I remember reading this post in another start menu thread. 1.) (a) Syncing start tile layout is not a good idea as the screen size, app usage, app needs, app availability are different from mobile to PC. However, <PC to PC> and <Mobile to Mobile> start tile layout sync would be great. (b) Mobile app virtualization on PC would be cool. 2.) Toggle of start screen is available in the startmenu setting section in the control panel that can be accessed easily. The previous toggle button was removed by Microsoft because it was confusing to some users. 3.) On Mobile, swipe from right to left works fine, I have never heard any users complaining about it before. 4.) Live folders would be great on PC startmenu. 5.) There are many third party solutions (webtile) that can be used to make fancy tiles for websites.

PC to PC syncing we're the features for Windows 8.X but removed in Windows 10 because of excuse that people want different Start layout each PC. If they're having a technical issue with PC to Mobile syncing, then PC to PC and Mobile to Mobile syncing would do great for now. But cross-syncing between PC and Mobile can be possible with more intelligent responsive and flexible Start grid system. It's harder to explain here in the comments but it can be possible why determining the order of Live Tiles and groups (if there is). App availability is indeed an issue but will gradually fixed when the apps slow converting to Universal. Other solution for the moment is the said virtualization and my other take where runtime components to run those WP apps on PC without virtualization layer. Heck having WP apps running inside a restricted window will benefit more for W10M devices with Continuum, where you can use those apps alongside with Universal Apps on Continuum mode. Continuum just needs to be a desktop-like environment, not Windows RT-environment. Even Android is having windowed apps soon while Microsoft can't figure how or why to do it.

PC/Mobile Start sync isn't really a problem anymore now that both PC & Mobile share a common 3-tiles-wide layout in Windows 10.

Looks rather interesting and nice. I like it.

OMG, it is terrible. In this case, the old one is better.

I agree with you. I like my start menu as it is now.

What? It has small changes and in the end they seem more useful and productive. As long as the existing features don't go away I'm fond of it Posted from Windows Central for Windows 10

Agree. Posted via the intertubes

listing the all apps upfront is a big blow to the hamburger functionality. Why would i want to keep looking at some list of apps i can access from the hamb menu when instead i can use the space for more productive stuff like live tiles? I lose my third column of live tiles due to that. So ergonomically speaking it a bad design compared to the current one

I need a way to get the old start menu back !! Found nothing so far !!

Same design as the msn apps. Looks cool. Compacted :)

At least, be creative. The copy/paste "humor" isn't landing.

It's "coming soon". Why would trademark be in inverted commas

Who the hell picks these default tile colors? Teal, blue, green, purple? What color template is this from?

Now the locations I want to access are one more click away :( and I am pretty sure, very less people use all apps list. Looks like I need to pin the locations I want to access on start menu. I don't like this hamburger menu.

They aren't one more click away (are you blind? the hamburger menu toggles the text, not the icons), everything is exactly the same, except that there is one less click for all apps.

Aha, then I like the design. You don't have to be that rude in answering.

I'm actually curious if it's possible to even collapse/hide All Apps list on Start menu. I like having it more compact with only Live Tiles and the compacted icon-only shortcuts and user account on the right.

I would guess that a lot of people use "all apps" list. I'm one of them.

Can I ask why? I never use it. The apps I use regularly are pinned to the start menu or task bar. Other apps are accessed through start search. Scrolling through a long list of apps seems to be the least efficient way to get there.

I think because there is still many people don't pin apps on Start menu for whatever reason, pretty sure most still left the default configuration without even opening while opening their favorite desktop apps as a desktop shortcut (which majority of installers left it on by default). Microsoft needs to work out how to convince its Windows users to take advantage of pinning things on Start menu with apps and even folders (Yes, its possible! but not files yet and its not the Live Folders on Windows Phone/Mobile). Even my cousin didn't even knew he can pin apps and can be organized/group until I show how to do it. Pretty sure many would appreciate it if Microsoft push it in the marketing (but in a tasteful way). On the other hand, other people would be still don't want to use Live Tiles or pinning things here. So having a All Apps always opened would benefit them.

They could pop a notification, when users open apps regularly and don't have them pinned, that shows the capabilities and advantages of pinned tiles. Then many people will see windows phone and like the ui since they have it on their pc Posted from Windows Central for Windows 10

Hmmm....sounds interesting. Though that approach might annoy users instead, that their Windows 10 kept them suggesting to tell something. Though they already popping notifications on other things already like "How is your experience etc." things and alike. Maybe that would do for the first month of using Windows 10 after the OS determine what apps user constantly use and open for a long time locally (the process has to be done locally to avoid further backlash from "privacy advocates", also this seems simpler to do that it can be done offline). So I think that idea would work as long as it's done minimally.

Overall it is nice but I don't want the All Apps list to continue below the Most used section in Start 'menu'. It's better hidden somewhere but easily accessible, like in that splitview menu.

If there's one thing Microsoft have done right, it's W10 on the desktop. Loving the absolute HELL out of this OS and the dynamic nature of its update cycle.

Its really great user friendly and smooth.

Eh, it's better than I thought, but I'd prefer to have an option to increase the amount of recent apps with a button to show the All Apps menu. Right now you can only have 6 recent apps in Start, whereas XP had an option to increase that number as much as you want (I can't remember if Windows Vista or 7 had it; haven't customized my 7 Start Menu since I added Run to it.)

Windows 7 does have the option to change the number of recent programs.

I agree, though personally I'm fine with it but it's useful to increase the recent apps especially that we can resize Start menu, heck even for Start screen users would benefit from it too. Though I think the reasoning why this isn't a priority because they want more users to pin their favorite apps instead, which is indeed better approach for users when pinning favorite apps (which are likely most commonly used) negates the need for having them on recent apps list. Pinning apps on Taskbar is even gives user faster way to open commonly used apps, in exchange for less Taskbar space for other actively opened apps.

On my Windows 7 install, the Recent list somehow has applications that I do use a lot and they barely change, like they are pinned but they're not. It's really weird.

Old Start menu from the previous versions of Windows (from 7 and down), have this never been solved flaw where there is a limit on how much you can see Recents and Pinned apps based on your resolution. When the Start reaches the size limit, those apps not fit on the list will be always hidden with no scrollbar, inaccessible forever. To add the issue, Recent apps start changing from the bottom instead from the top, so if its hidden, you won't see any changes until it reaches the list visibility. And yeah, since they start from the bottom, it's less obvious when the list changed or not since we most humans have this pattern where we start scanning from the top, a thing that we learned from reading things normally. Lastly, indeed the Recent doesn't change immediately, though I haven't measured on how many times you have to open apps to see the changes.

This is fine for tablets. When im on my desktop, I just want a small compact menu where I can see all my folders and programs, without scrolling down a huge padded list. For example, the old Windows Server 2016 TP start menu.

Now do the same(kind of) for phones. It's been a while since I wanted all apps on the left of the screen and action center on the right Posted from Windows Central for Windows 10

So, they are gonna change Start Menu every year now? BFU will be really pissed. Hell, I am pissed if this is not optional.

I think these constant change for Start menu is rather temporary. We only experience another change because of rather rushed released of Windows 10 TH1 where it even originally lacks proper Jumplist support and other things. Even for Start screen users even finds Windows 10 Start screen inferior from Windows 8.X. I think the new change where they make All Apps always show probably based on demand from Start screen users to want easier and obvious access to All Apps, other is for people who still refuse to use Live Tiles or pinning apps and just want compact Start menu only having All Apps list and system shortcuts. Probably after Redstone 2, there will be minimal changes on Start. The biggest change people still waiting is having Interactive Live Tiles, after that there is not much incentive to make another big changes for the moment. Interactive Live Tile is big enough and very flexible enough to make Start powerful and feature rich for a long time (if they will make happen which I hope they will).

I don't understand what they mean by free. Does that mean that the future major Windows 10 updates will not be free and we have to pay?

At some point I guess Windows becomes a service like Office 3965 with annual cost. It's not like Apple who also sell hardware to cover the cost of OS development.

Hmm. True. As long as it's something affordable to many. I guess it'll be done annually and new devices will come with the new update. I wonder how it's gonna be for mobile version.

Thats just plain rubbish, windows will not be a subscription based service, Microsoft will make their money by selling to majot buisnesses, appstore, and services like office. the free thing being mention in the article was an added bit by the writer who wrote this up, and theya re simply reminding users that the update will be free.

I watched build and Microsoft did emphasize the fact that it's free. So this statement by them piqued my interest.

it means nothing, its for PR, everytime they say free, a 12 year old gets off. It isnt alluding to anytihng in the future.

I hope you are right. Time will tell :)

Think about it logically, they /need/ to be the most used OS, its the backbone of microsoft as a company, doing that will imediately slaughter their userbase, their marketshare would plummet, apple/linux would rise to power, and on top of all that, they would need to support the fragmented OS market because of those who dont upgrade, it would litterally kill microsoft as a company. Not to mention the massive lawsuits they would have for doing a "bait and switch"

I know. I just wanted to clarify. If they do that, only a few would pay to upgrade, putting the OS in a vulnerable position.

Making Windows having paid subscription would be a very controversial move and Microsoft would receive massive backlash that will taint Windows brand badly for a very very long time. Windows is already making money from OEMs buying license, so as long as people kept buying new PC (though much slower rate unfortunately), and PC enthusiast buying Windows copies, Microsoft would be still good with the profit and pays for the Windows development I think. Microsoft fortunately have many sources of revenue and profit compared to Apple where it mainly relies from people kept buying their hardware. Imagine Apple suddenly don't sell iPhone and iPad, that would be a big profit loss for them. I find Apple's business is rather more fragile than Microsoft and Google, they have to keep people buying their things constantly and keep their brand very valuable. IMO, making Windows a paid subscription would be a worst move ever Microsoft can do its one of their most valuable product.

Exactly, though im going to note, Apple makes a huge bit of money from iTunes and the Apple store in general, which is clearly one route MS hopes to make income from to help pay for windows getting free updates.

Yeah, and this is why Microsoft is pushing Windows Store so that they well get something from there for Windows development. If there is thousands of paid apps over there, Microsoft even with small cuts still get the profit it needed and the revenue. So it's really important strategy for people to have latest version of Windows 10 and to switch to Windows 10 for them to move on to that model. Unfortunately, people even bash Windows Store model and refuse Windows 10 for that matter while staying on Windows 7 or Windows 8.X (surprise, surprise). Which is another issue for Microsoft since it slows down the future of Windows platform here. Apple App Store is indeed also their new source of profit like iTunes, which is one of the most successful model they have now. This secures Apple's future because of active and rich ecosystem they have. Without this, iOS devices can be easily overshadowed by other platforms.

Its either free or people wont 'upgrade'. For MS its easier to have less versions to support. They should actually pay users to take part in this beta program called W10 :)

True. I don't W10 will ever be finished. It keeps evolving.

They are pointing out that it's free for those who already have windows 10. Windows 10 was a free upgrade for those who updated within a year of release, so I assume if you're updating from W7/8/8.1 to this update, you will have to pay. This isn't new information though.

I have configured the Start menu to suit my needs, hopefully this new version is not the only option, I like it the way it's now

I agree. I pretty much hate the changes that are being proposed for this update.

This new Start menu don't change Start layout and the system shortcuts on the right, so our configuration should be retained. Only the general layout has been changed by it doesn't affect user's configuration.

What's this start at the top. Do you mean I have to click the windows icon bottom left to get the start menu, and then to get to my apps and programmes, move the mouse almost the furthest possible to the top middle of my screen? Utterly daft.

Yes, you are correct, totally daft. Why are they making it easier to access all apps than access file explorer? Does anyone think this is a good idea?

I don't like this at all and it is totally daft. It's a mess.

They could make it, when users move the mouse to the furthest left of the screen the menu would appear, instead of clicking the hamburger menu. Or any other way. Otherwise I agree with you Posted from Windows Central for Windows 10

look careuflly at how it works, the hamburger button jsut shows text, all the buttons are clickable without clicking the hamburger

What about live tiles? I haven't been using Windows 10. I'm still using and liking Windows 8.1 on my computers and phones. Just wondering about the live tiles.

Live tiles work exactly the same

You mean Interactive Live Tiles? Unfortunately this still left hanging on the air without much assurance whether it will come or not (which is bit disappointing since this is the most anticipated one). Though we will have rather more minimal change to Live Tiles which will be "chasable", but not that revolutionary to Live Tiles as the Interactive ones.

whya re you still on those, if you dont upgrade soon you will lose your free upgrade..

In that picture I can't see no difference

That isn't the picture. Read the article and go to Twitter to see the gif.

Looks forced for the sake of change and consisitency.

I think it's not really the sake for the change especially that change where All Apps is now always visible, which probably a thing prefers for some people don't intent to pin Tiles. I don't even personally use Start menu but I can see more reasoning on this move. Though honestly, I even find having all visible All Apps not too necessary when a user already pin apps which is flexible enough to pin all stock apps (unless a user have number of apps beyond the Start limit). Though on UX standpoint, this seems good on the book I think as it provides users easier and obvious way to access one of the most important components on Start with less click. About consistency, well they have to since Windows 10 is currently not that much and there are still alot of rough areas.

For me, I think the tradeoff between convenience (one less click) and screen real estate is not worth it.

I can understand the real-estate issue, which is a tradeoff. Though if they play smarter, that All Apps on Start menu should be collapsable, making Start menu more compact which other people would even love to have I think. Though based on that GIF animation (and from the Build videos), that All Apps is always visible. It doesn't have the All Apps toggle like on the Start screen.

If All Apps becomes a permanent list that can't be removed then I will stay on the current W10 version or find a way to revert back to 8.1. Having a permanent list makes no sense at all when there are live tiles for most used and type to search for others exits. This new idea is a mess and just not required.

Well, this change is most likely going to happen anyways, so this leaves the feedback where we need collapsable All Apps for Start menu which is more logical to do. With that, you can have even more compacted Start menu with more focused and space for Live Tiles than before. Personally, I'm really neutral with the change as I'm more of a Start screen user which doesn't have this permanently shown All Apps. I use Live Tiles always that I pinned countless of apps and carefully grouped them. I understand you're gripe here, I just trying to see bigger picture this even considered which serves more pros this time. Even though yeah, we really don't need to always show All Apps when you have space to pin all favorite and most used apps as a Tiles. Heck we even have Taskbar to pin things.

I find the start menu pretty decent at it's current state. What I really want is for them to overhaul the start screen (tablet mode). The tiny all apps list and buttons on the left aren't exactly touch friendly.
And while they are at it, how about letting me hide the taskbar. How hard can it be???!!!
You can hide it everywhere else, but not while the start screen is active.

Prefer what we've got, things seem simpler and easier now

I pretty much like this, more productivity oriented and things are just quicker, btw, those shortcuts on the left look pretty helpful, any chance any of these like the profile bar n shortcuts slip to mobile as well?? Just hoping Posted from Windows Central for Windows 10

Does Microsoft realize that 99% of users dont care about things like this and are nothing but frustrated by all of these constant changes? One of the reasons people loved XP so much is because they got so comfortable with it.

Tiles are needed to be of different colours from the theme colour

Am confused with this free stuff, does it mean that future versions of windows 10 won't be free ?

can we get a picture for those of us whose work blocks twitter?

Really don't like this new start menu. Who was asking for this? Start menu as it is is perfectly fine

Well i like it. This now is hard to open apps that are not pined.

I use settings a lot more often that the all apps list.

I want this change yesterday. I like the fact that I don't have to click twice just to see all the apps on my computer.

that empty space between hamburger and file explorer, settings etc is just plain ugly. it makes sense on the new start screen because you habve the 2 views there(tiles and all apps) but here we have nothing. so they better give us something there too. maybe a toggle-like-effect button for show/hide all apps list, and a button for a zoomed out tile view(kind of semnatic view) for people who have alot of tiles pinned but they still like the start menu instead of start screen.

Yuck. I'm gonna puck. Who in their right mind would place options under Hamburger button in a mouse and keyboard first environment ??.

DON'T HATE THE HAMBURGER

I don't hate those hamburger menus. I just don't like how they are placed in the upper left corner on Windows 10 mobile...

Still no search bar integrated it the all apps lists. HOW CAN THEY NOT HAVE THIS? Would be 10000x more userfriendly to be able to filter the list and not having to use the search window that you have to use today.

8.1 start page was much, much more fun than eating hamburgers.
Windows Central Newsletter
Get the best of Windows Central in in your inbox, every day!
Thank you for signing up to Windows Central. You will receive a verification email shortly.
There was a problem. Please refresh the page and try again.