Here's what's been fixed and improved for Windows 10 Mobile build 10586.318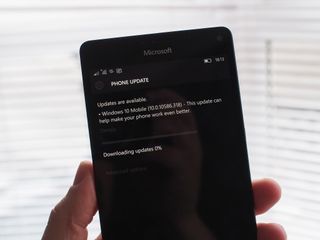 Microsoft has posted a list of what has been fixed and what has been improved in the new Windows 10 Mobile cumulative update for build 10586.318.
The full change log was posted on Microsoft's support forum (opens in new tab):
Reliability, performance and stability improvements.
Fix for a problem that could result in unexpected battery drain while the phone screen is off.
Improvements to the update system to prevent phones getting into a state where attempting to take an update may lead to errors 0x800f081f or 0x80070570.
Fix for a problem that caused some phones to finish the initial setup wizard with an incomplete set of app tiles on the Start screen.
Improvements to the reliability of USB-C connections.
Improvements to Cortana, including a fix for a problem where music playback would not resume after dismissing an incoming text, and a problem with Quiet Hours not setting automatic rules for every day.
Fix for a problem that could result in the phone to hang or restart when visiting certain web pages in Microsoft Edge.
Fix for a problem that caused recorded video to be lost when answering an incoming call on some phones.
Improvements for reliability of internet connection sharing (ICS) and tethering.
Fix for a problem that caused the navigation bar to overlay and hide part of the screen for some apps on certain phones.
This update is for smartphones that shipped with Windows 10 Mobile pre-installed such as the Lumia 950, Lumia 950 XL and the Lumia 650.
Windows Central Newsletter
Get the best of Windows Central in in your inbox, every day!
I'm getting it on my Lumia 640

I've got it on my 640xl. Some of the problems are still not solved. When I restart,apps on my sd card won't load immediately. Sd card has errors the message says and asks you to scan. After sometime apps load on their own. Date and time show error sometimes although it is set to automatic detection,etc. Hoping for further updates soon.

I'm also facing the same problem
and start icon on multitasking.
Srk62

hey.. Flashlight is not working after this update on my 640xl. what about u??

Works for me at first it disappeared from my notification center shortcuts but after a soft reset it came back and works

Jackey Sharma pls make soft reset on your mobile,,, SETTING/SYSTEM/ABOUT/RESET YOUR PHONE IT WILL HELP TO YOU MAKE SOFT RESET YOUR MOBILE

I have the Lumia 640XL LTE Dual Sim phone and it has several problems remaining since the 10586.318 build update. Still cannot connect my Hotmail account to the Outlook App. Facebook, Lumia Messinging, FB Messenger, email, etc. will not allow upload of photos to these apps. You have to go to the photos and click share from there to get pictures into these programs but not without having to do it 2 or more times as the programs for each shut down until 3rd times a charm. Messaging app had two tiles before for each sim, but this time the 2nd sim will not show on the start screen but only in apps list. You have to link the two sims to the only one showing on the start screen which is extremely frustrating as it always wants to revert to the initial sim one for usage. FB app takes forever to open, update and is still lacking in Sooooo many ways compared to other phones i.e., IOS, Android, PC and web versions. Still so many popular apps not available on Windows Phones because companies and developers don't think we Windows phone users are worth the investment. Then I recently read where Microsoft is going to get out of the Lumia phones buisiness and has already scaled down it's new phones offered to about 3 devices. They are talking about a New Surface Phone? WTF? This is insanity. What a slap in the face to those of us loyal Windows users that have been excited for so long now to get something finally that will sync amongst all devices then it fails miserably. I'm so ready to return to Android OS and chalking upt the many hundereds of dollars and hours spent on Windows Phones. Getting answers or being able to talk to anyone about this is so elusive and hard to reach. It amazes me that when doing a typical search about the lates build updates, problems, etc. isn't even showing anything recent to today's dates regarding these problems. I'm sure I'm not the only person having problems? Please somebody help me with this insanity............!!!!!!!

SEND ME YOUR EMAIL WITH THIS DETAIL ILL HELP YOU

Yeah! Available on my L930 release preview build.

hey pls I have a lumia 930 ! so how is that update ?! there is any changes on battry life and sound of camera ?!

+1 My 950 received it. My biggest issue was with Cortana crashing so let's see how stable it is post update.

And also for officially upgraded device ;)

Getting it on my 720 & 950

It's currently being loaded onto my 925 as I write this...lol ;p Sent from my Surface Pro 3 using the Windows Central UWP app. BOOYAH!!! ;]~)

How's Windows 10 working out for you on the 925? Mine' still on 8.1 and I'm contemplating whether I should make the jump knowing the device will never upgrade to Redstone and beyond.

My L820, same HW as 925 is mostly fine on W10M. Definitely worth the upgrade.

This is the first upgrade that seems to make my 820 slow down a LOT.... maybe time for a reset? or is this 'normal'?

A reset is definitely recommended if that's your issue. Especially they cumulative updates are part of the stable releases, so no reason to believe your phones performance would depreciate noticeably.

Microsoft already said 'no need to reset'

Not really sure about what you're referring to, but if his phone is 'slowing down' a reset is certainly a viable option.

just update to official releases, latest one is .318, pls don't update to redstone, it is not good. - Windows 10 L730(10586.318)

Oh, yeah...that is true. They basically capped off all the old phones at the 2015 version, if they could get it. The Anniversary/RS will definitely only be available for those w/ 8GB and 1GB RAM =[

and it's not even finished - needs a lot of bug fixes
I'm talking about Build 14332 or the latest rs1 - leading to the summer Anniversary Update
on a Lumia 1520 CV FI (and one Fast Ring Build earlier on a friend's Lumia 1520 AT&T)
RedStone is still deeply in Beta while the Threshold Windows 10 Mobile is just getting it's final fixes.

Yes it does have a few niggling bugs, but compared to the length of time we were getting previews leading up to 10586.xxx, development is screaming along!

After cutting of almost half the models (the 4yr old S4 CPU)
the pace is now about double - much better!

I'd say more than half of the users.

This cumulative update is pretty sweet. I would advise you, should you take it on, to download, install, then do a hard reset. This will kill any potential issues you may experience coming from 8.1

W10M on my old 820 works fine on recent builds (builds after the survey). Its getting little more optimized and less quirks. Unfortunately, yeah no Redstone update which is a short live for these devices having W10M. Especially when Redstone will bring more polish and updated experience that any Snapdragon S4 devices won't have. Sent from Turing Machine

good day please how do i use it on my lumia 925, and is it working very well

updating my 950xl and 920

What about Cortana audio issues????

Improvements to Cortana, including a fix for a problem where music playback would not resume after dismissing an incoming text

I take it you didn't read the article...

If you're talking about the problem where Cortana would be listening to you and then crash out (both with and without Bluetooth), I really, really hope this fixes that. Posted from Windows Central for Windows 10

FYI it doesn't fix it. I was looking forward to it, but no.

Such an annoying bug. I find myself mumbling "C'mon woman!" when it happens. :)

You should ask Cortana what gender it is... Posted from Windows Central for Windows 10

Now I'm curious, but I think the people around me would look at me funny. She sure sounds female though!

Don't know of many men named Cortana!

IT WAS IMPROVED TRY THIS OFFICIAL UPDATE

So, my 735 can't grab it??

well L730 is being - Windows 10 L730(10586.218)

My 735 is getting it right now.

LOL last sentence is so funny :'D

Whats a 550? Sent from Lumia 650.

It's available. Installed it last night.

available for Lumia 930. It's for non-Insider phones that are on latest build. This does include 950, 950XL, etc.. but also any older phones that have upgraded to windows 10.

Getting in L730, hope unexpected Battery drain issue is gone, - Windows 10 L730(10586.218)

Hope the groove music icon appears... And the start screen icon..

groove music icon is working properly for me from last few builds. - Windows 10 L730(10586.218)

L535 no icon since build .164 Posted via the Windows Central App for Android

Lumia 730 good update. Windows central fix your app. Add reply is misspelled as add repy

Lumia 535 here too, icon was always there :D Posted with the Windows Central app for Windows 10 on Lumia 535

I believe that you will need to do a hard reset

Ok..but earlier whn i was on insider programme i did a reset and then.......no icons!!!!!!! Posted via the Windows Central App for Android

this bug was fixed in the latest builds

Bug was not fixed,still missing weather app's icon

Yeah.. Same problem here...

Is the bar thing fix, a temporary fix till the big update?

its only temp. fix bcz even navg. bar hides, there would be a black space, old apps won't scale to the entire size of our phones, the developers need to update their apps to UWP which is not going to happened for 90% apps, no one is interested to develop UWP apps - Windows 10 L730(10586.218)

Ah ok, yeah I helped some devs to update the "hide bar" situation. If only many more did that automatically.

I am gonna send emails to all the app developers which have the issue.

Is the Lumia 550 still a good choice? I mean..how it performs with Windows Insider builds?

no insider is not good choice - Windows 10 L730(10586.318)

Fixes Edge crash! Yeah, finally!

Still freezes sometimes for me when reading. Sent from Lumia 650.

I use to read news a lot, when I open some articles and back button doesn't work, so I has to close that tab and start searching for my article once again. hope this issue is resolved in MS Edge with this update. - Windows 10 L730(10586.318)

Well, new build (a.k.a. Redstone or Anniversary Update) fixes this problem.

Got it on my HTC One M8. Although, I think I somehow have the only HTC One outside of Insider with the update by some fluke.

Is this the build that removes existing functionality like PDF Reader and FM radio?

PDF reader I don't care, we have Adobe reader and it works amazing.... I am gonna hate them if they remove FM Radio, I think they gonna remove FM Radio in redstone updates, if they do now, I start curse them hehe - Windows 10 L730(10586.218)

there are other fm radio apps in the store

None of which are worth 2 cents imo

Honestly, default PDF reader is still a must, at least a basic ones. PDF files are so common these days that not having it with the OS out-of-the-box feels incomplete and bummer for some users. Fortunately Edge supports PDF, so its now a default PDF reader of Windows 10. Though bit odd since its a web browser. Sent from Turing Machine

Last time I checked edge had no way to navigate bookmarks and contents, did they add that in recent versions?

What do you mean no way to navigate bookmarks and contents? I don't get it. You can browse through and manage bookmarks (Favorites) at least on basic means on Edge for a long time.

he means accessing certain PDF functions. PDFs can have bookmarks, chapters, subsections, forms, etc built in. As far as i know, edge cannot utilize these functions. So if you are opening a large PDF that has an index for navigation, you have to manually scroll through.

I did the update and the FM radio is still there.

Anniversary update in july I believe. Sent from my Lumia 550.

do they have groove music on lock screen?

Yes the controls are there as of the previous update. However, it broke groove in the process. Not sure if this update fixed groove playback. Basically as of the last insider update, when you stream music groove gives you an error saying that other applications are using the audio playback device.

Installed it and both still here ;)

Pdf are openning in EDGE itself... Then y need separate app

Got it too. Lumia 640 XL Movistar Mexico. Posted from Windows Central for Windows 10

Me too! Posted from Windows Central for Windows 10
Using the Alcatel OneTouch Fierce XL for Windows 10 (Redstone)

I thought you're kidding but i did update on my l925! Are we getting all the updates after all?

all the updates on build 10586, not after that with Redstone and forward (for now)

Downloading now Posted from Windows Central's Universal App, Windows 10 (Lumia 650)

Any news about fast ring?

Gabe tweeted that there won't be new builds today.

Hopefully Thursday Posted from Windows Central for Windows 10
Using the Alcatel OneTouch Fierce XL for Windows 10 (Redstone)

Got it on the 650 anyone still get the calendar bar disappearing if you change the date you want to add something on. :(

Downloading on my 920 right now.

I just did that too on my Lumia 920 and it feels faster. I hope it's not just my imagination.

Will this update remove the FM Radio app from Windows 10 Mobile on Lumia 950 XL? Posted from Windows Central for Windows 10

Don't think so, it's removed in the dev branch (Redstone) so I think it'll remain until that's released.

Better they reverse that decision. Sent from Turing Machine

Nope, its still present in this update. - Windows 10 L730(10586.318)

Anyway to get around the roaming error? Update isn't big enough to hurt my data usage.

Honestly..there are lot of other issues i faced..like with groove music app..and outlook mail. Wifi mainly..won't suggest to upgrade at all..but windows 10 is pretty cool if i ignore all the issue i faced and were very imp to me.. #Backto8.1

I had similar issues on my 930 groove app crashing, WiFi not connecting or disappearing and outlook mail error I reset phone and let it rebuild and it now fine so might be worth a try.

WiFi is really bad on Windows 10, both PC and mobile. I have yet to find a W10 device where WiFi works really reliably.

What are the problems?
WiFi (& Hello!) works on my old HP Business laptop
AND my Lumia 1520 & Lumia 435 & Lumia 520 <- All running a different version...


I hope that the Cortana improvements fix all the crashes I've been dealing with on the last few production builds. She's been basically useless for the last 2 ~ 3 months. :/ Also, for a dead OS, it sure does recieve a lot of updates! Seems more frequent than iOS updates. ;)

What's the size of the update?

Not too big <130MB i guess

71.8 mb in my 535 Sent from Lumia 535DS india ❤

lets see how it goes on the retail build, gears are turning..

Here's hoping that this build finally fixes the issue that results in Wi-Fi quietly ceasing to work and if I don't notice, I end up chewing through my cellular data unnecessarily while I'm at home or at work with fast, free Wi-Fi readily available. Posted from Windows Central for Windows 10

Same issue was really really annoying.I reset phone in about menu and redid updates it's been fine for over a week now so maybe worth doing.

Thanks for the tip! I'll first see if this build resolves the problem and then will strongly consider taking that action (I hate resetting the phone because it takes so long for it to restore from my backup, since I have a LOT of apps installed). It's also not just my phone that's affected. My wife's phone has the same issue, and me being a techie, I am a lot more patient with technology than she will ever be. Posted from Windows Central for Windows 10

I know the feeling well lol hopefully this update will get it working for you without having to do a reset it's a pain. :)

@Jessicator, maybe check your data usage settings? There is a setting that either allows or does not allow the phone to auto switch to mobile data when Wi Fi is not available.

The thing is, I *want* it to switch to mobile data when I *truly* drop out of Wi-Fi range. What I don't want is for Wi-Fi to be turned on, I'm in perfect range of Wi-Fi, and yet it says "Not Connected" under Wi-Fi... and when I look for networks, it finds absolutely none whatsoever, until I reboot the phone, at which time it instantly connects back to Wi-Fi and sees about 2 dozen other nearby Wi-Fi networks. Posted from Windows Central for Windows 10

And I can now confirm that the problem is still there in the new build :-( Posted from Windows Central for Windows 10

"Improvements to Cortana" Can I turn it off yet?

I need to uninstall it :p

I have the 950XL unlocked ATT.....downloading and installing over .218 which was installed via WDRT. Phone has been very stabile with a few minor bugs. In about one month of use have had (1) freeze. Also- had one day of a dropped call issue but i think that was ATT not the phone.... .218 should have been what was released when these phones came out. Been much more reliable as of late with good battery standby. Have gone 1-1/2 days with light use...phone and txt'ing email..not too much gaming..that is what kills it.

It downloaded and [completely] installed on my L635 [512 MB] It took about 50 minutes, start to finish. Have not tested it yet ... Don

So they rolling out updates to 512mb RAM devices also ?

Yes if you are on release preview ring and have the build .218. My 720 is updating.....

Aren't there any operational issues?? Win 10 was unstable and I chose to roll back

Fix for a problem that could result in unexpected battery drain while the phone screen is off. That just happened to me yesteday.

Hey just to make sure does anyone have that problem when screen blacks out for a second or a stutter at the top of the screen????

Yeah when???? Posted via the Windows Central App for Android

The stutter most times and black screens especially when loading content form the internet it's not a hardware thing I didn't have it on 8.1

Hope for cortana not to crash while i m talking to her.....downloaded the update...and please make a update that can solve the problem with app opening it took ages to load up some apps...

950XL, 640, and my pc, all updating

Did the update remove the FM radio app on your Lumia 950 XL? Posted from Windows Central for Windows 10

If you could read, you would know that this build DOESNT remove the radio app because it's not on the development branch aka slow and fast rings. Please read and stop asking dumb questions.

Downloading on HTC One M8 ... Jamaica

For petes sake. The updates that are only for a, b, and c devices thing is getting annoying as hell

Good thing it isn't true. (Or at least not if you have Windows Insider set to the release preview ring.) I am installing on my 521, 640, and 925 right now. (Yep even the 521 that only has 512MB of RAM is getting this version.) I figure get the updates while I can before they decide to stop releasing them for the "non-supported" phones.

I tried looking for new update using Fast and even Production. My phone finds nothing

It might not show up immediately for everyone.

Try the Release Preview ring.

Also, if you were already on the Slow or Fast ring previously, then you're on a completely different build track and would not see any of the generally available cumulative updates which are focused on fixing problems rather than adding functionality and fixing problems with new functions. Posted from Windows Central for Windows 10

If your phone is already on any build from fast or slow rings (Redstone 1 branch), you won't get this update (Threshold 2 branch) even if you change your ring to production. Only way to get this update is by reinstalling your phone using Windows Device Recovery Tool.

Downloading as I type. 950xl

"... where music playback would not resume after dismissing an incoming text..." So random! Just before I read this article I got a text, dismissed it, and my music stopped. This never happened to me before. Also, I did notice that my battery would drain more on some days. So I'm really happy with this update!

Nice. I think now we can download Avengers Alliance 2

No fix for missing action tiles.

Updating in my Lumia 1020..hope it's fixes heating issue when mobile data is ON and also instability in WiFi hotspot...

When can I get this for my HTC Trophy??? Posted from Windows Central App for Windows 10

Got it on my Lumia 925! Posted from Windows Central for Windows 10
Using the Alcatel OneTouch Fierce XL for Windows 10 (Redstone)

Is this a release preview update?

Yes, downloading it now on my Icon.

Sweet, thing to get it on my 1020!

Nokia Lumia 930 CV here in the UK. :)

Update still doesn't fix Outlook Mail failing to clear unread message count on live tile and lockscren. Very frustrating!

If you read your mail using Office Outlook on PC or Mail app on RT, it gets cleared on your phone. But W10 Mail app on PC doesn't do it for you. Yeah, frustrating if you use W10 Mail like many do.

My Windows 10 desktop Mail App's live tile doesn't work at all!

i hope crashtana is fixed. i need app performance in new universal apps like instagram. it's so slow. even entry level android phones are faster in this app! i hope microsoft fix this problem that i believe it's their bridge problem.

Instagram was made with Facebook's porting process, Osmeta I believe its called so this one at least isnt on them.

well i see no performance improvement anywhere.. or if it's there it's not visible. i wish everything would be a little faster.

It was removed from Redstone builds only!

which branch slow, fast, production? *I accientally posted in the PC update section please forgive me.

Can anyone confirm if this update fixes the "hide messages when screen is locked" bug?

Updating on my t-mobile Lumia 810.

Automatic the for Quite Hours stopped working after this update. If i restart my phone it used to turn on based on the time, now it's not VenkiDknight - Sent from Microsoft Lumia 640 Dual Sim

Downloading now on my 928...

Many apps are showing pending even after restart after update. It got reduced after another restart but still alive apps showing pending. This never happened before in any update for me VenkiDknight - Sent from Microsoft Lumia 640 Dual Sim

Yup you are right. Gave it some time they got fixed

Do carrier locked phones like AT&T 950 get this update today also? If so, that's really cool.

Installing on my 1020 right now. So glad to still be getting updates!

Getting ut on my lumia 525 also on release preview

Got it on my L535 Posted via the Windows Central App

But my phone is showing update no. 218 instead of 318

Missing Flashlight on my 830 in action center after update... Uros Skakun

But how ? Is the flashlight tile blank or what ????

Same problem on 640XL. The option to set to flashlight is present in the settings menu. But it never shows.

First time I'm glad to still be using my old Flashlight app I guess.

Indeed went missing on my Lumia 640 but is still there on my Lumia 950

Downloaded the update and I'm happy about this update because I can hide the Navigation bar in my lumia 730 for Windows central app and WhatsApp

Lumia 730 Update Glance Screen add this feature yes or no

My rp 535 got it too. Posted with the Windows Central app for Windows 10 on HP 250 G1 notebook. It is a scary old monster, I think :D

Installed and yeah cortana seems to be working fine now...dont know about any other fixes yet...lets try to install avengers alliance 2

i feel no differance in speed of my l640xl. just the same as before. no improvment detected

There is an improvement.... U can now hide the navigation bar in old apps eg. WhatsApp, old windows central app, etc.

yes, download in Romania on L640 DS....happy:)

Finally....can hide navigation bar in whatsapp

Another change - On going to all apps list, keyboard doesn't appear by on its own. It was introduced in some RS build a few weeks ago and now in build 10586.318.

It looks like a lot of models that didn't ship with Win10 are getting the update. I got it on my 1020.

Didn't think 1020, 920, etc. were getting.

Downloading in my pone L830 (723 MB). Send From My L830

not dowloading in my device lumia 535

Hope this fixes a bug I've had on my 950XL where it reverts back from "Tile view' to full screen picture under Personalization. It reverts every few hours, always when I'm not looking at it. Very annoying.

Ok still does it. Not fixed.

Loaded up on my Icon with no problems!

Cortana still crashing like hell. I'm pretty sick of this.

I'm sick of it too. Getting to be like Android, every phone now has a different os version.

So the last few builds have gotten stuck during the reboot phase on the manufacturer logo screen, causing me to do a soft reset. Once it resets it redownloads every app on my phone one by one. And some don't work unless I delete them and redownload them again! Anyone else having this issue? On a Lumia 920

Known bug. Open promises that it's being sorted by M$.

Seriously 512ram phones is still getting updates via insider? Including 520??

Is OneNote crashing like mad for anyone or is it just me? It's unusable now, it crashes and it shows a pop up error which renders the app useless.

Works great for me. Try checking for update in store VenkiDknight - Sent from Microsoft Lumia 640 Dual Sim

Seems faster. Nah, literally, my Lumia 640 is not sluggish anymore now. All animations are as smooth as they were on 8.1, and win8 apps are also smoother. Great update!

What about firmware? I still get random reboots on my 950xl

Haven't seen any update notifications since I moved to win 10 mobile on my MS L535 DS. Is it normal? Current OS Build is 10.0.10586.107

Move to release preview w ring.

didn't realize my phone already downloaded this update automatically , just wait to restart the phone to install it.

Edge, on mobile, seems finally using the memory for the pages in a different manner.
Now it doesn't reload pages anymore when switching from one page to another even after a couple of clicks. That's great. I can put Maxon away.

It's really smooth and fast and stable! Finally!!! VenkiDknight - Sent from Microsoft Lumia 640 Dual Sim

Now flash light is gone from actions centre....pff Sent from my Lumia 640 XL

Curios. I have it on my Lumia 640 (non XL)...

WOOT! Mobile data metering has finally been fixed. About freaking time.

What was the issue pls? I use it a lot VenkiDknight - Sent from Microsoft Lumia 640 Dual Sim

Works fine on the Lumia 928. Still hoping to get Redstone builds even more so now that the Lumia icon has. Matt Maxx Marz via Marz Rover 928

Getting now on my 640. Gotta love updates!

Did this break Mobile Hotspot for you guys? Loaded it on one ATT 950 and one unlocked 950. Broke Hotspot on both. 950XL on .242 still working. And one 950XL on Redstone build still working. So pretty sure this production build broke it. EDIT: Suddenly worked on one of the previously broken 950's. Perhaps the upgrade is still doing background tasks that are needed? I should know better by now to give a few hours before making conclusions. :)

I've got it on my One M8 Posted from Windows Central for Windows 10

Is this in the insider preview?? Is it fast or slow ring???

I hope it fix the annoying bugs when i charge my device it always said the device is chaging slow. That is realy annoying.

Downloaded smoothly on my HTC ONE M8... Only one glitch after download... Showed battery discharging while plugged in?.. Dropped from 80% to 60%... Did a soft reset.. Charge showed 82%.. All back to normal(yea!)... Seems smoother / more responsive!... Liking it so far!

Y still missing DOUBLE TAPE WAKE UP PHONE :'(

Getting this on my Lumia1020 preview build.

Installed on my 1520 and looks ok, so far...

The navigation bar still hasn't fixed in my Lumia 535

Am I weird because I enjoy w10m, not for the apps but for the journey in following and participating in the insider program?

No apps run after update, not showing the normal data update or reinstallation of apps. So wondering if pushed to unsupported 920 in error.

I have the earlier build will it be released for the lumia 640 XL??

Never mind downloading it now! I cant believe it. Great stuff Microsoft :)

Does anyone noticed low volume in groove music????

Yes and yes I have posted in the forum about this. I had wp 8.1 on my 640 XL and the music was much louder and punchier on wp8.1 but on wp10 the volume is muted almost as if a limiter has been put on it even on virtual surround disappointed with it!

internet tethering finally fixed! woohoo! MS did response to feedback!

How is this build performe on lumia 535 & 640xl???

No note about the customized message alert tone fix yet? :(
Update: Found a workaround. Could have been there all along but decided to try it just now. Now w10m just got more awesome!

"Unexpected battery drain while the phone screen is off" Never faced this issue until now but suddenly it happens to me!!! Didn't touch my phone for 2 hours, dropped from 50% to 19% !!! Pls help !!

Is it for insiders dunno the latest Redstone build on AT&T 950????

I got the update on my Lumia 640xl!!!

This update is even for the cheapest one,Lumia 430

Seems to have fixed whatever was messed up with my keyboard/Wordflow. It was taking forever for me to type texts because I had to keep correcting words. I didn't see anything about it in the list, but I did mention it in Windows Feedback. Makes me happy!

MS did a great job to the battery this time. The battery did not drain while the screen is off. Very good..

Glance screen still too dark to read.

And i get it on my lumia 540

Omg, I will be so happy if it fixes my battery life on Lumia 950

Updated. No apparent change apart from stability.
Posted from L730

The battery drain while screen is off has def been fixed. Whew finally!

Still have not gotten the update yet on my 650.

When installed on Nokia Lumia730, phone became dud. Nokia service centre also couldn't repair. The re loaded W8.1 and returned. Then i re installed W19, avoiding .318!

I still have major battery drain. Anyone figure out how to reduce the drain? I am already 49% at 3 hours off the charger.

I'm having battery drain issues for my L920, did u find anything that has helped? Posted via the Windows Central App for Android

Got on my Lumia 535 DS......working properly......

When is it going to be available on my 640? Ronald R Robles

I am not satisfied with latest build,,,no new features added

I got it on my Lumia 1020 as insider

W10M is such a ******* mess. I wanted to download it, so I started it and went to do something else. Then I come back to see the progress, only it won't let me in. I try several times, each time I have to turn the screen off, but I cannot go into that setting. So I turn it off. Only it won't turn off completely, the buttons are on, but the phone does nothing. So I shut it down then. After it boots up again, it is sluggish, then it wants to start the install, only to find out the download isn't complete, thank God! Who is programming it? A bunch of monkeys with typewriters? This won't do, if I did not hate Apple and Google even more, I'd be long gone.

The music stops automatically when screen is locked after some time...this issue there for very long time now...fix this and yes improove the app oppening issue too sometimes it crashes and it always took so long to open apps ...even the system apps...make this os flashy as android one are Microsoft Mobile

The battery problem is still present

I have nokia lumia 1020 and i was update to windows 10 mobile to 10.0.10586.318 version. after that microsoft edge dont work anymore.....i cant open it... where is the problem?

My 830 updated to 10586.318. on 5/10/2016 and I have lost SMS and the ability to alter SMS settings. Anyone else? Fix?

Still the battery drains at -11% per hour even the phone is idle...

Am using lumia 830, any attempt made to update is not working, cant seem to get build 14.332.1001 to install keep getting the error msg 0x80070002, can anyone help with this

"Fix for a problem that could result in unexpected battery drain while the phone screen is off." Funny. After this update my screen doesn't turn off. (Lumia 640)

Is the Lumia 520 still getting Insider Windows 10 mobile updates or is it now outside of scope for any future upgrades due to 512MB RAM. I currently have Build 10.0.10586.242 and that was only through Insider release preview, but not recieved anything through fast/slow ring for over two months now.

I lost my one note details for after latest update. How to restore it?

I've just updated my Lumia 640 to this build 10.0.10586.318. I can no longer pin the 'phone' tile. This seems like a very rushed and largerly untested build. I was under the impression that the fm radio app was going to be omitted in this build but its still here. I'm so frustrated with Microsoft, I do understand that the so called 'Continuum' will always be work in progress etc. The thing is, microsoft should have had all these basic bugs sorted out before windows 10 was ever released. I'm a Nokia fan and only went to windows phone because of their hardy handsets etc. I've been putting up with windows phone whilst awaiting Nokia to start making smartphones again at the end of 2016. That time can't come quick enough for me. COME ON MICROSOFT! A smartphone with no icon or live tile on the start screen to make a phone call? Really? Yes Mr Windows phone customer, just go to your app list and find the F****R there!!! Good grief!

Can I get this build for lumia 735 and lumia 535 ? I didn´t get update yet. :(

The Windows 10 updates are getting better an better. But there is still an issue with the camera. When I take photos the phone sometimes restarts an I miss moments I been waiting for. Henry Miller

Some time over the last couple of updates, my dictate button has disappeared. It is checked on the keyboard settings. but no dictate option in any app! Help!

This is about the 5th update to my 950XL that won't download. I'm really sick of having to hard reset on every 2nd update. Anyone else still getting this? Any other fix besides hard reset?
Windows Central Newsletter
Thank you for signing up to Windows Central. You will receive a verification email shortly.
There was a problem. Please refresh the page and try again.