Here's what's been fixed and what's broken in Windows 10 PC preview build 14271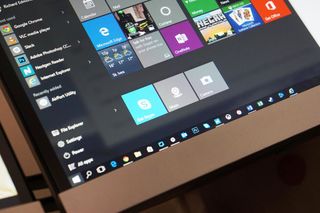 Microsoft has released a list of what's been fixed in the Windows 10 PC 14271 preview build for Insider members in the Fast ring, along with a list of known issues as well.
Here's the list of the fixed bugs in the build:
We fixed an issue where the window borders on apps would change from accent color to black after every upgrade to a new build.
We have updated the music control icons that are shown in taskbar previews in music apps like Groove to look more crisp and clean at higher resolutions.
We fixed an issue where the taskbar would sometimes not auto-hide and show unexpectedly on top of full screen windows such as showing above a PowerPoint presentation when in slideshow mode.
We fixed an issue where the "Hide notifications while presenting" setting preference is lost after upgrading to a new build.
The entire app header in Action Center is now right-clickable instead of just the app name or "x".
We made it easier to dismiss all notifications from a specific app in Action Center by increasing the target area to encompass the entire app header.
We fixed an issue where interaction notifications would not show a button to input text in some cases.
Fast user switching should work now with Picture Password.
We fixed an issue where some desktop (Win32) apps look missing from Start.
We fixed an issue where the accent color does not automatically change when the slideshow option is chosen for your desktop background.
Here's the list of the current known issues:
We are tracking an issue reported by Insiders where some PCs will freeze or bluescreen when resuming from hibernation. Disabling hibernation is a workaround in some cases until this is fixed.
If you have Kaspersky Anti-Virus, Internet Security, or the Kaspersky Total Security Suite installed on your PC there is a known driver bug that prevents these programs from working as expected in builds from the Development Branch. We are partnering with Kaspersky to fix this issue for a future release, but at this time there are no known workarounds. While this issue is present, we recommend using Windows Defender or another third party anti-virus product of your choice to remain protected.
Turning on the "always show all icons in the notification area" setting disrupts the layout of the notification area ("systray").
When browsing in Microsoft Edge, charts displayed using D3.js library will not display correctly – e.g. render as black, positioned incorrectly. Known affected sites are Cortana, Bing.com, and PowerBI.com.
Source: Microsoft
fixed my boot up problem with blue screen but cortans is still broken

fixed my blue screen on boot issue but cortana is still broken

I hope it resolves the failed boot on my SP3.

I don't think so, but I am installing now. It mentions that the freeze bug coming from hibernation is not likely fixed. The problem is that it is not just hibernation. Cold boots had the same problem on both surface and desktop pc.

I've got it on my SP2 also. Minor issue. Just restart. They'll fix it soon.

Been doing so but it now feels just wrong.

My Yoga 2 Pro has the same issue, but based on the list of known issues I don't think this fixes it. You may want to try disabling hibernation until the problem is fixed.

Same here... quite annoying.
Downloading now and will come back after installation...

Update ... This Build has fixed my booting issue.

Updated and so far boots from first time as it should!

Getting bsod every day with surface3 firmware update (mainly when browsing in edge). Also my pin password disappeared after last update even though it says its on in settings. On a positive note battery life and sleep have improved with updates.

Replace Kaspersky with crappy defender? Is MS ready to pay for damages this advise will cause?

My Dell Inspiron 5548 (2015 Broadwell model with AMD graphics) is using latest Windows 10 updates ('m no insider though) and I never had issues with viruses, Windows Defender does the job pretty well, my machine is better with every Edge update and scores Octane V2 benchmark results higher on every patch, right now I'm in 29000, with a few more Edge performance and efficiency updates I'll reach 30,000 as soon as next Summer.

No, they're not, because there's a big warning about the damage insider builds may cause on your PC before you're able to sign up.

Fair enough. Still builds that break security should never leave factory.

Urm, they're Insider builds -- alpha/beta-quality. Things do, and will, break.

Insider or not. If known issue is broken security then such builds should not be released.

Defender is a decent AV system. It is fine. It is not a security breach to suggest using it over a third-party solution. It is a problem with third-party support, but that's to be expected of an Insider Build and the very kind of problem they hope to find (had they not already known about it) via the Insider Program.

My desktop gets BSOD if I choose to 'Shutdown' my desktop. My alternative to prevent BSOD ; Restart the desktop, then wait for it to reboot to BIOS, n then turn it off using the power button. Voila! Hope it helps at least a few of the desktop users like me!

Last weekend I updated my Windows 8.1 tablet to Windows 10 and the capability to install apps in MicroSD card is not working, so tonight I updated to 10586.1511 (Nov/Dec 2015 release) can anybody confirm this capability is now working on latest update of Windows 10 desktop? Thanks in advance.

Installing apps on an sd card works with builds after 10586.

Thanks for the response. I will try that tonight

I'm anxious to see whether or not Copy/Paste will be fixed on my Spectre... =s

Since build 10586 I can´t get preview builds? What to do?

Re-enroll in the Insider program... So basically say you don't want updates anymore, reboot (if even needed) and enrol again.

Does the task bar not hiding only apply to PowerPoint, or have they fixed it in general? Because my surface does it all the time. If it's fixed for everything, that would be great. Posted via the Windows Central App for Android

This update killed my SD card everything on the card opens on the pc ok but the phone is telling me to replace the card. Also after update noticed that the start button would not open the start screen took 3 soft resets to rectify the problem. now back on 1004 after doing a hard reset, This is first hard reset for my 950 XL.

The last few builds had been giving me some headaches. Unable to start normally after sleep or hibernate, random error messages, cortana failures.... This build seems to be the most stable in awhile. Hopefully it stays this way.

New feature: Launching BlueStacks causes an instant reboot. New feature: Back button in IE quits working. Posted from Windows Central for Windows 10 from my Lumia 950XL on Redstone.

Positive on the BlueStacks reboot. System bar icons 'error'/'bug' is an eye-sore. At least for me.

This build is disaster, dont update.

What a great helpful post. Thanks.

"Fixed an issue where the taskbar would sometimes not auto-hide and show unexpectedly on top of full screen windows such as showing above a PowerPoint presentation when in slideshow mode." Not true, build 14279 still has this problem. Pressing F11 in Firefox/Chrome the taskbar is still there, on top of the browser. Worst situation is with RDP, I can't click on remote taskbar because the local taskbar is on top of it.
Windows Central Newsletter
Get the best of Windows Central in in your inbox, every day!
Thank you for signing up to Windows Central. You will receive a verification email shortly.
There was a problem. Please refresh the page and try again.