Here's what's been fixed and what's still broken in the Windows 10 PC preview 10122 build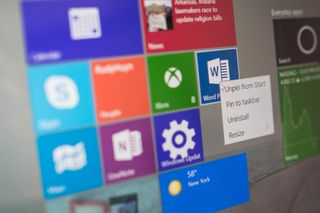 The new Windows 10 PC Insider Preview build 10122 is making its way to Windows Insider members on the Fast ring. Microsoft has fixed quite a few bugs in this version compared to earlier builds but there are still some known issues that have yet to be addressed.
Windows Insider leader Gabriel Aul offered a list of what's been fixed in this 10122 build:
We have fixed the visual glitch ("rectangle slivers") that appears on Live Tiles on the Start menu with the new tile animation. In general, performance of the Start menu should be better in this build.
We believe we have fixed a lot of the crashes with Microsoft Edge (Project Spartan) reported by Windows Insiders.
Developers – when you go to Settings > Update & Security > For developers – it no longer crashes the Settings app.
We fixed the issue some people were seeing where their graphics driver fails to install from Windows Update with error code 80070103. This was happening because WU was trying to re-issue the driver.
You should now be able to edit the IPv4 properties of an Ethernet adapter on your PC.
We have fixed issues where fonts would render blurry on High DPI displays. We're cooking up a blog post we plan to publish shortly that talks a little more in depth about our investment with High DPI in Windows 10 so watch for it.
We have fixed some keyboard shortcuts in Microsoft Edge. Control + L or Alt + D shortcuts now got to the URL bar more reliably.
The list of known issues includes one that's already been mentioned about the Edge browser crashing when the build is used on a PC with AMD GPUs. Here's what else is still broken in the 10122 build.
Upgrading to this build on certain PCs may fail and roll back to the previously installed build with error 0x80070057 – 0x20007. This is a bug where too many device INFs are being migrated and hitting an internal limit. Possible workaround is to use Disk Cleanup to clean up system files and choose Device driver packages, Previous Windows installations and Temporary Windows installation files. You may also need to remove unnecessary peripherals and remove them from Device Manager and trying the upgrade again.
In this build there is a bug that may cause issues with Cortana speech. If you are experiencing problems with speech recognition, or are getting errors when trying to speak to Cortana, please visit this thread on the Windows Insider Program forum for assistance in recovering from this bug.
Source: Microsoft
Yay not so many bugs (until we report them)

Was hoping for some visual improvements.. I feel its messy.. Does anyone else feel the same? Not as clean as windows 7.

Maybe they're hoping we'll get used to it.

Imho, it won't be as clean as 7 for quite some time. It's a lot cleaner than 8.1, but due to its hybrid nature it's bound to look 'dirtier'

I love it when my wife is "dirty."

it's your opinion. I think it looks great. and it will keep looking better. Windows 7 looks horrible that's why I always disabled Aero, it was horrible looking and I have to keep looking at that crappy UI whenever someone explains a software running Win7. so it's only your opinion, for alot of people Windows 10 looks better and more modern, and Microsoft already said, things like tile bars are going to be changed. which is the only thing I don't like when an app is light gray and the tile bar is white. (not so much when it's black or dark gray)

Desktop mode is great looking now. Fixed DPI bug, and now Office 16 Preview works! I am now using it as my daily driver without any real issues except Spartan bugs. Its getting very clean IMO. Tablet and phone need major work however.

I actually have the very same opinion. I am not liking it at all. I still have a hope that they will change things visually in a great way, but time does get by..

Windows 7 looks horrible in my opinion. I'm happy this looks different (better).

This is Windows 10 man not 7. So if you are expecting to see some Windows 7 features here, you better think again. Windows 10 is and will be different from Windows 7. It's time people like you leave the past and look towards the future

thats why we are here....

That makes me wonder, too.

How can i update from 10074??

Windows update. Iso will be pushed out later, most likely when it is pushed out for slow ring users.

just set your windows update setting to FAST and it will be update Automaticly

Wish they would add built in web.m support to Edge.

Yeah, especially now that they added InPrivate... If you know what I mean....

and set 4chan /b/ for the default homepage?

Is the new dark theme available

AMD GPUs? Is that solely tied to dedicated GPUs or includes the integrated gpu in AMD's APUs I wonder. It would royally suck if it is both, so hope it is not.

This is for all AMD Gpu types, it's a bug with the drivers. This isn't anything major just crashing issues when watching certain types of videos on the Edge browser. It doesn't cause system issues, it just crashes the web browser. A update is being released they said in about a week span if things go well with the new driver testing.

A great fix if you ask me... Not so much broken anymore.... Nice job, Microsoft.

Cortana hasn't been working since 10xxx started for me. Could be audio driver problem since microphone never works in apps such as skype.

I had the same problem before. It can be easily solved. You just need to remove unused "recording devices", and leave the only one you are using.

Right on, lookin' good MS. More fixes and less issues in this build, it's all starting to come together!

this was the big one for me. they received my feedback! hoorah!

We have fixed some keyboard shortcuts in Microsoft Edge. Control + L or Alt + D shortcuts now got to the URL bar more reliably.

i thank this changelog because now i know i can use those shortcuts :3 i think i will give them good use :)

What about the feedback so app? It doesn't seem to work in version 10074. ​

I have sucessfully downloaded and installed 10122!!! So fart so good!!! One bug fix I notice right off the back is that Chrome can be full screen and the auto taskbar hide works correctly. Edit: Hey I REALLY like 10122. Looks to run a lot smoother. This the first Win 10 TP that I have been able to get Cortana to work!!! Not to mention, the Start Screen appears to open smoother and so far I haven't gotten the dreaded expanded search pop up when I press the Windows key to open the start menu!

Anyone the same, anyone a solution to the fact that as soon as I sign in to a machine with my Microsoft account, then the keyboard is no longer working. Local and other Microsoft accounts on same machines have no problem. Have tried clean installs of both Win 10 and Win 8.1. I seem to have picked this up with build 10074 and it seems it syncs through my personal Microsoft account, showing on 3 machines after sign in. I posted on the forum and in a week no Microsoft response. Others have reported keyboard not functioning earlier without solutions either.

I'm still unable to download anything through store beta app

Anyone else having issues with pinned programs looking like they are from windows 3.1? Unless its an app, it is really pixilated and gritty.

Yes, same for me. Actually the whole start menu is a little buggy again. Sad, last build was almost perfect, now this one is really poor again.

ok I am ok with it as long as its not only me LOL. I will wait for them to fix it...price we pay for being in Beta :)

Unfortunately, as of this build the "expand into full screen" button has been removed from the Start Menu. Vote to bring it back here: https://windows.uservoice.com/forums/265757-windows-feature-suggestions/...

Doesn't it still show if you hover over the top right corner of the start menu? Edit: never mind. "In addition, the ability to toggle between Start menu and Start screen has been moved to the new Start settings page under Personalization settings. We did this because on a vast set of devices like desktops, laptops or All–n-Ones, we expect users will pick the appropriate size (or just go with the default) for Start and stick with that – which makes having this button being present all the time unnecessary. Removing it also saw that this button was creating confusion for users where many thought that is how they got to Tablet mode when all it did was resize Start. Moving the toggle to Start settings not only helps us remove this confusion, it also gave us the ability to further reduce the top chrome of Start to make it a bit sleeker."

I don't think it needs to be there. You can toggle it to be permanenty or use the Continumm function on Hybrids.

Personally, I'm feeling a little impatient with Edge.

I want aero on title bars.

Got my SP3 searching for updates, so far empty handed... I'm on fast ring and can't find any updates EDIT After a few reboots and restarting a couple times the Windows Update Service I was able to find the fbl_impressive Professional 10122 update.... Finally

Keeps getting stuck at 4% and then it errors out. Anyone else seeing this?

Mine is too, with the error mentioned in the article, but the suggested fix isn't fixing it! Anyone else gotten this error, and gotten around it?

Mine gets stuck at 18% and then freezes and I have to hard reboot to roll back tried three times now and still cant get it to work.

Im gonna be the good guy here because when i had this problem no one helped me, what u do is disable windows defender then the MAIN THING is to make sure before you begin installing to have nothing pluged into you comuter no mouse keyboard or anything, microsoft is having a problem with device limit while installing on certain computers.

Unfortunately still didn't work. Disabled windows defender, disabled AVG, uninstalled the devices, removed them from the devices list, uninstalled all their drivers, cleaned out the windows.old folder and did a system cleanup and still stuck on 18% then failure. Oh well. Thanks for the tip though!

sry for my english, i have a problem with the new build, when i connect my surface pro 2 with my television ( via hdmi ) there is no sound from my tv only from the surface.before i update to 10122 it was ok.

Another issue. RSAT doesn't work.

Have they fixed the pin log in bug?

I just tryed to install the build 10122 on my surface pro 3 but get this error
error 0x80070057 – 0x20007
And the fix aint fixing it... Right now Im on the previous build 10074 Any other ideas?

Did you take suggestions posted in the article towards the end? I actually decided to just reset my SP3 for the heck of it and then upgraded it to 10074 just before 10122 was released. So I don't think I would have encountered that error, but I can say it upgraded just fine and without incident.

I was trying to avoid the reset its the first time I see this error I did the reset on the 9989 or similar and from there had no problems till now

I'm keen on the start menu change. Not having to see the full left side menu when in tablet mode or just to get to start menu is very nice.

I wish there was an option to run Windows 10 more like 8.1 I really miss the charms bar. I actually really liked metro mode too.

Update 10122 yesterday, installation goes fine, but pc stuck black screen, only what i see is cursor and loading ring. Any tips what now? Clean install? =S

Microsoft Edge crash at start and my Start screen only shows one column are one of the major bugs I found in this build. Hope for follow-up fix soon.

The resolution bug for older games has been fixed too! On 10074 i couldn't play rollercoaster tycoon 1 and 2 but on 10122 i can!

Okay I am stuck on build 10547, I am pretty sure each time it tries to install the new build 14316, it will start a reboot loop. My C drive had like 10GB of space... could that be why? I increased it to 14.7GB...
Windows Central Newsletter
Thank you for signing up to Windows Central. You will receive a verification email shortly.
There was a problem. Please refresh the page and try again.