Here's what's fixed and what's broken in Windows 10 build 14342 for PCs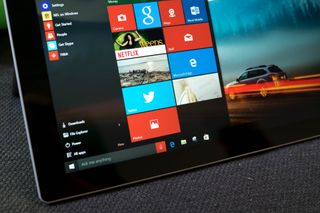 Microsoft has started rolling out Windows 10 Insider Preview build 14342 to those on the Fast Ring. The build is currently going out to PCs, with Windows 10 Mobile users expected to receive it shortly.
Here's what's fixed, according to the official changelog:
We have fixed the issues blocking the Desktop App Converter Preview (Project Centennial). You can now run the converter on the Enterprise edition as well as Pro edition of Windows. You will need the latest converter and base image from here

(opens in new tab)

to take advantage of all the improvements which will be available later today.
We fixed the issue causing Tencent online games from not working in current builds from the Development Branch.
We have fixed the issue causing DRM-protected content from services like Groove Music, Microsoft Movies & TV, Netflix, Amazon Instant Video or Hulu from being playable with playback with 0x8004C029 or 0x8004C503 errors.
We fixed an issue resulting in audio crashes for users who play audio to a receiver over S/PDIF or HDMI, and use a driver that supports real-time encoding via technologies like Dolby Digital Live or DTS Connect.
Polished the animation when invoking Cortana on the Lock screen. And also resolved an issue where tapping the link to fix mic issues wouldn't fix them.
We fixed an issue resulting in the ok/cancel buttons in the network flyout being clipped on high DPI devices.
We fixed an issue where you might see Windows Hello messages on the screen while you were already logging in with a fingerprint.
We fixed the issue where if you were in an app and clicked on a link with a URL longer than 260 characters, it would bring up the "Open with…" dialog instead of opening with your default browser.
We fixed an issue resulting in not being able to use your mouse in the Photos app to either move photo while zoomed or adjust crop region.
The ALT + Y keyboard shortcut to choose "yes" now works with the updated UAC UI.
Updated new Credential UI to add support for pasting into username and password fields
Polished icons used to identify pages in the Settings app – in particular, updated battery icon to be more consistent with the weight of the other icons.
Made some polish improvements to the Action Center, and resolved an issue where icon in Taskbar wasn't displaying correctly at 175% DPI.
We fixed an issue where the image used in Screen Sketch would be rotated 90 degrees for native portrait devices (such as the Dell Venue 8 Pro). Also polished the experience of cropping images in Screen Sketch.
We fixed Clock and Calendar flyout issues on the taskbar with the 24-hour time format where the agenda items would display using 12-hour format instead of the 24-hour time format and certain items would be off by 12 hours.
We fixed an issue where the Clock and Calendar flyout couldn't be dismissed by clicking on the date and time in the taskbar a second time.
We updated the "set location" notification so tapping anywhere in the notification will now enable you to set a default location.
We fixed an issue where certain shortcuts weren't working in UWPs, for example CTRL + C, CTRL + V, and ALT + Space.
We fixed an issue where tapping the battery icon wouldn't open the Battery flyout when in Tablet Mode.
We fixed an issue where clicking elements in the Start navigation pane might result in the Store opening instead.
We fixed an issue where background audio tasks might show up in the volume controls.
We added a "Clear Input History" option to the IME Settings page.
We fixed an issue where doing an action on a file in a folder pinned to Quick Access after using the address bar to get there might result in File Explorer unexpectedly navigating to Quick Access.
We fixed an issue resulting in Cortana crashing if you shared an avatar with Cortana from the Xbox Avatars app.
We fixed an issue causing the search box on the Language Settings page to not work.
These are the known issues in build 14342:
Feedback Hub is not localized and the UI will be in English (U.S.) only, even with language packs installed.
Feedback Hub takes about 20-30 minutes after updating to this build to download and populate itself if launched from Start. If you launch Feedback Hub from All apps – it will force the app to hydrate.
Symantec products such as Norton Antivirus and Norton Internet Security are causing PCs to bluescreen (bug check).
The QQ app from Tencent crashes. We're working on a fix for the issue.
If you are using a non-English keyboard, you can't accept Bash prompts.
We are investigating an issue where if you're running Insider Preview builds in certain languages, the All apps list on Start appears empty. A workaround for this is to use search to launch apps.
We have reduced the number of instances where boxes are seen when entering emoji. You may still see them in some text fields – we're working on it!
Windows Central Newsletter
Get the best of Windows Central in in your inbox, every day!
Harish Jonnalagadda is a Senior Editor overseeing Asia for Android Central, Windows Central's sister site. When not reviewing phones, he's testing PC hardware, including video cards, motherboards, gaming accessories, and keyboards.
Reading through all those fixes cause me to really appreciate what Microsoft is doing. This is clearly an incredible undertaking to create an OS that works just about anywhere and everywhere. All the little tiny things that can go wrong...

Just thinking the same thing. They have really opened themselves up to lots of flack with the insider hub, and must get millions of crappy comments to wade through, but it's paying off.

Cortana reminders not fixed yet? Cortana in general has become so buggy as to be unusable. More so on mobile than desktop , but still...

Yeah, there have been multiple things I've forgotten recently that I would have set a reminder for had Cortana been working properly. One of those times where I question having insider builds on both my phone and laptop.

Perhaps, but none of those issues as there in the current production builds.

Netflix app now working again due to the fix for DRM content. Had to use a web browser before it was fixed.

The fix was as easy as reinstalling the app. It worked on Groove for me at the current build. Sent from my Lumia 830 on Windows 10 Mobile Insider Preview

Still are some people saying that Windows 10 Desktop and Mobile doesn't share the same code base. How come they are fixing mobile related stuff along with other win10 problems?

Keep em coming. Starting to come together. Like the new features and options for desktop. Tablet mode needs more love, but I am hopeful. Posted via the Windows Central App for Android

That's a LOT of fixes! I was starting to wonder if there were any known issues with how long the list of fixes was!

But also the fastest bug-fixed Windows OS ever ;)

Nope, far from. Have you seen the list for Android? Posted from Windows Central for XL

You can't say things like that ;-) lol! Samsung will have to release another device to cover them up :-) .....

Sounds like a pretty good slow ring candidate Sent from my more personal computer

I have experienced several app crash just running this for less than 30 minutes. It might just be post-upgrade stuff, but so far I would not get this on... say, my gaming rig. It needs more testing :)

What does alt + space do? Also never knew about alt + y

The only good Norton has two wheels! I'm waiting for the mobile build. I have to agree with the Cortana comments. It's gone from a beta to an alpha (at best!). It's never worked well in the UK on W10M, and the last PC build I tried, Cortana was, and still is a car crash.

Wow, finally some more attention to tablet mode bugs. Very nice. Was starting to feel hopeless with only desktop this and desktop that...less love for surface and tablet devices. Microsoft regularly seem to have their own unique writing style and vocabulary: "If you launch the feedback hub from all apps -it will cause the apps to hydrate". Sounds like a serious medical condition! Better call the CDC for containment and warn the media of an eminent epidemic!

Has anyone istalled this on the Surace 3 and can confirm if the driver issue "Event Tracing Fatal Error" has been fixed ?

"Symantec products such as Norton Antivirus and Norton Internet Security are causing PCs to bluescreen (bug check)." That's not a bug; it's a feature! A not-so-subtle reminder that friends do not let friends use Norton Anything on their computers. Posted via the Windows Central App for Android

Wacom bamboo driver has a conflict with Windows Ink - when using Wacom pen, cursor visually stays at the place, where the mouse has been left, but ghostly moves with Wacom pen and interacts with system and apps. Disabling windows ink in Wacom driver preferences solves this issue, but looses pen pressure sensitivity.

This should be written in (Windows) Feedback (Hub) for MS, not here :)

I for one, am happy it's written here, as I've spent the last 30minutes reinstalling wacom drivers!

Hi, Galayder! I've had this issue on blds 14342—14352,and finally i've found solution: https://forums.adobe.com/thread/1500227 Now I have pen pressure and cursour follows the tip of the pen above the surface, just like before the update

Thanks a lot! That .txt file works for now!

Does the DRM fix also fix Groove music playback from SONOS?

Anyone else's network card not working? (my Asus pcie card is not recognised after updating - I can't reach the internet to fix this lol!)

having AMD driver issues. Very annoying.

On my surface book after installing this build, when waking from sleep all I see is the spinning dots. I'm forced to holds the power button down to shutdown and I can then login... unless I put it to sleep again, then same issue on wake. Same issue on hibernate. Anyone had any workarounds?

I have this issue, too, and sorry to say it but I'm relieved to hear someone else has it too - I got a replacement Surface Book the day before this patch came out, and was starting to worry it was a hardware issue on my NEW machine!
I feel it's happening less often now but still does happen, and the camera is often slow to start, whether or not I see the spinning dots... hopefully someone else has some insight?
Windows Central Newsletter
Thank you for signing up to Windows Central. You will receive a verification email shortly.
There was a problem. Please refresh the page and try again.