Here's what's fixed and what's broken in Windows 10 PC preview build 14279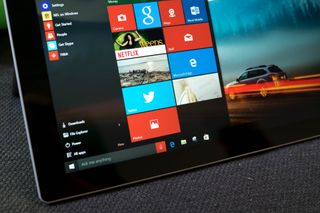 Microsoft has provided a list of what issues have been fixed and what is broken in the just released Windows 10 PC preview build 14279 for members of the Insiders Fast ring.
Here are the issues that have been fixed, according to Microsoft's Windows Insider head Gabriel Aul:
We fixed an issue where Microsoft Edge and Cortana were crashing for users with roaming profiles.
We fixed an issue where Cortana would continue to show reminders that have been completed.
We fixed an issue where items copied/moved to the desktop would not display until the desktop is manually refreshed by right-clicking on the desktop and choosing "Refresh" or pressing F5.
We fixed an issue where downloading certain drivers from Windows Update was causing some PCs to bluescreen.
There are also some known issues with this build, according to Aul:
We're investigating an issue in which some Surface Pro 3, Surface Pro 4, and Surface Book devices experience a freeze or hang and all input such as keyboard/trackpad and touch do not work. The workaround is to hold down the power button to force the device to hard-reboot.
We are continuing to track several issues reported by Insiders where some PCs will freeze or bluescreen when resuming from hibernation. Disabling hibernation is a workaround in some cases until this is fixed.
If you have Kaspersky Anti-Virus, Internet Security, or the Kaspersky Total Security Suite installed on your PC there is a known driver bug that prevents these programs from working as expected in builds from the Development Branch. We are partnering with Kaspersky to fix this issue for a future release, but at this time there are no known workarounds. While this issue is present, we recommend using Windows Defender or another third party anti-virus product of your choice to remain protected.
Turning on the "always show all icons in the notification area" setting disrupts the layout of the notification area ("systray"). Your notification area will look out of alignment.
We are seeing reports of crashes with apps such as QQ crashing due to an OS reliability issue we are currently investigating. This bug is also impacting older apps such as Windows Live Mail and Expression Encoder 4.
Source: Microsoft
Great
Posted from Windows Central for Windows 10

Any specific date for public release????? Maybe like may or something.... No real update since November.. :-(

This is part of the Redstone update and it's coming in summer this year.

There have been plenty of updates, just not the updates you want. My suggestion, wait for the updates to actually be finished before crying about not having them. Redstone isn't going to be developed overnight. The Windows Central Universal Application for Windows 10 Mobile on a Nokia Lumia 830

Okay... I can't really do anything more than waiting...

You could try to enjoy the November update, it's very good in my opinion. When Redstone 1 is released you will be waiting for Redstone 2 and when that is released you will be waiting for Greenstone 1 (RGB, Green is up next!) and so on, don't live waiting for the future, live your life now in the present and you will be happier! Posted from Windows Central for Windows 10

Redstone update should hit ~June. No official date yet, but it should hit in a few months. Redstone 2 is rumored to be delayed until spring next year when we were expecting it this fall/winter.

Summer 2016 and then Spring 2017 I think WC reported as the next big release to non insiders (public / production) Get on insider builds if you want new features sooner and can deal with some bugs

I am glad they are fixing the blue screen bug. Posted via the Windows Central App for Android

Actually. The graphics driver has been crashing and causing reboot loops since the last few builds and so I have stopped the driver from updating via Windows Update. Maybe now it is fixed.

It happens to me from hibernate. The windows logo on start-up disappears and blue screen. Posted via the Windows Central App for Android

waether updated from windows update or not graphic drive crashes once in a while, but in think its not really a big deal at the moment, been stable on the non insider already.

Seems to happen to me when I have edge running. Solved on my surface pro 3 for a few builds now but still happens on my desktop work am NVIDIA GPU

For me, Windows successfully boots once in a while after multiple crashes and restarts.

I just hope they were able to check the issue affecting memory with Clipboard items regarding Edge. (actually couldn't ctrl-c ctrl-v from Edge to nowhere) Posted from Windows Central on Windows for Workgroups 3.11

I had this just once the other day and had to reboot to solve it

When will we get Cortana multilangual support? ​

Microsoft doesn't understand the concept of multilingual. They think all people in the world can only speak one language.

What's broken is the new login UI. Ugh.. ugly!

"We fixed an issue where Cortana would continue to show reminders that have been completed." I wonder if this will remove the from the WP 10 Cortana too.

maybe on the next Redstone build.

I love how they refer to a hard reboot as a "workaround" lol. Sounds like a pretty dcent update though for fixes, hoping to be able to send images via Messaging app on PC soon, I can use it for 90% of my skype activity then

The first bug of freezing screen is what I am experiencing. But instead of rebooting through the power button I would detach and re-attach the keyboard and it would work.

So the the double arrows in the notification area are still there?

Yes... Posted via the Windows Central App for Android

I have been having problems notifying Microsoft that I am having problems with Internet Explorer NOT being updated. Currently it's stuck on the October 13, 2015 update and is not being updated by Windows Update. My current version is: - Version 11.1000.14279.0 - Update 11.0.24. - KB3093983 In my opinion, this is a serious security flaw and am wondering what version others in the fast lane have. You can display the version by going Options -> About. If is the case, people need to be aware that they should not use Internet Explorer as it's massivly compromised.

Well I believe the official line from MS about IE is don't use it anyway. They want you to use and test Edge in this Insider Preview.

Internet explorer is not updated in Preview versions. The version of IE in all current Fast Ring releases is the same as that in the November build (10586.0). It only gets updated through cumulative updates for Windows 10, and as these do not apply to the preview builds, you won't get them through Windows Update on the insider preview. Here's the direct link to the update for IE - the latest version as per the latest stable release (10586.122). No guarantees it will run on the preview version. https://technet.microsoft.com/library/security/MS16-009

@Omoronovo You can't update manually. @WPTommy I agree. But as I am enterpise, there are situations where Edge will not work and I have to use IE even in testing. Microsoft needs to tell people that the they should NOT use IE as it's vulnerable. This is a massive security issue in my opinion and there are a lot of people that are using the preview in boundry test/production cases. Flash has not been upodated sincle October 2015 on the preview. This is as much about communicating that there is a vulnerability and that the use of IE could potentially compromise your PC and/or your network.

In an enterprise the update is indeed available manually through WSUS. However, there is no reason an enterprise should be testing an Insider Preview - they get a substantial lead time to test *production* releases of Windows 10 and get multiple ways to extend this time if needed. For most enterprises it would take substantially longer than the 1-2 weeks between preview releases to even get the testing done, it's a futile process when issues may come and go as builds are released. The EULA for insider builds explains that not all components will be updated with security patches as the build is purely for testing of features and functionality and providing feedback. If you want stability and security you need to be running the stable build that gets such service.

Unfortunatly, I am a consultant and I work with a variety of clients Enterprise and Consumer and the preview is not on my primary machine. I like to run the preview to see whats coming down the pipe in terms of new developments with Edge etc. Does anyone read the EULA? It's about a more transparent disclosure I am sure that there are a lot of people that are hobbyists and people like myself that are inquisitive that are not aware that the IE browser has a major security flaw. I am out of the preview so we will leave it at that.

Why they just dont release Cortana in these new languages without forcing you to get the Insider program????

Errmmm... is this a serious question? (Presuming it is...) They release the new language support to the Insider Program so that the Insiders, who are a kind group of worldwide citizens who have volunteered to beta test software updates, can test the software, report bugs, feedback and improvement suggestions. This allows Microsoft to improve the language support [or any other feature], fix issues and improve performance before they release a fully-tested update to everyone on public release. The purpose of this testing is to avoid Joe Bloggs (the general consumer) moaning, complaining and bad-mouthing aforementioned company for releasing buggy software.

We are seeing reports of crashes with apps such as QQ crashing ...

What is QQ ? It may be interesting if I knew what it is. The Store does not really describe the app. Don

2 new builds and no fix for the hibernation thing

Unable to update from build 71. I keep getting a kernel trap error. Build 71 installed fine. Sent from Windows 386

That first point in the known issues is kind of scary to me.... probably gonna skip this build

I have yet to be successful on getting this build to install. Have tried it on a laptop, desktop and two tablets. None were updated. Each one rolled back to 71. This cannot be an isolated incident. Sent from Windows 386

Perfect but need to be more developed

My touch keyboard no longer works on my surface pro 2 after this update. Any ideas?
Windows Central Newsletter
Get the best of Windows Central in in your inbox, every day!
Thank you for signing up to Windows Central. You will receive a verification email shortly.
There was a problem. Please refresh the page and try again.