Here's what's new and improved in Windows 10 build 10576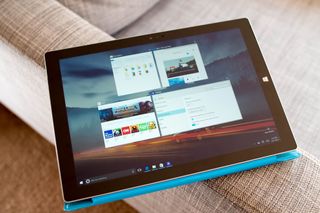 For its second act today, Microsoft has pushed a new Windows 10 PC build out to Windows Insiders on the Fast ring. This one comes in at build number 10576, and includes some new goodies worth checking out, so here's the breakdown of what all is new and improved in the latest Windows 10 build for Insiders.
Media Casting in Microsoft Edge: You can now use Microsoft Edge to cast video, picture, and audio content from your browser to any Miracast and DLNA enabled device on your network.
We've got a few scenarios for you to try out:
Cast a video from YouTube: Go to YouTube.com in Microsoft Edge. Click on the "…" menu and the top left, and select "Cast media to device" and select the Miracast or DLNA device you want to cast to.
Cast a Facebook photo album: Login to Facebook in Microsoft Edge and click on the first photo in one of your photo albums to cast. Click on the "…" menu and the top left, and select "Cast media to device" and select the Miracast or DLNA device you want to cast to. Navigate through your photo album by clicking on the forward and backward buttons.
Cast your music from Pandora: Login to Pandora in Microsoft Edge to get to your music and click on the "…" menu and the top left, and select "Cast media to device" and select the Miracast or DLNA device you want to cast to.
Please note: Casting protected content (content from places like Netflix and Hulu) is not supported.
Ask Cortana inside PDFs in Microsoft Edge: You can now highlight text while reading a PDF in Microsoft Edge and right-click to "Ask Cortana" to find additional information.
Updated Xbox beta app for Windows 10: The Xbox beta app for Windows 10 was updated last Friday which includes the ability to easily find and add Facebook friends who are also on Xbox Live to play, chat, and share clips – a top requested feature. In addition to that new feature, voiceover recording functionality has been added to Game DVR, and the Store in the Xbox beta app will allow you to search for and purchase Xbox One games – including Games with Gold and Deals with Gold promotions, and Xbox One 25-digit codes will be redeemable within the app. For more information on this update – check out this post on Xbox Wire.
Source: Microsoft
Windows Central Newsletter
Get the best of Windows Central in your inbox, every day!
Dan Thorp-Lancaster is the former Editor-in-Chief of Windows Central. He began working with Windows Central, Android Central, and iMore as a news writer in 2014 and is obsessed with tech of all sorts. You can follow Dan on Twitter @DthorpL and Instagram @heyitsdtl.
WC app seems faster......no, it is faster:)

That's probably because the me build is more stabled and fast..
.....
That casting feature seems dope. It should be available on the mobile browser was well.

Glad to see the casting option coming along :) I doubt it will, but it would be good to see this applied to other services such as Netflix.

I already do this by casting my whole SP3 screen to my entertainment center using an MS Miracast dongle then using the Netflix app or Hulu App :-) They're only about $50.

Getting a dongle has crossed my mind in the past, but it would be handy to do it without one, or at least still be able to use your screen while the app is casting.

Oh you can do that too with the dongle. Have it "extend this display" kinda like when you have two monitors. Then just put the app on the second monitor (your tv).

Isn't it weird that we are allowed to share the whole screen to a Miracast device, watch Netflix through it, but you're not allowed to do so through Edge? :-/

Unless there comes the add on support for edge (for RTM version), it's not enough useful. Unfortunately we'd have to wait until next year.

I wonder if Microsoft will add anything like Apple's Hand-Off feature. It'd be useful to be able to "hand off" websites, articles, or videos off to my phone .There's often cases where I start reading an article on my phone and want to move to the PC or when I want to watch a video but would rather watch it on my laptop.

Is Hand-Off like a more advanced feature than Reading List? Cause I think you can just add your website, article, or video link to the reading list and open it up on your laptop the second it syncs down.

Yes because it's nearly instantaneous. Basically you hand websites, articles, etc, directly to your iPhone, iPad, Macbook, Apple TV, whatever (it mutual, a phone can hand off to a laptop and vice versa), and it's instantly accessible. I think Microsoft could take the concept, improve it, and re-implement it into Windows 10, making full benefit of the Universal Apps (meaning you might be able to start work in an app and then immediately hand it off to another device so you don't have to wait for things to sync or have to set everything up again).

Well not really, as it doesn't require you to put into something. It just syncs as you go and you can instantly open it on your other devices without a need to open the app first. It applies not to just a web browser but to any apps supporting it. So let's say I'm typing a Word document on my desktop and when I got to my phone, there is an icon of the Word app on the Lockscreen and I can directly open it and resume my exactly document I'm working on.
Microsoft Office since 2013 partially have this similar feature. Everytime I open same document, it restore to exact page I'm working on. Hands-off though is even more convenient since it knows what app you actually working on and suggest to resume on other devices.

But if using the cloud this is a non issue. I do that word/excel all day. My default save location for everything on my pc is OneDrive...Sans games

Well the point isn't because its on the cloud, its simply a shortcut convenience to seamlessly resume to the app and task you already into. Most things now can be stored in the cloud and access everywhere, but it still requires the user to manually open the app or browse within their file manager application and open the file. Microsoft in theory can easily implement this to their OneDrive connected apps and just introduce a new functionality to the OS, especially on the Lockscreen or Action Center (I prefer it to be on Action Center to stay Lockscreen cleaner and won't compromise for the possiblity of 3rd-party Lockscreen). We can even put this on the Task View which will make sense also. I've been dreaming for this functionality since the introduction of Live Mesh. Thing is still Windows doesn't have it but now Apple does but I'm not really an Apple user.

I've wanted this feature as well, though I didn't know it existed with Apple. Windows 10 could potentially do it even better because of its universal apps, and this would be a much more useful facet of Continuum in my opinion. I submitted feedback in the Feedback App and Uservoice about this a while ago (search "transfer app instances between devices").

I can't find your feedback, it would be better to share us the link here. ;)

Oh yeah, I forgot that that was possible. Here:
Windows-Feedback:?contextid=340&feedbackid=dfe290ee-f7c2-422f-b0fc-2aa30e53a336&form=1&src=2
https://windows.uservoice.com/forums/265757-windows-feature-suggestions/...

Nothing useful to me in this build. I hope they start improving tablet mode.

We just need this from the phone now. And it MUST keep working with the screen locked. We should be able to stream audio and video to an Xbox one and be able to then lock the phone. Miracast gets all buggled up as soon as the lock screen comes on.

Nice, DLNA now gains access to in browser content after years of being restricted to Windows Media Player and Windows Explorer content. Although the Miracast part, not sure what's the point of that...guess it's saving that step of manually connecting your entire screen to a Miracast dongle...

It's really great that Media Casting comes to Edge!!!! On Windows 8.1, I used the "Play to" option a lot, with nearly all the apps, to stream the music to my network speakers. On Windows 10, this media casting has been removed at the OS level (why ???) and each app has to implement it. For example "Movies & TV" on Windows 10 already has this media casting option, so I can watch the movie to a smartTV. Now Edge, and that's nice ! But Groove Music app on Windows 10 dramatically needs this feature!!! Why can't I stream my music from my PC to my network speakers with Groove ? This is ridiculous ! (it was available on Xbox Music on Windows 8.1, with "Play to"). Microsoft, if you read this, please add Media casting to Groove app on Windows 10 (or, better, at system level via the notification center) !

Please vote for adding Media Casting to Groove app on Windows 10 here: http://groove.uservoice.com/forums/209733-microsoft-groove-feature-suggestions/suggestions/9079087-groove-music-application-playto-and-dlna-support

Highlighting pdfs in edge, i can now remove that weird new adobe, that's trying to hard to look 2015.

When will Cortana be able to dictate Notes and content like Siri?