Here's what's new in Fortnite's 9.0 patch
Ready for something new? Check it out!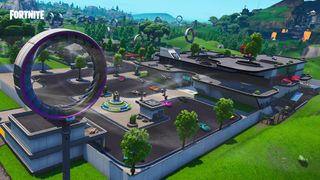 The latest content update for Fortnite - the 9.0 patch - is out today, and with it comes the introduction of the latest season for the battle royale. With Fortnite now officially in its ninth season, some big changes came to the game, including the addition of some new locations and means of travel.
Of course, that's not the only thing that's getting changed with the new season. To celebrate Season 9, a brand new weapon - the Combat Shotgun - has been added into the game. Perhaps the biggest change to the game, and one that's surely going to get people riled up, is the fact that the Pump Shotgun has been "vaulted," or put away and unable to use in the current game. A ton of other items have been vaulted as well, and some other weapons have been tuned to create more fairness across the board.
You can check out the full list of changes to the Battle Royale portion of Fortnite below, and jump into a game now to check out the changes:
New Weapon:
Added Combat Shotgun
Semi-Automatic
Holds 10 Shells.
Fires 9 pellets per shot for 73 / 77 / 81 base damage.
Tight spread and fast fire rate.
Headshot multiplier of 1.70x.
Reloads 2 shells at a time.
Weapon/Item Changes:
Adjusted Tactical Shotgun damage
Base damage increased from 66/70/74 to 71/75/79
Reduced Drum Gun availability from 16.732% to 7.155%
Reduced Boom Bow availability from 1.292% to .755%
Unvaulted Grenades
Vaulted Clingers
Vaulted Buried Treasure
Vaulted Pump Shotgun
Vaulted Poison Dart Trap
Vaulted Scoped Revolver
Vaulted Suppressed Assault Rifle
Vaulted Thermal Assault Rifle
Vaulted Balloons
For a full look at the list of updates that hit Fortnite earlier today, make sure to head over to the Epic Games blog and check them all out, as there are quite a bit across all three game modes.
Xbox accessories you'll love
Every one of these quality accessories is guaranteed to enhance your Xbox experience.
PowerA Enhanced Wired Controller for Xbox One (opens in new tab) ($20 at Amazon)
PowerA's take on the Xbox One controller is an attractive pickup for budget-conscious gamers that nails all the basics.
Talon PDP Xbox media remote (opens in new tab) ($20 at Amazon)
The Talon PDP Xbox media remote is great for watching shows on your console.
Xbox One S vertical stand (opens in new tab) ($10 at Amazon)
Stand your console upright with this accessory.
Windows Central Newsletter
Get the best of Windows Central in your inbox, every day!
Anthony Nash has been writing about games and the gaming industry for nearly a decade. When he's not writing about games, he's usually playing them. You can find him on Twitter talking about games or sports at @_anthonynash.