Here's what's new in Windows 10 build 10158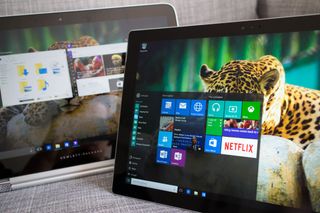 Windows 10 build 10158 was just pushed to Fast ring members, and, along with Microsoft Edge branding for Project Spartan, and a host of other changes to the browser, the new build sport quite a bit of new stuff. From UI improvements to Office 365 Cortana integration, here's what's new in Windows 10 build 10158:
General UX improvements and refinement: You'll continue to see general UX improvements and refinement in this build. For Continuum, you'll see a lot of bug fixes as well as improved Tablet mode animations, improved support for Windows 8/8.1 apps and classic (Win32) apps in Tablet mode. And when using the Start Menu, you can swipe up on the left side to open All apps. This also works in Tablet mode, when you have opened up the left side of Start behind the hamburger menu. Additionally, in All apps – you can click on a letter to quickly go to apps on the All apps list under that letter (great for people with lots of apps installed).
On the Taskbar, when an app needs your attention, it will now flash in orange. And when you download something or move files around in File Explorer, the progress animation in the Taskbar has been changed back to green and back to animating horizontally (instead of white and animating vertically seen in the previous build – thanks for the feedback!).
Updates to Cortana: We have a consolidated left rail now and Cortana's Notebook is in its final stage with a combined Profile and Settings experience. Cortana now has a dark theme color to match the rest of the OS. Tracking your flights has also been enabled so when you get an e-mail with flight or package information from supported providers they show up in the Cortana experience and Cortana will also alert you about them. Alerts for going to work, going home and the airport are also work now too. You should also try sending an e-mail with Cortana – we enabled this in this build! Just say everything at once such as who you want to email (you can send to multiple people), the subject of the e-mail, and what you want your email to say and that's it. For example – you would say something like "Email Gabe Aul Super Awesome Window Feedback…" and then what you want the message to say. You can even make corrections with your voice. Note – this feature requires an Internet connection and works for U.S. (English) right now.
Cortana integration with Office 365: With this build, you'll be able to try out the Cortana integration with Office 365 if your company is opted into First Release for Office 365. Cortana is already great at letting you quickly see what your day is going to look like, when and where to go for your first meeting, get a sense of travel times to work, or even get updates for upcoming trips from your calendar. Cortana gets even better with a connection to Office 365, which enhances Cortana's ability to help you prepare for meetings, learn about the people you work with, and remind you where you need to be next so you won't be late. Give it a try!
Check out the updated Photos app for Windows 10: We've published an update to the Photos app via the Windows Store Beta. Not only does this update have general performance and reliability improvements, it also has new capabilities that Windows Insiders have been asking for. For example – the Photos app now supports animated GIFs. This was a top request from Windows Insiders!
We've added a "Open with" button in the photo viewer. While viewing a photo, click the "…" icon at the top right and choose "Open with". This was another top request from Windows Insiders. And now links to your saved photos, screenshots, and camera roll are available on the Albums page.
Insider Hub: As I mentioned here, the Insider Hub is no longer pre-installed starting with this build. You can reinstall the Insider Hub app through the following steps:
Go to Settings, System, Apps & features.
Click Manage optional features then Add a feature.
Select the Insider Hub entry (the list is in alphabetical order) and click Install.
Preview releases of Windows 10 SDK: Tomorrow, we will also be flighting the Windows 10 SDK for this build. Our goal is to match each OS flight delivered to Windows Insiders in the Fast ring. However, there may be times where we have an OS flight without an SDK release. We'll also release a matching version of the Windows 10 Mobile emulator. With both the latest SDK and emulator, your apps can access the latest Windows capabilities and APIs in the newest builds. The Building Apps for Windows blog will post which build of Windows maps to version of the SDK being released along with a change log of new APIs; major bugs fixed; and note issues in the current SDK. As always, you can download the latest Windows SDK and mobile emulator from the Windows 10 Developer Tools page. Watch for a post tomorrow on the Building Apps for Windows blog when the Windows 10 SDK preview is available for download.
Surface 3: This build has the fix for the issue that was preventing the Surface 3 from upgrading successfully in prior builds. You should be able to upgrade to this build.
Surface Pro 3: This build has several fixes that improve battery life with the Surface Pro 3.
Luckily, there are no notable known issues with this build, according to Microsoft. With a month left to go until Windows 10's full release on July 29, it looks like things are shaping up quite nicely.
Source: Microsoft
Dan Thorp-Lancaster is the Editor in Chief for Windows Central. He began working with Windows Central as a news writer in 2014 and is obsessed with tech of all sorts. You can follow Dan on Twitter @DthorpL and Instagram @heyitsdtl. Got a hot tip? Send it to daniel.thorp-lancaster@futurenet.com.
In other words, I'll continue to use Firefox as my primary browser. I'll upgrade for sure but Edge gets treated like IE. The broswer to go get Firefox. I can't believe they didn't include paste and go / paste and search. SMH.

It would of helped if they didn't give edge the "e" for a logo, I think they should of kept the wireframe globe

Even I feel the same.Microsoft still has time to change the logo. Ppl will think its new IE version. And go and download chrome and Firefox setup without even checking up with various sites like his the browser works. If that happens just bcoz of that e logo then forget it.

Hopefully Microsoft will be smart to open up a (one time) webpage with information about the transition that IE is replaced by Edge what makes it different and a reason to try before judging it. Ofcourse the best moment to open that webpage is when the user opens up Edge via the familair 'E'-button on the taskbar ;)

People will definitely think it's still ie. To the kind of people who know it's anythign but ie, the logo doesn't matter anyway. To those who they'll need a bit of fancy window dressing to attract and lift the stigma of ie they probably should've gone with an entirely different logo. Those people are going to see the en, think it's just a new version of ie, and that subconscious stigma will persist.

Then they have no general knowledge...... They don't read papers..... It was headline in world when MS announced to dump IE for edge

When you open up Edge for the first time it says it's a new browser and the UI certainly is different from IE.

Well, in fairness, it is a new IE version.

its now a ie version its a totally new browser.

No, it's not. It's the same rendering engine, Trident. Some have described the engine as a "fork" but since the old IE is no longer being developed, it is really only fair to say that it is simply the current version of Trident. Thus, it's IE 12 by another name.

personally i think its genius they ketp the e logo currently. That means 90%-70% or users wont get lost when using ie for the internet, its the big e is the same so cool.

The reason they've kept the e for the edge logo is because most people that use windows aren't tech savvy and don't care what web browser they use. Most people are like my mum who would have a fit if they changed the E logo. Most people see the E symbol as a sign for internet. It's second nature to those types of people. MS has done it's research and I bet it shows that it is best to keep the E logo for edge as well

Dont feel bad about it. I'm still using Opera until Edge shapes up.

I've been using Project Spartan for a few weeks now and have completely eliminated using Firefox bacuse its so good. Not sure why you cannot copy and paste in the search but I can... also, install a HOSTS file and goodbye nearly all ads... hold you over until AdBlock or EasyList Privacy.

I can't because it doesn't exist. Right click on a link and there is NO option to open in another tab. Copy a word to search, put it in the search box right click and paste. search doesn't exist. You have to paste, then you must click the arrow or press enter.

Not sure I follow, those things work for me. Is your install bad?

I misspoke on right clicking on a link and open in a new tab but I'm correct on the other. Copy a link to the address bar, right click and you can only paste.

Oh, I wasn't aware there had been any other options other than paste before. Edge is rather lacking in some basics. I fear it may be a little too sparce on launch. I need to use Chrome on this site as the ad hits and performance aren't as good in edge. I also like the Dark Reader plugin as I've become a black background fanatic.

It is very sparse and it will be compared to other existing browsers and leave a stain on Windows 10. Google is already producing a mini series on its browser vs Edge on every platform chrome runs on. Especially IOS. Yeah, I made up that last part. :)

What are you going on about? Links can be opened in new tab and highlighting a word and selecting "Ask Cortana" searches on it. You're not making sense, please clarify.

No need to clarify what I said if you can read.. Get a little understanding big dog.

Some of what you said is not correct, though. When I paste a word in that box up top, search suggestions automatically come up. They are at the bottom, below the web links, but they are there...no click or "enter" required. Get a little less on the passive aggressive tone chief

You can search that word using "Ask Cortana", although the browser will crash if you have too many words lol

Dying for EasyList support. Extensions cant come soon enough

Yeah, one big missing create feature for me too.

Use the Windows Feedback app to tell em you want Paste and Go & hit up Gabe Aul on twitter.

That's why they're there.

There is already many feedback about that.

I have Sean. At least 20 different times. Its not important to them as it is to me. So, no biggy. I'll keep using Firefox. It works well in Win 10 anyway..

Or, maye that will be in the RTM version on th 29h of next month.

This is what the Feedback app is for.

I use the feedback. But I'm the only one that seems to want this feature.

firefox as primary browser? are you homeless or something?

What kind of a stupid question is that? "Homeless"? >:\

Altough I wont use Firefox as my primary, I have it installed, Edge is not ready for prime time yet... still some web site issues here and there, I know Firefox works 99%...

Would I be able to install this build on my Lenovo Lynx tablet without it overheating?

I think yes. There are no big bugs or issues in this build as Gabe said. I would do a back up and clean install after you install it

If it has no known issues, why isn't it pushed to the slow ring/ not published in ISO format?

Because there could be unknown issues and the slow ring users probably want the fast ring users to verify there really are no showstoppers.

becuase them not knowing of any issues doesnt mean insiders wont find any?

I installed Windows 10 preview for the First time on my tablet but i got an old build 10074, and there is only 290 mb left

Use internet to find out how. Hint: Its in the settings, and not hard to find.

"tablet mode improvements" so what happened now if you open a small dialog box while in tablet mode? Does it expand to whole screen or floating in the center and immovable?

For me it has always been a movable window, just terrible touch zones for the title bar

So far i've found that the task bar properties window does NOT expand to a large screen, other than that still waiting on some sort of tablet mode improvements because it seems to not have changed in many builds. At least add swipe to Edge, anything at all would be great. Poor souls bying all these hybrids are going to be incredibly disappointed, the reverse of Windows 8.1 complaints.

Well, they have at least enabled auto-hide for taskbar in this build. Seipe down to reveal UI elements of 8.1 apps has also been implemented (though they said that was in the last build.) Hopefully, swipe for back and forward in Edge will be in at RTM.

Is this build available in ISO file

No, ISOs are only available for slow ring releases.

Check on wmpoweruser. They have posted links to torrents.

hopefully install apps to SD is working in this build

This article isn't about a phone release!

I was aware of that.. Thanks..

But don't we have tablets with sd cards?

Apparently palmujukka doesn't... I do though and installing apps to SD was broken for me in 10130..

Get your hackles down :). Palmujukka
http://mywindows8.org/access-storage-sense-windows-10/

I used Windows 8 on a 10" tablet wit 64GB of storage for more than 2 years, it was good but I recently got issues and replaced it with a 2015 Dell laptop wih 1TB of storage, you don't have to worry about storage space anymore, to be honest I also had external 1TB hard drives for my tablet since storage got full after months of use because I'm a developer and need to run lot of software which occupies more than 40GB. IMO OEMs should make an effort on providing tablets and convertibles with 250GB or 500GB (no SSD) use the same tech that my Toshiba 1TB hard drive uses, its silent and if it has mechanical parts its almost imposible to notice a difference between this drive and a SSD and the price is much less. Just my 2 cents.

I agree, but i love my Venue Pro, its the perfect size and form factor for my usage. Cant wait to install apps to the 64GB SD inside of it.

And it doesnt.. At least on this build its greyed out..

Im already on my bed when i read this. Ill update my PC tomorrow.

I'm just waking up now reading that there has been a release...

Me too xD Will eat and update my pc

Too bad I went back to 8.1. You in July 29th windows 10

Not showing up for me yet on Surface 3.

not showing up for me yet either

Showed up for me as well but got the dreaded (?) Error 0x80246017

My experience with that error......if you want the upgrade, get an iso file, and install fresh. It's the only way.

I can't wait to get this build on my surface pro 3. Halfway downloaded. :)

This all sounds good! :-) Does anybody know if they added color changing title bars back in this build? There was an unreleased build recently where it seemed to look like you could have them colored again. I've grown to be more than fine with the sharp, crisp, clean white title bars... ...but I think all things being equal I'd still have a slight preference for color-shifting ones a la Windows 8 or the earliest builds of 10. Anyway, does anybody know? Posted via the Windows Phone Central App for Android

Download finished in seconds. How's that possible?

It starts again after that.

Less than 10 seconds actually.

It was probably downloading in the background.

Yeah, mine was ready for install when I checked. Yey, background downloads.

Whereas for me, it's still showing I'm up to date in build 10130 (and yes I'm on the fast ring). Posted via the Windows Phone Central App for Android

Did the same for me I just changed my ring to slow then back to fast and it worked.

Ah, perfect! I will try that when I get back home! Thanks! Posted via the Windows Phone Central App for Android

UPDATE: Nope, no dice! I'll try it again tomorrow, I guess. Thanks for the good lead, though. :-) Posted via the Windows Phone Central App for Android

Restart your pc after changing to slow and back to fast.

Yep tried that too, and it still didn't work.... ....HOWEVER, this morning I tried it again, and it did work. When I left the house this morning the big "'Installing Windows 10' Circle" was at 20%. So unless something goes all kinds of wrong, I should come home to a fresh coat of 10158. :-) Posted via the Windows Phone Central App for Android

Anyone else not able to set a desktop background? I can only do solid colors. Kind of a funny bug.

I haven't had the chance to upgrade to the newest build yet, but I did have a somewhat similar and really frustrating quirk in 10130: Did anyone else have a hell of a time getting desktop slideshow to work? I ran into this problem at home on my own computer, as well as over at my parents, setting up 10 on their laptop. I eventually got it to work on my computer, though I have no idea how. And over on Mom and Dad's laptop, I never got it to work after almost an hour of messing with it. Am I just that uniquely unfortunate, or is that a known issue with 10130? Bigger question yet: is it fixed in 10158? :-) Posted via the Windows Phone Central App for Android

Not sure who these builds are going to, I'm still stuck on build 10130 and it doesn't want to upgrade on SP3 :-(

Just installed the build. Store Beta is now the "Store". Still can't search to install "insider hub". Getting error message. Have to wait for it to update I guess. For Edge, seems like all my favourites are gone, as mentioned. However, when I try to login to sites, my saved login info/password still pop up on suggestion.

Insider Hub can be installed through the optional features section in the settings.

Me too, can't wait to see what all this brings.

Just updated mine and wifes PC to new build. I game same problem as 10130 with washed out color on my Benq Screens, all other previous build didnt have this washed out color issue. Other then that everything seems fine. My second screen is old and starting to die however it still didnt looked washed out with the build before 10130.


Could be coincidence? The old monitor calibration is still in there. Give it a shot.

IDk, pre build 10130 color seems fine, I have two monitors and they both seem a little washed out. Mostly the icons on the desktop, it could just be that monitor however why would it have changed. Im going to try a fresh install and see if that helps.

Not a "Known Issue" per se, but a fair warning to those looking to go to 10158: This is a fairly substantial upgrade. Much moreso than the changeover from 10074-to-10130. On a fairly quick (high spec, but no SSD), 3 year old HP workstation, even with the download already complete, the upgrade took over an hour. When you log back in after, Microsoft has done their best to keep things as you left them, but aspects of it will feel like you are starting Windows for the first time ("Just a moment, we are setting things up for you...", default pref setup for IE, probably WMP too). Several scans seem to run in the background for Windows Defender and probably completing the final upgrade config, so the computer will be laggy for up to ~15 minutes after logging in (about 5-10 for me). None of these are knocks against Microsoft, but it would have been nice to know this going in. I was also worried how much I would be starting from scratch, but thankfully everything important still seems to be there (I know, should have backed up beforehand to be safe, but there are other customizations which cannot be backed up). Well, I'm off to explore the latest changes!

Odd, went really quick for me on a 5+ year old system.

Perhaps this is because I am testing the Enterprise version at work? The update didn't seem to get stuck, there were simply many stages to the process.

Anyone else run into this bug? When it reboots to install it throws an error there is not enough memory to make a ramdisk and you can't do anything but hit f9 and continue. Tried twice now and it continues to throw this error. Never seen this before in any of the updates.

It bricked my Dell laptop after restarting. I can't even get to the UEFI. It's just stuck there with the Dell logo on the screen.

Spoke too soon... Build 10158 has just been installed on SP3 :-)

Build 10158 installed on SP3. Minor dramas ... the update package downloaded, but then just sat at "100% downloaded" for half an hour, without actually installing. 2 reboots later, it decided to start installing. After installation was complete, with the first reboot it refused to accept my Microsoft Account password, even after getting online through wi-fi. Second reboot seemed to fix that. I'll admit to doing a little dance when I saw the power button at the bottom of the start menu. Much better than the multiple clicks to get to it in 10130.

Edge is insanely fast in this build. My biggest customizabiltiy complaint is that there still is no dark color options for accent colors? I personally don't care for bright colors and would love to have Naby Blue, Maroon, Burnt Orange, Dark Gray, etc as color options.

Phone companion keeps crashing.

It's pretty much useless.

My question is. They work so hard on Cortana, but for most of us, it is not avalible.... Why?

Set your region in settings to US and it will work :) I'm from Croatia, where it's not suppoused to work, yet I'm using it (all features work no problem).

The biggest issue for me is the fact that most modern apps don't open, stay open, and are sluggish. Hopes this gets fixed, if not very useful apps won't be of any use

Can I update to Build 10058 directly from 10074? How?

Update also have new feature in Snipping Tool. Snipping Tool: For fans of the Snipping Tool, you'll notice we've snuck in a new little feature in the Snipping Tool with this build. You can now set up to a 5-second delay to capture pop-up menus!

After months of reliable builds its geting close to release date but im hugly disapointed inthe lates windows 10158 build. My sound and all my sound stuff has stoped working. Strangely i can get sound off my tv from my pc but not my pc. Im just shocked that this late on things like sound doesnt work. Hope i can roll back.

I'm having trouble to download this build. I have a lenovo thinkpad 8 and windows updates is trying to install the following driver without success: lenovo pm device - error 0x80070002. Does some one know how to fix this problem or even skip this update? I've already tried some methods that say how to resolve this issue, and even tried to disable drivers installation through WU.

Anybody else not able to connect to windows update? The "checking for updates" dialog just keeps churning and never does anything.

Installed, and working great. Only issues I have are the Phone Companion not working,and the fact that I can't gesture swipe to reveal the hamburger menu in tablet mode. They need pivots on the start screen, just like in windows phone, swipe right, reveal notifications, swipe left, reveal hamburger menu. Plus, we need live folders, that would go a long way in reducing clutter, but my thoughts are that folder support doesn't come until the first big update.

Same thing here, Phone Companion app not working. Trying to open but closes immediately ):

How are you supposed to see animated gifs. Only works when you choose open with.

Can you install windows 10 on a 16gb tablet? Pls someone answer. Thanks

Prob compressed os on an atom so atm no, when it goes rtm yes. You don't want tp on a tab. Wait.

Microsoft Edge and Cortana makes Windows 10 Special !!

The System Firmware 5/14 Herpes Update is apparently not going anywhere.. manually installed the June firmware to keep getting this one update over and over, even on this build..

Ugh, I didnt see this downloading bar, but vertical definitely sounds better to me :(. And I feel like white would look nicer, though Im less certain of that.

micorsofts bigest issue here is trying to force the user to use something other than thier own choice. On installing the 10158 build my ie icon disapeared and only edge was there. Fortunatly i found it under program files, but i felt that was a snneky move buy microsoft. Microsoft need to stop forcing people to do things thier waiy, look at xbox one thats a great example, so plse stop telling me what i should use and how. Edge is good but its not to the place i need it to be to use it properly yet. Not being able to open a tab and it shows my home page is a samll thing but something i like and use. Favorites bar though its there and ok, i cant actually have the briilliant icon view that im so atached to, so untill those things are sorted out im still using ie, oprea, firefox and occasionally chrome. Id still rather have 1 to rule them all but thats still not the case.

What can it do that my ancient winxp can't?

IE has always worked great for me. I never had a need to use Firefox or Chrome other then testing to ensure that they display pages correctly. Some develop for mobile first, I develop for IE first. I would never use Chrome as my browser as it spys on my activity and reports back to Google/NSA.

No Cortana in PT-BR yet... :(

One thing I dont' like on this build so far is, I used to be able to click the scroll wheel on IE to open a new browser, in Edge this no longer work for me....

Ok. I am a bit confused. Installed 10158 on my HP X2, fresh without a key. Went to activate, and it took me to an MS site where I purchased a Windows 10 Pro activation for $2.00. And the receipt says that a copy of Windows 10 Pro was purchased. Thoughts?

I notice Skype is gone, only comes as a link to download the advert filled old app
Windows Central Newsletter
Get the best of Windows Central in in your inbox, every day!
Thank you for signing up to Windows Central. You will receive a verification email shortly.
There was a problem. Please refresh the page and try again.