Here's what's new in Windows 10 PC and Mobile preview build 14361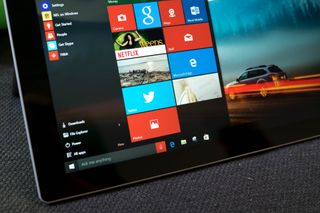 Microsoft has posted a list of what's new in the just released Windows 10 PC and Mobile preview build 14361.
Windows Insider head Dona Sarkar posted the list on the official Windows blog:
LastPass extension for Microsoft Edge: We are excited to announce that LastPass, a popular free password management extension, is now available for download. Visit our extensions page at the Microsoft Edge Dev website to learn more and try it out for yourself!
Introducing Hyper-V Container: You can now use Docker natively on Windows 10 with Hyper-V Containers, to build, ship and run containers utilizing the Windows Server 2016 Technical Preview 5 Nano Server container OS image. A new version of the Docker engine for Windows has also been made available that extends the support of containers while also improving the DockerFile syntax and getting started experience for users. For more details on how to get started with this check out the Windows container documentation or the Windows 10 Getting Started Guide.
New icons: I've been told that Insiders love hearing about new icons. So I thought I would mention we have updated the Blu-ray icon so that it is more consistent with the other drive icons in Windows 10. We also changed the icon for the network Quick Action to better represent it as an entry point to the network flyout (previously, it was a generic globe icon).
Sarkar also posted word of a number of Windows Ink improvements in the new preview build:
The Windows Ink ruler is now long enough to span diagonally across the entire Surface Book display.
We fixed an issue with the Windows Ink pencil tool, where the line when drawing along the ruler wouldn't be flush with the ruler as well as an issue resulting in a slight flicker visible in the colored section when opening the Pen, Pencil or Highlighter flyout.
We have updated the Touch Inking icon in Windows Ink Workspace to be more reminiscent of the Windows Ink Workspace icon.
We improved the performance of loading the Sketchpad thumbnail in the Windows Ink Workspace flyout from the taskbar.
Based on Insider feedback, we have made the "clear all" option more discoverable in Sketch Pad as the trash can icon in the menu bar. This was previously accessible as an option under the Erase button.
Settings improvements: We made some improvements to the Settings app based on Insider Feedback. The navigation pane is now white in light mode or black in dark mode and we have added a small block of color (which is same as the accent color of your profile) to highlight what Settings page you are on. Clicking anywhere on the Home button at the top left takes you to the Settings homepage. And we have made some other polish improvements, including slightly increasing the size of the page name text.
Get the Windows Central Newsletter
All the latest news, reviews, and guides for Windows and Xbox diehards.
Didn't this build have new "exciting" features?!

Wait for the "extended" What's new article.

Docker support is pretty exciting, maybe just not to you.

Yup that caught my eye the most, looking forward to trying it out! Posted from my Lumia 950

No... she didn't say the next build... she said 'later this week or next"... also she didn't say 'new features'... she said *some really exciting things*:
https://twitter.com/donasarkar/status/740242392419344384​

So I should expect another Insider Preview Build later this week?

Next week is June Bug Bash, maybe thats what she meant by Exciting!!!

Hope you read her post correctly. She said "late this week & next week". "and"is different from "or" so I guess the only exciting thing for this week is a new build! May be you''ll once again see the same exciting thing next week. Coz Dona is new to windows mobile, may be she feels a new build is a real exciting thing for windows mobile users :-)

Didnt you see the new DVD icon - cmon, thats as exciting as it gets....../s

you really had to correct him, killed his excitement dude!!

Well she says she's "excited" about the LastPass extension so...

If you're an intern working @ Microsoft then yes, these are exciting features!

She said "interesting". Which is far from exciting. My guess is all the new Bash stuff a part of the desktop release and some of the refined UI on mobile.

Seems like this is PC only.

Nope. Downloading right now on my Lumia 930.

Commenting on this article, not the fact of the update being live. Thanks though.


Why the downvotes? I just clarified that this update is indeed for phones as well...

the article says that what new in PC and mobile yet all new is for PC only, nothing new in modile :/

He's saying that because all new features stated in the article are only for the PC version. There is nothing to do with Mobile (except the title) so he says it seems like a PC only build :p :) +640 on Windows10Mobile

Exactly what I was thinking. She didn't break down the differences between PC and mobile. Mobile doesn't have edge extensions yet. From Windows Central New App

It's also for mobile, Downloading right now on my Lumia 1520

Dona uses iPhone like most MS folks. She likely just does not know that Windows mobile exists and hard to blame her for that.

Exactly what do you get out of trolling here? Can't you go to AndroidCentral instead?

He gets downvotes, which is attention. So he probably just wants attention.

Geez poor thing Posted via the Windows Central App for Android (V10 or 5x)

True. Only reasonable explanation.

Because it's funny to see the fanboys go nuts.

Hmm? So it is fun to make a fool out of themselves to see if fans get mad?

Fun. Installing it now. Really fast as well.

View the Windows Blog post that the next 6 Win Central articles are based on.

Try this, towards bottom of page.... https://blogs.windows.com/windowsexperience/2016/06/08/announcing-window...

I am going to try on my 950xl...hope it works this time!

I very much wanna do the same but I'm afraid that bluetooth still dont work...

Already installed in my 950 and my wife's 950xl, both daily drivers: so far so good! Even though there is nothing really new and exciting, this build seems smoother but it's early to say.

Where are the impressive thing they telling us yesterday?

I don't see anything new listed for Mobile

But what's new for Mobiles???

Other improvements and fixes for Mobile We fixed the issue that was causing your phone to freeze after touching the screen immediately after enabling Narrator. We fixed an issue resulting in a strange grey bar frequently being seen on the left side of the Microsoft Edge browser window (for example, after invoking a context menu). Going forward from Build 14361, your preferred DPI setting will be backed up and reapplied when restoring your phone. We fixed an issue where "Find on Page" in Microsoft Edge wouldn't always scroll the word into view. We also fixed an issue resulting in videos played on Facebook flickering if you started playing them after rotating the phone with the video in full screen mode. We fixed an issue where text was being truncated instead of wrapped in the Windows Insider Program page in the Settings app. We polished the notification dismissal model. Now if you receive and dismiss multiple interactive notifications in a row, the black transparent background will not start fading away between them. We fixed an issue that was making it more difficult to dismiss a notification with a hero image, an issue where peeking at a notification while watching Netflix would result in the video pausing, an issue where the keyboard could end up covering the quick reply text box, and an issue where certain notifications might just say "new notification" after a reboot. We also fixed an issue where Action Center would close unexpectedly quickly if a notification had been expanded when you start moving the Action Center's border up. And we also fixed an issue where an incoming notification would stop Action Center from opening if you were in the process of swiping it down when a notification arrived. We fixed an issue resulting in the "now charging" sound frequently playing twice when the charging cable has been plugged in. We fixed an issue where the "Everytime" setting for how often to prompt for pin would be blank on the Sign-in Settings page after opening Settings from the Lock screen. We fixed an issue resulting in not being able to infinitely cycle left or right through the Phone app's tabs. We fixed an issue where the Lumia 535 and 540 were not displaying a flash toggle in the Camera app. We have updated the text prediction engine for multilingual users, so now the candidates you see when selecting a word will be based on the active keyboard language, rather than the language that was active at the time the word was written. You can now use the keyboard with one hand with additional 5-inch devices such as the Lumia 640 and 830. To use this feature, press the space bar and slide the keyboard to the left or the right – whatever feels most comfortable for you! To return the keyboard to the center, press the space bar again, and slide it back to the middle. You can also slide the keyboard up, using the same method, so it's closer to the top of the screen if you prefer a higher grip on your phone. We fixed an issue resulting in not being able to infinitely cycle left or right through the Phone app's tabs. Read more at https://blogs.windows.com/windowsexperience/2016/06/08/announcing-window...

How "exciting" a new blue-ray icon

Nice! Hyper-V Container with Docker! That's awesome!

On my Lumia 640 with build 14356.1000, the Settings app was already fully black with the dark theme. I updated it from 8.1 because I couldn't update it from the build it already had on it. It's not been wiped on 10 yet.
Did I forget a change in one of the recent build changelogs?

I wish for an ISO. My dell venue 8 pro fails at installing after downloading new build.

My surface pro 3 stuck in logo.

Since 14352 start stopped opening so I am really disappointed. Anyone knows how to fix that?

I'm really frustrated and getting desperate...Since 14342 I haven't been able to get any new insider version updates on my Lenova yoga 900. I have tried most fixes suggested, including deleting the contents of this folder C:\Windows\SoftwareDistribution\Download. Any other help and/or ideas would be much appreciated. PS: I reset my pc after 14342 so I don't know if that had anything to do with it.

Download a newer iso and run setup from that

Just tried that in the past hour, and still nothing...keeps saying device is up to date :(

same with me which device u using ?

I have the Lenovo Yoga 900. I just finally gave up, downloaded a clean official copy of windows 10 and not getting anymore insider builds. So far so good, I like the stability and how smoothly my laptop runs again and the only thing I miss really is the abilty to send text messages from my laptop. I'll just wait a month or so for the official release of the awaited comprehensive Redstone update this summer.

Now in the Forums: http://forums.windowscentral.com/windows-10-insider-preview/427464-windo...

And we have another battery discharging quickly problem on this build. 1% per minute from what my battery app was telling me. One step forward, 2 steps back.

Nearly passed out from the excitment. or, should I say the interesting...ment.

am i the only one who noticed that OS version is now 1607 :P

You found the interesting item in the new build. Congrats. You win, 10 more lack luster builds for free! I hope my predictions are wrong for w10m....because I do think it can be awesome....but unfortunately with Satya at the helm...it will be gone by years end!

I am fast ring user from oman and i trying to update but no update found :(

I wish Microsoft will give me a option to get rid of the f**** ".com/.net/.fi/.org" button left side of spacebar in the Edge browser keyboard... TRULY hate the button!!