Here's what's new with Windows 10 PC and Mobile preview build 14926 [Update]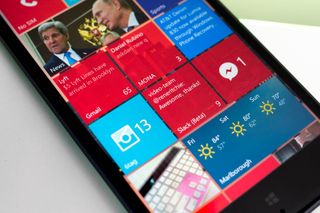 Microsoft has revealed what new features have been put into the just released Windows 10 PC and Mobile preview build 14926 for Insiders in the Fast ring.
In a blog post, Windows Insider head Dona Sarkar noted the following:
Snooze in Microsoft Edge: We know you all love when we get creative with you, so we have added an experimental "Snooze" action on a tab in Microsoft Edge which provides you with a way to set a Cortana reminder on the website you are viewing. People often keep tabs open in their browser indefinitely as a "to do" list, and do not close those tabs until the action associated with that website is complete. This feature lets you put a site into a Cortana reminder that will show up as a notification and in Action Center, allowing you to quickly open that site in Microsoft Edge when you're ready to get back to it.
Updated Wi-Fi settings page (Mobile): As part of our experience of unifying the settings experience across devices – we have updated the Wi-Fi settings page via Settings > Network & wireless > Wi-Fi on Mobile to match how it works on PC. The new Wi-Fi settings page isn't complete yet as we continue to port over functionality. If need, you can fallback to using the Wi-Fi (legacy) settings page to access any missing functionality. In addition, we added the capability for you to connect to WPS (Wi-Fi Protected Setup) networks on your phone.
Improving your PC upgrade experience: One of the ongoing feedback items we've heard is how the apps that come preinstalled with Windows will reinstall after each upgrade – particularly noticeable for our Insiders that receive multiple flights per month. We've heard your feedback, and starting with Build 14926, when your PC updates it will check for apps that have been uninstalled, and it will preserve that state once the update has completed. This means if you uninstall any of the apps included in Windows 10 such as the Mail app or Maps app, they will not get reinstalled after you update to a newer build going forward.
Making pin login easier: Ever tried to enter your pin, only to discover the numbers you've been typing are nowhere to be seen because Num Lock was off? We're happy to announce that that will no longer happen! With this build, regardless of your Num Lock state, numbers will be input if you're typing into the pin password field. Let us know what you think!
This is the first preview build released to Fast Ring Insiders since August 31, as Microsoft's engineering team took some time to work on some of its build monitoring tools.
Update: Microsoft has added two more new additions in this preview build:
New Extensions in Microsoft Edge: We're working with partners on adding new extensions before and want our Insiders to try them out first! We have two new releases which we need your help testing and giving feedback on before we publish them to the general public. TamperMonkey is a popular userscript manager that lets users customize the content of pages across the web. Microsoft Personal Shopping Assistant is your smart shopping cart across the web, which collects your browsed products and lets you get price alerts for saved products and compare products between sellers. You can install these at the links above and try them out on any Development Branch build – send feedback to the Feedback Hub or @MSEdgeDev on Twitter.
Export favorites from Microsoft Edge: We have added the ability for you to export your favorites from Microsoft Edge to an HTML file. Just click the "More" icon at the top right (the three dots), choose "Settings", then "View favorites settings" and you will see the new option.
Windows Central Newsletter
Get the best of Windows Central in in your inbox, every day!
NEVER use a WiFi networj that advertizes WPS authentication.

Never? NEVER? Really, NEVER?

Turn off WPS if you have it on your network; especially if you live in an apartment building. It is notoriously unsecure. I'm surprised Microsoft bothered to add the feature. The first thing I did when I got my newest router was turn off WPS.

If you have "push-button" WPS you're probably fine.

If you can't turn it off completely, then hopefully there's an option to change the connection setting to push button instead of PIN.

Finally indeed! It's a long overdue. Now where is the feature to automatically turn-on WiFi from favorite places. This was gone since W10M for whatever reason.

Cant wait to update my phone!

do not do this if u have a Icon/930!!

I do. You should mention why! It's downloading right now.

I have an Icon and this release is horribly broken. Keyboard doesn't work anywhere in any app (including Messaging and Edge), it's showing that I don't have a SIM card inserted so I have no cell service, and Checking for Updates (manually or automatically in the background) seems to make the phone crash/reset.

Pin password thing happen with me every time. Glad. Much glad.

It's the best feature for RS2 so far!

Oh and I mean that in a totally positive way, not being negative or sarcastic!

Num lock being off was so irritating at times.

Those are some nice features

"Ever tried to enter your pin, only to discover the numbers you've been typing are nowhere to be seen because Num Lock was off? "

This is so basic, how come we have to wait so long for this...

Why is this basic? It's not like you couldn't login with your pin without this function, this just makes life a bit easier/gets rid of a MINOR annoyance.

I hope they fixed the Outlook live tile

None of the Live tiles are updating for me, Calendar, Outlook, Groove music, Cortana etc.. Always have to resize them to manually update them.

I don't think you can uninstall Mail or Maps. I would love to uninstall XBox and would be nice to uninstall Mail to reinstall it.

In the past some apps on PC would jump to the store saying they needed to be reinstalled. A manual way to do this has been highly requested in the feedback hub for a long time.

Has they fixed the cortana crashes while opening reminders

What about releasing a public build to fix the bugs.

The PIN numlock thing must be the best thing since sliced bread!!

Couldnt be more right about that. Made me hate using a laptop... Every single time without an option in bios to change it.

Experimental snooze features...and STILL no F11 full screen?!! Those Edge devs need to lift their heads up from the sand.

Just wondering because I see you freak out about this a lot... Why is full screen such a necessary feature for you?

Edge's support for media buttons on website such as Channel 4 is absolutely woeful. Buttons just don't work....so that means, when I want to catch up on Formula 1 for example, I can't go full screen via the video - and I can't go full screen via the browser either. I also visit a lot of photography blogs - and the inability to remove the browser bar is aggravating. As with Windows Mobile, Microsoft seem to take two steps forward and one back. There are loads of people saying the same thing on UserVoice - but no update from Microsoft and no indication that it will ever be included. These little things scaled up to 300 million users = a lot of annoyed users.

Really wish there was an option to disable auto-connect for Wifi when moving (car, public transportation, etc). Annoying to be trying to look up directions and such when riding in a car and phone keeps connecting to "TWCWifi" or other common business points. Basically makes connectivity unusable because of perpetual connecting/disconnecting state

There is an option for that...

Switch the Wi-Fi off when traveling??

There's an option already to stop it from looking for those networks. Also when in a car, just turn off your wifi dood

A "Connect to Previously Connected WiFi Locations Only" toggle would be nice to have.

They have that too, for each network even. Automatically connect check box...

Ther was once an option long time ago. It was like: Don't use data while wifi not responding.... Something like that, so yes data was always on by default except when wifi data was there

At last. The number lock off pad was irritating.

Just tried the update on 650, won't install, cannot be completed!

It won't even let me use my 650 lock screen bug and now im wonder how I can fix this since they made it hard now if you go back you can't get wm10...chipping away...:(

Im glad they are still working at this, but I'm beginning to get a little weary. The latest builds have been so buggy that using my phone has become a chore. Things always seem to not work correctly when I need them the most. I'm not sure if the production builds are any better, but I will likely roll back to oem. If i still have major problems i may get a dreaded blasphemous iPhone

The one thing that stood out for me in this build is the following: * We fixed an issue where Windows icons and text are not rendered correctly on some devices with Intel Atom (Clovertrail) processors. Look like my Thinkpad Tablet 2 is finally usable on Windows 10! It's only took them a few years to fix this but atleast they haven't completely forgotten about us with our first gen windows 8 tablets.


Finally that PIN thing!!!!

Hard reset nothing else I have tried myself

Wish they added back the "turn WiFi on even you're at certain location l" . Really miss this ☹

Pin and snooze. YAAAAAAS.

One of these updates/upgrades is going to address the Mobile Bluetooth intermitting connectivity issue. I swear Bluetooth dropouts in my car are literally "driving me crazy."

Is it really worth it to be an insider? I was an insider before but i left that program since wi dows 10 was officially launched

The password numbers issues is almost good enough for me to sign-up for the insider preview! Posted via the Windows Central App for Android

I think you should go to feedback page and start submit your suggestion... Do they check suggestions here?

scaling issues on L635/636/638 has been resolved as per blog post on the below link: https://blogs.windows.com/windowsexperience/2016/09/14/announcing-window... signing back in... and will send updates if 100% resolved...
Windows Central Newsletter
Thank you for signing up to Windows Central. You will receive a verification email shortly.
There was a problem. Please refresh the page and try again.