Here's what's new with Windows 10 PC and Mobile preview build 14926 [Update]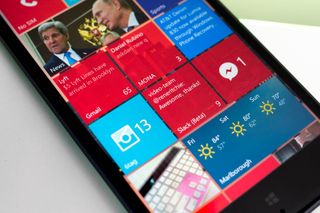 Microsoft has revealed what new features have been put into the just released Windows 10 PC and Mobile preview build 14926 for Insiders in the Fast ring.
In a blog post, Windows Insider head Dona Sarkar noted the following:
Snooze in Microsoft Edge: We know you all love when we get creative with you, so we have added an experimental "Snooze" action on a tab in Microsoft Edge which provides you with a way to set a Cortana reminder on the website you are viewing. People often keep tabs open in their browser indefinitely as a "to do" list, and do not close those tabs until the action associated with that website is complete. This feature lets you put a site into a Cortana reminder that will show up as a notification and in Action Center, allowing you to quickly open that site in Microsoft Edge when you're ready to get back to it.
Updated Wi-Fi settings page (Mobile): As part of our experience of unifying the settings experience across devices – we have updated the Wi-Fi settings page via Settings > Network & wireless > Wi-Fi on Mobile to match how it works on PC. The new Wi-Fi settings page isn't complete yet as we continue to port over functionality. If need, you can fallback to using the Wi-Fi (legacy) settings page to access any missing functionality. In addition, we added the capability for you to connect to WPS (Wi-Fi Protected Setup) networks on your phone.
Improving your PC upgrade experience: One of the ongoing feedback items we've heard is how the apps that come preinstalled with Windows will reinstall after each upgrade – particularly noticeable for our Insiders that receive multiple flights per month. We've heard your feedback, and starting with Build 14926, when your PC updates it will check for apps that have been uninstalled, and it will preserve that state once the update has completed. This means if you uninstall any of the apps included in Windows 10 such as the Mail app or Maps app, they will not get reinstalled after you update to a newer build going forward.
Making pin login easier: Ever tried to enter your pin, only to discover the numbers you've been typing are nowhere to be seen because Num Lock was off? We're happy to announce that that will no longer happen! With this build, regardless of your Num Lock state, numbers will be input if you're typing into the pin password field. Let us know what you think!
This is the first preview build released to Fast Ring Insiders since August 31, as Microsoft's engineering team took some time to work on some of its build monitoring tools.
Update: Microsoft has added two more new additions in this preview build:
New Extensions in Microsoft Edge: We're working with partners on adding new extensions before and want our Insiders to try them out first! We have two new releases which we need your help testing and giving feedback on before we publish them to the general public. TamperMonkey is a popular userscript manager that lets users customize the content of pages across the web. Microsoft Personal Shopping Assistant is your smart shopping cart across the web, which collects your browsed products and lets you get price alerts for saved products and compare products between sellers. You can install these at the links above and try them out on any Development Branch build – send feedback to the Feedback Hub or @MSEdgeDev on Twitter.
Export favorites from Microsoft Edge: We have added the ability for you to export your favorites from Microsoft Edge to an HTML file. Just click the "More" icon at the top right (the three dots), choose "Settings", then "View favorites settings" and you will see the new option.
Get the Windows Central Newsletter
All the latest news, reviews, and guides for Windows and Xbox diehards.