Here's why you might be blocked from getting the Windows 10 October 2020 Update
By Sean Endicott published
A compatibility hold protects PCs from an issue that can result in a blue error screen.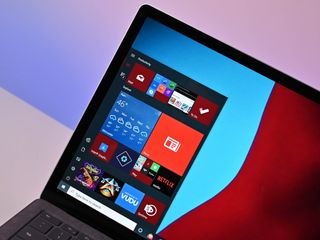 (Image credit: Daniel Rubino/Windows Central)
What you need to know
Microsoft placed a compatibility hold on some PCs with Thunderbolt NVMe SSDs.
The hold prevents affected devices from receiving Windows 10 version 2004 or version 20H2.
Microsoft is working on a resolution for the issue and should have an update in the future.
Some PCs with Thunderbolt connections won't receive the Windows 10 October 2020 Update or Windows 10 May 2020 Update until Microsoft and Intel work together to fix an issue. The companies recently discovered a driver compatibility issue that affects PCs when connecting to an external NVMe SSD through a Thunderbolt connection. To stop PCs from being affected by the issue, Microsoft has placed a compatibility hold that prevents PCs from upgrading to Windows 10 version 2004 or version 20H2.
Microsoft explains the cause fully on a support page (opens in new tab) (emphasis added):
Microsoft clarifies that it placed the compatibility hold to safeguard potentially affected PCs. The company also warns that people should not try to manually update their PCs with the Update now button or Media Creation tool if their PC has been blocked from an update.
Microsoft and Intel are working on a resolution for the issue, which should come in a future update.
Sean Endicott is the news writer for Windows Central. If it runs Windows, is made by Microsoft, or has anything to do with either, he's on it. Sean's been with Windows Central since 2017 and is also our resident app expert. If you have a news tip or an app to review, hit him up at sean.endicott@futurenet.com.
Woohoo! Eight-year-old PC hardware wins again!!

Oddly I still haven't received the update on my Surface Book 2 or an older HP envy 17. My Surface Pro X got the update shortly after release. Any holds on SB2?

As of this morning, old HP Envy 17 is now on 20H2. Still no sign of the update on my Surface Book 2.

And with today's updates, 20H2 is here on my SB2.

I've actually been having an issue with my internal NVMe drive and 2004. I had to update my BIOS to support booting from NVMe (it's a 5-year old motherboard) and it blue screens for a Page Pooled Memory issue whenever it boots 2004. Oddly 2004 works fine on a SATA SSD and 1909 works fine on the NVMe. Hopefully it gets fixed.

Another reason is you have a MS Surface Pro 7. But why would MS's devices get MS updates first? That's crazy talk.

I got 20H2 on my SP7 a while ago. But if I hadn't, I'd rather wait for all major issues to be resolved, especially for such a minor update in terms of user experience.

I just got the go ahead to install the October update on my SP7. Will do it soon.

Wondering if there is an unreported issue with AMD CPUs or boards using NVME? My kids PC got the latest 20H2 but booting from 2.5SSD. My AMD PC is booting from NVME but will not update from 2004 to 20H2

As a surface user, as long as they don't update / improve the touch interface of windows 10 I really don't care about windows updates. It's been years since any meaningful change came to windows that actually improved workflow or UI or anything like that (brightness slider in quick settings is the last thing i remember). Like any new animation? Faster Microsoft store? Gestures? Come on... The big news is a different color shade for stqrt menu?? Oh really... :D i actually like windows, but the touch UI is still barely functioning 6 years after microsofts released a windows deviced that is based around touchscreen UI (surface), with keyboard sold seperately. I wonder if they make it kinda bad on purpose so it's cumbersome to use without keyboard cover..

^ Truth ^ They don't make the touch experience bad on purpose. Making a touch experience good on a desktop-centric heavy productivity OS is hard (same with Gnu/Linux flavors and MacOS), just like making a mouse and keyboard experience good on a mobile OS device hard. That's why no one has nailed the right balance yet - and it's not for lack of effort. For my SP7 I use TouchMe Gestures. Makes life a lot easier when it comes to gesture support. E.g., two finger swipe left moves me to the next virtual desktop.

I use TouchMe too. It's a 6 year old (!) 3rd party workaround, but it's very nice that it even exists. It's not well integrated though so there is no way to block input to app running in the foreground, so when you execute a gesture you usually push a button or two in the app you're using :) I love my Surface Pro, I had the SP4 for 5 years and recently got a SP7. It's the best mobile computer that ever existed for my needs. And I get that it's hard to make good UI and software experience. It would just be nice to see a little effort. You know, something like closing apps with a swipe in task switcher. Anything :D If some guy could do TouchMe 6 years ago, I'm sure Microsoft could do something.

They actually did a small update to the touch experience (slightly better replacement of tablet mode) in a new or next update, but yeah they should add more like more advanced gestures etc (stuff like Gesturesign helps but would like to see more build in stuff). I personally do not think the type cover is necessarily considering swipe typing works good now on the onscreen keyboard. Edge Chromium could use some polishing for touch though.

I finally received 20H2 along with 2004 two days after 20H2 rollout. Since then Windows Update is updating my HP drivers each day with the same version. Also I have no HP devices whatsoever. I owned an HP printer that I got rid of 8 years ago or so. Guess there are some driver remainders on my device. Now it's an endless update for them 😊 My Lenovo Z45 is still on 1909 though with a You are all up-to-date message. No more.

Re: your first device, why not do a clean install? Sounds like you might be overdue anyway.

I don't have time for that. I am really all settled in with my PC. It is a multi-purpose station with 100+ games, emulators, a Visual Studio environment with undergoing developments, workstation for myself and my wife with corporate software configured, video editing and stuff. It would be quite cumbersome to reinstall everything. Especially when you got yourself a three-year-old and a one-year-old running around as well. And I am planning to buy a new hardware in next couple of years, so definitely not doing it twice. 😊

I don't even have the one before this one yet. My PC hasnt force-updated so im not touching it. SP4 doesnt even have it jfc
But they had no problem screwing WP7 users out of 8 because "muh data loss"

It makes sense it waits before force-updating if you do not manually click the update button. Also keep in mind that updates are rolled out slowly (to prevent issues on a large scale like some notorious feature updates from ~1-2 years ago), so some users get updates faster than others.

I currently have v1909 installed. If I install H2 will it include H1 so I don't have to install both H1 & H2 separately?
i.e., is H2 cumulative?
Dan

Yes it does. Did the same. It will take just as long as installing one after the other, but will show up as a single update.
Windows Central Newsletter
Get the best of Windows Central in in your inbox, every day!
Thank you for signing up to Windows Central. You will receive a verification email shortly.
There was a problem. Please refresh the page and try again.