Here's why you should be excited for Bright Memory: Infinite
Coming to PC and Xbox Series X, Bright Memory: Infinite has me hyped and I think you should be, too.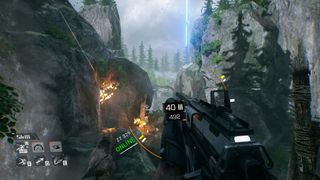 (Image credit: Windows Central)
During the somewhat disappointing Xbox Series X showcase on May 7, there were a few gems that stood out. One of those was Bright Memory: Infinite, something that had flown under many radars until that gameplay trailer dropped.
Truth is Bright Memory: Episode 1 has been available on PC for a little while now and I'm really fighting the urge to tell you all about it. It's one of the best $10 I've spent in a long time. With Infinite on the horizon, I thought I'd fill you in on why this game is probably going to be one of my favorites of the year.
FPS Action RPG
(opens in new tab)
Tons of action

Bright Memory came out of Early Access in late March, and it showed a lot of promise even then. It's a great shooter, it looks awesome, and it feels great to play for the most part. Despite being basically a demo, it's money that goes towards the development of Bright Memory: Infinite, which looks to be stepping things up a bit.
Great gameplay
Basically, Bright Memory: Episode 1 is a short, 30-minute to hour-long demo, but it's an action-packed, in-depth time. It feels like Titanfall, Devil May Cry, and Dark Souls blended together, which creates a thoroughly interesting game. Whether you're mowing down enemies with your gun, smacking them in the air with your sword, or fighting a boss, it plays like a wholly unique game. The story makes little sense, though, despite protagonist Shelia being a badass.
Though not as polished as other great shooters, like Titanfall or Destiny, Bright Memory still impresses from the get-go. The UI blends the two main genres quite well, with weapon info projecting out from your guns and skills/cooldowns in the bottom left corner. Performance is Bright Memory's biggest problem with several hiccups and stutters, especially with RTX and DLSS enabled — even my 2080 Ti couldn't manage more than 40fps at 1440p.
You won't fare so well if you play Bright Memory like a typical shooter, however. Mix in your skills, use your sword (which is awesome), and dodge to make sure your score rank stays high for as long as possible. There's a little Souls-like blood in here, too (with an on-the-nose Dark Souls easter egg).
All of the slick movement and great gunplay are sure to keep you entertained for many hours. It's a fun time, one that I've played over and over on both GOG and Steam. Even assuming the developer changes nothing, Bright Memory: Infinite is sure to impress with its combination of unique influences. I can't wait to see the full product, which I'd guess to be more polished and optimized.
Free for Episode 1 owners
When Episode 1 came out of Early Access to the low price of $10, developer FYQD Studio announced that Infinite would be free to all owners. Even the Steam page for Infinite mentions this. It's a really nice way of saying "thanks" to the community and I'm all for it, even though I'd be willing to buy the full game.
There's still quite sometime before Infinite launches, so now's a good chance to get a taste for what Bright Memory is all about. And, in so doing, you'll get a free PC version upgrade when the time comes. Sadly, this isn't available on Xbox Series X, though.
Obviously talented developer
I love indie games, and PC is rife with many, many, many good ones. It's incredible that Bright Memory is developed by one person in China, and I'm always happy to support the little guy. This is one of those rare instances where that little guy is punching well above its level. Bright Memory feels like a high-end AA, if not AAA, title.
Despite some issues along the way in the development, Infinite will continue to be developed by the one person, though he'll reach out for help with marketing materials and the like. That's commendable and incredibly impressive.
Improvments to Episode 1
Not too long ago, Bright Memory's developer came out and said that he intended to use the funds from the sales of Episode 1 to back Infinite's development. From the gameplay trailer alone, I can tell he's made several improvements already, from the lighting to the animations. Episode 1 is good, but it suffers from indie troubles like odd models and wooden facial animations.
However, as I mentioned above, there's a solid foundation to build upon here and I strongly believe that Infinite will feel drastically improved. If you've played Episode 1, just watch the Infinite trailer a few times and you'll see what I mean.
You can wishlist Bright Memory: Infinite on Steam right now, if you'd like. And if you're on console, then you have the upcoming chance to experience something that I believe will be spectacular.
Bright Memory: Infinite will be launching at some point later this year or early next.
Fast-paced action
(opens in new tab)
Plenty of promise

Bright Memory: Episode 1 is available on Steam and GOG right now and purchasing it before the launch of Infinite will get you a free copy of the latter as a way of saying thanks. Episode 1 isn't perfect, but it's a beautiful mish-mash of first-person shooter, hack-and-slash, and action RPG.
Xbox Series X/S
Main
What is the Xbox Series X release date?
How much does Xbox Series X cost?
Why you can't preorder Xbox Series X yet
Windows Central Newsletter
Get the best of Windows Central in your inbox, every day!
Jordan is a long-time gamer and PC hardware enthusiast. From the mid-90s on, he has constantly tinkered with computers and played every game he could get his hands on. Coming from a varied background, he found his passion in writing about Android in 2016, which also launched his writing career not long after. Now, Jordan is an avid gamer who just loves sitting down with tea or a glass of cold water to play whatever game has his attention (or he's reviewing), and he's lucky enough to make a living out of doing so. You can find him on Twitter if you want to chat: @jccpalmer.
Now this I didn't know. I think I'm going to check it out. Thanks for the post

Love the game, looks so sick, like shadow warrior! and its amazing the work of one human!!

I've played the mobile game a little bit, it feels pretty janky but I can sense a good game underneath it all. I couldn't possibly run the PC version on my tablet so I'll just have to wait and see with this one on console.