Hey Cortana updated for some Windows 10 Mobile phones with new training system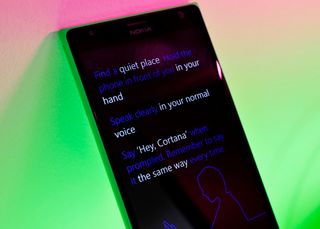 The Hey Cortana app for Windows 10 Mobile has a new update for the Lumia 930 and Lumia 1520 (but not the Lumia 950 or Lumia 950 XL). The update includes some user interface changes and, more importantly, a new training algorithm that should make learning how to use Hey Cortana better.
The new system lets users simply say "Hey Cortana" five times with no example scenarios anymore.
The app also apparently fixes bugs for some users who previously were unable to the training system to work for them. We previously posted a workaround for this issue but it now appears this update makes it unnecessary.
How to enable Hey Cortana for the Lumia 950 and Lumia 950 XL
Interestingly, Hey Cortana on the new Lumia 950 and Lumia 950 XL is found under Cortana's Notebook and not in system Settings. Indeed, one other feature with today's update is the ability to choose whether to have Hey Cortana work all the time or only when plugged in and/or the display is on. That technically gives the Lumia 1520 and Lumia 930 one more feature than the Lumia 950 and Lumia 950 XL.
Still, with the newer Lumias you can bark a command at Cortana without pausing e.g. "HeyCortanaRemindMeToGetMilk", instead of saying "Hey Cortana (pause) --command--". Some of these differences are likely due to the different chipsets used in the phones described here.
To grab the update just head to the Store and use the check for updates function. Once downloaded, you will need to restart the phone to get the new features enabled.
Thanks to everyone for the tips!
They should update the UI to match Windows 10's

They should release cortana in the rest of the world..

Yup. All of my settings are the same, but it still tell ms me to make sure all of my settings are the same. Lumia 930 Canada English.(imported from somewhere. China?)

No, they should only make it available in Uganda. I'm sure they are just being xenophobic and that there are no technical issues to overcome.

They should release it for other planets.

Does this fix the echo issue where enabling Hey Cortana causes an echo during regular voice calls?

Since I only know of that issue on the Lumia 950 and this is not an update for the Lumia 950 I hazard to guess no, this does not fix that issue (which I thought was fixed with the .29 update anyway).

@Daniel:
I did not get .29 on my 950 yet so I can't confirm. But folks who had the issue did report that it was not fixed (http://forums.windowscentral.com/microsoft-lumia-950/397771-2.htm#post3333053)

Some of us still can't get the .29 update. Any word from MS? Edit: Found this response from Jason at MS from Wednesday " As promised, here's the next update: We've identified the root cause of the issue, including why it's happening on some devices and not others. It's not country specific, language specific, or even single/dual SIM related. Quite honestly it's luck of the draw. I can't go into too much detail/specifics yet, but do know that we've identified what's going on. Next steps? Creating a solution. There's a few different ideas being worked through right now on how to move forward. As is well documented, doing a hard reset will bypass the issue, but we're working to see if it's possible to work through this without having to do a reset. We're working to find a path of "least pain" so-to-speak. There was also a question on whether this was Insider specific or if this affects normal Retail users as well. It's both. Again, it's pure luck of the draw as to whether any particular device has this bug or not. I know the waiting is difficult, but know we're working diligently on this. I'll reiterate an earlier comment I made and again say thank you. Your help and research is greatly appreciated. More to come as I get additional details. - Jason" http://answers.microsoft.com/en-us/insider/forum/insider_wintp-insider_i...

@ Daniel - Sorry... read this before I was awake and missed the part about it NOT being for the 950/950xl. Yes I still have the issue on my 950 even after the dot release so for now my HC is not active until the fix is out.

Still waiting for "Hey Cortana" in Germany

Exactly and it's not like "Hey Cortana" sounds very different in German compared to the English pronunciation.

It will be pronounced as "hallöchen Cortana" think.

Someone has been watching too much "Man in the High Castle". Zig Heil Mein Cortana!

Still wainting for Cortana in Brazil

Still waiting for Cortana in Zebulon 5.

So for mid range and low range phone atleast "Hey cortana" should be there as long as Cortana app is open. So that we don't need to click screen everytime we want to speak.

Thats what I was thinking from months

I still cannot get Hey Cortana working on my UK 930 with Insider Preview. I've tried all the tricks posted here with regard to speech and language packs etc, I received this update also and opening the Hey Cortana settings just says it's not available for my device (it WAS!). Any suggestions?
Rich capture Camera features are broken and motion data remains non-existent too. Is it just me?!

Can always rely on this community for a helpful answer, thank you.

Well, admittedly it wasn't very nice an answer, but at least you know it should work on your device.

Never had any issue with hey Cortana on my 930 in UK.

Have you been on the insider for awhile? I had ton of issues when I moved from 8.1 to 10. Only solution was hard reset. Now everything is working sweet. Also on L930.

It is working on my UK 930. I have the latest Insider update and have not hard reset. Last option may be hard reset?

Motion data works but microsoft health isnt tracking. That is the only issue with my 930 on w10

UPDATE: Factory reset didn't solve anything so have abandoned all hope and gone back to 8.1. Everything has come back to life again. Also, have to say its all much nicer to use, less cluttered and cleaner. :( (but also yay!)

Any luck yet? Using the Lumia icon and nothing is working for hey Cortana

Sadly not. I've gone back to Windows Phone 8.1 using the recovery tool and all my missing/broken features have come back to life and it's the phone I know and love again. So disappointed that so much of it was affected by the new OS... Hoping it rolls out properly with a newer version and better firmware in the new year. Having said that, the only things I'm really missing from 10 is interactive notifications and the newer apps. The actual OS feels WAY better and more unique the way it was. Frustrating times!

hi Dan.. i've been missing "hey cortana" on my phone since the last 3-4 builds.. infact cortana wasnt working due to the language download issues, that got fixed in the current.63 build. Once i got cortana working, i still was missing the hey cortana setting. so i downloaded it from the app store : https://www.microsoft.com/en-us/store/apps/hey-cortana/9wzdncrdr1mz?tdui... and then opened it as soon as it got downloaded (from the store itself) The app prompted for a restart. Post the restart, Its still missin in Cortana's notebook. but i went to Phone Settings > Extras , and it was listed there.. finished training and works like a charm. (just cant speak continous sentences starting with "hey cortana" like on the 950 twins or your PC)

On the last training screen on Hey Cortana, it crashes. Really annoying. Lumia 950XL.

I have the exact same problem. Except it's Thunder Force 3, not Hey Cortana. And it's the last stage of the game, not the last training screen. And my spaceship crashes, not the whole game. And it's the Sega Genesis, not the Lumia 950XL. Really annoying though.

I have a 1520 on Windows 10 mobile and Hey Cortana doesn't show up in my settings at all. Any idea how to fix that?

Its under EXTRAS in SETTINGS

Is there a list of phones with"hey Cortana" capability? Or, what is the hardware requirement for it to work?

Its snapdragon 8xx chipset

Does Hey Cortana work for Spain for mobile? It does for desktop, as "Hola Cortana"


Got it and finally got it working. It still took about 50 tries to get the 5 but it works now. Ta Ms.

I was just thinking this morning how I'd actually use Hey Cortana on my XL if there was an option to have it on ONLY when plugged in. "Coming soonTM" I'm sure...

Sorry for irrelevant comment but I don't think we are ever gonna see a 950XL review or Surfacebook review here. Perhaps it is policy to never review products not given as a review unit. And I totally get that. At least continue with AskDanWindows stuff.

Just started playing with this on my 950XL, it's amazing! The phone display is off just sitting next to me on my desk and I can say 'Hey Cortana, call my wife' and without touching my phone it just happens! Curious about battery life, I know a lot of these new features have special hardware to make them happen with minimal power. Going to let this run for a while to see how it does. This 950XL is hands down the BEST PHONE EVER MADE! Pick your specification this phone wins. Absolutly love it!

What happened to hey cortana for Canada!? eh? :) The option doesn't even show up

Has anyone been able to get Hey Cortana working in Canada? Language Pack downloads English UK for the Display Language, and English Canada for all the other options.

Is this a question or the solution?

Hey Cortana won't work unless all language settings are set to the same region

How come I cannot install Hey Cortana on my 950XL? When I access the direct download page, I have the message: "This app will nor work on your device."

Reading the article is hard.

How about you stay polite? I followed the instruction and the option is not there. When i access the direct download page (Robewms it's in the comments in the "How to enable Hey Cortana on Lumia 950" article), I cannot download it with the message "This app will not work on your device".

You: How come I cannot install Hey Cortana on my 950XL? First line of the article: The Hey Cortana app for Windows 10 Mobile has a new update for the Lumia 930 and Lumia 1520 (but not the Lumia 950 or Lumia 950 XL). To reiterate: Reading the article is hard.

How do you access the direct download page, is there a link for that?

It's built into the 950XL, in Cortana's notebook

There's a link on the article, "How to enable Hey Cortana..."

Na, my question was - is there a hidden Link that would download hey Cortana from the store. I'm using a 1520 one of those with hey Cortana large gear icon only. In my haste to figure a solution I uninstalled it yesterday to see if a reinstall would help, but I can't find a download link..its not available through sysappusher either...now there's an update duh!! I wanted to try that before I did a hard reset this weekend.

Go to the Link (How to enable Hey cortana ..... ) and check in the comments. Somebody posted the direct link to donwload it from the store .

Hey thanks for replying! I also had the same question and I spent an hour looking the link until I happen to read your comment.

Thanks Francis , I found the link, but I still have the same issue, maybe the next update or build will fix hey Cortana and glance for us few.

Would it not make sense to have the option for "Hey Cortana" to only be on when the display is off? If the screen is on then you can probably hit the cortana key.

I think the whole point of "Hey Cortana" is to access it without physical interaction with your device.

Unlike "Google Now" which is available even in the cheap Android phones and active all the time, "Hey Cortana" is only for those who can afford 930, 950, 950 XL, or 1530

No, Hey Cortana is on my 635.

That is becuse Google Now is cheap crap...

"cheap Android phones" yes they are :)

Definitely don't buy the 950 for "Hey Cortana", it's (Lumia 950) garbage. It constantly freezes and locks up. I don't think I'll make it another week with this thing before I slam it to the ground so I'm going back to my M8. I didn't have these issues with that device.

Works flawlessly on my 950... Maybe it is the user who is Garbage?

The 950 its self is garbage. Dip ****

You cannot blame Microsoft for your own stupidity...

I got a Hey Cortana update this morning on my Icon running 8.1.

Icon's running 8.1 & 10 got the update. Pretty much every device that supports "Hey Cortana" got the update.

Got it on my 1520 running 8.1 as well.

This may not be the right place to ask, but is it okay to install W10M on my 930 now. Anything I should be aware of?
Just want to make a start on using w10m properly now.

I upgraded on my 930 this week. Absolutely love it. I think the battery life has taken a hit but that could be me playing around with the phone now than normal.

I upgraded at 10586 build and with the latest update .29 there are no issues. It's smooth and sooo worth it from 8.1.
Just be aware that some have had problems so backup and go for it.
Also, I do my updates in the evening over WiFi and leave the phone connected to WiFi whilst on charge all night. This allows everything to readjust so it's ready to go next morning.
You may get battery drainage above normal for the first day. But this will go back to normal quickly.
That's my experience so I would say go for it :)

does plugged in equate to charging? meaning, will that setting work with Qi?

I don't think it matters. It's either charging or not.

So, why on my Icon does it still say voice activation is not available for my device? Kind of a bummer that Icon users are still getting screwed over like this.

Still not working for Canadians right? Or was that fixed in the last preview update that I cannot get?

Just scammed through comments and Canada seems to still not be working.

Is it the make sure your speech and display languages are the same thing? It's doing that for me in Australia.

Thanks but yes we've tried that already. The "Hey Cortana" option is just not showing up in the notebook settings at all, the only way is change region to US

Hey Cortana not available for my 1520 running 10586.29. India.

Updated it on my 930 but still says not available -.-

Updated here on 930 but can't use it because I'm in France... Haha

Hey Cortana is working fine on my L1520 in UK with 10586.29. Haven't received any update today but I have had the training method described in the article since the .29 update.

I hope they add hey Cortana for the HTC one m8 when the screen is on.(i know it isn't possible to do always listening without new firmware)

Just to inform you guys. There is no hey cortana on Canadian soil. Cortana works nicely but no hey fonction. And btw. Since last windows update there is no connection between uber and Cortana. In Canada at least

Did not know that. (In fact, thought I saw it announced some time back.) Did you have any info about when/I'd this will be made available?

"hey Cortana" setting is absent in my 930
any help?

The update fails for me on my 1520. Like four other system apps, it tries to update and won't. When clicking on the 'error - see details', it just attempts to update again. It's very odd. This has been happening since I started using the windows 10 insider update, and only happens with system apps.

I had a similar problem updating system apps, (i had them installed on the sd card) goto storage app or storage in settings ,change download new apps to this device, then near the top click on sd card (assuming you have one installed) click on -apps and games -then click on the system apps - then select move, move to this device , after you move the system apps do a restart or a soft reset go to the store and try to update apps again, that worked for 4 system apps for me.
Afterwards you can change back to install new apps to sd.

Thank you. That fixed the problem. :)

Would really like 'Hey Cortana' on my more than capable HTC M8 One, I mean come on already. The one feature I was looking forward to when joining the Insider program when it came out, even decided to get the HTC M8 because of the specs, yet still no feature.

Y para cuando en español Latino??...

Not sure if someone has said already. Got this update on my 930 which is still on 8.1.

It seems odd that Hey Cortana works here in Australia on W10 desktop and laptops I have, but not on my W10 930.

Was this only a Hey Cortana fix, or did this fix general cortana issues ?

I received this update today for my Lumia 930 while I'm still on 8.1 so it's not Windows 10 only.

Can hey Cortana work on Lumia 630 after windows 10 update

Does cortana works in India?

How can I acive Hey Cortana in W10 Mobile which is installed in a Lumia 640?

windows 10 update in india lumia 930 . i slill wait for cortana in india
Windows Central Newsletter
Thank you for signing up to Windows Central. You will receive a verification email shortly.
There was a problem. Please refresh the page and try again.