Here are some hidden gems you may have overlooked on Xbox Game Pass
Xbox Game Pass is awesome, and there's little dispute about that. But wading through dozens of games isn't easy!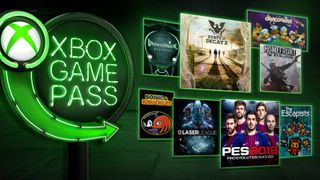 (Image credit: Microsoft)
Xbox Game Pass from Microsoft costs $9.99 per month, and gives you access to dozens of games on an all you can eat basis, similar to Netflix. There are over two hundred games on the pool now, and navigating through the awesomeness can be a bit daunting. If you've already played the heavy hitters, here are some of our suggestions for hidden gems among the big names that are worth a try.
Get Xbox Game Pass (opens in new tab)
Deadlight: Director's Cut
Deadlight is a side-scrolling action game with an emphasis on platforming and stealth, which takes place in a 1980s zombie apocalypse. You play as a father searching for his missing family in zombie-infested Seattle, using scarce ammo and melee weapons.
Deadlight has detailed environments and tight, satisfyingly gory combat. It's not too long too, so can be enjoyed in a relatively short burst between other games. Well worth a look.
Graveyard Keeper
Enjoyed the look of Stardew Valley but felt it wasn't dark enough for your gothic sensibilities? Then Graveyard Keeper is for you.
With charming pixel art and tongue-in-cheek comedic writing, Graveyard Keeper is a management game with RPG elements where you, the Graveyard Keeper, must build up and manage your very own graveyard. It's not all about the corpses though, you'll also be tasked with building up the local cathedral, battling monsters in the catacombs, and doing other tasks on your quest to become a profitable undertaker.
Layers of Fear
Layers of Fear is a cult narrative adventure horror game set in a terrifying mansion.
Following the madness of a painter, Layers of Fear unravels a haunting mystery that examines a dysfunctional family full of dark secrets. Layers of Fear is quite a short game at around 3-5 hours, but will leave a lasting impression.
Ruiner
Ruiner is a violent top-down action game with gorgeous art, set in a crime-riddled high-tech dystopia.
While Ruiner launched to widespread praise, the game was unfairly overshadowed by titles like Destiny 2 and Cuphead in an extremely busy September 2017 launch window. It's one of the more unique titles on Xbox Game Pass, and will certainly scratch that dystopic sci-fi itch for anyone waiting for Cyberpunk 2077. It's also Xbox Play Anywhere, so your progress and access will sync to PC.
Wasteland 2: Director's Cut
Given that Microsoft just purchased inXile Entertainment, Wasteland 2 has been getting a lot more attention recently. If you're looking for something bigger to really sink your teeth into, Wasteland 2 is a large-scale tactical RPG with XCOM-style combat, and classic CRPG-style branching narrative. Wasteland is an apocalyptic series that would go on to inspire the early Fallout games, set in a world destroyed by nuclear fire. If you enjoy classic CRPGs or titles like XCOM, this is well worth your time.
The Final Station
Final Station is a unique management, side-scrolling shooter which puts you in command of one of Earth's last trains.
Travel across a dying world rescuing the last survivors, maintaining your train's facilities while battling hordes of mysterious infected. The Final Station is a casual survival experience fans of the genre will love.
Massive Chalice
Massive Chalice is an intriguing turn-based strategy game with some unique ideas. Faced with complete annihilation, the population of an unknown world resort to genetic manipulation in order to create more powerful descendants. In this war spanning centuries, your favorite heroes will die of old age, and it's up to you to pair up the right people to pass on their best traits to future generations.
Great value
Xbox Game Pass represents some serious value, especially considering you can get all of Microsoft Studios' games in there as part of the monthly fee, including heavy hitters like Forza Horizon 4 and the entire Gears of War catalogue.
Every month, new titles are added as Microsoft aims to keep the library feeling fresh, with Mutant Year Zero, Ashen, and Crackdown 3 on the horizon as notable additions. For $9.99 per month, it frankly feels like a bit of a steal.
Get Xbox Game Pass (opens in new tab)
Windows Central Newsletter
Get the best of Windows Central in your inbox, every day!
Jez Corden a Managing Editor at Windows Central, focusing primarily on all things Xbox and gaming. Jez is known for breaking exclusive news and analysis as relates to the Microsoft ecosystem while being powered by caffeine. Follow on Twitter @JezCorden and listen to his Xbox Two podcast, all about, you guessed it, Xbox!
For me Graveyard Keeper is the one that looks really great? Too bad I don't have enough time to play all games I want to play and catch up with my backlog.

I like Gamepass but my biggest issue with it is the lack of AAA games. There's more focus on indie and side scroller games and less focus on AAA games. I think they need to get other publishers on board with gamepass as well. Gears, Forza, and Crackdown is a start but I don't think it's enough to draw in more gamers to foot the $9.99/mo bill. We need to see more games like COD, Battlefield, Anthem, Farming Simulator, Red Dead Redemption. They boast about gamepass having 100+ games which is actually around 158 games roughly, but for as long as gamepass has been around it should be at 200-300+ by now.

Sure, but it also needs to be a viable business.

Agreed as long as more AAA games were part of it. If they absorb Xbox Gold into GamePass then model their plan like Spotify, Netflix, and Amazon Prime they would be at $14.99/mo, which would put them inline with their pricing points. Granted Spotify is music but they have current titles users can listen to which is why it's so popular, and if GamePass tapped into that model they would be golden with the gaming community. Heck even at $19.99 or $24.99/mo would be a great deal. Netflix HD streaming w/Blue Ray delivery is around $22.58/mo. Yes I know MoviePass is a fiasco to say the least but their new recent pricing tiers has 3 levels which makes better sense now than what they had before:
1. "Select," starts at $10/mo and will allow subscribers to see three movies each month.
2. "All Access," starts at $15 a month. The plan allows customers to see any three 2D
movies each month at any time during their theatrical run.
3. "Red Carpet," starts at $20 a month. It also limits subscribers to three movies, but they
can choose from films shown in special formats such as IMAX or 3D. Now if GamePass were to do something similar where you got access to 3 RECENT AAA games/mo in addition to the normal library they offer that would still be a great deal.