Hitman - The Complete First Season review
Hitman's new approach makes for some of the most memorable and varied experiences in franchise history.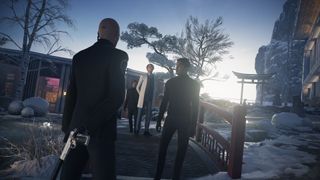 Earlier this year, Square Enix debuted the next evolution of its murder-filled franchise, setting out to change both Hitman's gameplay and how it delivered content. Clearing the slate with a title simply named, Hitman, the series took on a brand new episodic structure, releasing a "season" of content in sixth monthly installments.
With this new distribution method, gameplay also underwent several changes, offering more developed assassination scenarios. Putting player choice front and foremost, these alterations aimed to create more immersive scenarios, with increased replayability.
The entire first season is now available, with a physical disc-based version of the game also up for purchase. After six main missions and over a dozen additional targets, has Hitman's episodic model proved successful?
See on the Xbox Store (opens in new tab)
Update January 31, 2017: Following the physical retail release of Hitman's first season, we updated our review to reflect the final package. This includes the new Landslide bonus mission and Professional difficulty option.
What ended up in Hitman's first season?
After Hitman's initial content drop arrived in March 2016, players were promised five subsequent episodes every month leading into the latter half of the year. We expected six core episodes, with the two additional prologue missions which shipped alongside the first episode.
During the season, all six episodes were delivered, alongside three bonus episodes, which were released intermittently around the regular scheduling. These included a special "Summer Bonus Episode," a festive "Holiday Hoarders" release and the season's final content drop, "Landslide." This bonus content successfully filled the gaps surrounding the main episodes but was ultimately only reworked versions of existing levels with minor tweaks.
Over this period, IO Interactive managed to deliver all seven main content drops in a timely manner. In an age where episodic release schedules are becoming increasingly common, developers often fail to stick to the content roadmaps they provide (if they provide one at all). After many fans of the franchise had invested in a pre-paid season pass, clear communication, and planning made for a much more reassuring rollout.
Diverging from the core episodes, limited time events also appeared during the season in the form of "Elusive Targets." These were distinct individuals which were added to the game for a short period, with only vague details provided on their whereabouts. With only one assassination attempt allowed per target, these emerged to be some of the most challenging aspects of the season.
Did the episodic model fit Hitman's franchise?
The announcement of Hitman's transition to a fully-episodic format was trivial, to say the least, with worries of a traditional experience being broken needlessly into smaller chunks. Following the mixed reception of Hitman: Absolution, this new format indicated a further divergence from series roots. Moving towards the growing trend of episodic titles, many saw this as a method of securing sales before actually delivering any content. Although I was among those skeptical of the practice, the episodic structure has proved to be a great fit for the franchise.
Mostly due to its mission design, the core Hitman formula seamlessly fits into an episodic structure. As with previous titles, each of Hitman's missions take place within their own unique sandboxes, marking cleared segments within the season. While these environments have their own deviating missions and concepts, they still follow some similar tropes found across the season as a whole.
The surrounding gameplay mechanics of Hitman also lend themselves to the new episodic model, with less of a focus on developing personal player skillsets. While experience and knowledge still play a role, the varied gameplay offers tiers of complexity suited to both newcomers and veterans of the series. This made for an enjoyable experience after each month hiatus, without the need to relearn complex mechanics and control schemes.
Overall, Hitman's conversion to an episodic model was a success, with hours of refined content released on schedule. While we already know of a second season in the works, it wouldn't be hugely surprising to see this approach extend to more of Square Enix's properties. However, it success will be determined entirely be its execution of the model, ensuring both the genre and gameplay suit these adjustments.
Was the pricing of Hitman justified?
When the first episode was initially launched back in March, three routes were available for gaining access to the six main Hitman missions being offered as a part of the season. Each of these provided full access, with price reductions for committing to future episodes ahead of time. From a "Full Experience" season pass to separately purchasable missions, the pricing model changed based on your commitment to the franchise's future.
At first, this episodic model and season pass seemed like a lack of confidence in the Hitman franchise on Square Enix's behalf. In an industry where preorder schemes are all too common, this appeared to be another way of parting consumers with their hard earned cash before officially shipping a tangible product.
With a whole season of content available on our console, it's clear that the new model not only supplied a significant amount of content over time but also upheld the quality of each release. With a whole month of player traction dependent on each release, each level introduced engaging new ideas to please fans until the next content drop. A new approach to level design also feeds into this, offering increased replayability over previous entries to the series. With more assassination opportunities, more objectives, and the most diverse Hitman levels to date, the sheer number of different approaches to scenarios can farm hours of unique gameplay.
No matter the variety and scope of Hitman's levels, there's still a tedious aspect to this encouraged replayability. Although this may not affect new players picking up a pass after the season has concluded, dragging players through each month with only single main objective does have its drawbacks. However, there's still a great experience to be had if you choose to play through only once, despite the fewer hours you'll get for the $60 price tag.
Was the new approach successful?
Hitman's new approach to both gameplay and distribution hasn't gone unnoticed, signaling a return to the roots of the franchise. Introducing a new depth of variety and replayability to its sandboxes, Hitman's experiences are now more enjoyable and fulfilling than ever before. Although this can lead to a short experience for some, the content is some of the highest quality since the series' conception.
Pros:
New approach to gameplay returns to franchise roots.
Replayable content adds huge value.
A wide range of memorable locations.
Cons:
Replaying sections can sometimes feel repetitive.
See on the Xbox Store (opens in new tab)
Hitman - The Complete First Season is now available on Xbox One, PlayStation 4 and PC, as a part of a complete season bundle or in smaller packages for individual purchase. A physical version of the game is also now available, bringing together all of the first season's content into a single retail package.
Windows Central Newsletter
Get the best of Windows Central in in your inbox, every day!
Matt Brown was formerly a Windows Central's Senior Editor, Xbox & PC, at Future. Following over seven years of professional consumer technology and gaming coverage, he's focused on the world of Microsoft's gaming efforts. You can follow him on Twitter @mattjbrown.
Game looks fun. I might get it.
Windows Central Newsletter
Thank you for signing up to Windows Central. You will receive a verification email shortly.
There was a problem. Please refresh the page and try again.