Hitman 3 preview: The series masters its craft
This third and final entry in the series leaves us more confident than ever in IO Interactive nailing its Bond-themed video game.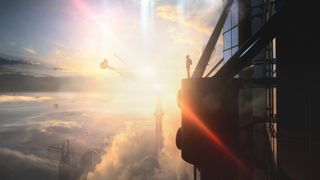 (Image credit: IO Interactive)
It's been close to five years since Hitman caretaker IO Interactive reinvented its signature stealth series, adopting an all-new episodic format in the name of replayability. It was a move that aimed to bring long-term value to a traditionally one-time single-player experience, with each locale now a mini open-world brimming with opportunities for espionage. While the follow-up dropped the piece-by-piece delivery, its action still retained the player choice that made its reboot so compelling.
Hitman 3 acts as the third and final entry in what's described as the "World of Assassination trilogy," further advancing those same fundamentals as the studio masters its craft. The underlying gameplay remains mostly unchanged but the execution has been refined into a cinematic symphony. After playing Hitman 3 for a few hours a head of launch, we think this could all make make for the best Hitman experience to date, and as a final outing to remember.
Hitman 3 is a familiar finale (and that's a great thing)
The next chapter continues Agent 47's journey beside Lucas Grey, tracking down the partners of Providence, an underground society present throughout the trilogy. The story here extends a new narrative through six levels, including locations such as Dartmoor, UK, Chongqing, China, and opening with Dubai. This mission sees the barcode-branded killer HALO jump onto "The Spectre," the world's tallest skyscraper (riffing off the Burj Khalifa), and taking out two targets during an opening ceremony.
The learnings over the years are immediately apparent, dropping the player into its introductory mission with a cinematic intro. You'll need to climb across steel beams and hack a window to gain access to the main level, providing exponentially more setup for its premise. The blazing sun piercing through the clouds, your reflection with the city skyline, and some mild platforming all provide a memorable and unique setup.
While latter levels may not all have the same grand entrance, each ties a developing narrative within its most emergent moments, delivering a world with context and consequence. That mix of more tailored, scripted gameplay paired with an open world isn't new to the rebooted series, with past entries also delivering their snippets in the world, but that balance has been further perfected, complemented with various situations that develop during your playthrough. A standout soundtrack even further sets the tone.
If the original Hitman (or Hitman 2) didn't stick for you, there's not much more that'll pull you here. There's not much different in terms of gameplay. However, this could be a possible relief for returning fans, with the prospect of "yet another Hitman" unlikely to disappoint. The entries share the same gameplay down to their user interfaces; you'll have to utilize gadgets and the surroundings to take down targets, retain a low profile through uniforms, and think about smart positioning. they're more akin to expansions, with IO not reaching to reinvent the essentials. The games are so intertwined that you can even bring forward your progress from past titles, with the levels from the previous two games also playable in Hitman 3.
However, there are a few new gadgets to play around with. One new gadget feature, the camera, enables remote hacking across a very small number of connected devices in a Watch Dogs-esque influence. Further advancements are made with new locations and more opportunities for takedowns instead.
It also brings notable changes beyond its new content, primarily shaking up the experience for its most avid players and further bolstering replayability. The new "Shortcuts" feature is a notable shift in level design, with each mission featuring various routes nestled throughout the map, not immediately evident in your standard playthrough. These can only be opened from one direction but leaves them permanently accessible in future sessions. They present opportunities to traverse maps from new angles, potentially shaving minutes off the completion time.
IO Interactive has also adjusted its rating system, attempting to identify your playstyle on the fly with a final grade, whether you're playing as a silent killer or rooftop assassin. The same expanded progression system also tweaks how plays rewards, unbinding them from specific challenges like in the past.
Bottom line: Hitman 3 means small but welcome changes
While Hitman 3 might not break away from its predecessors, it's still the latest refinement on an already potent formula, which is the perfect way to do a final entry in a series. We'll likely better understand the full breadth of content with a final review when we can wrap up the story, likely with some surprises to come. But from what we've seen so far, bold doesn't always mean different, on track to retain place among the best stealth games in 2021.
But more than anything, our early hours with its latest endeavor have achieved one thing — boosting my excitement for its sister Bond-themed project. Soon to conclude the story for its own secret agent, IO Interactive also embarks on a partnership with EON Productions and MGM. This early time in Hitman has only proven its ability to deliver, leaving what's next more compelling than previously imagined.
Hitman 3 is on track for a January 20, 2021 release date, launching on Xbox One, PlayStation 4, Xbox Series X|S, PlayStation 5, and PC. The title also launches on Google Stadia, as well as Nintendo Switch, via cloud streaming.
The final entry
A master refinement

Hitman 3 doesn't reinvent the wheel, but it refines on an already-great formula, which is looking to be a great way to go out.
Main
Get the Windows Central Newsletter
All the latest news, reviews, and guides for Windows and Xbox diehards.
Matt Brown was formerly a Windows Central's Senior Editor, Xbox & PC, at Future. Following over seven years of professional consumer technology and gaming coverage, he's focused on the world of Microsoft's gaming efforts. You can follow him on Twitter @mattjbrown.