Homefront: The Revolution will fight for its country on May 17, Xbox One closed beta in February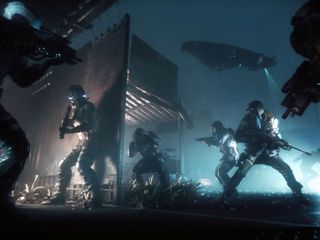 The long-in-development sequel to the first-person shooter Homefront finally has a specific release date. Publisher Deep Silver has announced that Homefront: The Revolution will be released on May 17 for the PC, Xbox One and PlayStation 4 platforms. The Xbox One will get an exclusive closed beta of the game in February.
Like the original game, Homefront: The Revolution depicts a near-future United States that is under armed occupation by North Korea:
Homefront: The Revolution has had a rather long and convoluted history. The original Homefront game was developed by Kaos Studios and published by THQ in 2011. Then, Crytek announced it would work on a sequel to Homefront for THQ. Later, Crytek bought the Homefront rights as part of THQ's bankruptcy and revealed it would continue developing the game. In 2014, Crytek sold off the game's rights to Deep Silver, and is now making the game with its in-house developer Dambuster Studios.
The Xbox One closed beta will allow players to check out online co-op missions from the full game. A specific launch date was not announced.
Sign up for the Xbox One closed beta for Homefront: The Revolution
Pre-order Homefront: The Revolution from Amazon (opens in new tab)
Source: Deep Silver
Windows Central Newsletter
Get the best of Windows Central in in your inbox, every day!
My son enjoyed the mp alot but was very disappointed with the campaign, he finished it in about 4 hours after purchasing it.

Home front on the 360 was awesome.

17 May, constitution day in Norway :D

Looks good. Gameplay seems kinda clunky on the demo video.

Wow that's one day before my birthday. Excited!

The original was horrible. I hope they rebuilt it from the ground up.

Signing up for the beta, hopefully this comes with the first game via BC.

It's for xbox one so probably

The game that no one asked for a sequel.

How about a believable enemy instead of North Korea?

So you think North Korea's glorious leader is UN-believable? :D

The first one's canpain was very short but, HIGHLY enjoyable with a good story (if you can score it for $5-10 night be worth it). Although I will wait to read a few reviews on this one, I am looking forward to it...
Windows Central Newsletter
Thank you for signing up to Windows Central. You will receive a verification email shortly.
There was a problem. Please refresh the page and try again.