How to swap your primary account with a new alias on Windows Phone 8.1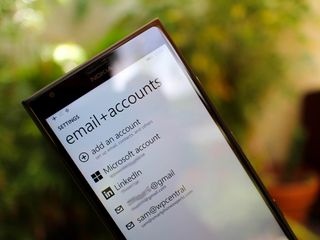 We've had Windows Phone 8.1 for a handful of weeks, but we're still learning new things all the time. Remember back on Windows Phone 8.0 and below how much of a pain it was to change your primary Microsoft account email? Adding an alias to your account and making it your primary required a hard reset of the phone to add it. That changes in Windows Phone 8.1. Today you can add an alias to your account and make it your primary without needing to change anything! Here's how.
Hat tip to Johan van Mierlo (@JohanvanMierlo) for reminding us about this feature coming to Windows Phone 8.1! Here's how you can change/add an alias to your account, make it your primary and not have to do much with your account settings on Windows Phone 8.1.
What's an alias?
Don't worry, they're not super confusing. Your Microsoft account is capable of supporting multiple aliases. These are email addresses that allow you to sign in and use all the various devices and services that use a Microsoft account. Most folks have one email address associated with their Microsoft account and use that to access their Windows Phone, their Xbox console, their Windows 8 PC or tablet and anything else Microsoft-related.
An alias is another email address that you can use to sign into those Microsoft devices. You get the option to add another email address (Gmail, Yahoo mail, etc) as an alias, so long as it's not already associated with a Microsoft account. There's also the option to create a new email (outlook.com) address and use it as an alias.
You will then have multiple email addresses (alias) that you can then use to sign into your Microsoft account. This is perfect for those with email addresses like ladyslayer69@hotmail.com to grow up and get a more mature email address associated with their Microsoft account. Maybe something like yourfirstname_yourlastname@outlook.com instead.
Adding an alias
My Microsoft account was created a long time ago when I needed one to play on Xbox Live. I used my personal Gmail account to create that Xbox Live account. Of course your Xbox Live account is really your Microsoft account, so I've been rocking a Gmail email address as my primary Microsoft account for a long time. Not anymore, it was time to get something a little more Outlook-y as my primary email address for my Microsoft account. Here's how you add an alias.
Go to account.live.com and sign in with your Microsoft account
Click on 'alias' on the left pane
Click 'add an alias'
Select either 'create a new email address and add it as an alias' or 'add an existing email address as a Microsoft account alias'.
It's really easy to add an alias. Just follow those steps above. Stuck on the part where you get to the page where you're presented with the option to create a new email through outlook.com or add an existing email as an alias? Don't fret. When you create a new email address you're creating a brand new outlook.com email address to use as your alias. Which means someone can't already be using that account. You'll get an error message if someone does, but try till you get the address/alias you want.
Unfortunately you can't merge Microsoft accounts yet. Which is why you'll get an error message when you try and 'add an existing email' that's already a Microsoft account. You're more than welcome to add any outside/third-party email address as an alias. Just be ready to verify you actually own that account.
Make your new alias your primary alias
You just created a new alias, odds are you want to use it all the time over your old email address. When you make an alias your primary alias it becomes the email address that appears on your various Microsoft devices. You can still use any alias to sign in to your account, but the primary alias is the email address that you'll see when you go to the account settings of your various devices.
At this point you can also remove any other aliases from your account. Assuming you have at least two aliases.
That's it.
That's seriously it. Now your Windows 8.1 tablet or PC, your Windows Phone 8.1 handset and other devices will automatically switch from one alias to another. Give it sometime, but you'll head into the account settings of your Windows Phone 8.1 device and you'll see your new primary alias in place of the old one. No hard reset required!
Via: Mobility Minded
Windows Central Newsletter
Get the best of Windows Central in your inbox, every day!
I tried this but then had constant password requests followed by all sorts of other glitches. Hard reset solved those issues

Oh, this was a handy tid-bit. I use many aliases, but this is great for devices. Thanks!

Not in the sense that your WP would reflect the change. In order to change to an alias on 8.0, you would have to hard reset. Now, swapping an alias on the backed (outlook.com) will update on the phone. I'm pretty sure that's new.

In WP8 for me switching my alias was the reason that the Facebook chat was broken. If I switched back to my original alias all worked fine. No longer have that issue now.

Omg omg Daniele Rubino replied to me!

Why the OMGs? Daniel is just doing what is reasonable considering he is a writer for this site. He had information relevant to your comment so he replied.

I know Daniel was right. I'm a big fan and was excited that's all.

Only bit that is new is that it reflects on your phone. I did this trick in May of last year when I switched from my gmail account to an Outlook one. I added my gmail account to my outlook.com as an alias, and then was able to login to windowsphone.com and all those things with my outlook.com address. My phone still showed my gmail account as my Microsoft account, but everything went through Outlook.com. This did not require a hard reset to do.

I did this a week or two ago but I am on 8.1 soo it is probably fairly new. Finally dropped the gmail address! Now the ONLY thing I'm using Google for is Voice. I wish someone would come up with a good alternative to GV so I could dump them completely.

Same boat. I was a GrandCentral user who got snapped up when Google bought them. Wasn't happy then and still am not. Please someone fill this feature gap for us...

Why don't you try it... ⬅ Best answer..

Sure it does! Go ahead and do it

Be careful: You can't add more than 10 aliases per year and you can't have more than 10 aliases at the same time.

10 is Microsoft's magic number as you also cannot have more than 10 phones connected to an exchange account: "You have 10 phone partnerships out of the maximum allowed 10 partnerships. After you reach the maximum, you can't create additional partnerships until you delete existing ones from your account. To do so, sign in to Outlook Web App, click Options > Phone > Mobile Phones, and delete any unused partnerships." I did find it interesting that the iPhone 5S model number is iPhone6C1. :) Status:
OK First sync: 1/26/2014 9:09 PM Last successful sync:
4/30/2014 5:43 PM Folders synced:
4 Device name: iPhone 5s Device model:
iPhone6C1

I am very happy to be able to change it. I signed up a long time ago for a microsoft account and used my spam email address. So now that I use it all the time I hated having it listed as the primary alias. I never actually used it to retrieve email and it was a yahoo account, but that is what was the primary and was always afraid to change it.

I actually wish we could create aliases to get emails but that could not be used to log in to the account.

I see, maybe I overlooked that then. I will take another look. :)

When you say "Unfortunately you can't merge Microsoft accounts yet", is there any reason to believe this feature is coming? I've been waiting for it over a year, and I keep hearing "yet" as if Microsoft is working on it. But if they are working on it, then they must have the slowest of slow people working on it. Just wondering if there is any reason to expect this feature.

I have wondered the same thing. I heard Paul Thurrott talk about wanting to do that ages ago (maybe a couple years ago or more), and even then he thought they were working on it. I would love to make my existing Outlook.com account an alias for my Gmail account, but I can't and at this point I have doubts that I ever will be able to. The only reason I keep using the Microsoft account associated with the Gmail account is that it has all my stuff: app purchases, Xbox gamer score, tons of bonus OneDrive storage, my OneDrive camera roll from the last 3 years, etc. Unfortunately, I have no hope that Microsoft will ever get around to actually letting me merge the 2 accounts or make the Outlook.com an alias for the Gmail account so I am stuck with one account for all my stuff and another that I actually use for email/calendar. They used to at least support linked accounts so I could log into a browser with one account and then switch back and forth without logging out and back in, but then they took away that functionality in favor of this aliasing which doesn't actually solve the same problem at all. Very irritating.

The same here. I've got main Outlook account used for everything today and an old Xbox account used for gaming. I'd love to merge them. I don't even use Xbox games on my phone as that would require setting up new gamer profile (associated with my main Outlook account) instead of using my existing gamer profile. Very unfortunate. :-/

Just change your Microsoft Account to the new one through your 360 dashboard.

They have been working on that since 2007 but it isn't that easy. Think 2020.

I really want this feature too. I want to get rid of my Microsoft account based off my old ISP email that I used for about 10 years and switch everything to my Outlook.com account but there is no easy way to do this. I want to transfer my purchases, keep my OneDrive storage and files and merge the mailboxes & contacts.

Same here. Also waiting since a couple of years to be able to merge accounts. What's taking so long?

Switching primary aliases works, but it's still buggy across devices. I switched my primary from a @gmail account to my equivalent @outlook account, but I had to enter my password to sign into my Xbox One profile every single time. I ended up having to remove my Xbox One profile and setting it up from scratch.

Guys I have just posted a new idea to improve windows phone please check it out and do vote for it.
http://windowsphone.uservoice.com/forums/101801-feature-suggestions/sugg...

This makes me wish i didn't create a new outlook account instead of an alias :(

I need to be able to change the associated Xbox live account. I wasn't paying attention when I'm first set up the phone and rather than linking to my Xbox account it randomly generated a Xbox account that I don't use or want but no easy to undo that?

Will I lose all my store purchases & messages from my original Hotmail alias like it told me I would last time I tried this?

Nope. When was the last time you tried this?

Over a year ago. I created an alias because I've had the same Hotmail address since I was 13yo. I tried to make it primary & it told me I'd lose everything.

Yeah it works differently now. They changed how aliases work last summer. You're good to go amigo!

My primary one is ovi, I am a former Symbian guy...finally am gonna create an outlook one

I have a question, after I set my new alias as my primary alias, would all my previous app purchases from the Windows phone store and data like OneDrive files be transferred over to the new alias?

Yes. Those purchases are connected to your Microsoft account. These aliases you create are just different ways to access the same Microsoft account. Add an alias, make it your new primary and your apps/games/etc are still connected.

That is awesome!!
Thanks for the response Sam!

Hope they as support to merge MS accounts soon. Want to get rid of my ugly Gmail address and use my outlook one. And there's no way in hell I'll start using the outlook one if I can't merge or transfer about $800 worth of WP and Xbox purchases to my outlook account.

I was able to move stuff from my Gmail account to my Outlook one last year by using this trick. Everything but Angry birds moved over.

You can get rid of that ugly Gmail account! I did just recently for my Xbox 360, W8.1, WP8.1 Skype, and OneDrive. All you need to do is be running WP8.1. Log in with your gmail email that you use for your microsoft account on outlook, go to the create alias page like they said to in this post, and create a new outlook alias that you like (I had to sadly not use my current outlook email and just forward the mail over to this new alias in order for it to work by the way!). Then switch the new alias to your primary account, and all of your devices (give it some time ~1 week) will switch over automatically! If you are using a 360 and Skype, you will have to log out and log back in in order for it to switch, but it should be good. Signed, Successful remover of all things Google Successfuly Gmail Address

Ladyslayer69@hotmail.com, why I love reading these articles... Haha

I aim to inform and entertain.

When will we be able to choose the alias we wish to send an email from !?

What's bugging me is that I did this a long time ago because I wanted to get rid of the gmail address to login. But now the gmail address is the main outlook address, and the outlook address is a secondary account. So when I go to outlook, the outlook address is a subfolder of the gmail address. And in turn, having the outlook account on my WP I don't get notified properly... basically all I can do is pin it to the start screen, but that's about it.

Amazing!!!!! Now if only theyd bring back alias switching to the desktop web interface like they'd done when outlook.com was in its infancy.

I want to use merge feature please microsoft

I'm gonna create an alias named ladyslayer :D

This is good, but unhelpful in my situation.
I need something that will allow me to migrate my info/data from one MS account to another, but I keep running into the 8016fe6d error, which is apparently so new that no one at MS knows how to rectify it.

But the real question... How many members will now be changing their alias to ladyslayer69@(wherever's open).com as a result of the article?

Okay, I did read the article and comments, but I'm still a bit fuzzy. I've got three e-mail accounts, AOL, Comcast and Live. I have all three pinned to my start screen. The Live account is my main e-mail and major Microsoft account address for my current phones and computers. I have another Microsoft account under the Comcast account, which is where my beloved Zune pass is registered and my WP7 app purchases are. The AOL is mostly e-commerce and I need to keep it around, no Microsoft account attached. I'm not really interested in using a new Outlook address for e-mail at this time. If you've made it this far, thanks for your patience. It looks to me as if I can get an new Outlook address, and have the Comcast/Zune pass come over to the new account even though Comcast is tied to a different Microsoft account. Do I have this right? Or not? Will my Zune HD be unaffected? There was a short time when the XBox Music app on WP8 allowed a separate sign in and I could get my Zune pass on my main phones, but that went away with WP8.1. I'd really like to move that Zune pass capability onto my main phones. Also, because I don't want to really use the any new Outlook account for actual e-mail, can I just maintain my current tiles for e-mail? It looks like I don't really have to do anything after I make the changeover. The article is clearly written, but I'm just not too s-m-r-t right now. Thanks!

I switched to my outlook.com as primary 90min ago. No issues, but still don't see this change reflected in WP8.1 account settings. How long should it take?

OK folks, specifically on WP8.1 it appears that the settings don't change. I had First.Surname@live.com.au and changed it to First.Surname@outlook.com When you go into WP8.1 Settings>EMail&Accounts> The account registered is still @live.com.au If you go into the properties of this and scroll to the bottom the Username is still @live.com.au and this entry is greyed out i.e. you can't change it. I know that if you delet it you are back to square 1 of having to do a full resync and it is almost like hard restting your phone. Another important thing is that not all emails may be delieverd to your inbox folder (this is not specific to WP8. but can happen in MS Outlook and the Webmail version of Outlook (for me www.live.com.au) I found this out because I had to change the registered email address with Facebook. They send an email to your original address to tell you a change was requested and advise you to go to the new email account (@outlook.com) to find instructions to confirm who you are. This email goes into the top level mail folder first.surname@outlook.com For some reason one or two other emails appeared in there even though they were automated emails to my original @live.com.au address [UPDATE 1] Guess what, the same happened when I changed my email address here on MobileNations. It sent the email to the top level folder rather than the inbox! [UPDATE 2] Very funny but when I got the email from MS stating I had changed my primary email the webmail version of outlook stuck the message in the Junk folder!!! Hahaha This is quite strange because when I send emails to my new @outlook.com address they appear in the inbox folder as you would expect. So either there is something special about the Facebook and other emails or I am just needing to wait for things to synchronise up but I ran these tests after a full sync and a power cycle of my phone Anyone got any thoughts on how we change the account for the Microsoft Outlook account on WP8.1 and why some emails appear in the top level folder rather than the inbox?

I asked this lol, but it fixed itself after Syncing again (Trying to update it to my New Primary Alias.) just synced it and it worked

That's odd, Joe said you still have to reset here, albeit for a new MS account, but it was in response to changing your alias.

or maybe an address like theweirdogeek@outlook.com lol

Is there a way to sign out of Skype with your MS account (the one tied to your phone) and sign in with a different account? I've never been able to figure that out.

Only problem with this is it'll screw with xbl/Bing rewards eligibility for that month

So when will the Hubs be put back? I'm reverting back to 8.0 till this issue gets fixed.

Naah ... Doesnt help me ... Have 2 microsoft accounts ... one outlook and one live ... The outlook one was for email and the live one for xbox live ... On the phone , i made the outlook one as my primary account and since that became my default login for xbox on the phone , my gamerscore achievements that i have from playing games on my phone doesnt add up on my actual xbox account. Just a thought ... since the games app is now separate (and screwed up) ... is there a possibility of allowing a different login to Games instead of using the primary phone account ?

That would be awesome but unfortunately it seems it isn't implemented yet. :-/

My Dreams come true! Thats good to hear. I have exactly only one Problem with the Aliases in outlook.com: At this time, if you send meeting invitations, they are send with the primary Alias as Sender. But if i switch to a external E-Mail as primary Alias (my own Custom Domain or Gmail or whatever), and i try to send Meeting Invitations, they are not send out to the Attendees. If i use a Microsoft Domain as primary Alias like, outlook_de or outlook_com, the Meeting Invitations are send to the Attendees

This is just great. Finally. The last time I changed my primary alias (WP 8), my messanging cant connect to chat and cant see who's online. Now this, is an improvement.

Haha!! I did this blindly yesterday, hoping it I won't have to reset my phone.. Good thing it was smooth sailing!!

1. Cannot wait for this - already have my outlook.com email ready and primed to make it my primary address as soon as I can (ie when I upgrade to WP8.1) 2. Why can you not merge????? Seems like a simple and common sense thing to be able to do - to me anyway.

Worked like a charm over here! Yay!

I tried this last night at about 6PM and still haven't seen the change happen on my Icon. My Windows 8.1 tablet has already switched over, no problem. Has anyone else had any trouble with this? I've tried manually syncing the account (as we suggested by some others above) and a soft reset. Just wondering if anyone else has had trouble. Anyone with an Icon do this successfully?

I made the change yesterday evening. Still haven't see it reflected on my 928. Not a big deal because I can still sync my outlook.com mail on WP8.1 without an issue.

For what it's worth, I've been keeping tabs on my account a few times a day to see if/when it would roll over. i just checked and it finally changed over to the new alias. If anyone reads this and is having the same problem, it resolved itself (at least for me). It just took a few days.

How is MS able to re-route emails destined for non MS mail domain names on an individual mailbox basis to its mail servers i.e. how are you able to register first.surname@CompanyXYZ.com as your address to arrive in your inbox on the MS mail servers? Usually when you want to route email messages you point the domain name CompanyXYZ.com to a name server that points to the mail servers.This affects ALL mail messages to that domain. As I can't see Google allowing this then how does it work?

This method works however, it really isn't an effecient way of working.. You actually need to go to your web interface to make your alias primary from your phone.. You should have a way to select this from the windows phone email application. I was thinking of getting rid of my business email and to create an alias from my main account but, Aliases is just a feature that is incomplete for now. And until it is properly supported, if you really need multiple emails, stick with them until aliases are supported that is my recommendation.

Would this allow me to have 2 Xbox accounts on one phone? I have 2 accounts and at the moment with WP8 the only way to play on both is by doing a hard reset.

how lond does it takte for the new primary alias to be main microsoft account on my windowsphone?

I have one additional alias aside from my the original email address (a yahoomail one) i associated with microsoft account. i am not receiving the emails sent to my additional alias on my windows phone. Help! i want to be able to receive the emails sent to my yahoomail and new outlook alias on my windows phone...

I know this thread is old, but can anyone offer any advice? I recently reset my phone and cant get my backup. I just moved and changed my isp. So, I changed my microsoft email address. when I try and setup my microsoft account on my phone, they send the code to my old inactive email address instead of the new one and the only email option to choose from on my phone is the old one. Hopefully this makes sense to someone and any help would be appreciated very much!!