How and why to use Bluetooth on your Windows 10 computer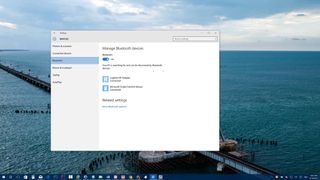 We're rapidly moving from a wired to a wireless area very quickly as more people are switching to mobile devices, such as laptops, tablets, and phones, and moving away from traditional computers.
In these computing devices, we can connect all sort of accessories from headphones to speakers, mice, keyboards, and other peripherals that can connect wirelessly to virtually any device thanks to Bluetooth.
Bluetooth is now a ubiquitous wireless technology that transmit data back and forth between devices over a short distance. It allows you to get rid of cables around your desk.
Of course, Windows 10 includes support for Bluetooth. However, Microsoft is making it just a little bit easier to connect different peripherals with this wireless technology.
In this guide for beginners, we're going to look at how to connect any Bluetooth peripheral to your Windows 10 devices (of course, if your computer supports this type of wireless connectivity).
Connecting Bluetooth devices to Windows 10
For your computer to see the Bluetooth peripheral, you need to turn it on and set it into pairing mode. It typically involves pressing and holding the Bluetooth button until you see a flashing light that indicates the pairing is ready.
Then using the Windows key + I keyboard shortcut, open the Settings app.
Navigate to Devices and go to Bluetooth.
Make sure the Bluetooth switch is in the On position. (You'll know it is working because you'll notice the message that reads "Your PC is searching for and can be discovered by Bluetooth devices.")
Select the device you want to connect and click Pair.
Once you click Pair, you're all done. Windows 10 will take care of the rest. You'll notice the "Connected" label under the device name.
Alternatively, if you're simply trying to connect a Bluetooth audio or wireless display, you can simply do the following:
In the notification area in the Taskbar, click to open the Action Center button (or use the Windows key + A keyboard shortcut).
From the Quick actions area, click the Connect button.
Then all the enabled devices will appear in the list, click on the device, and it should pair automatically.
Quick troubleshooting tips
If you don't see the Bluetooth section on Devices, chances are that there are issues with Bluetooth driver. Make sure to right-click the Start button, and go to Device Manager to verify the driver is present and installed correctly. If everything looks alright, but you don't see the option, you may want to download and reinstall the latest Bluetooth driver from your computer's manufacturer support website.
If the problem is with the speakers, headphones, mouse, or keyboard, make sure to turn the peripheral off, wait a few seconds, and turn it back on to try again.
Removing a Bluetooth peripheral from Windows 10
Disconnecting a wireless peripheral is as easy as connecting. Just follow the steps below:
Use the Windows + I keyboard shortcut to open the Settings app.
Navigate through Devices and go to Bluetooth.
Click on the peripheral you want to disconnect, and click the Remove button and then click Yes to confirm.
That's all there is to it.
If you have come across issues using Bluetooth in Windows 10 and found a different workaround, make sure to share your solution in the comments below.
Windows Central Newsletter
Get the best of Windows Central in in your inbox, every day!
Mauro Huculak is technical writer for WindowsCentral.com. His primary focus is to write comprehensive how-tos to help users get the most out of Windows 10 and its many related technologies. He has an IT background with professional certifications from Microsoft, Cisco, and CompTIA, and he's a recognized member of the Microsoft MVP community.
I tried using a bluetooth speaker, but there is always a small delay in the audio when I am watching a video / movie (atleast thats when it is noticable the most). Anyone else faces that?

What's your setup (make/model of laptop & make of Bluetooth speaker).
I own a Anker Bluetooth speaker as well as cheap Technica speaker from Tesco's (in the UK).
They work perfectly across every Windows device I own; 435, 1020, Asus T100, Medion Flex laptop..and they also work with my sister's iPhone.
In short, I'm v.surprised you are having such an issue. Try reinstalling/updating the Bluetooth drivers.

I have a Dell Inspiron 5000 laptop. Bluetooth speaker is the Nokia MD-12. The lag is of a few milliseconds, but noticeable when watching movies

Same here. Desktop to Sony sound bar has noticeable delay for sound when watching videos. I use the sound bar primarily for music from my desktop, so it's not a big deal for me. For anyone having issues where the sound bar is paired, but still no sound-go into settings and make the sound bar the default. When the bar is off, it will automatically go to desktop speakers. I didn't have to do this in 8.1, but 10 is different for some reason.

It's probably latency from oversampling the audio stream

I notice it happens especially when streaming videos. Weird enough, it seems more obvious on my laptop but not my Windows Phone.

I'd hoped they would finally enable Windows to accept Bluetooth file transfers without manually having to open the file transfer wizard (after all, WP does) but alas, they didn't.

Try suggest it at Windows Feedback.

We are trying to make our cellphones into computers but i think we need to make our computers a little like phones... In many regards at least. Too many clicks on pc Bluetooth, sending and receiving is a bit of a chore and loosing BT functionality just because of a system update really shouldn't be happening nowadays but its the norm.

"We are trying to make our cellphones into computers but i think we need to make our computers a little like phones... In many regards at least."
I agree with you.

Can Microsoft give me a damn "Connect" button for my Bluetooth devices?!

Please! When a device is paired and listed in the Bluetooth devices section, if not connected there is a Connect button.

There's already such a button in the Action Center

I wish Microsoft could show a little bit more of love to Mobile Bluetooth profiles. Right now, as soon as you pair a Windows Phone to a computer with Windows, three unknown devices appear in the Device Manager, all of them are Bluetooth profiles that require some drivers from Microsoft.

Installing Windows Mobile Device Centre usually fixes that problem. If reinstalling OEM drivers does not. The generic drivers are a hit and miss for me. They are usually the hands free audio, file transfer and the ability to make calls via Bluetooth on you pc.

For how many times do I've to press the "accept" button for sharing multiple files through other phones. It's kinda annoying.

Except they removed the ability to use a bluetooth GPS dongle and instead write a new location API that NOBODY uses .. great job Microsoft .. Bravo

My laptop cannot detect my Lumia with Bluetooth since I upgraded to Windows 10.

Have you had any success on this issue yet? Since I upgraded my Windows 7 Home Premium to Windows 10 Home Premium, I can go through all the steps of deleting, discovering, adding and even updating the Bluetooth driver. Both my Alcatel OneTouch and Windows 10 are paired, but they refuse to talk to each other. It's incredibly frustrating. I wish I knew where I could post this to get some "real" help. I suppose for now, it's the good 'ol physical exchange via the sd card or the cable.

Once any bluetooth device is connected, If I swotch off device or turn in sleep mode computer, chen I restart device not reconnect alone; have to deletedevice ans stat up connecting process agoin. More connot connect a windows phone to my computer runnin Windows 10 N (european verson)

If I turn the Bluetooth on my Asus transformer t100am it turns off my tv. A vizio

This is one of the more frustrating and useless, when it comes to a home reciever or headphones, as there is no way to change connection settings to auto, manual or ask every time. So once my home theater reciever is connected via BT and its on, all audio plays through receiver and I have to manually Go in and turn pff BT. Garbage

I never really used the bluetooth on my laptop. Now that I do, I am frustrated with the difficulty to connect and disconnect bluetooth device, mainly speakers, using Windows 8. Windows 10 does not seem to have solved that either.

Hell, I can never seem to get my LG 730 ear buds to connect. WP 8.1 are hit and miss, that has always been a problem.

The article doesn't mention the fact that not all laptops or PC's or tablets come with Bluetooth. I can just see an end user getting very upset when they find out their 4 year old device that happily installed Windows 10, doesn't have Bluetooth and they get mad at Microsoft, or even Windows Central.

Pretty much all laptops have a combo chip WifI+Bluetooth. Desktop PC's do not, it's only a few years ago OEMs started adding WiFi and Bluetooth to motherboards.

Does anyone have suggestions for a Bluetooth game controller? I love my HP Stream 7, but I can't charge and use the usb port for a usb controller at the same time.

I have been waiting years for Microsoft to improve connected bluetooth toggle support and am very happy with the addition of the "Connect" option in the Action Center. Now I can quickly connect/disconnect to my bluetooth devices with ease in Windows 10.

Really? Can you explain. Because it seems to me like you are forced to unpair a device when it would be better to just disconnect.

I know how, but where's the Why part?

yeah, it looks like he left that part out for you to figure out.

What is the resolution on that monitor? It looks ultra wide.

"We're rapidly moving from a wired to a wireless area very quickly..."

I have a Bluetooth keyboard that worked perfectly on Windows 8.1. On Windows 10, it always fails to pair.

Is Windows 10 going to allow sync of voice/notifications/messaging, like iOS and OSX?

Almost 2016 and BT still fails miserabley. I'm through fiddling with the finicky crap. Nothing beats a wired connection if you have the ports.

Yup. My entire set up is now wired with a switch, the reliability of wireless is just poor if you live in a heavily congest WiFi area. Not to mention the hassle of charging peripherals or changing the batteries. Ever since I went wired, lower pings, zero lag whatsoever and that is streaming 1080p/1080i on my x1, PS3 and laptop through the same switch.

I still use a Dell (made by Microsoft) ball mouse one of the best mouse I eaver used so comfortable and easy to clean and fix and not have to buy a new one because of laser burn out I use it with my computer running windows Me

Laser burn out?!!
My dad is still using an MS laser mouse that he bought in the 90's.

It takes a lot of time to pair with my Nokia Bluetooth headset.

I am SO FLIPPING SICK OF KEYBOARD SHORTCUTS BEING PUSHED FOR EVERYTHING!!!!! I don't want to ever TOUCH the keyboard unless I'm actually typing a document/entering text. Voice, mouse and gestures should be the focus, not going backward. But then, that's all Microsoft seems to be interested in doing, as are all the people who pushed for Windows 10 to be the disgusting mess it is now.

You're incredibly naïve and ignorant and also horribly in the minority, do you think Microsoft are interested in your productivity or the tens of millions of people who are right at this second typing stuff into word documents, spreadsheets etc. People for whom to take their fingers off the keyboard to have to use a mouse is a complete pain in the arse and disrupts their workflow? Keyboard shortcuts are a very necessary part of software for people who actually get stuff done and outnumber you by the million. And anyway, what possible harm does having them do you??

This guide is incomplete, it doesn't explain how you can disconnect a Bluetooth device (speaker etc) without removing (unpairing) it. You can have a dozen Bluetooth speakers / headphones paired at once and connect whichever one you want. Unfortunately due to Microsoft's incredible inability to actually communicate the availability of features and instructions for features they have spent so long developing, guides such as this are necessary for 80%+ of Windows users. If you're going to do basic guides please at least make sure they cover the basics...

I've found bluetooth connections to be unreliable and complicated on W10. It was much simpler on 8.1.

Any idea how to send files to your phone from laptop using Bluetooth. There is no such option to send files to a bluetooth device in the drop down menu in Windows 10 as it was there in 8.1 .

My experience is that bluetooth speakers can be very tricky an picky in the order of connecting. When in the settings bluetooth device manager and your computer has found a bluetooth speaker device you can do two things: 1. press pair and wait a bit. if nothing happens press the bluetooth connect button on the bluetooth speaker any way. 2. press the bluetooth search and connect button first, then press the pair button and wait a minute or two. Don't do both simultaneously or nothing will really happen and you will think either your bluetooth speaker or windows 10 is broken. I learned it the hard way.

And in 2015, Apple devices still aren't able to send/receive pictures etc via Bluetooth!

I I believe you mean "era" and not "area". I would also argue we have been in a wireless era for some time.

My machines built-in BT (Qualcomm Atheros AR3012) keeps disconnecting my Logitech K810 keyboard.. Not sure why but I'm suspecting a driver issue since googling it showed it may still have no support for Windows 10 yet..

Hello Mauro, can you name the source of the wallpapers from the first screenshot? Thank you very much!

I have a problem... I had paired Samsung galaxy grand2 with windows10 but the signal never sustains. I can send date from PC to phone but not from phone to PC (Unless I specifically click the Bluetooth icon from the task bar and click "receive file") I would be happy if someone can help.. It's kinda annoying Posted via the Windows Central App for Android

I've used it with Windows 10 during an older laptop install where the Intel WLAN didn't have built-in driver support, so used PDAnet in BT mode to get it updated, and also running a tower BT speaker for streaming movies, music, etc. - it will occassionally require power-cycling the speaker after losing connection, but for the most part is working out great.

BT keyboards are bloody annoying with their power save features, long connecting times and no type buffer! I've three different BT keyboards and they all suck donkey balls, each differently. I may try with the most expensive BT keyboards I can find but I've this feeling I would be disappointed again.

I am trying to send files from my cell phone (not a smartphone, just a regular AT&T mobile phone), and they'll connect, but then when I try to send a file from my phone to the computer, I always get a message that the sending was incomplete. What am I doing wrong?

I am using Dell and have a built-in Bluetooth. Back when I use Win 7, I can stream songs from my Android to laptop through bluetooth. Now that it's upgraded to Windows 10, I can't find a way to do the same. Is it not possible on Windows 10?

I'm facing the same prob with. Have you solve the porbs? Mnd to share with me

I have ACER ASPIRE E 14, after I updated my laptop into windows 10 the bluetooth malfunctioned. The laptop is not discoverable by other devices even if I already set it to discoverable. It turned out that my laptop can transfer files to other devices but cant receive any files to other devices. Any help please.

iam having dell inspiron15 with win 10 & my mobile is not running as handsfree by bt But it is able to do in win 7 it does so can anyone suggest me something about this issue.

I have a Dell 8700XPS running Win 10. When Itry to connect myu iphone and ipod to bluetooth it pairs. When I try to send music to the computer it does not come thru. Is there a way to do this? Any help appreciated. Thanks

The bluetooth doesn't show on my laptop. Somebody help I want to connect other devices but I don't know if my bluetooth is on or not.

I have a win10 Samsung Slate tablet and a Samsung BT Keyboard. As of late, I have had trouble remaining connected. I have tried repairing, changing batteries and even another BT keyboard. Both fail rain connected. I pair them and it works for a moment but then disconnects. Can anyone help? Thanks in Advance.

Now that I have upgraded from Windows 7 to 10 (hated 8!), although my smartphone is paired via bluetooth I cannot work out how to play my music from my phone to my desktop speakers. What I am missing? TIA

i'm facing the same prob with you. Have u solve it? Mind to share with me?

Too bad your article doesn't address any real issues. I was HOPING that unlike many of your contemporaries, you'd actually address the real difficulty and issues surround RECONNECTING bluetooth devices WITHOUT having the unpair, then repair the device in order to use said devices. When I open the Quick Actions area and go to Connect, my network media devices show there, and I can even connect to them. BT devices, not so much. Every single time I got to use my BT mouse, I have to remove and repair it. On my Windows 7 system, I can simply hit connect, it connects and works without a hitch. A simple connect button to get your devices to work shouldn't be something so difficult to fathom. Should it? I see many people asking this same question, but the only answers are the ones exactly like the author of the article posted, which is a non-answer at best. I just want to be able to connect BACK to my bluetooth devices without having to remove and repair the device every time I go to use. Which isn't asking too much, since the ability to easily do so, was there before. Is it?

My w10 laptop does exactly same thing ... says it is ready to pair but cannot. I have delete device and then find again. So many hassles that I use my Android tablet most of time these days. Windows 10 is not very user-friendly!

I agree, I'm able to connect my iphone6 with my Windows 7 (Dell XPS8500) and play music no problem. On my new DELL laptop (i5559) on Windows 10, I am able to PAIR but no music!!! I'm not able to play my music on the laptop speakers. They simply removed it from Windows, they also removed WMC (Windows Media Center), we're going backwards instead of forward... Then they expect us to buy Microsoft products...

im facing the same prob right now. Have u solve it? Mind to share.

My W10 laptop does exactly same thing ... says it is ready to pair but cannot. I have delete device and then find again. So many hassles that I use my Android tablet most of time these days. Windows 10 is not very user-friendly!

I have Windows 10 on my HP desktop. My Harmon Kardon Onyx speaker shows that it is connected via bluetooth but when I attempt to play audio it plays through my desktop speaker instead of through my bluetooth speaker.

recently i updated my phone to windows 10 from 8.1 . Now i cant play music in my car that is on the phone tranferred from my desktop to the phone . the bluetooth connection works and i can use the phone but it wont play music . I had no problem with 8.1

In my Device Manager i do not have that bluetooth section, is there any way for me to get it? i just updated from windows 7 to 10, is that why?

Please help me! I have done all the things suggested to try to connect a Philips SHB5950 Bluetooth headset to my HP Pavillion g7 laptop running on a Windows 10.1 Operating System. I was told I might need a specific software pack to allow the Bluetooth within the computer to run the Audio Streaming features in the headset. But I wasn't told what type or which software pack I need or where to find it. If anyone can help me I would greatly appreciate it.

how do i get the Bluetooth option, under devices.
all i see is Printers & scanners Connected Devices Mouse & touchpad Typing Autoplay USB Blue Tooth is also missing from my Device Manager thanks

Hi, I have the following configuration: Lumia 640 LT windowsphone with Win10 Laptop with Win10 I would like to use my headset of mylaptop to talk on my mobile. Both of two devices have bluetooth capability. Any idea? Sándor
Windows Central Newsletter
Thank you for signing up to Windows Central. You will receive a verification email shortly.
There was a problem. Please refresh the page and try again.