How to build a great streaming PC for less than $1,200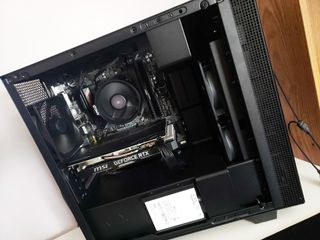 Building a gaming PC is one thing, but putting together a machine that can not only handle playing a PC title but can also encode a continuous stream and publish it to the outside world, that's a whole different ballpark. Luckily, it's not difficult to build a PC that can do both to a degree, and if you want to take streaming seriously, you can later add a separate dedicated streaming machine. I've rounded up some components that would work perfectly fine for gaming and streaming on the same PC.
If you want better performance, build a dedicated streaming PC
With the hardware listed above, you can build a capable streaming PC for about $1,200 (excluding the cost of Windows 10 (opens in new tab) and peripherals). Everything is compatible and should work together without any extra effort on your part, and there's room for improvement in the future. However, if you want to get real serious about streaming, you can build another separate dedicated streaming PC to take some of the load off the main gaming rig.
A secondary, dedicated streaming PC alongside the build above is a good idea because it would offload much of the work the gaming PC would need to do for actual streaming. Your main PC could then be used for solely playing games, and this streaming PC would handle all the recording, encoding, streaming, and everything else — all for under $1,000.
Start small, dream big
For 1080p gaming, our top PC build is more than enough. You'll be able to enjoy most PC games on good to high settings without an issue, thanks to the performance offered by the Ryzen 7 CPU (opens in new tab) and NVIDIA RTX 2060 Super GPU (opens in new tab). When it comes to streaming, you'll be able to link up your favorite broadcasting software and start firing out game footage to viewers. No single PC will be the best solution for streaming, but this machine will be ideal for getting started.
Once your viewer count has increased and you begin to make some money from streaming, you'll be able to invest the earnings into a secondary PC, which would be able to take the feed from this gaming rig and handle all the encoding. Not only would this allow for you to crank up the in-game settings slightly, but also enjoy a smoother streaming experience. The only drawback to adding a second PC is the cost. Should you have both PCs built, connected, and ready to go, you're prime for streaming to the world.