How to buy and read e-books in Windows 10 Mobile Creators Update
By Cale Hunt last updated
How do I download and read e-books on my Windows phone?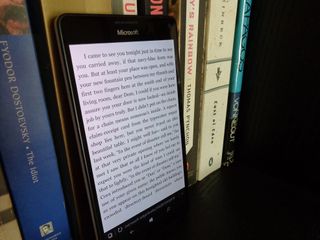 The Creators Update for Windows 10 Mobile is here, and with it comes an upgrade to Edge that lets you buy and read e-books straight from the browser. It's officially called Books in Windows Store, and there's already a huge selection of books waiting to be digested. Here's how to get everything set up and also how you can tweak settings to make your experience as good as possible.
Note that this feature is so far only available in U.S. markets.
How to buy and download e-books on in Windows 10 Mobile
Launch Edge from the Start screen or Apps list.
Tap the Hub button. It looks like three dots.
Tap Books.
Tap Sign in. If you're already signed in with a Microsoft account, proceed to step 7.
Tap your account.
Tap Continue.
Tap Shop for books. The Windows Store app will open.
Tap the search button. It looks like a magnifying glass.
Type the name of a book or author you'd like to read. You can also browse the store for lists of books based on genre and more.
Tap the search button in the bottom-right corner of the screen.
Tap a book you'd like to download.
Tap Buy.
Type your PIN or password.
Tap a payment method. If one does not exist, you will be required to enter payment information.
Tap Buy.
Tap Read. Your phone will switch back to Edge and you will see your book.
Tap the book you want to read.
Swiping left and right is the easiest way to navigate page by page, but you can also tap the screen to bring up more options. Here you can tap and drag the slider to move between pages.
How to change font, text, and theme in the Edge reader
Find the text too small to read on your phone's screen? No problem. Here's how to make some adjustments to appearance.
Launch Edge from the Start screen or Apps list.
Tap the Hub button. It looks like three dots.
Tap Books.
Tap a book.
Tap the screen.
Tap the Options button. It looks like a large A in front of a smaller A.
Tap a Text size option to make the text larger or smaller.
Tap a Text spacing option to tweak the spacing between letters.
Tap the dropdown arrow below Font style.
Tap a font.
Tap a Page theme option to change the background color of pages.
How to add and access bookmarks in the Edge reader
Edge will save your spot in the book you were last at by default, but you can also add other bookmarks if you happen to find something interesting elsewhere in the book.
Launch Edge from the Start screen or Apps list.
Tap the Hub button. It looks like three dots.
Tap Books.
Tap a book.
Tap the screen.
Tap the Add a bookmark button in the top-right corner of the screen. It looks like a ribbon.
Tap the Bookmarks button when you'd like to jump to a previous bookmark. It looks like a ribbon with line on it.
Tap a bookmark to jump to the page.
How to have your books read back to you in the Edge reader
If you'd rather not or cannot read the book you've downloaded, you can have it read aloud to you.
Launch Edge from the Start screen or Apps list.
Tap the Hub button. It looks like three dots.
Tap Books.
Tap a book.
Tap the screen.
Tap the Read aloud button. A voice will immediately begin to read.
Tap the backward button to return to the start of the paragraph.
Tap the forward button to move to the next paragraph.
Tap the pause button to temporarily pause reading.
Tap the Voice settings button.
Tap and drag the slider to adjust the speed of reading.
Tap the dropdown arrow below Voice.
Tap a voice option.
Tap the X in the top-right corner of the screen to stop reading aloud.
How to search for words and phrases in the Edge reader
Do you have a favorite passage from a book you'd like to look up? Maybe you're searching for certain terms for a paper you're writing. In any case, here's how to search for words and terms.
Launch Edge from the Start screen or Apps list.
Tap the Hub button. It looks like three dots.
Tap Books.
Tap a book.
Tap the screen.
Tap the Search button. It looks like a magnifying glass.
Type a word or phrase.
Tap the Enter button.
Tap a search result to move automatically to its page.
More about the Windows 10 Mobile Creators Update
If this guide has sparked your interest in the Creators Update for Windows 10 Mobile, be sure to check out Senior Editor Zac Bowden's review.
Cale Hunt is a Senior Editor at Windows Central. He focuses mainly on laptop reviews, news, and accessory coverage. He's been reviewing laptops and accessories full time since 2016, with hundreds of reviews published for Windows Central. He is an avid PC gamer and multi-platform user, and spends most of his time either tinkering with or writing about tech.
Just set your region to the US and it works fine.

That's the problem with Microsoft, always taking one small step whereas others one giant leap.

I don't stay in the US. Have been buying ebooks from Google Play store a few years back. And when is Microsoft going to activate Cortana for International English? My Windows 10 Mobile is almost at the EOL and i still don't get to experience Cortana voice assistant.

Do You want to get good income at home? do you not know how to start earnings on Internet? there are some popular methods to earn huge income at your home, but when people try that, they bump into a scam so I thought i must share a verified and guaranteed way for free to earn a great sum of money at home. Anyone who is interested should read the given article ........... http://www.PayNote8.com

This is all good to know, thanks for the solid guide!

One thing missing from the guide though is that the read aloud feature is very "robotic/mechanical". It makes it difficult to grasp or appreciate what is being read.

Re: Achike Da,
How does the read aloud feature work on Windows 10 Mobile? I bought a $3.00 book (to give it a try) and I don't see the feature when I tap the screen with the book open.
I use Audible on my W10M and wanted to give Microsoft Books read aloud a try.
Best Wishes

Just use Amazon Kindle?! (I like services that are cross-platform available)

Agree, also didn't see any FREE books in the Windows store where Kindle has many or use your free public library with the Overdrive App. You can also use Bookviser App or the Freda App to read Epub books from several online places.

MS store has a free classics section. Freda+ is a good app - interface can be a bit clunky sometimes, though. I would love the cross-device sync features to be implemented in Edge too.

Re: Dnmcdy,
I listen to audio books from my library with the Overdrive App on my Lumia 950XL and on my SurfscePro. My wife reads books on her Lumia 950 using the Kindle app.
I hope Microsoft steps up their efforts on Microsoft Books (features, availability, and marketing /promotion). Best Wishes

How? As far as I can tell, they have delisted all forms of kindle apps from Windows (other than the Win32 one which doesn't run on phone and works terrible on touch devices). By all appearances, Amazon just doesn't want our business. I have stopped buying from them, but would switch back in a heartbeat if they would make a simple uwp app that would work on Phone. Very frustrated.

Just search for "Kindle Cloud Reader" in your browser, and you can read anything purchased from Amazon's Kindle store that you like. Am I missing something?

I thought that Edge wasn't a supported browser so you can't use that anymore? Please correct me if I'm wrong.

What's missing with Kindle Cloud Reader? Usability on W10M. Reading is a choice between text chopped off in the right or on the bottom. It's not like Edge doesn't do HTML5 or anything... 🙄

I didn't know that existed. Just tried it on my Lumia 950. Wow... what a piece of crap. I can only see what appears to be the upper-left quadrant of the page. It does not allow me to scroll anywhere. And it's slower than dirt. If Amazon thinks this is a replacement for the app, they need to actually try it. It's completely unusable. What's wrong with one of the biggest tech companies we have just making a simple UWP app so that all the people on Windows 10 could actually use their service? It really does feel like a slap in the face. I would like a refund for all the books I have purchased, back when I could actually read them.

My WP Kindle app on my HP Elite x3 (my secondary phone) still works. I wasn't aware that it wasn't listed in the store any more. But that sucks, bigly!

I have a Kindle Paper White, and a Kindle Fire. Quite honestly I prefer the Kindle Cloud readerthat I use on my Windows Tablet, Phone, and Laptop. I've seen good improvements to the The OverDrive app in the last couple of years too.I would love to buy more from the Microsoft store, but whether its music or books, I've found on average that buying from the Microsoft store will cost me $1.00 to $2.00 more. Why would I spend that when I don't need to?

Yep... don't reinstall your phone or you will lose the app.

Interesting.... I did notice Kindle is missing from the store when using my Laptop but it is still in the store when using my Lumia 650.

Kindle is no longer supported on this platform (W10M). If you are logged into it, you can't log out or hard reset your phone or else you wouldn't be allowed back in.

That happened to me, kindle worked fine (reasonably well) on my 640xl, then after having camera app issues I did a reset, then discovered i could no longer log into the kindle app.
The cloud reader is horrible on edge, I can only read in landscape, not portrait, and is very hard to use.
Since Overdrive is also not supported on Wp10, their web reader is usable by choosing "read in browser" option in your Library, then pin it for instant access. I have a huge kindle book collection that really is not easily usable on Windows Phone.

Wow that's a bummer that happened to you! I do exactly what you said with OverDrive. I'm so glad that works but I hate that reading a book for 30 minutes makes a major battery drain happen. :/ Also, landscape mode? Seriously? For a book?! That makes for less on the screen. What a fail.

Thanks for the guide learned something new

I learnt that MS has another service that is not available for my region....

Can the reading bot just read me my books when screen times out on mobile? Hate that it stops reading when screen times out. I know Microsoft can make it read to us like audible.

Not available in the Netherlands...

This is great! can it work offline?

yes and no. I can open a book offline but I don't see my bookmarks :/

Not available in Belgium...

Not even available in UK. Poor.

Nice article. One bigtime lacking feature is that bookmarks or the last place you read does not sync between devices. In other words, if you read on your laptop then resume later on your phone, there isn't a mechanism that syncs. You have to manually remember where you left off on your previous device....this is WAY behind the times!

This is an article about reading, yet 30% of the comments so far fail to notice the stand alone, obvious sentence about being available only in U.S. at the moment... Pretty ironic and very common for other threads too for ppl not to read thru the article.
Great feature to have on Edge!

I read the article and my comment was an angry one and a protest at Microsoft's policy of not releasing their products or services more widely... This feature is too little, too late... Kindle works great for me...

Cool! Did not know this was a feature.

Good option, though the prices are typically higher than Kobo (the only cross platform app left of the "big" three). It works well, but I would like syncing between my S3 and 950.

Still no full screen view??

Shitft+win+enter. Thank me later.

Hmm. Can't help you for the phone. This is for desktop.

That's what I meant. There's no full screen view for edge on mobile. Its such a basic browser feature. It was there in WP 8 but they removed it in win 10.

I don't see it in the Microsoft store, but i know it is free with every android device, chromebook, or visit to the Google web site. Google is so good, If you lose your credit card they have already tracked it down for you and will give you the number, for a price. They only charge you what they charge all the companies that they sell it to.

Except since the creators update my Edge browser has become useless as clicking the hub to do anything freezes the browser

Probably a stupid question, but what's the name of the book in the first screenshot? The one with the first line starting, "I came to see you tonight just in time to see you carried away." I'd love to find it.

I Googled it, and came up with: "Ancient History: A papraphrase," by Joesph McElroy

I have thousands of books and PDF's, hate reading PDF's on Kindle, any device out there built for PDF's?

Re: Great deal,
May I ask, where are books on PDF format?
Best Wishes

Thanks for the walkthrough. I might actual buy a book and have Edge read it to me just to try it all out.

To see an actual article about w10 Mobile is refreshing

I set to USA region, but still do not see the book 📚 store.

I am on the latest update on my phone, but my edge still doesn't show that books option at all. Does it mean it doesn't exist at all in India or other countries? I mean I agree the books are not there on the store. But the feature itself isn't there here. What should I do now? :-\

Microsoft dropped the ball by not allowing your bookmakrs to sync. If i start reading on my surface , and make a bookmark, It would make sense that if i pick up my phone, i can resume at that bookmark. Sadly, this is not the case. Also, i cannot access my bookmarks while offline.

How does it read in Edge? I cannot read books on readers that don't do a basic page turn. It seems an unnatural way to read scrolling across to the next page. Reminds me of reading tables in SQL.

Windows 10 mobile sucks.. Creators update made it even worse. Apps crashes every now and then. I had to reset my phone every day

I wont invest in anything microsoft until they have a mobile phone, a flagship one I like and all the missing apps I need are on there, that's more important than buying a ebook to me, strangly.

reply to boopathy cause the editor wont allow me.
I'm not a microsoft fan mainly cause of their mobil;e strategy which has caused developers like ebay, paypal, myfitness pal to leave the windows mobile store. But I have a Lumia 830 that runs really well on the creaters update and even though its not supported on my Lumia 930 it runs great on there too. I have issues with microsfts slow pace at releaseing features 12-24 months after they remove them and the app gap where mobile is concerned and I don't trust microsoft but their phone work great on creator for me even if they don't support my less than 3 year old Lumia 930, yet another reason I wont by microsoft again.

Re: Jason hendry1,
Valid points and yet I don't quit. Windows 10 Mobile suits my needs. Support what you like, or be part of the problem.
Best Wishes

This has several months by now but until today I can't buy any book, receiving an error on the last step of buying

I would like to know if there is a way to 'buy' books that are free without having to put in a credit card number and the sorts. I do not have one :(

Are there Android apps that let you read your Microsoft store books?

The most annoying part is that you still have to give payment information even though some of the books are free...
Windows Central Newsletter
Get the best of Windows Central in in your inbox, every day!
Thank you for signing up to Windows Central. You will receive a verification email shortly.
There was a problem. Please refresh the page and try again.