How to set your newly independent language and region settings on Xbox One
Have you ever taken your Xbox One to another country?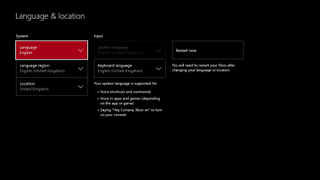 If you have, you may have stumbled across some rather inconvenient barriers. Until now, things like the interface language and the keyboard language were locked by region. This created issues when living abroad while maintaining a Microsoft Account and payment options in your home country, as well as for nations which practice multiple languages. Additionally, some titles simply have poor localization in certain countries, with multi-lingual users preferring to play games in a language separate from their console's store region.
Thankfully, Microsoft has listened to user feedback and opted to grant language independence from the console's store region.
You can follow the steps below to unlink your console's region from its language. You can use this method to activate Cortana if you're in an unsupported region too by selecting the United States or the United Kingdom as your console's language.
Here's how:
Double tap the Xbox logo button on your controller. Or, if you're using a Kinect just say "Xbox, go to settings" and skip to step #3.
Select Settings. It is the gear icon.
Select All Settings.
Select System, then select Language & Location.
Here you have multiple options.
You can:
Change the system language.
Language region.
Location.
Spoken language.
Keyboard language.
After making any changes, restart your Xbox One console for changes to take effect!
Need more?
Check out our other articles for more info on the Xbox One Summer Update.
Lauren Relph is a games writer, focusing on Xbox. She doesn't like piña coladas but loves getting caught in the rain. Follow her on Twitter!
I really wish to see that in W10 Mobile in the anniversary update

The possibility to activate Cortana in an unsupported country I guess, and still keep the country for Store etc.

I thought you could do that now with W10M? I remember in WP 8.1 it was not possible. My mom currently has the L830 and I have to set the phone language to another language but because of that I also had to change the region.

On Mobile the change means that you won't be able to buy in game products or even any other games. On top of it, MS (though MS points the finger at the bank) itself does some security check and starts blocking payments from that CC.
Very hard to often impossible to buy apps for a frequent traveler who needs to change the region and language often.
How is this with the XBox? Being able to do it, doesn't mean it works as intended...

Payment is restricted to a country your card issued in. Faced this myself when traveled to a few countries to work. But a quick chat with support solved the problem.

Correct, but once MS starts blocking your card because of the many country changes it simply ends :-( Contacting MS got me the answer that they cannot unblock it in their system or when trying with other helpdesk staff it was blamed on the bank. Bank send me copies of them approving the payment, so it seems it is really on MS side where this goes wrong.

Can't believe this took over ten years to be done

Sometimes time is not the reason,Sometimes timing is. But microsoft can do it coz they are not just releasing a feature, they are making a future. And they will be releasing in future too because they only can take it. Microsoft is not only a silent guardian, he is more.

Will I be able to make use of the voice commands if I change the language to US English while living in the Netherlands? It sucks not being able to make use of it. Xbox, show my stuff.

They should do the same thing with Cortana.
Windows Central Newsletter
Thank you for signing up to Windows Central. You will receive a verification email shortly.
There was a problem. Please refresh the page and try again.