How to create a Windows 10 ISO file using an Install.ESD image
Do you want to install the latest build of Windows 10 using an ISO? Then use this guide to turn the install.ESD file into an installation media with the most current version of the operating system.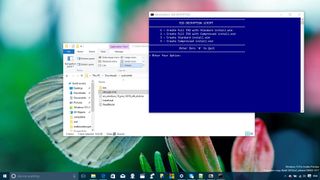 When you need to do a clean install or upgrade to Windows 10, similar to previous versions, Microsoft provides the installation files through a new ESD (Electronic Software Delivery) image format, which is commonly available via Windows Update.
We know this image as the install.ESD file, which is around 3GB in size and contains everything that is needed to install the operating system from scratch. Windows Update will typically download this ESD file plus other files to the $WINDOWS.~BT hidden folder on your computer.
The benefits of the Install.ESD is that it's an encrypted and compressed version of the Install.WIM image, thus making the download faster and more secure, which also results in spending less time during an upgrade.
While Microsoft makes publicly available the files to install Windows 10 through the Media Creation tool (opens in new tab) and via Tech Bench upgrade program (opens in new tab), the software giant typically doesn't offer the ISO files to install the latest Insider preview builds released in the Fast ring. However, you can use an ESD image to create an ISO file that you can use to do a clean install or upgrade of the latest version of Windows 10 on one or multiple computers.
In this Windows 10 guide, we'll show you the steps to convert an encrypted image into an ISO file.
How to create an ISO file of Windows 10 with the Install.ESD image
When a new Insider preview build becomes available, do the following.
Download the ESD Decrypter command-line utility using this link

(opens in new tab)

.Warning: While this command-line utility is known to work successfully, it's still a third-party tool, use it at your own risk.
Uncompress the utility to an empty folder on your desktop.Note: If you can't open the .7z file to uncompress the utility, you can use popular 7zip tool, which can be downloaded here.
Use the Windows key + I keyboard shortcut to open the Settings app.
Click Update & security.
On Windows Update, click Check for updates and let the latest version download to your system.
When the new installation files are ready, and you're asked to restart to begin the process, use the Windows key + E keyboard shortcut to open File Explorer.
Click This PC from the left pane.
Double-click the Windows installation drive -- Usually the C: drive.
Click the View tab on File Explorer.
Check the Hidden items option to see the $WINDOWS.~BT the folder that contains the installation files.
Open the $WINDOWS.~BT and inside the Sources folder, right-click and copy the Install.ESD file.
Open the folder where you extracted the ESD Decrypter utility files, right-click, and paste the Install.ESD file on this location.
Right-click the decrypt.cmd file and click Run as Administrator.
In the ESD Decrypter Script user interface, type 2 to select the Create full ISO with Compressed install.esd option and press Enter to begin the process.
Once the process completes, you'll end up with ISO file inside the ESD Decrypter folder with a descriptive name and build number (e.g., en_windows_10_pro_14316_x64_dvd.iso).
You can now use this file to install Windows 10 on a virtual machine, or you can use a tool like Rufus to make a bootable installation media.
It's important to point out that there are different versions of the ESD Decrypter tool, but version 4.7 continues to work with the latest Windows 10 Insider Preview. You will also find other similar tools around the internet, such as ESD-Decripter, that are based on the command-line tool we're mentioning in this guide.
Note: The nature of dealing with an encrypted file makes the tool useful as long you're using the correct RSA key to do the decryption. While the RSA key comes integrated in the ESD Decrypter tool, Microsoft can begin to ship a new version of Windows with a different key at any time, which can make the tool unusable unless you provide a new key.
Windows 10 resources
For more tips, coverage, and answers on Windows 10, you can visit the following resources:
Windows 10 help, tips, and tricks
Mauro Huculak is technical writer for WindowsCentral.com. His primary focus is to write comprehensive how-tos to help users get the most out of Windows 10 and its many related technologies. He has an IT background with professional certifications from Microsoft, Cisco, and CompTIA, and he's a recognized member of the Microsoft MVP community.
Yay im first... Just download the iso using the Microsoft media creation tool... Saves all that farting around.

Sure, you can do that, but a lot users also want to get the ISO for the Insider preview builds on the Fast ring, but Microsoft doesn't make those available in ISO formats. Thanks,

Media Creation Tool sometimes lack latest ISO version.

Had used it for updating to build 14291 as updating from Windows Update gave repeated BSODs.

Normal way of doing something too convenient for you? No problem, we got you covered.

Ah, very nice use of the snipping tool :) Posted from Windows Central for Windows 10

Mauro, can we choose the output directory with this particular tool (ESD Decrypter)?

It's based on where you saved it when you downloaded

Is there a similar method for creating an ISO with the latest production build, e.g. 10586.214 without having to install from the 10586.0 ISO then install the latest cumulative update?

I had used the same method while upgrading from windows 8.1 to 10 for my pc....i had copied file during installation on my laptop,downloaded esd decryptor, made Iso file from it and upgraded on pc...saved a lot of data....method worked for me....

I was going to try that when 10 came out, but I was scared

This was helpful, thanks.

Was a pain in the ass just for the sake of getting a truly offline img

I've downloaded the ISO using Media Creation Tool. It has the install.esd file instead of the install.wim. When I try to use the ESD Decrypter with it it says: "ERROR: Specified file not found or damaged."
Windows Central Newsletter
Thank you for signing up to Windows Central. You will receive a verification email shortly.
There was a problem. Please refresh the page and try again.