How to delete your Yahoo! account and save data
If you've been following latest developments you may be wondering just how you can delete a Yahoo! account. Here's how you can do just that.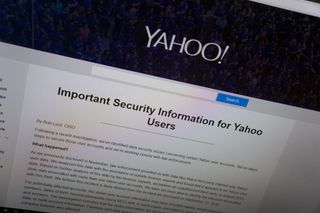 You must feel for fans of Yahoo! as the company has been in the news as of late for all the wrong reasons. Whether it's 500 million and then a further 1 billion accounts hacked, or a tool for government to search through email, it makes perfect sense for anyone to be concerned about a Yahoo! account.
We've compiled a quick guide to show you just how easy it is to remove your account and have your sensitive data deleted.
Remove your Yahoo! account
Visit Yahoo!'s Terminating your Yahoo! Account page.
Log in with your Yahoo! account.
Type in your password to confirm your identity.
Type in the CAPTCHA code to confirm your humanity.
Click YES to delete your Yahoo! account. You'll see a confirmation page if you successfully deleted your account.
Stuff you should know
While deleting your account will hopefully protect you from potential attacks (if you haven't already been compromised), there are a few things you should note. First, terminating your Yahoo! account will remove access to the following:
Yahoo! ID (which could, in the future, be claimed by someone else)
Yahoo! Mail data
Yahoo! Address Book data
Yahoo! Small Business data
Yahoo! GeoCities data
Yahoo! Briefcase data
My Yahoo! data
HotJobs data
Flickr account (including photo library, stats, and metadata)
Yahoo! says the deletion process takes about 90 days to complete. If you want your data scrubbed from Yahoo's servers sooner than that, you'll want to go through and delete your Yahoo! emails, Flickr photos, Yahoo! contacts, and more before completing the account termination process. We recommend you do this regardless.
Yahoo! also warns some of your information "might possibly remain" in its records even after you've deleted your account. (Yeah, we know that sucks.) To learn more about what data could be left behind, visit Yahoo!'s Data Storage and Anonymization support page.
Windows Central Newsletter
Get the best of Windows Central in in your inbox, every day!
Rich Edmonds was formerly a Senior Editor of PC hardware at Windows Central, covering everything related to PC components and NAS. He's been involved in technology for more than a decade and knows a thing or two about the magic inside a PC chassis. You can follow him on Twitter at @RichEdmonds.
I wish I could, but it's like my baby now had mine since i was a teenager.

It's hard when it is connected to old things that you want access to. I can relate.

I agree guys. I think the Windows Central community would be far better served if the author offered ways to move data, including Flickr, to, say OneDrive and or Outlook. Sure, quickly closing your account in a fit of self-righteous indignation may feel good, but cooler heads will want to make an orderly exit, if they exit at all. How about an article or two on how to smoothly move away from Yahoo!, or even safely stay?

Not to mention that changing the contact email for everything you've signed up for over the years is a PITA because you're bound to forget something.

indeed big on you me to #palzer0

I deleted both of my accounts more than a year ago.

Odds are the information was still stolen. Systems are particularly bad at ever actually deleting data. Instead, data is flagged as deleted or disabled so it doesn't generally show.

Yahoo gets it's money from advertising, deleting you account just means that YOU can't access the data anymore.

I have not used mine in years - I logged into it today (which had 2FA and 20+ Character password) and it was breached. I decided today that I will remove it from service as I have not had any value in Yahoo since Yahoo Messenger was shut down..

It's very disappointing that it was breached 2 times in the same year, and the times aren't even far apart at all. Welp.

Ya you are right. A company such as Yahoo shouldn't have security issues nor should someone have figured out how to spoof cookies and their internal systems. That right there makes me wonder if it wasn't some disgruntled employee that was let go at that time. We will never know but one thing is for sure. I will need to find a new junk email to use now :)

Not only Save Data.. but Save Yahoo... You delete it so next time they might not have 2B user accounts for hacking :D

I can't delete mine that easily. I foolishly linked my Yahoo! Account with my SBC account back when that company still existed as an ISP before ATT bought them out. Now I am no longer even a customer. I can change my Yahoo password, but I can't delete the account because it's linked to SBC, and going there (ATT) tells me I'm no longer a customer. Best I can tell, calling customer service is my only chance. I long ago made Yahoo a junk account because my contacts were getting spam from me. I no longer have contacts stored there, I just get my retail subscription emails there. Yahoo sucks.

Best to just clean out the account as much as possible and abandon it. I had somewhat the same situation with an old Microsoft account. My secondary email address was an old excite.com one and when I wanted to change things all the confirmation stuff would go to that no longer existent/accessible account that I had totaling forgot about. Ended up having to abandon my old Microsoft account and create a new one.

Yeah, my wife deleted an old email account that she didn't realize was associated with her Xbox gamer tag. She plays so rarely that we didn't figure it out until I after I had traded in the 360 and she was trying to sign in on the XboxOne. Best I can tell, her old account is now toast because she can't recall her password anymore, and there's now nowhere to send the password recovery email.

When you try to change your password on your Yahoo! account, it'll only give you access to your sbcglobal account, even if you still have credentials.

Yeah, I think I managed to change my password that way back when the last breach was announced. No deletion or disconnecting of accounts option is available though.

UPDATE: I just did more research, and it looks like they changed the site since my last attempts, and I was able to delete my old SBCglobal.net email account. I logged in there and removed any reference to my yahoo account as a backup, then I followed this guide: https://www.att.com/esupport/article.html#!/email-support/KM1010448 It let me disable the account, which I believe is the best I can hope for. At least now it cannot be used or reactivated by anyone. Maybe ATT will delete the account after a while?

Isn't this little like closing the barn door after the horse is gone? This was 2013. Ok. I understand the author is annoyed, and wants retribution, but . . .

2 times in the same year is NOT acceptable for a company as big as Yahoo is. It's unacceptable on all levels.

If you have web sites that use your Yahoo account as the login, reset info will be sent to your Yahoo! account, allowing people to get access to third party web sites if they can get into your Yahoo account. That danger may not have been exploited yet (depending on which third party site it is), but may in the future.

I assume this also impacts att.net email powered by Yahoo

Hard to tell, since you have to sign in to a separate site to manage your ATT account.

One of the biggest assets an online service
next to its very business model holds, is trust. Once the trust of its customers/users evaporate
the business does as well. Yahoo is done,
selling its business now is not an option anymore
that the company could go about at their liking.
They now have to sell, and they have to sell more or less very soon. .

So there was nothing in this article about "saving data." How does one transfer emails to another account?

What about a guide to migrate your yahoo mail to Outlook? That would be useful in this context.

And, if you how to migrate Flickr.....?

Oh maaan, my GeoCities data!

I get all that. (And I'm not saying this is very bad. Nor that you do not need to reset your password and such) But if the bad guys got the data, any "damage" is already done. Closing your account now, except for the satisfaction of retribution at Yahoo! two or four years after the "crime," isn't going to make much difference.

I started moving everything away from Yahoo about 2 months ago. I have now deleted the account. Yahoo mail is bottom of the barrel. I urge anyone that uses it to get out.

Easy to say but it's harder to do the longer you've been using it.

+1
So much is connected there. I refuse to leave it, as that will be a true pain in the rear.

How to check if my account is breached or not? I successfully logged into my account without any issues but didn't get any notifications about my account being compromised. I am not able to access my mails from my mobile browser though. It says access denied. I will check from PC later. Does it mean my account is breached? UPDATE: I am able to check my mails by requesting desktop site on mobile browser. This time I got notified that my account may have been compromised. I am still not sure, any help will be appreciated. Thanks.

I signed up for Yahoo! in 2015. Only for Flickr. I never used the email client for anything. Did not signup for any service anywhere with it. There is no payment info or anything like that in my account. Honestly, it's just Flickr and nothing else. Should I be concerned? It bums me out purge my entire Flickr library for something that is bad, but won't really affect me as seriously as someone else.

But Linux was not the all-powerful Kernel secure and unbreakable?
What is happening that only Microsoft is managing to ensure security, while Apple, Sony, Google, Yahoo, Amazon are all with vulnerable servers?
Windows Central Newsletter
Thank you for signing up to Windows Central. You will receive a verification email shortly.
There was a problem. Please refresh the page and try again.