President Trump may have saved Microsoft's mobile future (seriously)
U.S. President Donald Trump likely saved Microsoft's mobile future and the tech industry's cellular innovation by blocking chipmaker Broadcom's hostile takeover of mobile innovator Qualcomm.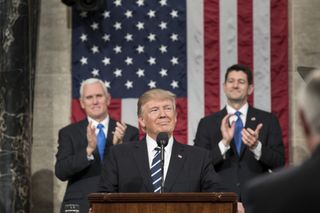 U.S. President Trump cited national security as the reason for blocking the Broadcom-Qualcomm merger. Before addressing the implications of this unprecedented executive order, let's recap.
Last year Broadcom made an unsolicited bid to purchase Qualcomm for $130B. Qualcomm rejected that and a subsequent offer. Broadcom responded by moving to replace Qualcomm's board with individuals sympathetic to its agenda.
Trump's intervention stopped a potentially disastrous move against Microsoft's and Qualcomm's Always Connected PC strategy, its rumored Andromeda device category and any Qualcomm-led future cellular innovation.
Why Microsoft should oppose a Broadcom-Qualcomm merger
What was at stake?
Broadcom's CEO Hok Tan is notorious for buying companies then cutting parts that don't yield immediate profits. This produces short-term value for stockholders, and pays acquisition debts but stifles innovation. This strategy directly contrasts Qualcomm's, which focuses on long-term investments that don't yield results until five to 10 years down the road.
Qualcomm's current mobile dominance is a result of investments in mobile processors and evolving cellular connectivity over the years. The company's now investing in bringing full PC power to the cellular roadmap (potentially including Microsoft's rumored Andromeda device category) and, via 5G, a host of other devices including smart cars and IoT devices.
Trump blocking the Broadcom-Qualcomm merger benefits Microsoft by protecting Qualcomm's long-term investments in cellular PCs. And it preserves cellular innovation by blocking Broadcom's potential shuttering of Qualcomm's 5G investments, which were at the core of Trump's decision.
How eSIM and 5G edge computing can help Microsoft's 'Andromeda' succeed
Why Trump blocked Qualcomm's acquisition
Ironically Trump welcomed Broadcom back to the U.S.
The Committee on Foreign Investment in the U.S. advised Trump that a Broadcom-Qualcomm merger could hinder U.S. investments in wireless and chip technologies. China, which is investing billions in next-gen wireless tech, could then surpass U.S. investments.
The tech industry and various governments see 5G's promise of connecting billions of devices to high-speed, low-latency cellular networks as an opportunity for both technological leadership and as potential security threats if that leadership falls into the wrong hands.
Currently U.S.-based Qualcomm's in a race against China-based Huawei for 5G dominance. Huawei, a leader in cloud computing, smartphones, and cybersecurity, has invested billions in 5G development, filed several domestic and international 5G patents and has important partners. Huawei's goal is the commercialization of full-scale 5G networks by 2020.
Trump's stopping the Broadcom-Qualcomm acquisition ensures Qualcomm's ability to compete in the free market without the threat of its Always Connected PC, chip and 5G investments being nixed by a short-term focused, profit-hungry Broadcom.
How Qualcomm and Microsoft are making PCs post-smartphone devices
The saga continues…
In the wake of these proceedings Qualcomm's former CEO, Paul Jacobs, expressed plans to buy the $89.7 billion company. He claims this "would bolster a critical contributor to American technology."
Would this purchase support or subvert the order of one of America's most controversial presidents? Time will tell. For now, Trump's decision may have made him a momentary hero in the eyes of a tech industry with whom he has been at odds since he ascended to the highest seat in the land.
Get the Windows Central Newsletter
All the latest news, reviews, and guides for Windows and Xbox diehards.
Jason L Ward is a columnist at Windows Central. He provides unique big picture analysis of the complex world of Microsoft. Jason takes the small clues and gives you an insightful big picture perspective through storytelling that you won't find *anywhere* else. Seriously, this dude thinks outside the box. Follow him on Twitter at @JLTechWord. He's doing the "write" thing!