How to find your phone number in Windows 10 Mobile
It's just a matter of time until you forget you own phone number, and in today's guide, we will refresh your memory by walking you through the steps to find your number in Windows 10 Mobile.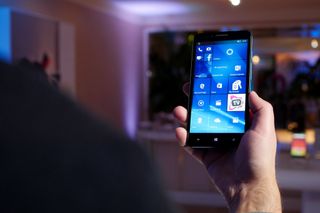 More than ever we're using our smartphones just like we use our computers, more than we use them actually to make phone calls. It's all about apps and services to the point that at those moments where we need it the most, we can forget something so simple as our own phone number. As such, for those times where you simply forgot, you are switching from a different mobile platform, or you are just jumping to the new version of the mobile operating system from Windows Phone 8.1. Another frequent situation? When going to a foreign country and using a pre-paid SIM card.
In today's beginners guide, we will show you three very easy methods you can use to find your phone number in your Windows 10 Mobile phone.
Method One: Find your phone number through the Phone settings
While in the Start screen, swipe left to bring All apps, then search for and open the Settings app, and tap on System.


Next, tap on Phone.


Finally, your number should be listed under My phone number.


Method Two: Find your phone number through the About settings
Another method that you can use to locate your phone number is by visiting the About page in the Settings app:
While in the Start screen, swipe left to bring All apps, then search for and open the Settings app, and tap on System.


Next, tap on About.


Tap the More info button, and your mobile number should be listed in the MDN field.



Note that in this section you can also find a lot of other valuable information, such as the current version and build number of Windows 10 Mobile, firmware version, screen resolution, and a lot more.


Method Three: Find your phone number through the Network & wireless settings
There is also a third option to find your phone number includes visiting the Network & wireless page in the Settings app:
While in the Start screen, swipe left to bring All apps, then search for and open the Settings app, and tap on Network & wireless.


Next, tap on Cellular & SIM.


Scroll down tap on SIM settings.


You will now see your number under SIM info.


That's all folks. With these three methods, you will able to find quickly and easily your phone number in Windows 10 Mobile.
More resources
For more tips and tricks, and the latest news on Windows 10 Mobile, you can visit the following resources:
Windows 10 Mobile on Windows Central – All you need to know
Continuum news, tips, and tricks
Microsoft Lumia 950 XL on Windows Central
Windows Central Newsletter
Get the best of Windows Central in in your inbox, every day!
Mauro Huculak is technical writer for WindowsCentral.com. His primary focus is to write comprehensive how-tos to help users get the most out of Windows 10 and its many related technologies. He has an IT background with professional certifications from Microsoft, Cisco, and CompTIA, and he's a recognized member of the Microsoft MVP community.
This is tongue-in-cheek, right? Who doesn't know what their phone number is?

I have 4 lines and travel. I don't know half my numbers.

I have tried all 3 methods and none of them show my number, is it my 925 or sim card that's the issue?

Just checked my 830, also nothing. Maybe because it's an off-contract phone with a pre-pay SIM card

Worked on my 1520, but not on my 640xl, both running windows 10

It looks like these screenshots are from Windows 10 mobile. If you're on Windows 8.1 then it might be different. You can always call another cellphone and see what number appears.

finally - the best solution!

And save it in your contact list ;-)

It's your card. Depends on the SIM and the carrier.

Its useful if Intune (and other MDM solutions) can read this field. Currently this is not showing up on Intune Lumias.

I'm literally using a line right now that I have no idea what the number is. I have to keep looking when people ask because it's simply not in my memory yet.

I just don't understand that. I just don't.

It's not surprising. You're not very bright so you must not understand much.

When I travel, I type my number in large fonts, take screenshot, crop, and make it my photos tile icon.

Those who just got a new sim and is still trying to remember their new number if they chose against keeping their existing number for example

Most of us do yes, but when we buy a new SIM card(esp when we travel) we tend to forget the number or lose the paper which had it printed.

people that just got a new one for their work

Someone that was just issued a phone from their company, someone that just changed their number, someone that grabbed a friends phone for the night and needs to be reached while the friend is passed out drunk. There are many reasons why you may not know the cell number. Haven't you sold your Windows stuff yet so you can leave this site and stop with the poor comments?

Seriously, I know a lot of middle aged to old people ho can't remember their phone number. Also, as commented above, if someone just got a new free SIM, where I live it happens a lot just for the sake of promotion, it is really difficult to remember that number for a few days. So, I must say this information was definitely helpful. Posted via my Samsung Galaxy S3 Neo which isn't as much abandoned as any Windows Phone on the Windows Central App for Android

you'll be surprised. it takes me MONTHS to remember a phone number, thus, I have help on to my cell # for well over a decade now.

When I got my second line last year, it only took me a day to commit it to memory.

i have my nember for about 7 years now , but still can't remember it :\

Method 4; Call yourself! LOL!

If you don't know what your number is then how would you call yourself?! (-_-) And even if you call yourself from your phone, what would you achieve? A busy tone!

This! Posted via my Samsung Galaxy S3 Neo which isn't as much abandoned as any Windows Phone on the Windows Central App for Android

Lol you call from the phone that has the number, you vant remember ☺

i would assume he meant calling himself to his house phone from his cell phone, ppl still have those i still do.

You mean landline? It would work only if the phone has caller ID. And a person should express his clear views in the statements he makes. Others won't keep guessing what it actually means. The most clear meaning of his statement is what this thread is all about.

No, method 4: Ask your SO.

Actually it should be calling by your unknown number to an another number to get your number.

Yes. The most common and effective way.

Put an entry with your phone number into the Contacts app. Also, put it into your email signature.

That's what I do (phone number in contact). None of the three options mentioned in this article does show my phone number.

Same here. Neither option works for me. Lumia 920 - México - Telcel

Not able to find NL1520 :'(

In The Netherlands you can dial *#06# from any operator. I think it 06 because all mobile numbers start with 06, regardless of operator.

*#06# doesn't give you your phone number.... This is a universal code for getting the IMEI of any phone.

Same here, 2degrees NZ. Maybe it doesn't work where number portability exists?

Or where you retrieve a number after losing it with a stolen phone or phone accidentally flushed down the toilet.

same here: Vodafone - Germany

@Neil Katz, wouldn't recommend putting your mobile number in your email signature unless you specifically use that phone for work :) or have dual Sims.

King of clickbait articles confirmed...

You don't even understand what the word 'clickbait' means. Clickbait is when you ask a crazy question that is not likely true e.g. 'Does Windows Phone cause cancer more than the iPhone?" or 'These 5 Windows Phone tips will make you super attractive'. Basically it is posting something with no real knowledge or conclusion. This article is a simple how-to for new users. You find it silly, but so what? People throw around terms without even knowing what they are talking about to sound smart and critical failing on both accounts.

Oh what a day, what a terrible day for poor Bojan Malinovicnicov...! :-D Posted via my Samsung Galaxy S3 Neo which isn't as much abandoned as any Windows Phone on the Windows Central App for Android

I always thought clickbait was more about coming up with titles that can provoke the reader's curiosity or interest and intrigue him into clicking the title and seeing an article that has little to nothing to do with the title.

I do know my phone number but I tried your method on this article to find my phone number for curiosity. Because someday I might need this in the future when I travel. But I can't find my phone number from those tips you just provided. Am I doing something wrong? I'm using Lumia 950 w10m .29 build

Oh yeah I found the place where my phone number should be. going to phone app, click settings and then click more settings and I see there is a place where it says"my phone number" I have that as null because my number is secret so it won't show the number. Maybe.

This would be the worst clickbait, ever. What is sensationist that makes you just HAVE to click?

Well my number is the SIM linked phone number and not the one I actually use this SIM for after Moving my number over

This will only work if the number is stored in the SIM. Not all operators store the number in the SIM though.

Ahaa, thats why im getting nothing. Thnx.

It's not showing in my Lumia 1520 ( build 10586.63 ) - I tried all the above methods mentioned

not showing for me either, tried all 4 of them on my lumia 730

Uh, mine isnt listed under any of these. Is there a way to manually add it?

You would have to find a phone (probably a basic feature phone) that supports editing "my number" area of the sim card.

I think this feature in Windows 10 Mobile only. May be you have a Windows Phone 8 device. I am not sure, but may be that's the reason Posted via my Samsung Galaxy S3 Neo which isn't as much abandoned as any Windows Phone on the Windows Central App for Android

I'm using Lumia 950 w10m .29 build and can't find my phone number with these 4 tips provided on this article

Oh yeah I found the place where my phone number should be. going to phone app, click settings and then click more settings and I see there is a place where it says"my phone number" I have that as null because my number is secret so it won't show the number. Maybe.

Same here unfortunately, though I'm pretty sure that'​s the SIM card's fault.

There's a widely reported bug concerning the wrong number showing up in the phone and there being no way to change it. I've owned 4 different Lumia handsets and my phone has never shown the correct number.

Still waiting for windows 10m

Hmm, if you have a dual sim phone, call your second sim with your first sim :p then you'd see the number lol

Method 0. Go to phone dialer and go to settings there, then touch more settings. Done.

Still not there on my 950XL.

I tried all the three methods but none is showing my phone number. The first method shows a text "Your phone number is" and then nothing.

Really? Just be a slow news day.

Really? We immediately posted two stories after this.

" 'Cause I can be a boss wherever I am now"... Says Daniel Rubino. ;-) Posted via my Samsung Galaxy S3 Neo which isn't as much abandoned as any Windows Phone on the Windows Central App for Android

Method 4: Can't you just ask cortana?

Do these features work on devices registered with Windows Insider? Because in India none of these features work (at least not on my phone); Place for phone number in Phone setting is vacant, MDN in About and Phone number in SIM setting are totally absent. Are these features only available on new W10 phones only?

I dont know. I am on 640XL latest W10 build. None of the above works. May be only for US carriers.

OK, I have to admit, that was something I really didn't know about. And is something really helpful. Posted via my Samsung Galaxy S3 Neo which isn't as much abandoned as any Windows Phone on the Windows Central App for Android

Just use OneNote.All devices

Or better, add yourself as a contact.

Cortana, what's my phone number? Would be great.

Genius. No sarcasm. Posted via the Note 4/Nexus 7 (2013)/Lumia 1020/Lumia 2520

This was my first thought as well. Why wasn't it added? It seems like a no-brainer for Cortana to do for you.

These methods only work if the SIM has the number stored in it. Lots of SIMs do not come with this information written to them. Additionally, the number displayed can often be incorrect if you have ported your number from another network. In this case, the number shown will be that with which the SIM was sold and not the ported number. So, this I not to be relied on.

WIll only work if you got your phone from a carrier. Since numbers are portable they are not stored directly on the SIM.

You could tap the Me Tile....ohhhhh right /s

None of the methods work on my L520. Only method 1 shows a 'my phone number' heading with nothing below. Still, compliments for finding a new feature in W10M. W10M also seems to have some T9-like way off calling, by using a contact name, how's that for innovation!

Maybe I'm just being stupid, but I can't see my number in any of those listed methods.

I don't think it's that (being stupid) as clearly others are having issues too (which is new to us). Definitely interesting, we'll look into it.

Someone suggested that the number must be stored in the SIM. And not all operators do that. I too can't see my number on my Android phone, so not the OS's fault ;)

Just go to the people app and it's under"me"

Thank you! I admit that sometimes I can mix up my own number because it is different. The order of the last four digits is something that I can find myself confirming quite a bit when I occasionally forget.

This feature makes mobile more smarter than win 10 mobile users.. It proves Win 8.1 rules!! :yay:

Always displayed the wrong number for me. Done this since windows 8

How do you look up your number in windows phone 8.1?

It should be under "Phone" in Settings.

You should rewrite this article. None of these methods shows my phone number.

No, all of these methods showed my number on my device (PoS AT&T L950 not using TP)The article just needs to be updated after they find out why these methods don't work for you and others.

None of these show my phone number on my 950xl.
My 1520 shows the wrong number where I transferred from one network to another.

cool. none of these methods work for me lol

It's all bullcr@p...it doesn't appear anywhere. Plus, the same screenshot appears here twice, instead of showing "About". DUMB@$$es.

The same screenshot appears twice seems only on the mobile version of the app in my case. On Edge Windows 10 the proper screenshots are revealed. On a somewhat related issue which I'll find the appropriate place to post is the rich test editor for this site has real trouble in Edge (Desktop). I have to drop to plain text box to reply to this.

I savedmy number in contacts. But I remember my number! It's just in case there. :)

I just tried asking Cortana what my number is. I'm surprised that I got a Bing search result instead of Cortana returning the number that is stored in multiple locations in my phone.

I just keep a contact entry with my name and various information (e.g., job title, phone#, email, photo, office address) so that I can quickly share/Send it...

All those methods works on my 640 on Win 10 using T-Mobile. Unfortunately these flows are too complex for new users. I wish MSFT had programmed it to show your number on your dialer. With iphone, you can click on your contacts and it shows a My Number item at the top of the list by default. Don't need to mess with your address book, or delve deeply into settings to find it.

The phone number shown on the phone will actually be the phone number from the SIM card not necessarily the network phone number. I had previously identified this as an issue in my case on Windows 8. My mobile operator in the UK is O2. It would appear that they do not or cannot amend the phone number originally on the SIM. The number is not my number on the network but that from the provided replacement nano SIM before my phone number and account were transferred from previous phone SIM of another size. Therefore cannot be trusted to be correct as has been reported others on this discussion.

Ugh. O2, sigh you are correct. Why is something so fundamental, such a failure. For MDM admins, this is really useful information. Just checked the iPhone, "my number" is searchable in settings and correct (ableit on another network) .... so frustrating

Thanks for confirming the use of these fields which are, unfortunately, blank in France. Operator don't seem to store the phone number on the SIM card. Nor on my Finnish SIM card actually, I don't know it works in EU in general.

None work here, 950xl .29 CV

Nope yet another thing that doesn't work on my phone....i miss my 1020.

This is not supported on dual sim phones I believe..

On dual sim phone method 3 probably works. You just have to select the specific sim you are interested in. I cannot confirm because I do not have a dual sim phone.

Method four: Finding your number through the 'Call a friend' feature :P

Just like many others all three methods here failed to show my number. Maybe it is as others have suggested that it is due to being non-contract? However, one of the first things I did with my phone was to create a contact entry under 'People', now I find my number the same way I find anyone elses and it is a lot quicker than the methods suggested about too. ('People' scroll down to your name... DONE!)

I'm guessing this is either for an earlier build than 10586.63 or it depends on region. (Australia, Carrier Telstra)
​Method 1 - My phone number, has no number displayed (blank)
​Method 2 - About no longer has the More Info button and reveals the Device Information on this page without a phone number
Method 3 - Mobile & SIM > SIM settings only reveals SIM name and no sign of phone number displayed How about looking in your People Contacts and find your own contact information... the phone number will be in there for sure.

My guess is that it depends on the provider. Here in Norway a SIM-card is mostly assigned to a phone number through an online portal each provider has, so they simply CAN'T hardcode a number into the SIM itself. I remember I had a Nokia "pre-smart phone" where I could edit/enter this info myself, but I can't remember which one, and I most likely doesn't have it still either. Would have been fun to test though.

I have myself in the contactlist....simpel

Very helpful article Posted via the Windows Central App for Android

my Lumia 950 XL not show phone number... but i cant forget my phone number... is my name :)

On my Lumia 1520 running latest fast ring Win 10 Mobile the settings >> phone method shows a blank space instead of the number. The previous build did the same as well as the one before. On Win 8.1 it showed the wrong number altogether, probably due to having to get a nano sim when I got my 1520 and swap my number to it. However I got another replacement sim recently when cell data would not work on the UK 3 network because they kept thinking I was using tethering and blocked me. They eventually sorted that out for me though.

I don't know if this works for everybody, but on my Lumia icon, just go into the people app. And type in "me"

Why this can't be incorporated in people hub / contacts. That's a common practice of where to look for phone number.

It is on my phone, look under "me"

Here's a better way *settings *Network and wireless *mobile and sim *Sim Settings Now your number is there. But you type it under "SIM Name" and then save. Now go look at your phone tile, it shows your phone number. You're welcome :D

Whaaaaat???? Brains are exploding everywhere! Great tip.

Lol, I saw the title and clicked the article immediately. Couldn't wait to read the comments section on this one!

i dont find this easy or quick to do lol

Go check in to your http://account.microsoft.com Your current numbers are displayed there. Go ring your phones!!!

Why in Android phone, you can't find your own number? But this found in Windows phone.

Daniel in my country you can dial a ussd code *129# for your number or for credit balance on prepaid *120# or activate a data plan *153# don't ussd codes work where you are anymore?
I agree i have 4/5 lines and i don't ever know my numbers by memory....not like i call myself to have a chat everyday lol plus with social media a lot of calling numbers has disappeared. Posted via the Windows Central App for Android

None of these seem to work for me. Lumia 640 DS 3G, latest build of Win10M.

None of these work in India. I dont know. I am on 640XL latest W10 build. None of the above works. May be only for US carriers.????

Just like that tried all 3 methods on my Win 10 mobile fast build Lumia 1520 none of them worked. If you ten to forget your number just add it to your contacts in your name that will work on any phone any platform ;-)

Doesn't seem to be available in India. Perhaps b'coz phones are not locked to a carrier.

i got to that setting but it didn't showing my no? what to do?
Windows Central Newsletter
Thank you for signing up to Windows Central. You will receive a verification email shortly.
There was a problem. Please refresh the page and try again.