Everything you need to know about the Destiny 2 Beta: Start dates, access, preorders and more
Here's everything you need to know about the beta release of the much-anticipated Xbox One game Destiny 2, which kicks off later this week.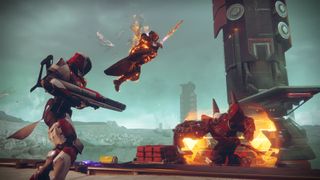 As with any big game release, multiplayer beta tests have almost become a necessity. While they've recently shifted into glorified demos that market titles before launch, they're also key for testing server infrastructure and heavy player load. Among these games is one of 2017's most significant releases, Destiny 2, which is getting a closed and open beta later this week.
Here's what you need to know about the beta test's contents, entry requirements, and release date.
Details on Destiny 2 story, weapons, planets, and more
How do you get access to the Destiny 2 beta?
Destiny 2's console beta will roll out in two key stages, over the next few days. While those who preordered the game will be provided early access to the beta, the general public will also be able to get it later down the line.
Those who preordered a copy of the game should be given a one-time use code, for redemption at Bungie's code portal. From there, you'll be able to choose your platform and prepare for when the beta goes live. While codes should be provided during purchases made in-store, digital retailers frequently email codes after transactions. For people who acquire the game via Xbox Live and PlayStation Network, the beta should automatically unlock once it's available to download.
Once public beta access opens on July 21, players can download the beta client direct via the Xbox Store. To download the beta, simply search for "Destiny 2 - Beta" on your console, or trigger the download via the link below.
See Destiny 2 - Beta at the Xbox Store (opens in new tab)
What can you expect from the Destiny 2 beta?
Bungie, the developer, has already outlined the contents of Destiny 2's beta, providing a concise list of the activities on offer. Like the first game, the upcoming beta test will grant players access to a limited variety of content, to get a taste for Destiny's sandbox.
When first starting the beta, players will experience Destiny 2's first mission, "Homecoming." With Red Legion forces quickly converging on The Tower, Guardians must defend their homeland and get the Last City's civilians to safety. After inevitably losing the fight and their "light," Guardians must travel the solar system and regain their abilities. This will be the only story mission offered in Destiny 2's beta and will kick-start your adventure in its world. For more information on the mission ahead of time, make sure to read our hands-on preview from the Destiny 2 reveal.
For those who prefer cooperative experiences, the first of Destiny 2's PvE strikes, The Inverted Spire, will also be accessible. Destiny's arena competitive multiplayer component, The Crucible, is also making a return for the sequel. Both the brand new "Countdown" game mode and fan-favorite, "Control," will be available to play.
Finally, The Farm, a new social space set on Earth, will be open to explore during the beta. However, unlike other content, the space will only be accessible for one hour, at 1PM ET on July 23. This allows Bungie to stress-test Destiny 2's servers prior to launch, with a large pool of players.
Based on the developer's previous stance on progression and transferring content, it's safe to say your beta unlocks won't carry over to the full game. However, all beta participants will be provided with an exclusive emblem for use in the final release.
When can you play the Destiny 2 beta?
Due to numerous factors, the rollout of the Destiny 2 beta is being broken up into multiple stages across the platforms. Between an exclusivity deal with Sony, preorder access, and a delayed PC release, the dates for the test can get a little complex. Here's a breakdown of the key dates for the beta on Xbox One and PlayStation 4 (PS4):
July 18 — PS4 beta preorder access commences.
July 19 — Xbox One beta preorder access commences.
July 21 — PS4 and Xbox One open beta commences.
July 23 — Beta ends for all players on both platforms.
Noticed a PC beta test isn't on this list? With a significant delay in-store for the full release of Destiny 2 on PC, that beta will also be starting at a later date. Bungie is yet to specify when the PC beta will occur, outside of a "late August" timeframe. We expect to see the same early access and open testing periods on PC.
After the beta wraps up for PC users, only a few days will remain until the planned console release of Destiny 2 on September 6, 2017. Those on PC will wait almost an additional two months before the expected release via Battle.net on October 24, 2017. Let us know if you're planning to play the beta, or the final game, in the comments section.
Everything we know so far about Destiny 2: Story, weapons, planets, and more
Preorder at Amazon (opens in new tab)
Updated July 16, 2017: We added the latest information ahead of the console beta, including the content available over the period.
Matt Brown is Windows Central's Senior Editor, Xbox & PC, at Future. Following over seven years of professional consumer technology and gaming coverage, he's focused on the world of Microsoft's gaming efforts. You can follow him on Twitter @mattjbrown.
If they come out and talk about Scorpio assets, I will buy this game.

They already have, they will not be utilizing the full power of the XBox One X, they claim its because of the CPU, but we all know its because of the deal with Sony. Dont support anti consumer companies, dont buy this game.

No way am I falling for this snoozefest for a second time. I got pulled in my the first game's beta. I may try to get in on this one too just to try it out.

Destiny 1 was a fabulous game once there was enough content.

Never bought this mainly due to the reviews saying you had to play in groups for it to be fun. Secondly, the Sony exclusive stuff turned me off.

really? i played solo through the whole thing didnt know i was forced to play with friends??? hahah your a joke smoothpussy , the sony part .... uh ya i agree.

oohh and by the way i just created an account here just to reply to your stupid comment.

Nope, Thanks. Exclusive here, exclusive there... Have to by 2 or 3 devices and each the game to experience all? No way.

Going to skip this game completely since they will withhold content from the Xbox users. I'll wait for Anthem.

If anthem was coming out sooner I would too but I might pick this up. I know when anthem comes though I'll say bye bye lol. I can't wait for anthem

if there was a way to have them give me this game for free i'd probably give it a try

My Walmart has Destiny Legendary edition for I believe $15.84. Haven't played it yet. Thought of picking it up. But not sure if I'll like it or if it's worth it.
Windows Central Newsletter
Thank you for signing up to Windows Central. You will receive a verification email shortly.
There was a problem. Please refresh the page and try again.