How Google is beating Microsoft in the cross-platform cloud
Google's new open-source, cross-platform hybrid cloud solution, Anthos, is positioned to take on Microsoft's and Amazon's lead in computing's new frontier- the intelligent cloud.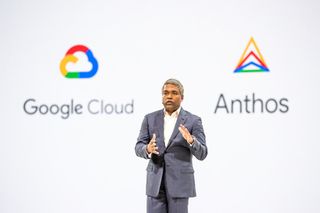 Image credit: ICT Journal
Microsoft's Azure Cloud solution and Amazon's (AWS) cloud platform are the industry's cloud leaders. Microsoft's CEO, Satya Nadella's professional experience and passion for cloud computing are reflected in his unwavering commitment to pushing Microsoft's future deeper and more broadly into the cloud.
Despite Windows phone and Microsoft enthusiasts' complaints about Nadella's lack of consumer focus and seeming cloud-obsessed tunnel vision his strategy has greatly benefitted the company. The company took, for a time, the lead as the world's most valuable company mainly due to its cloud success.
The rewards are not just financial. Microsoft is second only to Amazon as an industry cloud provider, and hundreds of companies use its enterprise cloud solutions. Azure is a preferred platform for enterprise cloud solutions.
Furthermore, Microsoft's ambitious goal of making the intelligent cloud the world's computer is strengthening its grip as a leading enterprise and hybrid cloud provider. Supported by its ubiquitous computing strategy, an aggressive enterprise sales force and acquisitions like its purchase of Express Logic that broaden its IoT reach, Microsoft is a force to be reckoned with. This is complemented by Microsoft's long-standing enterprise partnerships where its hybrid cloud and cloud solutions are pushed as an augmentation to the Microsoft technologies business partners already use. Google desirous of part of that hybrid cloud enterprise pie introduced its open source-based hybrid cloud solution, Anthos which can run on competing platforms – like Microsoft's Azure and Amazon's AWS.
Anthos brings Google's cloud cross-platform
Despite its underdog position, Google has set its sights on Microsoft's entrenched hybrid cloud customers, and it's approaching the challenge from a unique angle. Google's SVP of Technical Infrastructure at Google Urs Hölzle claims that customers have complained about an inability to run their workloads on a combination of multiple clouds and their own servers.
Google is "solving" this problem with a cross-platform cloud strategy that seems to take a page out of Microsofts platform-agnostic-give-customers-the-tools-they-need-to achieve-more approach. The founder of Lopez Research and principal analyst Maribel Lopez, said,
Google is executing this Microsoft-esque strategy by giving customers, Anthos, an open source cloud solution that works across cloud platforms, like Azure and AWS, to which they may have already committed resources.
The Anthos and Kubernetes open source advantage
Anthos is Google's new container management system which is based on an internal open source project, Kubernetes, which began in 2014. Kubernetes, which is now a standard in software development, is built on the underlying tech that powers Google's Borg system. Borg manages the company's massive computing infrastructure across servers and data centers. Google's Kubernetes Engine is the company's service based on the open source Kubernetes cloud platform.
Anthoses' Kubernete's foundation gives customers the ability to run their Google-managed workloads on rival cloud platforms. Additionally, customers are not required to buy new hardware since it is software based.
In a nutshell Anthos:
Lets users run containerized applications saving time and resources previously used managing Kubernetes clusters.
Is a hybrid solution that runs on Google's Cloud Platform and in customers data centers using Google Kubernetes Engine On-Prem.
Allows users to manage workloads on third-party clouds.
Hölzle, said, "The ability for businesses to run on multiple clouds is really a game changer." Microsoft should be wary, because he may be right. As Google's relative success with Chromebooks shows, the company is willing to persistently invest and plod along from an underdog position to reach its goals.
Google has to sell Anthos to companies sold on Azure
Microsoft is spearheading its industry moves with its highly successful cloud strategy. As an incumbent enterprise cloud leader, Microsoft has an advantage over Google's attempts to overtake its success.
In fact, Microsoft's own investments in containers and Kubernetes could stall Google's attempts to stake a claim in Microsoft's enterprise strongholds. The companies Azure Kubernetes Service and its merging of public cloud services with private clouds reveal an aggressive positioning to maintain and progress it leading cloud efforts.
Still, Google's Cloud CEO Thomas Kurian is unmoved. He has forged an army of salespeople numbered in the thousands to take its open source, cross-platform Anthos cloud solution to the enterprise. And for customers who have acknowledged managing workloads across multiple clouds as a "pain point," Google's salesforce army may have a message some of Microsoft's and Amazon's customers are willing to hear. The question on Microsoft's mind (the company that champions cross-platform tools) is likely, "will they buy it?"
Get the Windows Central Newsletter
All the latest news, reviews, and guides for Windows and Xbox diehards.
Jason L Ward is a columnist at Windows Central. He provides unique big picture analysis of the complex world of Microsoft. Jason takes the small clues and gives you an insightful big picture perspective through storytelling that you won't find *anywhere* else. Seriously, this dude thinks outside the box. Follow him on Twitter at @JLTechWord. He's doing the "write" thing!