How I work and play: Richard's office setup
We often get asked what stuff we use in pursuit of content creation around these parts, so here's my little office of delights.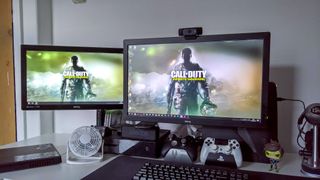 I went through a period of life being a Mac user, most of my early to mid-twenties, so hardware wasn't much of a thing to me. I had the best Mac I could afford, which was usually the cheapest, but those days are gone now.
Since having my son I've had to relinquish the space I used to inhabit and condense where I work, which was no easy task. I'm now in a place where I'm comfortable with what I'm using and so I thought it'd be a good time to share with everyone what I use.
PC: Alienware X51 R2 and Dell Inspiron 15 7559
Image 1 of 2
In getting a desktop PC one of the things I was looking for was small form factor. I looked at building my own PC for so long I got bored of it and picked up the X51 when I found a pre-owned model locally for a great price.
I've written about it a little previously, but essentially I've added a bunch of things to make it much better than when I bought it, still without spending a lot. The processor is the same Haswell Core i5 it came with but it's now got an AMD Radeon RX480 4GB graphics card, 16GB of RAM and an upgraded 802.11ac WiFi and Bluetooth card.
It also has LED case lighting. Which is most important. I love this PC and I'm a little sad to see it discontinued.
When things need to be more mobile, or moved to the couch, there's my current laptop of choice which is the Dell Inspiron 15 7559 (opens in new tab). Bought mostly because of Xbox Play Anywhere it's bigger and heavier than I've been used to, but gets every job done for a ridiculous price.
I got this from the Dell Outlet for £200 below list price with a Core i7 6700HQ, 8GB of RAM and 4GB GTX 960M graphics. I've since slapped in a 500GB SSD because good lord is the stock HDD slow, and another 8GB RAM stick. I'm so happy with it for the price.
See at Dell (opens in new tab)
Monitor: BenQ RL2455HM and GL955
I don't really like using more than one monitor for work, purely because my brain works better when it's focused in one place. Less distractions the better. And since my consoles are also hooked up to the monitor, I went with the well-priced and highly regarded RL2455HM (opens in new tab) from BenQ, a monitor used in the past by MLG at its pro tournaments.
It's a 24-inch TN display, so the colors are a little lacking, but it's got a terrifically low 1ms response time and a bunch of customizations to get things just to your liking. The only thing I'd swap it for right now is something with Freesync.
I have, however, added a second monitor purely for some convenience. When using my console, especially for streaming (hit us up on Beam by the way!) I'll need to be able to see some PC functions. But since I use it literally for ancillary stuff, I picked up a 19-inch BenQ GL955 from Amazon Warehouse Deals for like £30. It does the job and was ridiculously cheap, even if it is terribly basic.
See at Amazon (opens in new tab)
Everything else
Image 1 of 2
There's some interesting and not so interesting stuff that features in the rest of my daily grind, so I'll hit each quickly.
First, consoles. Yes, plural, because as I've written before I now have a PlayStation 4 (opens in new tab) as well as an Xbox One. I've owned every generation of each now, but mainly I'm ready for Playstation VR, the Xbox One is still by far my favorite current generation machine.
Which is why it sits at the front while the PS4 is tucked away behind my PC. Well, that and the PS4 stands vertically. My Xbox One is the original 1TB style. Since the Xbox is a key work tool these days, it's close at hand.
Since most of the day is spent typing, the keyboard is important. I've tried many over the years and I'm now settled with a Turtle Beach Impact 500 (opens in new tab) with Cherry MX Blue mechanical switches. I was getting a lot of wrist strain with other keyboards and gave a mechanical a shot to see if it made any difference, and truly it did. I got this Turtle Beach setup on a flash deal and it's been worth every penny.
You can't beat the clackety-clack of a mechanical keyboard, either. It's paired with a Trust GXT 120 (opens in new tab) mouse because I don't really PC game (except with a controller) and this was about £13 and wireless when I got it. I don't like wires everywhere, which is why I drilled a hole in the desk to run the keyboard cable underneath. The added bonus is that this mouse turns itself off when not being used, so the battery life is terrific.
Image 1 of 3
For the odd streaming, voiceover and frequent conference calls I'm pairing currently a Blue Nessie (opens in new tab) with a Logitech C920 (opens in new tab). Easily the best webcam for its current price, and likewise Amazon UK reduced the Blue Nessie by 60% this one time which is why I got it. But it's a terrific microphone, with a built-in shock mount and true plug-and-play functionality with great sound quality.
You may also notice no speakers. Anything I care about I use headphones for anyway, currently the HyperX CloudX headset I previously reviewed, for everything else I use the Anker SoundCore (opens in new tab) hooked up over Bluetooth. Truth is I ran out of space and nearby power outlets for powered speakers, and the SoundCore charges over Micro-USB.
That's about the size of what sits in front of me all day for both work and for play. I'm pretty happy for now, and aside from possibly swapping in a newer processor for my PC, I think I'll be set for a while. But if anything does change, there'll be a revisit in the future!
Also, be sure to check out what Rich Edmonds uses in his own office!
Get the Windows Central Newsletter
All the latest news, reviews, and guides for Windows and Xbox diehards.
Managing Editor - Tech, Reviews
Richard Devine is a Managing Editor at Windows Central with over a decade of experience. A former Project Manager and long-term tech addict, he joined Mobile Nations in 2011 and has been found on Android Central and iMore as well as Windows Central. Currently, you'll find him steering the site's coverage of all manner of PC hardware and reviews. Find him on Mastodon at mstdn.social/@richdevine
Be good if you show a vid of your setup. Posted via the Windows Central App for Android

It's simply.... Devine! /eyerolls Posted via the Windows Central App for Android

Haha Posted via the Windows Central App for Android

Yup. Best gaming headphones I've used.

Thanks for the downvote, Razer.

Absolutely. Might not be the flashiest but they sound great and are sooooooo comfy. Plus, you can go outside with them as normal headphones and not look like a jackass.

Hey Richard, question about your Inspiron 7559, does it support PCIE SSD? and which are you currently using in it?

Sata 3, which is fair given the affordable nature of the laptop. Using a 500GB Crucial m.2 SSD right now.

Still waiting for my Anker to arrive from China.

Why from China? Cheaper deal?

Yep, 50% cheaper than in The Netherlands. €40 China, €60 in The Netherlands.

Damn Shenzhen up to their tricks again

Hey! We have the same Sunbeam usb fan! Only mine is blue.

I just ordered one of the VicTsing mechanical keyboards that was covered on the site the other day. Mainly out of curiosity with the price. I mainly code, since I game almost exclusively with a gamepad too! It'll be my first keyboard and the article said the keys are trying to replicate the feel of the Blue MX switches

I definitely prefer the feel to type on mechanical keys. I've tried other options from various manufacturers with the slim, chiclet keys and my wrist ache was always way worse than it gets now.

I got the keyboard today (I mean to say above it would be my first mechanical keyboard, not my first EVER keyboard lol). So far I'm liking it, just getting used to the extra noise! Definitely feel less impact on your fingertips too. For £28.99 this is a real bargain. I'm planning to get another model in the future but this is really just to give mechanical a go on a budget before dropping £100 or so on a more expensive brand with more features. My Sculpt Ergonomic at the office is nice to type on but I might take this in for a few days this week

Wow, it's very interesting to see what you use and why you use it. Glad you commented on the speakers because I was wondering about them. Posted via the Windows Central App for Android

That's in my pocket most of the day. And it's no secret at this point I use a 950 XL. I've written about it before.

Your 950XL fits into your pocket? Even the 950 is problematic for me, on most trousers i need to take it out (Still waiting for a Lumia 820 successor).

Nice Setup. I'll have to try those headphones. I also have a PS4, PS3, XBox One (my favorite console). I have several gaming PCs (we are all nerds in my house)with varying tech from Intel, AMD & NVidia. I don't buy in to the whole fanboy/bigotry with my hardware although at the moment I favour AMD (that could change as tech evolves). I love the whole Windows 10 OS and it's presence on varied platforms. I also have apple and android gear. My next purchase will be a HTC Vive VR system. Exciting times ahead.

Richard....what chair is that you have?

GT Omega Racing Pro office chair. So comfy! http://www.gtomegaracing.com/gt-omega-pro-racing-office-gaming-chairs