This is my rig: a PC setup for work and play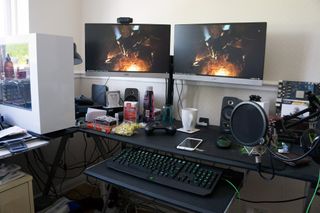 I used to reside with a frame of mind where I thought I had to replace relatively new, still-shiny objects with their brand-new successors, especially when it came to PC peripherals. You would never catch me running a mouse or keyboard into the ground, until now. I've been comfortable with my current setup for almost 3 years and would like to show you around, just in case you're looking at accessories and more for your office.
PC: Custom, baby
The main tower is the NZXT 340 case, which compliments the minimalistic, modern look I enjoy deploying throughout my living quarters. It also helps that there are included dust filters and everything can be accessed easily with a brush and can of compressed air. The result is a smart-looking, yet clean and cool system.
Since the PC needs to be capable of powering through word processing, video editing and Photoshop, as well as the latest AAA game titles, I opted to use Intel's i5 6600K and boost up the clock speed to 4.8GHz. Utilizing watercooling by Corsair, I was able to keep the system stable under load without having to drive up fans to Airbus A380 levels.
As well as the processor, we have 16GB of DDR4 RAM, an ASUS R7 265 that desperately needs to be replaced by an AMD RX 480 as soon as I can get my paws on one, and an ASUS PRO Gamer motherboard for all things fragging. Storing content is handled by four SSDs, and as I'll explain below I use an external docking station to swap between various internal mechanical 3.5-inch drives I have stored away.
Mouse: Razer Naga Hex
I'm still rocking the previous generation Razer Naga Hex, which was purchased back in 2013. Prior to this mouse I had used Microsoft's own branded pointers and still view them as solid workhorses, but I required something that would aid me in the genre of games I play most regularly: Multiplayer Online Battle Areas.
Playing League of Legends is a breeze thanks to the enhanced precision and thumb-pad buttons, which aid in freeing up my left hand for timing my abilities without having to reach for the corresponding number key for items. The sleeved cable and durability of the unit itself has endured numerous LAN events and the occasional outing with the laptop.
There's only one issue I have with the previous generation of the Naga Hex, and that is cleaning the thumb pad buttons, which can prove difficult with dirt getting in and around the button housings. I'm not sure if the new V2 has the same issue or not. That said, should you play and enjoy MOBA titles, you may wish to look at picking one up.
See at Amazon (opens in new tab)
Mouse mat is — of course — the Razer Goliathus (opens in new tab).
Keyboard: Razer BlackWidow
I swear by the BlackWidow line when it comes to mechanical keyboards and I'm just not interested in going with custom and fine-tuned switches (nor do I have the funds to do so). Razer's best-selling keyboard is highly rated for very good reasons. It's durable, which is ideal for someone like me who happens to frequently spill liquids, looks good and has a bunch of features to help with your gaming experience.
The unit I have is the Ultimate edition, featuring green LED backlighting, 5 macro keys and sleeved cabling to ensure you'll stick with the keyboard for some time. Both the mouse and keyboard are synchronized using Razer Synapse, and while I enjoy the suite and accompanying cloud storage for my profiles, I agree with complaints about the lack of on-board memory for storing profiles. An added benefit is the USB through port, which I have the Naga Hex plugged into.
Since purchasing this particular model, I've become a massive fan of exposed keys and no longer enjoy the top cover, especially when it comes to cleaning. Thus I'll be replacing this BlackWidow with the Chroma X Tournament Edition, if none other takes my fancy (seriously looking at the Corsair K70 (opens in new tab)). That said, if you're looking for a sturdy keyboard with bags of features that doesn't break your bank balance, the Ultimate is a solid option.
See at Amazon (opens in new tab)
Monitors: AOC I2269VWM
My babies. I previously had Samsung and LG monitors but wanted to try out something new. I saw one of these AOC (I2269VWM) IPS monitors being sold for just over £110 on Amazon and thought "Let's go for it." Once delivered, I mounted the newly purchased monitor to a Duronic dual bracket I also ordered and I was immediately impressed by the small bezels, quality of the display and its anti-glare coating.
A second one was purchased shortly thereafter and I now have two stunning displays mounted to the Duronic bracket, which itself was an absolute steal of a purchase. One of the units is connected to my graphics card via HDMI and is the main display, while the second (situated on the left) is wired up with DVI. Resolutions are 1080p, which is a bummer as I'd like to move up to 1440p at some point soon, but the quality is superb for the price.
See at Amazon (opens in new tab)
Sound: Creative T10
For speakers I have two solutions that I switch between. The first being my trusty Logitech X210 2.1 speakers, bought way back in 2011. The second is the Inspire T10 by Creative (opens in new tab). The T10 was an investment in more affordable speakers with the Logitech 2.1 heading into the living room to give the big screen experience better quality audio than what was built into the TV. I was also intrigued by the bass being actually being located in each speaker, negating the requirement of locating a spot for the subwoofer.
I'm impressed with them both and would recommend either option for anyone looking at new PC speakers. As for headphones, for those times you're enjoying a stream where your ears are permanently damaged by troll-like donations, I rely on my trusty Razer BlackShark (opens in new tab) for comfort. Sure, they're not the best-sounding headphones you can purchase, not by a long shot, but they've endured the test of time and continue to pump out beats.
I shall be investing in a more premium pair of headphones at some point in the future. I think it's about time I've stepped up the game when it comes to audio and our Derek Kessler really, really loves the Bang & Olufsen Beoplay H6 (opens in new tab). As for microphones, I'm rocking the C-1 by Behringer to really highlight my British accent.
Accessories
My CiT external dock for both 2.5- and 3.5-inch hard drives ensures I shan't be throwing away the dozens of formerly-internal mechanical drives I have stored away. Since I'm relying solely on SSD for storage inside the PC case, the external dock is a lifesaver when it comes to storing media and other large files on all these HDDs. Games take enough space on the SSDs as it is and things will only get worse with future titles. st For printing documents, scanning letters and accomplishing other tasks that can't be completed via email and whatnot is the HP Envy 4500 (opens in new tab) all-in-one Printer. The unit supports wireless connectivity and makes printing things off an absolute breeze, especially given how easy it is to setup printers in Windows 10. when it comes to video calls and the like, I trust the Logitech C920 to deliver stellar visual results, it's still one of the best webcams you can buy today.
Finally we have the Steam Controller and Xbox One gamepad (opens in new tab). These are my trust go-to choices for when I'm more interested in relaxing in GTA V rather than stressing myself out with keyboard and mouse in League of Legends. While I'm still getting accustomed to the Steam Controller (and stick by the niggles I found in my review), it's so much fun playing Cities: Skylines without having to reach for the desk.
So that's essentially my PC setup, I'll be sure to re-visit after I've worked out exactly what I'll be choosing for replacements, but do shout out in the comments if you have anything in mind I should consider.
Windows Central Newsletter
Get the best of Windows Central in in your inbox, every day!
Rich Edmonds was formerly a Senior Editor of PC hardware at Windows Central, covering everything related to PC components and NAS. He's been involved in technology for more than a decade and knows a thing or two about the magic inside a PC chassis. You can follow him on Twitter at @RichEdmonds.
Nice screens. Looks like a rebadge of the hp xl ones I have.

ı have to admit this is some cool setup!

He should consider a mug from windows central ;-)

Definitely! He is like the Pro of Pros, I'm an amateur myself.

Nice! Having multiple monitors is a very interesting option nowadays. I have three. Windows 10 supports it rather well, it even remembers where it opened each store app last. It's not that good for gaming but I enjoy some games better in Eyefinity mode. Especially strategy games which benefit from seeing more at the same time.
From these pictures I was intrigued by the hard disk connected to some kind of dock, but vertically. I had the idea that mechanical hard disks should be only operated horizontally, maybe I'm wrong but it makes sense.

Lol... Not complaining... :D

Just for now I guess. When hp Super Phone ships the whole setup will be replaced by 3 in 1 phone laptop desktop :)

So much power! Posted via the Windows Central App for Android

Don't ever post such a thin again please... Now I feel the need to expand ;) Just kidding of course :) Nice rig you have there! Feeling a bit shabby now with my SP3 i5 8gb and 2 external 24" TFTs... Then again, I'm not a gamer at all and when I do get to gaming, it's either on my XBOX One or on my SP3 via the XBOX Streaming function (and yes, I'll probably won't have a super high res on the games like you ) but for me it's about productivity (Photoshop, Capture One Pro 9, webdev stuff, ...) and so my setup really does fill my needs and in the end that's what matters right :)

More interested in the obvious man flu remedies, frankly.

and bag of fudge, obviously to take the taste away ;-)

Great Pc n everything.. but those cables though :p .. ed from techsource wont like that cable management

This set up is horrible. Ugly and frumpy. I would never show a set up this disheveled in an editorial.

you go hipster..you go ...because looks are everything.....production and satisfactory usability are nothing! doiiiiiiii

Yeah he should have had a tidy up. There's probably a box of tissues there somewhere...

Ain't Nuffin' -AOC Ultra wide monitor (3440x1440)
-Intel i7-6700k
-Asus Z170-p Motherboard
-Inno3D Herculez X3 Ultra 4096MB GDDR5 980 GTX
-Samsung 850 EVO M.2 500Gb PCIE SSD
-Samsung 850 EVO 500Gb sata
-Samsung 850 Pro 256Gb
-Asus Blu-ray DVDRw
-Antec VP700P 700 watt ATX power supply
-Aerocool Aero-800 gaming case with window.
-Cooler Master RR-212E-16pk cooler
-Hyper-X Beast Ram 32Gb
-Windows 10

Lol my beast smokes that. Will post specs in the morning (it's almost 2am now)

please.....dont bother to compare and show off.....you have missed the point of the article. Besides, Im sure there are hundreds out there that read this forum or not that would make your setup look like childs play.

The whole point of the article is a big p*ssing contest, and it's fun to compare with others. Why do you care what I post or don't? If you're not interested then feel free to move along and ignore it.

Alright, so here's my rig (I bought everything at the end of June / start of July): Intel i7-6800k CPU MSI X99A Gaming Pro Carbon Motherboard Corsair H115i CPU water cooler Corsair Dominator Platinum 32GB DDR4 RAM Gigabyte GeForce GTX1080 Xtreme 8GB GDDR5X (I really wanted two, but can't justify the expense at the moment!). This comes with a VR front-plate bay. Acer XB280HK (3840 x 2160, 28", 4K, G-Sync) monitor Samsung S23B350 (23", 1080P, LED) monitor Samsung 950 Pro M.2 512GB SSD WD Black 2TB 4 x WD RED 4TB drives (in RAID array for backups & bulk storage, I have a NAS for secondary backups) Fractal Design Define R5 case with window + extra 140mm silent fans (4 fans in total) Corsair AX1200i 1200W PSU DVD R/W (don't use/need BluRay on my PC) Windows 10 Pro Logitech G19S keyboard (RGB lighting & mini screen) Razer Mamba mouse (16,000 DPI, wireless/wired, RGB lighting) Logitech Z-506 5.1 speakers Xbox One controller That's about it! Some of it's overkill, but it'll last me for a long time! I'd like to get another GPU and GPU watercooling (possibly a custom kit) but I can't be bothered at the moment.

Just curious, your 1080, have you looked into removing the fans to go to watercooling? I usually buy gigabyte because I like their coolers, but I'm liking EVGAs warranty. Can't decide who to buy. Also, what's up with the front plate? 5.25 bay plate to plug in a headset?

Yeah, it's something I will consider in the future... the fan cooling is pretty good at the moment, but I do prefer quieter/almost silent systems. It was something I looked into when buying all the gear, but I didn't want the hassle of sourcing all the componets for a custom watercooling system + the 1080 waterblocks, so just went for the AIO watercooler for my CPU only (as it is overclocked). I haven't tried overclocking the GPU yet, so I'll see how the fans hold up when I do. This is the GPU I bought (http://www.gigabyte.com.au/products/product-page.aspx?pid=5920#kf) which has a better overclock rate than the Founders Edition, better fan cooling, and a few goodies thrown in (scroll to the end of the page). And yeah, the 5.25" bay is really just an extension for the HDMI ports. I don't own a VR headset yet, but I'm "VR Ready" haha :)

It always make me a little sad when someone goes quite far into getting a nice pc setup and they completely neglect their sound system. Hopefully you will be talked into a better sound system one day, as I am 100% sure you will enjoy every minute of it once you have it.

It really depends on what it's used for. For gaming it's sufficient. I have a kick-arse 7.2 sound system in my loungeroom (Onkyo receiver with custom-built speakers), but use Logitech Z-506 (5.1) on my PC. They're more than enough, as is my on-board sound... I haven't bought a sound-card in 16 years!

Cool setup! ​You forgot your chair. Also important for healty gaming :)

I'm interested in that CiT hard drive dock/enclosure. Nice just being able to switch out drives like old console game cartridges.

Ya, those toasters are awesome. I am using a Thermaltake BlacX. Awesome. It has literally saved me hours being able to grab a drive and format it, or storage uses.

What kind of condenser microphone is that rich?

"As for microphones, I'm rocking the C-1 by Behringer to really highlight my British accent."

Thanks for the answer I was cheating towards the end of the article and skim reading.. Face palm

Nice rig. I recently jumped into PC gaming again as well...I stuck with 1080p. I almost regret not going at least 1440p. I have a pretty quality 27" curved screen though, so 1080p looks great...

I say enjoy the game for it's gameplay, not it's resolution. Pretty visuals can be added to later on as you get the money to upgrade. (especially with the cost of the newest cards)

Wow, this whole article was positive including the comments. Worth the read, considering I'm not a gamer. Your passion comes through Rich. Fabulous.

Nice rig, but man you should lower those monitors. Looks like you're asking for neck issues.

Agree. They look very high.

It depends on how tall he is & how high his chair is. If the top of the monitors are at eye-level, then it's perfect.

I agree, and from everything I've read, you're 100% right. It may just be a matter of perspective. I just know at 5' 10" the top of the monitor should be 22" from the keyboard for proper ergonomics. (guidelines, don't have to be exact) those screens just look a ton more than that and off for any height. But it could def be the angle of the photo. Seen that more than once.

Here is my setup at work Dell Latitude E6440 Intel Core i5 4310-M workstation
Dell EPort Plus (2 DP + 2DVI ouput)
Dell P1914S External monitor
500 GB SATA HDD
8GB RAM
Windows 7 Enterprise
USB Optical Dell mouse
USB Mechanical Dell Keyboard To be honest it runs very fast eveything I've thrown to it, of course this is not for gaming but for any intensive software is really good choice from Dell.

Very nice rig! My 9 year old just discovered he can attach multiple monitors to his PC. It's nice to see him playing Minecraft and watching MC videos while he plays.

Multi-monitors is where it's at. One day a week I have to monitor for urgent issues. I can pass the time on one screen while watching email/task count on the other. I really want a 3rd screen.

And that's nice to see is it? Wow.

I have a SP4 on the arm of my sofa.

I also like the C-1 by Behringer! Nice choice!
Windows Central Newsletter
Thank you for signing up to Windows Central. You will receive a verification email shortly.
There was a problem. Please refresh the page and try again.