Duronic brackets are a sturdy, affordable option for mounting two displays
By Rich Edmonds published
Connecting your PC to more than one external monitor? Here's a fantastic way to securely and inexpensively mount them on a desk.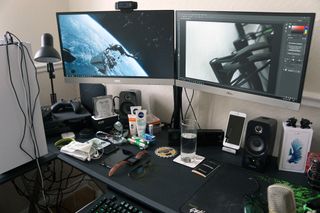 (Image credit: Windows Central)
I've opted for the Duronic brand with their two monitor bracket (opens in new tab) to lift my screens off the desk. There's something rather special about having my monitors attached to a centralized stand. I find that the increased height, compared to the included monitor stands, as well as improved desk real estate with the clamp being located on the rear of the unit, is a worthy investment and helps keep everything neat and tidy.
The best part about the Duronic double monitor bracket is the price. Currently on Amazon you can purchase the dual-screen stand for just £24.99, down from £119.99 (or $72.99 (opens in new tab) with a 50% discount if you reside in the U.S.). It's a massive 79% discount for the UK and one that shouldn't be overlooked if you're looking at ways to change up your desktop setup. Word of caution, though: before looking at brackets such as these, do make sure your desk is strong enough to support screens on a clamped column.
I thought a table purchased from IKEA would have sufficient strength to withstand the weight concentrated at a single point, but after some time (around six months or so) the table itself began to buckle with both the stand and screens actually starting to lean inwards a few inches due to the clamp slowly forcing its way through the desk itself. Solid wood or metal builds should be fine.
Each arm of the Duronic DM352 bracket has a VESA mount with double screw holes for both 75x75 and 100x100 configurations, and are able to swivel 360 degrees. There are a total of three pivot points on each arm, one located on the central column attachment, another mid-way and a final one on the docking plates.
The arms can extend up to 375mm and sit comfortably with two of my 21.5-inch AOC displays (opens in new tab). Two cable mount management cups are also located on the underside of each arm to aid with keeping those pesky cables out of view. The central column is stainless steel, and allows for full 360 degrees of rotation. Display sizes supported by this particular unit range from 13- to 27-inches, though you'll need to double check measurements on larger panels, and ensure the screens have VESA support.
A number of Duronic brackets are on sale in the UK right now, which is ideal if you're interested in getting one to try out but need a bracket for a single display (or perhaps three). Don't think of them as cheap knock-offs due to the price reductions; they really are solid pieces of kit and are ideal for those who are looking to make the jump from relying on built-in monitor stands to clamped brackets. I've linked the dual-screen bracket below, but be sure to check out the other options if your requirements differ.
See at Amazon (opens in new tab)
Rich Edmonds is Senior Editor of PC hardware at Windows Central, covering everything related to PC components and NAS. He's been involved in technology for more than a decade and knows a thing or two about the magic inside a PC chassis. You can follow him over on Twitter at @RichEdmonds.
Probably not much or any better quality than the ones you can get at monoprice for less than half the cost. http://www.monoprice.com/category?c_id=113&cp_id=11326 Spending more is only good when you get into the counterbalanced/hydraulic mounts that can be moved around and hold their position better than the less expensive mounts. If you're just getting a mount to pull the display off your desk and keep it in one position most of the time, there's no reason to buy anything other than a really inexpensive mount.

The UK price is great though. I don't have VESA mounts on my monitors though

Do happen to have a recommendation for the "counterbalanced/hydraulic" mounts?

I use the cheap ones since I don't need to move 'em around, so nope.

I've got 3 x AOC Monitors in my home office and when I see things like this it makes me wish (a little bit) that I'd gone for a model with VESA Mounts

I like those AOC monitors. I have a 27" AOC atm but was thinking of getting a couple more, just not sure if I want to make the jump above 1080p now, or wait until the higher res comes down in price a bit. Historically, I've always used my monitors on one of my PCs until they burn out, so I don't really want to buy another 1080p since everything is much higher these days.

This is exactly the same setup I have. Same mounts and same issue with Ikea desk. Got a bit of wood on the top now, which is doing the job of supporting 2 x 22" viewsonics perfectly. Have managed to get companies I work fork for to buy theses for all the staff rather than using books and reams of paper, as they look more professional.

I am considering this type of the bracket but with three monitors. Middle one smaller for specific job related purpose... Good to know that Duronic seem to be fair option... Price is good as well...

These brackets don't solve a common problem of needing to stand and work. I used the follow adjustable mount for 2 monitors and a keyboard. http://www.amazon.com/gp/aw/d/B00D94YDMA/ref=mp_s_a_1_6?qid=1464216501&s... Posted via the Windows Central App for Android

Rich what's that hard drive contraption you got next to your Xbox controller?

It's the CiT 2.5 and 3.5-inch HD docking station, just so I can swap between the numerous drives I have lying around. :-P It's pretty neat for £18.

Cool thanks I had never heard of such a device I may have to get me one :)

I have a similar mount that I got from Amazon for around $50 several years back. I'm using it on a desktop that is 1.5" thick and made of particle board (one of the more expensive kit desks that you put together from a box, but just to be safe I went the overkill route and have a piece of wood on top of and underneath the desktop to spread the force.
Windows Central Newsletter
Get the best of Windows Central in in your inbox, every day!
Thank you for signing up to Windows Central. You will receive a verification email shortly.
There was a problem. Please refresh the page and try again.