How to manually add internet APN settings in Windows 10 Mobile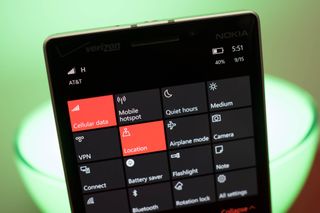 Your Windows 10 Mobile device normally recognizes the SIM card you are using, and you shouldn't need to change anything to have a working data connection. However, if you are experiencing problems connecting after inserting a new SIM card, you can check to make sure you have the correct Internet APN settings. We'll show you how to manually add your carrier's internet APN settings.
1. Go to Settings (swipe down from the top of the screen and tap All settings).
2. Tap Network & wireless, Cellular & SIM, and then SIM settings.
3. Scroll down and tap Add Internet APN
4. Fill in the blanks with data from your carrier. For example, here's what to include if you have AT&T:
Profile: Anything you want
APN: phone
5. Leave everything else and then tap save. Tap the back button to go back to SIM info.
6. Scroll down and tap the profile name you typed above. Tap Apply. When you see the word Activated, you are good to go. Go ahead and test your connection.
I followed these steps to add the AT&T APN settings to the Lumia Icon from Verizon. The data connection works, but LTE isn't supported. You can find your carrier's APN information from their websites.
Found this helpful? We'll have more guides like this as we get closer to the official launch of Windows 10 Mobile.
Windows Central Newsletter
Get the best of Windows Central in in your inbox, every day!
So this works again? I remember in the earlier builds trying to add Tmo settings and it was there but wouldnt save. So if it saves now that would be awesome!

Can't edit but cam add new

Doesn't work for Mms for Straight Talk... Some Fields are missing

There are lots of mms fields on my phone

You might have to look at these settings for a better understanding on how to configure it for the Straight talk.
http://buzzmobile.us/configure-straight-talk-mms-picture-messaging-iphone/

Lol wish I had this info last build

Sick of trying to get carrier specific phones working on other networks.

Hey there. I tried editing the APN settings in the past using this method but access point is over-riding all my settings and I can't get rid of that :-o is there a way to delete access point within windows 10 mobile?

Add new and make new one active tmo 925 here

This works good for T-Mobile. apn: fast.t-mobile.com, it's the only way to get the German Lumia 1020 to work on T-Mobile from what I can tell (unless the latest update fixed this, not sure as I configured it before updating).

Ok so for now i am impressed with the latest TP build of Windows 10 mobile. Fluid and so on. However i've had a issue after installing it which was, no PIN menu was being prompt for me to enter my SIM PIN. I've tried to hard reset it but the issue was there anyways. I've found a work around for this..Just go to Network and SIM settings, look for SIM Settings then on the security area, set your phone to start without a PIN, your phone will detect your SIM card, restart the phone and all works fine. This happened on my Lumia 640 XL DS


I am use to this since early build.

I had to do that since the first builds

Nice tips, did u think ms should give us option to edit DNS on wifi? #ohmen #oot

Wouldn't that be in your router

I mean manual ip and dns, my mifi theres no option to set dns

The phones ability to find the APN settings can also be dependent on how old your SIM card is. After getting my first WP that wouldn't allow Access Point to work I had to manually enter in the MMS APN. A few of us did a group buy of the 640XL DS, some needed to manually enter to APN, others didn't. To test this I purchased a new SIM card from my carrier, my original one was at least 4 years old. I inserted my new SIM into a fresh install of Win10 on the 640XL DS and it picked up both the Internet and the MMS APNs from the SIM.

I had to do this the other day when I sent in my 930 for repair. I put my SIM into my old 1020 with a clean W10M install and it didn't pick them up. Off topic, actually really enjoying my Lumia 1020 again,in some ways it's actually better, I mean, the screen isn't held on with some sort of double sided tape :p

Anyone know what will work for an Icon on Verizon's network? I've tried a couple things and still no luck. Rob

Same here. Just updated Windows 10 Anniversary update, still no MMS

so it is now built in? it used to be a nokia app called "access point"

Is the "access point" app still available in W10 mobile?

Hey there, speaking from experience if you upgrade to Windows 10 Mobile and Access Point is already installed, it will carry over to Windows 10 Mobile and show up in "Extras" portion of Settings. If you do a re-flash then it will download automatically in the Store. The problem with Access Point for me was that once it randomly "failed" and I couldn't get it working since. I had to re-install from a previous back-up and it worked, then failed again and I couldn't edit the APN settings. I re-flashed my phone then cancelled the download in the Store so I'm hoping with it out of my phone, things will work fine again using this Network Settings tip.

They made this over in the latest release. It used to be very unintuitive. You had to press on the sim card name, which didnt look like a link or button, to reveal a hidden "edit" button. It is much better now.

I just want openvpn and more vpn protocols with w10m

Can anyone tell what is the size of this build from wp8.1??
Please

Thanks for the info never knew about this =)

I had to take the SIM out of my Icon runing WinM10 and put it back in my One M8 running 8.1. I can't make it through the day without data on Win10. If anyone has some advice on how to resove with Verizon and a Lumia Icon running the latest preview, I would love to hear it.

this works only for internet...how do you get mms working for At&t? ive searched many posts and havent found anything useful

never mind...found that these settings work for mms on att: profile name: phone Apn: phone user name (leave blank) password (leave blank) type of sign in: None ip type: ipv4v6 proxy server : proxy.mobile.att.net proxy port: 80 mmsc (url): http://mmsc.mobile.att.net mmsc port: (leave blank) max mms size: (leave blank)

I've updated early september, not sure what build, my lumia 625, and my menu is not the same can't use data and send sms... and can't use windows tool to recover... any solutions?

In an earlier build (May 2015?), the first to include the Lumia Icon, you could not only set Internet APN settings but also MMS settings. That was great news, because I couldn't find a way to do it with 8.1 and the Access Point app was no longer installable at that point. A build or 2 later I went through the settings and noticed MMS APN was missing, at least on my phone. Luckily, I never needed to do a factory reset so I never lost my MMS capabilities. A few days ago I reset my device, on the latest (fast ring), build and have lost MMS.
Windows Central Newsletter
Thank you for signing up to Windows Central. You will receive a verification email shortly.
There was a problem. Please refresh the page and try again.