How Microsoft showcases Lumia and Surface in Quantum Break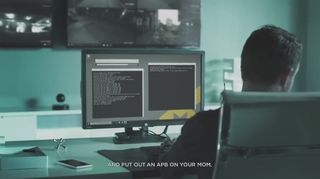 Earlier today the embargo lifted for a small section of Quantum Break content, allowing the public to get a sneak peek of the game's integrated live-action show. In this footage, we get a glimpse of the game's story and the unlikely future the game envisions, where time is destroyed (and everybody uses Windows Phone).
During the live-action show, we've been able to catch numerous product placements from Microsoft, ranging from the company's software and services and its own hardware. As shown in the first episode, each member of the game's notorious corporation, Monarch Solutions, is kitted out with a Windows Phone and a Windows 10 PC.
Employees of Monarch Solutions, such as Martin Hatch and Liam Burke, both use Lumia 830s running Windows Phone 8.1. The show was reportedly filmed before Windows 10 Mobile's release to Insiders, which explains its exclusion from the production. So put down those pitchforks. Hey, maybe they will update it with a DLC.
Other examples include Windows 10 PCs being used in Monarch Solutions' offices. Most noticeable during the office scene that introduces Wincott and Brenner, a Windows 10 desktop PC and five Surface Pro 3 tablets are used to display security footage. Once again, Wincott also answers a call using a Lumia 830.
The Lumia 830 is also showcased in-game, during Quantum Break's first act. Unlike the device used in the live-action show, the in-game model retains Nokia branding. Strangely, the Nokia logo is located above the speaker, instead of being off centered like its real-world counterpart.
For those wanting to spruce up their Windows devices with the wallpaper used by the Quantum Break's cast, a collection of wallpapers is now available on the official Xbox site. (opens in new tab)
With Microsoft Studios publishing Quantum Break, it's far from a surprise that these devices are used. It will be interesting to see how frequently Microsoft's products are showcased, as the story progresses.
Windows Central Newsletter
Get the best of Windows Central in in your inbox, every day!
Matt Brown was formerly a Windows Central's Senior Editor, Xbox & PC, at Future. Following over seven years of professional consumer technology and gaming coverage, he's focused on the world of Microsoft's gaming efforts. You can follow him on Twitter @mattjbrown.
They have got into a game.

Transformers 3 also had Nokia phone. N8 especially.
And if you have seen project almanac... Then all of them... Each and every person has windows phone in it. It's amazing and fun to see such a thing.
Also in one episode of the T.V. series Supernatural, they kinda advertise Surface 4. The witch Rowena says a little computer cannot be faster than her... And she is proved wrong. XD

Of course, It's a first Party MSFT game, so they will definitely showcase their products, nice tough :-) !! Just hope it will be a success and I'll play it on my PC.
Enjoy!

Truth be told, and I have been saying this for years, but all 1st/2nd party games should be displaying Microsoft products - where it applies. For example: having Windows products Gears of War would not make any sense, as they are on a different planet, or in Fable, because that takes place in the distant past in a fantasy realm. However, there is no reason to assume that Microsoft would not still exist in the future. So futuristic Microsoft products featured in Halo (computer consoles, etc.) make sense. The same should go for the Xbox and PC versions of 3rd party games. Take Ubisoft's Watch_Dogs for example, which takes place in a near future Chicago. No reason they could not have used a "generic" Windows Phone skin over Aiden Pearce's phone, or have any of the various computers in the game display a "Windows 20" logo, or something. And then there is Rise of the Tomb Raider. Microsoft paid to have this game made, and outside of a Win7 laptop in the game's startup screen, not a single Microsoft product anywhere in the game - even though there were plenty of places to put them. Truthfully I have been surprised that Microsoft does not have a standing product placement deal with developers and publishers, that allows devs/pubs the ability to offset some of their development costs, in exchange for Microsoft product placement in Xbox and PC version of games. In most cases it is nothing harder than a few texture swaps. Take Windows Phone alone. Since its inception in late 2010, there have literally been hundreds, maybe even thousands of games released on both Xbox and PC that could have qualified to take advantage of a product placement program like that. That would equate to literally millions, tens of millions of possitively reinforced impressions over the last six years of the Windows Phone brand. Who knows, something so simple could have radically changed the fate of Windows Phone in the marketplace. The first rule you learn in marketing is, if you build it, they won't come. You gotta market the ish out it, first. And sure enough, usually the most successful products on the planet, are the ones which were marketed most effectively. Effective marketing is one of the key reasons that Samsung stole the Android crown right off HTC's head, despite HTC having a significant early lead over all other Android-powered products. Samsung's "Next Big Thing" ad campaign devastated the competition. And the rest is history. So never sell short the ability that proper marketing has on the fate of a given product. Apple put iPods on the map with an ad campaign based on pop music and silhouettes.

Sexy company got a sexy phone in a sexy game.
+ 830. ;D

Well, the following was choke full of ms product placement as well.

Everytime I see a Surface in Supergirl series I think how much MS have paid Warner do it.


You'll see it on Arrow, Lucifer, and a bunch of other tv series as well. Maybe we'll see one in Game of Thrones.

I love watching all those good Canadians in Orphan Black using Windows Phones as well.

I know right! Orphan black. Even supernatural uses surface. Movie project almanac. And many many more.

Well, they've jumped to iPhones from Nokia's feature phones. Which was screaming PRODUCT PLACEMENT, because those devices were supposed to be simple disposable call receivers for the characters. And they way Felix was giving out them to the girls, urgh, it was like "hey, darlings, dumps those ugly dumb phones and have these sweet babies with 16Gb onboard storage, 12Mps shooter with front-facing camera for ya'll perfect selfies". Six (or something) $600+ phones? I don't think Felix had that much money even if he was selling his love painting non-stop.

They're in the NCIS's as well. NCIS LA might as well of had microsoft ads in the show the product placement was so long and frequent. Not so much any more, but they still all use Lumias. There are a ton of Ms placement on tv

Yeah buddy, in Hawaii Five-O I've seen a very Great representing of Surface, Skype , and Lumia, and that Camaro also xD
They were making a Skype call wherever they go via Surface and putting it on its stand

Yes. Game of thrones... Maybe at the end of the series, they will say that it was all an imagination, just made possible because of the Hololens. XD

There's no technology in Game of Thrones Era. No phones, Computers? Remember its Game of Thrones.

I expect an upcoming DLC to replace all Windows phones and tablets with Iphone and ipad pro's respectively! :)

LMAO Posted from Windows Central for Windows 10

worst comment here Posted via Universal Windows App on W10

IPad pro.....nice joke ;-)

And Microsoft wants the game to be flop by making it only W10 store exclusive for PC platform. I wish it will not face GOW ultimate edition like fate with all the performance issue. Sent from Windows Central for Windows 10 Mobile

If they'll release it as win32 we'll all be playing it for free in matter of days after release, to protect it MSFT is not releasing it as classic win32.

I also wish that the game don't get pirated. But if it faces any performance issues like vsync as in case of GOW then it will be a serious issue. Also steam version of Rise of the Tomb raider runs better than the store version. Sent from Windows 10 Mobile

With new trends in DRM protection, I don't think piracy would be an issue.
At least for a few games I did read about, they released a while ago and still aren't being circulated around for free because of anti piracy tech Posted via the Windows Central App

Xbox One will also get it (since Windows 10 runs on all devices) Posted via Universal Windows App on W10

Game been so long in the making so these must be Nokia Elop time marketing deals.

Exactly what I thought so.
+830.

How does that phone app have a background image?? Isn't that regularly a clear black.!! Also is that 830? Or 950 XL(because that call looks like of windows phone, so I assume its 830)!!

If you read the article then you would know the answer to your questions Posted via Universal Windows App on W10

How did they put a background image in the phone app?

Just kidding. Its a game. They don't have to copy the real thing. ;)

You've clearly never used a windows phone. Stupid questions all the way from you Mr

With windows 8.1 on phones. Posted via the Windows Central App for Android

The next DLC will replace all phones with Surface phones, all PCs with Surface phones and Continuum docks and all Surfaces with Surface phones pulling data from Surface hidden in bomb-proof briefcases, cause mysterious action game.

Was surprised to see a few Lumias also in the new season of House of Cards. But then again, that too was shot before the full effects of Nadella's new strategy. I would guess in next season shows we'll see a lot less product placement too.

Neat. The Windows Central Universal Application for Windows 10 Mobile on a Nokia Lumia 830

That backgroung on apps is a good idea!!, why dont they use that in real world Win10 builds

Maybe ask to Microsoft as an Insider?

I can pick out so many ms products in Sherlock and agents of shield, i love it

It'd be even better if the characters were using Snapchat in-game, just to troll a bit.

Yes!!!! Snapchat on windows phone in a game... That would be fun to watch! I wish this actually happened, and I get to be there to see the ceo of snapchat's face. XD
Maybe they can not take the name 'snapchat'... You know... Just highlight some features. Have fun... Oh i wish! XD
+830.

Render good, ol' 6snap in-game.

That won't be shame for snapchat :p that will be shame for MsFT just think once :p

Provided those devices keep showing up consistently in the show.

I've never been a fan of overt product placement, oh well, won't affect my playing of the game.

The TV show Lucifer has Microsoft product placement as well. Lots of Surface 3 machines in the LAPD apparently. Posted via the Windows Central App for Android

Is it game footage? I swear, first I thought those were developers of the game! Posted via the Windows Central App for Android

Shows how long this game has been held back if it says nokia. Posted via the Windows Central App for Android

A surface to display security footage? What a waste of a machine lol
Windows Central Newsletter
Thank you for signing up to Windows Central. You will receive a verification email shortly.
There was a problem. Please refresh the page and try again.