How opinions of Windows Phone are evolving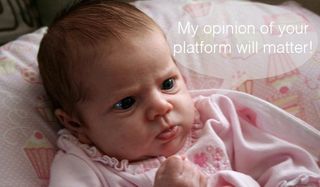 Since launch, Windows Phone has been struggling to get into the market at a late point in time. Opinions from owners who are on other platforms were almost identical, "Windows Phone will never take off." Granted, it's been a fairly difficult year for not only the development team, but for consumers and app developers alike. We've all huddled together and can agree on one thing - we've travelled through thick and thin rather successfully thus far.
Now Windows Phone 7.5 (Mango) is out and second generation handsets (HTC Titan, Samsung Focus S, Nokia Lumia 800, etc.) are making headlines, we've seen some heads turn to the platform as a viable contender in this competitive mobile market, which the fragmented Android dominates. Rich Trenholm, UK Editor at CNET, is a good example on some well known names moving over from a competitor.
Introducing another opinion, which is fairly positive, from Alasdair Monk (a user interface/experience designer). He's used the Nokia Lumia 800 (our review) for a mere 24-hours before writing up a detailed review of his experience.
"Metro is beautiful" is big coming from a UI designer, and is something we can whole-heartedly agree with. But as with any other review from people on other platforms, Monk went into how there appears to be a lack of "talented developers" providing consumers content on the Marketplace - there are simply not enough apps. Something I disagree with. The developer base is growing, along with the number of available apps. We have some big names that have recently come forth and released apps, as well as some superb quality such as the (plug alert!) WPCentral app.
Monk isn't the only one testing out Microsoft's OS and actually believing the software giant has created something special (some of us are still finding it hard to believe this is the same Microsoft that brought us Windows Vista and the famous animated paperclip). Noah Kravitz, a well known blogger in the technological world, has been using the Lumia 800, Titan and Focus S, taking Windows Phone Mango for a test run - and he likes it. A lot.
Being a "Microsoft hater", Kravitz is going through the same stage in life we've all experienced when using Windows Phone for the first time. That giggly feeling you get in your stomach as you see your tiles flow onto the screen on start, and your Xbox Live avatar getting continuously beaten off the tile (poor guy), is something that makes the experience so special and unique. Using your phone is fun once again.
Kravitz has actually ditched the iPhone for Windows Phone (like many others), and is now enjoying a minimalistic experience on the huge HTC Titan (our review). It's interesting to see how the platform is evolving, not only for consumers with updates and new hardware, but with how it's perceived by 'outsiders'. To end this article, I leave you in the hands of Yazz. The only way is up, Microsoft.
Source: Alasdair Monk, Technobuffalo , via: Mobility Digest
Get the Windows Central Newsletter
All the latest news, reviews, and guides for Windows and Xbox diehards.
Rich Edmonds was formerly a Senior Editor of PC hardware at Windows Central, covering everything related to PC components and NAS. He's been involved in technology for more than a decade and knows a thing or two about the magic inside a PC chassis. You can follow him on Twitter at @RichEdmonds.
I prefer this song when thinking about Windows Phone: http://www.youtube.com/watch?v=7v0KCoPMTdU. But that one isn't bad, haha.

Awesome Spoon reference! +1!

The same was true for most new phone types. People always defend what they have and declare the new to be not needed, useless, and it'll die again. This discussion existed at the start of the iPhone (yes, remember that?), and at the start of Android (though, my phrase was.. i already have wp6.1, what's a copy of that good for?? :)).
But it's generally the same: Stuff takes time to get accepted. Then it gets hyped. Then hype goes down. Then mass marked goes up. Kinda that typical gartner curve.
The only trick is to just not die too early.

Coming from Android (CM7), it's taken a little while to get used to my Lumia, but there is no deny that Mango is a great OS.

Don't be too quick to discount others' opinions. The fact of the matter is Microsoft is behind in app numbers and will be missing a certain essential app for person X and a different vital app for person Y for some time to come. Majority of the already smaller Marketplace is rubbish. The icons are drawn in paint, the UI is a few standard controls slapped together and the things perform terribly. Without app reviews from you guys and AppFlow, I'd be unlikely to have found the apps I am happily using now. Finally, Monk is a designer. He understands what looks good and what doesn't, and will take much more offense to an ugly app than the average consumer. I am personally enthusiastic about design and I will tell you that majority of apps do not nail Metro or get anywhere close to it. Metro done wrong is DOS all over again. I'm not saying there aren't great apps out there, because there are. They are simply too few and far between, and most of the good ones don't have to tackle the issues of the worse ones. For example, how so you neatly present a rich table of data? I don't think I have seen anyone do it nicely.

And here comes the usual moron with something bogus to say.

I'm sorry, is there a more appropriate application that I should be designing icons in? Maybe you'd prefer I spend $500 on a copy of Photoshop to develop a 16x16 graphic? Would that impress you?
Things perform terribly? I beg your pardon, but every app I run on my phone is near instantaneous, and I don't need multiple processor cores to achieve that quality of performance (though I admit that having those cores would improve the quality of games).
That said, I do agree that the number of high-quality apps needs to improve. Looking at the Top 10 apps for iOS and Android reveals how lacking Windows Phone is. That's not, however, the same as saying there are no high quality apps out there. There are a LOT of really great apps that not only perform well but also look great.
I didn't read anything in the article to suggest that Microsoft is suddenly on top of its game, but they're finally coming out with some attractive hardware running a great platform, and that will attract new developer interest.

I suggest you paint.net
It's free, and great. I've done my icons in there. And it's .NET based so that's a coolness factor for all wp7 developers, anyways.

I love paint.NET, it's a great program that's much more advanced than just MSpaint but not to the more confusing level of GIMP or Photoshop.
Also I'm a highschool kid but I'm moderately familiar with Photoshop and Illustrator (not too uncommon) but if anyone would like me to attempt an icon for their app I would love to see what I can do. I probably wouldn't be fast or good but it's something to do. Plus what would there be to lose? if anybody's curious you can contact me at werealivegame@gmail.com

I agree with your statement that one of the problems is that Windows Phone is "...missing a certain essential app for person X and a different vital app for person Y." I can easily see that situation deterring a certain small percentage of users on other platforms from switching over. On my iPhone, AwesomeNote and OliveTree Bible are two essential apps. Neither have a direct corollary on WinPhone, in fact there is not a single decent Bible on the platform. If I didn't have an iPad that I could still access these apps on, I would not have been able to switch to a Windows Phone. I can therefore imagine other people having similar reliance on specific iOS or Android apps, and not switching to Windows Phone as a result. Btw... Rich, very nice article.

Thank you for actually listing specific apps. What specifically do you find you like about AwesomeNote that OneNote/Office doesn't supply? I'm also, a bit surprised that you list a Bible app, none of the many websites have the features you need there? A good Bible app doesn't seem particularly difficult to slap together. Perhaps, I'll fleece the sheep and help close the missing app gap.


Thanks for the sincere enquiry. An invaluable feature of AwesomeNote is the ability to password protect specific folders. I, like many othes, have private notes that we don't want accessible to anyone who we allow to pick up our device. Not having the notes stored online as opposed to locally is also a plus. Might not seem like a big deal, but if you have an idea for an invention that you think has huge $$ potential, you get uncomfortable having your project notes sitting on a server somewhere that an admin can freely see. Currently, neither OneNote nor EverNote offer these features. A final consideration is data portability. If you have lots of notes created in AwesomeNote, how do you move them to a new app on another platform?
In regards to the Bible reader, online versus offline access is a consideration here also. For many with data restrictions/access concerns, having a bible even when there is no internet is preferred. The two traditional big developers are OliveTree and Laridian. Both supported WinMobile but both have expressed a lack of plans for Win Phone even after a year. If you're interested take a look at the features they offer. The Bible reader space on Windows Phone right now is wide open, in my opinion.

I don't actually own a windows phone yet but I am lurking in forums and etc. etc. I have seen this argument a lot - lack of apps - but I then realised that WP7 has office in it, and I have office on my desktop machine.
I would be interested to hear what awesomenote can do that you couldn't do with onenote in office? I can see you can sync to google docs, but I expect I would to the same thing using Word and skydrive?
I only realised this about onenote from the MS ads (the one with the guy at the shops and the kids at home); and I love they did a little 'how to' on youtube as well.
See http://www.youtube.com/watch?v=f85IyulX0TI and http://www.youtube.com/watch?v=ykXquYHjEaw.

OneNote is a great bundled app that will likely meet most user's needs, but see my response above to sgMarshall.

Youversion is great and it's free with no ads. The only thing still missing is offline support, which other platforms have... It's what I use and I love it!

People have irrational opinions all the time. Still I'm calling bullshit. Why do I always see some manner of, 'not me, but the unwashed masses' post claiming that there's all these critical apps stopping WP7 adoption.

What apps? What specific titles are missing from WP7? Why do people not list app titles? Yes, somewhere there are certainly some apps some vague unknown person finds critical, but the fact that people aren't saying, WP7 doesn't have X, Y, and Z clearly makes this more of an issue of perception for most consumers.

Having hundreds (or thousands) of dollars in apps and not wanting to switch that's an issue. Having hundreds (or thousands) of dollars of music and not wanting to switch the same.

WP7 has 40kish apps. So unless someone needs more than 10k apps, the question should be, "Does WP7 have the apps I need and would it be costly to replace any apps or content I have?"

Who has more apps is a stupid argument -- Mac users and iPad users aren't dropping their comps because Windows and Linux have more applications.

Yes, iPhone and Android both have apps that WP7 does not have and the reverse is also true – that WP7 has apps that neither iPhone and Android don't have.

Lastly, most the apps on any platform are junk, phone or otherwise. Trying to claim that graphic design in WP7 apps is worse than that of iPhone and Android seems wrong on the face of it for no other reason than WP7 has a stricter graphic design requirement and there is simply no way that the worst of Android isn't the worst of all the platforms.

I agree with most of what you stated. The actual number of apps (500K vs 40K) is highly overrated since most users will eventually end up with under fifty apps, and many of those apps will be the same from one user to the next, NetFlix, Flixter, Weather, etc being examples. However, you are over compensating if you overlook the fact that there are many user's with a specific app on iOS and Android, with their large libraries, that has no acceptable counterpart on Windows Phone as yet. See my post elsewhere in this topic for examples.

I am a fan and owner of a WP7. Owned a Blackberry Pearl Flip before this. Never iOS or Android. But very often when I see someone using iOS or Android, they are using Words with Friends, instagram, Facebook or Pandora. WP7 has Facebook, but I think the app is missing some things, still.
Simply stated, one does not need look far to find a highly popular app that you can get on iOS and Android that is not yet available on WP7.
That's certainly not enough to keep me from sticking with WP7, but the same cannot be said about "the unwashed masses." To deny that is to just put blinders on.

My company has long been involved in BB and iPhone development. Because I am one of a small number of Windows Phone users, I was approached to assist in the development of a WP7 app. (I'm not a developer- any more)

so it is exciting to hear that it is being adopted by many! I just Canadian carriers would carry the hardware :(

Windows was behind Mac, Office Suite was behind Lotus and Word Perfect, XBOX was behind Sony. Exactly what is it about this classic hare and tortoise analogy; is so hard for some people to grasp?
Microsoft sit's back, watches the marketplace evolve, and then comes in with an educated, sound perspective and creates successful products.
Although they have waited just a little long with the tablets and phones, and made all of their core fans bery bery nervous, I can't help but believe this tide has finally turned.
Here comes Windows Phone. The only ones that are going to be surprised are the ones who's heads will be spinning as we pass them. I don't think it will surprise any of the regular readers and fans of this blog.
JF


Then you have Zune, Kin, Smartwatch and Onecare.

Actually, while Zune hardware wasn't successful, it did ultimately spawn the Windows Phone development. Kin and Smartwatch were useless, but OneCare was quite successful and ultimately spun off to Security Essentials which is a huge success.

Let me guess, you're watching this on a Netscape browser? Oh, right, another market MS entered and does solid business in.

Precisely. Microsoft is very methodical, and history is on their side.

Xbox is FAAAR ahead of PS2

I would hope so, seeing as the PS2 isn't a current system.

The other day at lunch, I heard people talking about waiting for Windows Phone price to come down and buy one. I see it as a clear sign that WP is getting to end customers.

My brother moved his office's blackberry users to WP7, got them all Focus S's. He has not had to reset a server. He has not had to help any users to fix nagging issues or sync their contacts. The WP7 converts are already heavily using One Note and Sharepoint on their phones.

This is the kind of evolution that will create wider adoption.

I was showing a guy at work my Windows Phone. He was still on Windows Mobile 6 and when I told him about Windows Phone, he just replied with that sucks, no way. I then showed him WP7. Just two minutes, scrolling, swiping and launching has him checking with our admins to get a Trophy on Verizon. He loves Office on his WM6, but hates everything else. WP7 fixes everything else.

But that is the hill that we as user-evangelists have to climb. If we can pull people in, increase the number of users, we get better apps. So preach on, fellow WPCentrallers...

Wait until he tries the built-in navigation. That will be the second thing about his WM6 that he'll miss. Nav and Office are the big holes waiting to be plugged before I will call WP truly great.

Can someone please translate this section?
"They should probably rebrand it something like 'Windows Car Boot Sale' such is the quality of the goods on sale. And not one of those good car boot sales that yummy mummys in Hampstead frequent to pick up carrot cake for little Jerimiah and red letter days for wine tasting; oh no, probably more like the sort of affair that some kids flogged their bounty of JB Sports gear at, after the riots."



A boot is a trunk. He's saying that he thinks the apps for sale in the marketplace are like crap being sold out of the trunk of a car. Of course there are plenty of crap apps in the market just like there are for iPhone and Android. I think there are plenty of gems in there too.

Ok, thanks.

"Dude...you're a mess. What happened?"
"Ah, I flogged a yummy mummy from Hampstead over the weekend."
"Umm, is that a good thing?"
"I don't really know and I can't get the smell of crumpets out of my clothes."


I love my Windows Phone and what MS is doing with the phone (as far as some creative things go). But I can't help but laugh, when someone has something negative to say about MS or the phone, at the reaction by some WP users....

Honestly, the real problem is either, 1. The market is too full, everyone has one and has already taken sides. 2. No one is willing to give us a change on a relatively new OS. 3. Do not know we exist, due to poor marketing (It's getting better now).

It is an excellent OS, my Brother in Law, keeps spreading the word that the Windows 7 Phones can get viruses, since he was in the store buying a iPhone and the rep told a customer who had a windows Phone that his problem was that he got a virus.

My wife was looking for a new phone and I had to happen to suggest she get a 2 year $0.00 phone on Telus. The only option were Android and WP7. The same one I have, a HTC Surround. Older but great. They have no inventory or options besides this and the LG Optimus. In the end she loved the deal and she already loved my OS and plays with it often. She got a Surround and its very excited.

We need more people, but for now one at a time. If anything...we are an exclusive club.

I liked the radom self promotion of the WPCentral app.

It is a nice app, but should allow you to comment on articles. I hate having to switch to the web version. Other than that, it is one of my favorite paid apps.

I came from Android os. I now have a Titan. IMO, this is the first true "Smartphone" I have ever owned. I thought I would need to copy all contacts over from sd card to pc to Tiatn, WRONG! Just typed in my Gmail addy from my evo and walah...all contacts from phone numbers to facebook and twitter instantly became accessible from my wp7 device!!

Also, phone is super snappy and boots up in about 26 seconds!!!!

I really need to post a review....

What OS version did you have on your evo because my latest two androids do that also. I think they'd done that for some time.

I was thrilled with my HD7 when I entered my Facebook profile and all my contacts were there! Also, before I got the mango update my phone took over a minute to boot. Now it's just over 20 seconds! I was blown away. Apps load faster too. It's remarkable software, isn't it?