How to participate in the 12 Days of Hidden Gems sweepstakes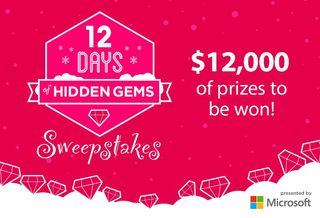 With 12 Days of Hidden Gems beginning today, it's time to let everybody know the details on how they can participate in the event for a chance to win some amazing prizes. The full official sweepstakes rules are available at the link below, or you can keep reading for the general summary of what you need to know.
View Official 12 Days of Hidden Gems Sweepstakes Rules
Up to 12 Chances to Enter a Sweepstakes
There are two primary ways to participate in a given Hidden Gems sweepstakes, which is being run by Windows Central. You can enter either way, or do both to gain two entries into the sweepstakes:
1. Enter via Twitter participation – In each Hidden Gems post we'll indicate a phrase for you to tweet out on Twitter, complete with the appropriate hash tags to use. This requires a Twitter account.
2. Enter by Leaving a Comment – You can also gain an entry into the sweepstakes by leaving a quality comment to the featured Hidden Gems article on Windows Central. This requires you to be a member of the site. We'll give guidance on each Hidden Gems article about the type of comment to leave that will qualify as entry (one word comment replies won't count as entry).
To more easily administer the contest, we'll be using Rafflecopter, a popular service used for exactly this type of sweepstakes event. At the bottom of each Hiddem Gems feature article there will be a Rafflecopter widget embedded on the page, that will guide you through the instructions on how to participate. [ Note, if viewing the sweepstakes posts via the Windows Central app you will have to open the article in Internet Explorer.]
Refer friends to earn up to 10 more entries - Once you have entered the sweepstakes via Twitter or by leaving a comment via the Rafflecopter widget, you can then refer friends to the sweepstakes. Every friend you refer who participates will earn you an additional entry into the sweepstakes, up to a maximum of ten entries.
Participation in a Hidden Gems sweepstakes gives you a chance to win the prizes associated with that Hidden Gem. We encourage you to visit Windows Central regularly and enter all 12 Hidden Gems sweepstakes! While you can win only one prize per day, as we are running each Hidden Gem sweepstakes separately you are eligible to win in each sweepstakes.
Eligibility
The 12 Days of Hidden Gems sweepstakes are open to residents of the United States and Canada that are 18 years of age or older (see Official Rules for exceptions). The sweepstakes begin when Hidden Gems sweepstakes articles are published, and all 12 Hidden Gems sweepstakes posts will end on December 31st. Winners will be announced early in 2015.
Note To Those Of You Living Outside of North America: If you're a regular reader of Windows Central, you know we love giving back to our community and try to do it as frequently as possible and as globally as possible. For this event, sweepstakes prize winners must be residents of the United States or Canada, per the official sweepstakes rules. That said, if you're a Windows fanatic, we'd still love to see you show your support and participate in the comments and help spread the word via Twitter. The more we can make this event a success, the more it helps support the platform we know and love.
More Information
For more information, view the Official 12 Days of Hidden Gems Contest Rules. If you have any specific questions, please email sweepstakes@windowscentral.com.
Good luck!
Daniel Rubino is the Editor-in-chief of Windows Central, head reviewer, podcast co-host, and analyst. He has been here covering Microsoft since 2007 when this site was called WMExperts (and later Windows Phone Central). His interests include Windows, Microsoft Surface, laptops, next-gen computing, and for some reason, watches. Before all this tech stuff, he worked on a Ph.D. in linguistics and ran the projectors at movie theaters, which has done absolutely nothing for his career.
US and Canada only.
Thank me later

Its probably many a times .!,US or Canada only meh.!!! :/

I ignored your comment and wasted my time reading the article, thank you anyway!

Do those of us in Canada have to answer a stq?

Can't wait to see what can be won! Maybe this will persuade me to stick with windows phone..

Bah! I'm México! and I AM north anerica!! a la chingada con su concurso!! >_<

La verdad es que es una mamada que no consideren a México como parte de América del Norte ):
Mexico is, also, a part of North America.

Solo consideran a México cuando es "worldwide", pero cuando es solo america del norte, los gringos nunca nos incluyen ¬¬ Igual y solo son 1000 dolares entre 12 premios, es decir, ningún Lumia decente como regalo

Por Que? .....No Habla Espanol?

To all Windows Central readers who can't enter the sweepstakes (I'm one of them), please keep in mind that the main purpose of the 12 Days of Hidden Gems program is to highlight great apps on the Windows platform and attract more developers! Thanks and good luck to North American readers! :)

Now that's a positive thing to post. It's better than what we usually see about now.

Since I want to reply to this comment with something nice, but my mind is empty, so...
+520.

No wonder why the market share is so low.....us/canada only.

The US market is among the lowest adopters of Windows Phone. Contests to raise awareness and potential adopters here is a smart move.

but you can't simply ignore the markets where WP is getting higher (India, Italy, Brazil, even Mexico)

Contests and promotions exist to drive sales when a company wants a product to grow. In this case, the area where they want growth is in the US/Canada versus places where people are already buying their product.

I'll complain to Obama on 26th Jan when he visits India that earlier it was Microsoft and now Windows Central too have become "US only"

LOL. Anyway best of luck to all those going to participate. Gautam Kabiraj was too lucky...

Yeah, thanks! Or perhaps, there was something worth more than a luck :P
Best of luck to everyone else though!

Although I live far from Canada & U.S. but mine tweets will be there to support the sweepstakes.

I wish I live in US..I love​ to participate in Windows central contests.But most of the time, they are only restricted to US audience ...I love Windows phone... Windows

Get a US/Canada citizenship!

Uuuhhh.. I am American.. So yeah. Thanks for the tip I guess.

Lol, you're welcome. All the best.

Just wanted to report a bug in Windows Central app. Since I did hard reset on my phone I'm not able to login to WC app.Tried it via Microsoft account and Facebook account and it just quits app. ​ ​ ​

US and Canada only.
I am a fanboy of Microsoft. I just love surface pro 3 and was hoping to win one.. To bad it's not global but still will be tweeting and commenting to spread the love of Microsoft.

You will never win...i once waited to win a phone ,I didn't,next contest,I didn't....I waited a year to change my phone because I waited for my lucky day.....i got up and bought it,no regrets.

So this isn't the first post, right? lol I keep clicking on these "Clearly Labeled" Hidden Gems posts looking for the phrase.

Suit yourself ,anyway who has time for this shit And only US and CANADA
Drop dead!

You want people to die because you can't enter a contest? That's dramatic, lol.

Ohh I was kind of hoping it would be open to all! Nevermind! Next time :)

Can't wait to see what is available.

I didn't partake in the last HIdden Gem event. I will be sure to take part this time around!

Why can't the Rafflecopter widget (or other poll widgets) be embedded into the WP Windows Central app? They are present in the Android Windows Central app. Kind of a big let down.

Possibly because there are a lot of restrictions about exporting technology products.

Yes, this restriction is mostly called "monies" and "good will of the organizing party".

Nice!. When is the first article gonna be posted.

I was wondering the same since it's only 7.5 hours until a new day. I don't want to miss out on the first day.

I'm very happy to have a small chance of winning. But finally a contest for Canada.

I just want to say that I don't like the Rafflecopter system so even if this was a WW contest i'd ignore it. I think WCentral should take our voice to MS. We (the rest of the world) seriously don't like to be treated like 2nd class customers. I know they have their reasons, but if we get too understanding it will just get worse.

Greetings from the spice isle and good luck to all you guys . Wish I could enter but hope those who need the stuff the most win.

us and canada only xxxxxxxxxxxxxxxxx

I wonder if any comments enters a person.

I just love Windows phone IOS 3rd Gen. First the HTC radar, than the Lumia 521 nods I got the new Lumia 635 loved it only complaint is no doubt radio to wake up

Question: If I use a different email for the Rafflecopter than my WC account, can you associate the comments?


Why can't you enter from a Windows Phone 8.1? Seems a little ironic...My Lumia 920 (Cyan) can't display the widget... ​ ​

Thanks for the amazing contest

My mother loves Windows products and I am considering switching over.

The best Hidden Gem for me are all the fitness apps that I will be utilizing in 2015! I love my Windows phone because now I can take my desktop wherever I go!
Windows Central Newsletter
Thank you for signing up to Windows Central. You will receive a verification email shortly.
There was a problem. Please refresh the page and try again.