How to personalize handwriting recognition on your Surface Pro 3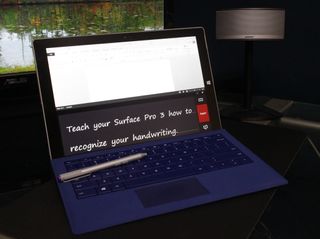 Beginners' Tips Series!
One of the many features that is alluring about the Surface Pro 3 is its incredible stylus with OneNote integration. It in a convenient way to take notes in meetings or jot down ideas, and then transform your writing into type.
While the Surface Pro 3 is splendid at recognizing handwriting out of the box, it can be an imperfect science, as writing varies from person to person. Not to mention that writing on a tablet takes some practice, if it is not something you are used to doing, so that can affect the form of your handwriting.
But just like you can learn how to write on a Surface, the Surface Pro 3 can learn to recognize your handwriting. Training your Surface Pro 3 takes a little bit of time, but it is worth doing.
To personalize the handwriting recognition on your Surface:
Go to Control Panel > Language.
Click Options on the right-hand side.
Click Personalize handwriting recognition at the bottom.
Click Teach the recognizer your handwriting style. Note: If you only have specific characters or words that you want to teach, select the top option and follow the prompts.
You now have the option to teach your Surface by inputting Sentences or just Numbers, symbols, and letters.
The former is clearly a more comprehensive way to go about it, but the latter is likely suitable for most people to start with.
There are fifty screens of sentences that you can go through to hone the handwriting recognition, but you don't have to go through them all at once. You can save your progress and update the recognition tables with what you have done.
There are only nine screens of the individual characters and symbols.
To start from scratch:
If you decide that you want to scrap everything you have taught your Surface and start training all over again, simply follow these steps:
Go to Control Panel > Language.
Click Options on the right-hand side.
Click Personalize handwriting recognition at the bottom.
Click Delete handwriting samples that you provided for the current language.
There is no limit to how many times you can add or remove handwriting samples. It all depends on how accurate the recognition is and how much time you want to devote to getting it right.
Once mastered though, it can be versatile and powerful tool.
What has been your experience with using the Surface Pen to write notes? Let us know in the comments.
Wow I was looking for this thanks. Gonna try it now. Or maybe later after I've had my coffee

Happy to help. I would start with just the single characters and see how it goes. If your SP3 still has trouble, then try using the full sentences method.

Wow man...your handwriting is pretty bad :D

Ha! Yeah, surprised The Surface can recognize it at all.

After coffee is a good idea. Just got to the hospital where my wife had surgery yesterday, and brought her coffee, so I'm back in the business of saving lives (was a paramedic for 10 years but left it 14 years ago).

Cool, never knew that was there, because recognition has usually been pretty good for me. I have noticed the recognizer tends to look at how you corrected its mistakes, but sometimes it takes a few too many times for it to favor a particular correction. I can see the explicit training offering a better experience once complete.

Gonna get my SP3 today and this was high up my list of things to do at the very beginning. Thanks for the article!

what an amazing device....I would never discover that!!!!! many thanks!!!

I want a surface so bad. Anyway, considering Samsung has exclusive wacom rights on the Note series I wonder whether MS can make a phone with a pen using N-Trig tech.

That'd be great. I'd like to be able to use my Pro Pen back and forth on my SP3 and a whimsical 1525 or 1530.

That's too much to ask of the Surface Pro 3. I can't even read my handwriting.

Will this work on pro 2 as well??

Yes, it is a standard Windows feature

Yes, it's in win 8.x and all tablets that have a digitizer for pen input. I have a ThinkPad Tablet 2.

Anyone find the small batteries in the SP3 pen die really quickly? I.e. The ones that power the purple click button at the end?

Dear WPCentral, Stuff mag had just crowned SP3 gadget of the year. That's a significant news. Stuff mag is UK-based, less known than WSJ, but those people in UK are decent people, unlike those in WSJ, or in most US media, are esscentially assholes. You choose not to report it, can I know the reason please?

so i guess this can be used to teach my dell venue pro 8... :) Wish my teachers would had this recognization options, I would have got good grades in my school. :P

You cannot imagine what teachers/lecturers/professors get these days! Sometimes I really wish my students to have proper character writing enabled! By the way, did you test it on the Venue Pro?

i got it just now from my bro.. ill test after i get my pen delivered and will update you

My battery ran out months ago. Can't find quad A anywhere

then you may need this http://www.instructables.com/id/How-To-Get-AAAA-BATTERIES-OUT-OF-9V/ make sure to read the comments, as not all 9v batteries would work for you....

Plz bring stylus to windows phone...

Is there a way to input new line using handwriting? Seems that's not possible:-(.

what do you exactly mean?

If you want to start a new line how would you enter that? You'd have to switch to the keyboard? For example try to input this (instead of line1. line2. on 1 line): Line1. Line2. On older windows versions I believe there was a symbol for newline drawing mirrored L.

you can't. On the ink pad wil only allow two lines of text at a time. That's why I would like to see full inline ink to text translation in all text boxes in windows. This it eliminates the boxed in feeling that the ink oaf gives and thus a poor end user experience. It should be more in line with what journal and OneNote offer. Even there, there is a step where we have to manually translate through a button or delegate window. The experience should be more like myscript mobile for windows. http://www.youtube.com/watch?v=_ro8RLACs7M

On my ThinkPad Tablet 2, the handwriting panel has extra keys on the right side. One of them is 'Enter.' After you write the first line, 'Insert' it, then hit 'Enter' for the next line. I believe this is standard for all windows tablets with digitizer.

This is great! Looking for more articles like this, this holiday season, as there'll be quite a few people buying new gadgets... (just got a pro 3 2 days ago)
A separate section for tips/fun exploratory features on pro 3 and phones in the front page would be great!

Just few days back i was thinking how to improve the hw recognition of my tablet. I am sure this works for all tablets, not just SP3

yes, the handwriting personalization is baked into the windows OS. It is available all the way back to windows 2005 (inking edition).

Hardly (exclusively) a "beginners tip." A very experienced user here, and did not even know of this! Very good article. Wish I had more time to tinker like I used to... would have found it a long time ago.

Don't feel bad. I have been in IT for years and didn't know about this until I bought my SP3.

Very good that you wrote this article. Many people don't know this part, but it has been availble since windows 2005. I think by now, handwriting samples should not be hidden in the configurations menu, but should be actively part of the ink pad, onenote, windows journal and onenote for the modern UI. I've used this function for many years to improve handwriting recognition for English and Dutch. It works well for 85-90% of the time. Still more improvement can be made on the ink-to-text recognition front. And inking on the inking should be integrated into every text field in windows 10 and higher in my opinion. Inking is boxed in too much. I think it's one of the reasons inking is not so popular. The function should be part of the user interface, in your face as it were, just like what Samsung did with their Galaxy Note Series. If micorosft can manage that. We will be a whole step closer to a more complete experience of windows and that much closer to the Microsoft Courier idea. There is so much love for Cortana and microsoft got a lot right. It's high time that inking, which has been here far longer thatn voice recognition, get more R&D love and implementation. I believe the pen is still here and that ink-to-text recognition could have the competitive edge and business edge over the other platforms, if microsoft wants to see it that way. I just want to see a more holistic stylus and ink-to-text experience across the OS, starting from windows 8.That's why I love the potential of the surface and windows 8 platform. It just needs a significant update on a user interface. Not a la windows 10, but a la modern UI.

I didn't know I could do this. I already started working on that. Gonna take me a while but I might be able to finish it all during my flight. 50 sentences to write but I already noticed an improvement in how long it takes for it to understand what I am writing. Can't wait to see how fast it becomes once I complete it all.

The handwriting recognition and other versatile computer features make the MICROSOFT Surface Pro 3 an excellent alternative to a conventional laptop!

Err, it's not just for SP3, it's for every PCs and tablets with touch screen.

Where do you use handwriting recognition?....any program or special ones? Is there a setting to turn it on or off?

You could use it for any area where you have to type in text. But contrary to Win7, with Windows 8 you don't have the floating window to "write" your text, it is depending on the keyboard icon sitting in the tray notification area, on the right hand side.

This control panel will work with any Windows 8 (maybe even Windows 7), as long as you have the Pen touch capabilities enabled. It works, of course, on Surface Pro 3, but also SP2, and SP1.

Great article with even greater timing Seth...many thanks! I'm going into the field next week to perform Distributor Assessment Profiles which we have designed in Excel 2013. I've been toying with the idea of using my SP3 to complete the Profile document rather than completing the printed version of the form which then need to be keyed into the Excel models. Your tip just convinced me to practice this through the weekend and early next week to capture data directly on my beloved, versatile, surprising, incredible, reliable SP3!!

This is a handy article, wonder how I missed this one lol.

is there a way to use the personalization of the recognizer by using the System.Windows.Ink or Microsoft.Ink Assembly, while confirming and improving recognized Nodes?

Great information. I use handwritng recognition regularly for taking notes during meetings. I also have a Pro2 which i use for personal work. I updated to windows 10 today and the handwiring appers to have taken a step back in funcionality. Do you have tips for using handwrithing with windows 10?

Surface 3 is great device, coupled with Windows10, Word and OneNote...awesome. I would however like to train hand writing recognition to support maths entry, even simple 'squared' and 'cubed'.... but this appears unsupported at this time....
Windows Central Newsletter
Thank you for signing up to Windows Central. You will receive a verification email shortly.
There was a problem. Please refresh the page and try again.