How to tell which Surface Laptop model is right for you
By Zac Bowden published
Not sure which Surface Laptop you should buy? We can help.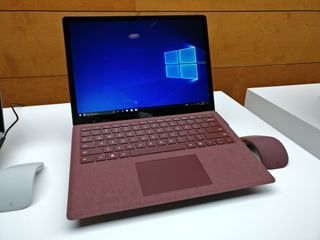 Microsoft's new Surface Laptop is available in several configurations that cater to a number of different user needs and capabilities. For example, the "entry level" Intel Core i5 model is great for people who do light editing in Photoshop, Office work, web browsing, email, and watching movies and TV. On the flipside, the i7 model is for those who use their devices to edit video and do intensive work on the go.
We know it may not be easy to choose the right Surface Laptop for you, likely because it's hard to determine which one fits you best. Should you pay more than you need to for a super expensive model if you're not going to take advantage of everything the higher-end model has to offer?
Read on and see where you fall with the Surface Laptop availability options.
Surface Laptop with Intel Core i5
The Intel Core i5 model is what most people should be comfortable with when purchasing a Surface Laptop. It's available in multiple different configurations, which should be able to cater to anybody looking for a Surface Laptop.
It's available with either 128GB or 256GB storage options, and 4GB or 8GB of RAM. The Surface Laptop is also available in several different colors, including burgundy, cobalt blue, platinum and graphite gold.
Microsoft purposefully aimed the Surface Laptop at a wider audience
Microsoft's Intel Core i5 model is a great choice for the majority of people looking to buy a Surface Laptop. It should be able to handle light-to-mid level performance tasks, plus a little multitasking with several programs, heavy work in Office, and even light work in Photoshop.
If you're going to get the Intel Core i5 model, we recommend you go for the model with 8GB RAM instead of the 4GB option. If you need an Intel Core i5, you're going to need 8GB of RAM, too, because 4GB simply won't cut it.
See Surface Laptop at Microsoft Store (opens in new tab)
Surface Laptop with Intel Core i7
The Intel Core i7 model is the top tier available for the Surface Laptop. It's the version that you go for if you know you're going to be pushing your device as much as possible. It's the most expensive model of the Surface Laptop. Most people interested in the Intel Core i7 model are looking to use it for work or production reasons.
It's available with either 256GB or 512GB of internal storage, and either 8GB or 16GB of RAM. It also comes with a slightly more powerful graphics chip, which will be beneficial for people planning to do graphics work in Photoshop or a 3D modelling program.
Microsoft's Intel Core i7 model is the ultimate choice for those who want to get real work done on their Surface Laptop. If you need a PC that can do 99 percent of the things you're going to throw at it, the Intel Core i7 model is for you. Photoshop, video editing, graphics work, none of it should be a problem for the Surface Laptop with an Intel Core i7.
See Surface Laptop at Microsoft Store (opens in new tab)
Surface Laptop i5 vs. Surface Laptop i7
If you're looking at the Intel Core i5 variant, you probably expect to get some proper work done here and there. If so, we recommend you go for the 8GB model for the extra memory when multitasking between apps. The Intel Core i5 model is great for light Photoshop and video editing, heavy Office work and even light gaming.
Finally, if you're interested in the Intel Core i7 model, you're probably planning to use your Surface Laptop like a true workstation. The Surface Laptop i7 should be able to handle pretty much anything you throw at it, outside of gaming. The i7 is great for people looking to do heavy Photoshop, high quality video editing, graphics work and more.
Windows Central's Surface Laptop hub
Zac Bowden is a Senior Editor at Windows Central. Bringing you exclusive coverage into the world of Windows 10 on PCs, tablets, phones, and more. Also an avid collector of rare Microsoft prototype devices! Keep in touch on Twitter: @zacbowden.
thanks for this comparison. it would be more useful for me if the burgundy model could be customized, but i appreciate all the info that is presented here. speaking of surface laptop, hows it going with finding a winner for the surface laptop contest?

Which the variant that use for giveaway windows central?

How to tell which Surface Laptop model is right for you: The most you can afford with MS Complete!

Thanks Zac for the article. Both this and the other Surface Pro one are REALLY helpful. One question I still have though is can the new i7 Surfaces - either Pro or Laptop - with Intel Iris 640 handle games from the store like Forza Apex or Forza Horizon 3? My current SP4 can't and when I go to the Microsoft Store here in Sydney they either only have i5s on display or they're not really sure about it :(

I want to know the same question too. I maid the mistake and buy gears of war for my i3 laptop but it couldn't open it. I really like the surface laptop but if it can't play games from the store that would be my deal breaker. Will then resort to the hp Spectre 360 15" has this is the only PC that looks as good as the surface laptop and has the ability to game. Really wanted a Microsoft branded PC. The book is good too but way too expensive plus i prefer a pure laptop. Please answer Zac 👦. Can the i7 surface laptop play games like forza, gears of war or killer instinct from the store?

Hello there, Completelly skip the Surface Laptop, the Intel HD and Iris Pro graphics only have a 128MB video paging file which is not enough for modern games. I would suggest this laptop. You should really wait for laptop makers to start using the GT 1030 in cheap 500$ laptops though...
www . amazon . com/Acer-15-6-inch-Bluetooth-802-11AC-Webcam-Windows/dp/B01N20CU1Z/ref=sr_1_4?s=electronics&ie=UTF8&qid=1497303399&sr=1-4&keywords=gt+940mx

Is the i5 fanless like the new Surface Pro?

This is great and nice laptop afterall, the things that turn me off is alcantara fabric on deck this laptop and unlike surface pro keyboards you cant change this fabric at the moment when it gets dirty and stained during long term use (So Tread carefully) Hmm... I Still Prefer Surface pro though
Windows Central Newsletter
Get the best of Windows Central in in your inbox, every day!
Thank you for signing up to Windows Central. You will receive a verification email shortly.
There was a problem. Please refresh the page and try again.