How to play Marvel's Spider-Man on PC
You have a couple of months to play Marvel's Spider-Man without a PlayStation 4.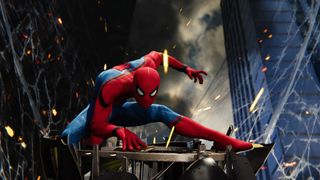 (Image credit: Windows Central)
Update: Marvel's Spider-Man is no longer available on PS Now.
No, Marvel's Spider-Man is not getting a PC port, at least not yet. While Sony has committed to bringing Horizon Zero Dawn over to PC later this year, guaranteed PC versions of PS5 exclusives aren't quite here yet. Still, you can technically play Marvel's Spider-Man on your PC for a short time.
The newest game, Marvel's Spider-Man: Miles Morales, released on Nov. 12, 2021 and stars Miles as a new hero on the block, with his own list of suits to collect.
Insomniac Games is also working on some additional superhero games, with Marvel's Spider-Man 2 and Marvel's Wolverine in development exclusively for the PS5.
Starting this month, Marvel's Spider-Man is being added to PlayStation Now (PS Now), Sony's game streaming subscription. This is part of Sony's initiative to add more premium games for a very limited time, making the service more attractive. Marvel's Spider-Man will be available on PS Now through July 7, 2020. If you're new to the service, you might not know that you can then use PS Now to stream the game to your PC. Here's how to do it.
How to play Marvel's Spider-Man on PC
Before diving in, it's worth noting that your PC needs to have some recommended specs. It's recommended you have at least a 3.5GHz Intel i3 CPU or a 3.8GHz AMD A10 CPU, at least 2GB RAM, which any modern computer will have, and an internet connection of 5Mbps or higher.
Go to the official PS Now for PC PlayStation page right here.
Download the PC app.
Plug in a DualShock 4 controller via USB.
If you don't have a PlayStation Network account, you'll need to make one here.
You can then subscribe to PS Now

(opens in new tab)

or use a one-time free trial.
Start enjoying PlayStation games like Marvel's Spider-Man on PC!
Your progress in any games you play will be secure with Cloud saves. You can even start playing a game on PC through PS Now and continue playing it on your PlayStation 4 later, if you have one. If you're interested in signing up specifically for Marvel's Spider-Man, don't hesitate, as it's only going to be available for three months. For the full list of games, you can check right here.
Update — Removed from the service
Marvel's Spider-Man is no longer available in PS Now, meaning it can't be streamed over your PC.
Stream your games
(opens in new tab)
PlayStation Now (12 Month Subscription)
Gaming where you want.

PlayStation Now allows users to stream 800 different games to their PlayStation 4 or PC, a good portion of which can be downloaded directly to your console. With an ever-growing library, it's a great option if you don't want to purchase a bunch of games.
Samuel Tolbert is a freelance writer covering gaming news, previews, reviews, interviews and different aspects of the gaming industry, specifically focusing on Xbox and PC gaming on Windows Central. You can find him on Twitter @SamuelTolbert.
But like, what's even the point, pretty sure it's locked at 30 FPS :)

Because it's one of the best games released in the last few years.

I have PS Now and my experience with it is hit or miss depending on the game I'm playing. For example, Killzone: Shadow Fall is unplayable because of framerate and lag issues simultaneously. While Horizon Zero Dawn runs flawlessly most of the time with little or no noticable lag. Even with the games that run well, I still have a problem with the resolution. Not only is it 720p, it is blurred to hell for some reason and I can't find a setting to change it. It hurts my eyes to play it on my 55" 4k TV. I know it's a blurring issue with PS Now because the 720p XBOX 360 games look just fine without blurring even when played on the actual 360. So I know it's not just the fact that I'm playing a 720p game on a 4k TV. If they can fix those issues, I think it would be an awesome service.
Windows Central Newsletter
Thank you for signing up to Windows Central. You will receive a verification email shortly.
There was a problem. Please refresh the page and try again.