How to remotely access your PC through your Windows 10 Mobile phone and Continuum
Here's an alternative way you can access your computer remotely while in Continuum for phones, as we wait for Microsoft to deliver its Remote Desktop universal app.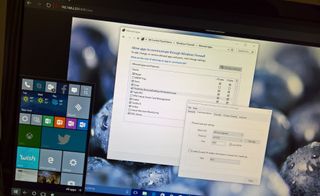 Continuum for Windows 10 Mobile is an amazing feature that allows to transform your phone into a PC-like experience. However, you're limited to use only universal apps. As such you can't use apps designed for the previous version of the operating system while using Continuum, and of course, you can't install Photoshop, Chrome, or other traditional desktop apps that you might need to get the work done either.
Logically for many users, a suitable workaround to this limitation would be using a remote desktop app to get access to their main computer and applications. Unfortunately, at this time, there isn't a universal app you can use with Continuum to remotely access a computer.
Currently, Microsoft has a Remote Desktop app, but it only works on the desktop of the operating system and Windows 10 Mobile, but it hasn't been updated for quite some time, as such you cannot use the app with Continuum.
Although, the company has recently announced that a universal version for Remote Desktop is in the works with a Technical Preview releasing very soon, you're still stuck accessing only universal apps using Continuum. Today, we'll be looking at an alternative solution you can use to access your PC remotely that it's compatible with Continuum for phones.
Seeing that there aren't universal remote desktop apps you can install on Windows 10 Mobile with support for Continuum, the only solution left is to find a solution that uses the web browser. Immediately, you would think that the popular TightVNC tool would do the trick, but this and similar solutions require the use of Java or another plugin, something you cannot use in the mobile version of Microsoft Edge.
Fortunately, there are remote desktop solutions, such as Thinfinity Remote Desktop, that use HTML5, instead of Java or another sort of plugins to remotely connect to your computer using your web browser, which makes it a perfect solution to access your computer remotely while using Continuum.
Keep in mind that while this is a paid software, Cybele offers a free license of the Thinfinity Remote Desktop tool for personal use.
Download Thinfinity Remote Desktop tool
Accessing your computer remotely through Continuum for phones
Once you downloaded the tool to the computer, proceed with the installation, which is pretty straightforward, simply double-click the executable, and go through your typical, next, next, next.
After the installation, launch Thinfinity Remote Desktop on your computer, go to the General tab and make sure Screen Sharing is enabled.


On Communications, you can leave all the default settings, but make note that you'll be using HTTPS and not HTTP and the default port number.


On Security, decide what type of authentication you want to use, and leave all the other settings as defaults.


After everything is configured, setup Continuum on your phone, and open Microsoft Edge on the big screen.
On the web browser type http:// follow by your computer's IP address and the port you assigned, and hit Enter. For example, https://192.168.2.200:8081.

When you get to the web page with a security certificate warning, click the "Continue to this webpage (not recommended)" link.


Then you'll get to the Thinfinity Remote Desktop portal. Now, here's the tricky part, you can't establish an RDP session, so you cannot use the "Remote desktop" option, but you can use screen sharing feature. Select the Screen sharing option, click Connect.


After you enter your login credentials, you will be controlling your computer, as you see in the screenshot below.


Extra
If you're having trouble connecting, it could be caused by your firewall, as such you need to make sure to let this application through by adding a new rule. In case, you're using the Windows Firewall, open Control Panel and go to Windows Firewall > Allowed apps, click Allow another app, search for the Thinfinity.RemoteDesktop.Workstation.exe, and allow it through the network.
If you want to access your computer outside your local network, using an internet connection, you also need to setup port forwarding on your router for the computer you're trying to access. (Refer to your router's manufacturer support website for more information.)
That's all folks!
Mauro Huculak is technical writer for WindowsCentral.com. His primary focus is to write comprehensive how-tos to help users get the most out of Windows 10 and its many related technologies. He has an IT background with professional certifications from Microsoft, Cisco, and CompTIA, and he's a recognized member of the Microsoft MVP community.
Why not just use Teamviewer for the time being..?

That's exactly what I was expecting from this article; it supports Continuum, doesn't it?

Yes it does. I use it all the time.

I don't understand how you are using Teamviewer with Continnum and a mouse and keyboard. The mouse cursor does not actually work as a cursor, but instead acts like you are using your touchscreen so that you have to drag the actual cursor around with the mouse cursor to click and select. That's really not a viable solution in a desktop environment. Am I missing something?

Maybe it's just my computer, but TeamViewer is crap on Windows 10. It messes with my desktop computer.

Well, I use teamviewer on all my devices, phone to PC. TV has worked for me on W10--probably because it's NOT a recent Microsoft product (which are all crud). I love TeamViewer, much better than Remote Desktop.

Yes! I don't know why all these other apps are so complicated... Remote Desktop App, etc. They ask you to enter in IP addresses and other such nonsense. Teamviewer is just super easy to use.

Came in here to say just this LOL

On my 950 using continuum teamviewer has a bug where I can't click while inside teamviewers app.

I also need open VPN, and I prefer to wait for the official remote desktop from Microsoft, hopefully with full keyboard support.

Does anyone have a good way to connect to several different computers from outside a network. Port Forwarding only goes to one computer and would like to connect to several different ones.... is it as simple as referencing a different port number and have each port forwarded to that computer?

You can change the port number listened for by RD on each computer with a registry change.

Did you try Thinfinity Remote Desktop Server? It gives you access to all the PC you have on the LAN thru your web browser, so you do not require any client.

Might be of the topic.. But is it possible to access my pc through remote desktop for phone.. While both devices are on different networks?

Yes, provided you configure your router to point the appropriate public ports to the computer you want to access. Then you also need to know your current IP or use a service like no-ip.org.

Wish there was a gotomypc client, unfortunately I have no other options where I work :(

Timeviewer works like a charm

nsane that we have to go third party for this. It's something I've been waiting on since wp7. phone as security, keyboard and trackpad, work done by the PC. I hear the new teamviewer works well, remote desktop is very good, but turns off the PC monitor. ​ ​

Has anyone here recommending Teamviewer actually used it with Continuum? As I mentioned in a previous comment: I don't understand how you are using Teamviewer with Continnum and a mouse and keyboard. The mouse cursor does not actually work as a cursor, but instead acts like you are using your touchscreen so that you have to drag the actual cursor around with the mouse cursor to click and select. That's really not a viable solution in a desktop environment. Am I missing something?

Any one else remember Windows Live Mesh Remote Desktop? Those were the days...

TightVNC on PC and TinyVNC on the phone. Full remote desktop. Assign static IP on the remote desktop and you are good to go.
Windows Central Newsletter
Thank you for signing up to Windows Central. You will receive a verification email shortly.
There was a problem. Please refresh the page and try again.