Windows 10 thumbnails all messed up? Here's how to fix it!
When thumbnails for files and folders aren't showing correctly, here's how to clear and rebuild the thumbnail cache on Windows 10.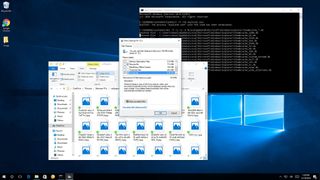 Windows 10 maintains a cache database with thumbnail images for every folder, document, video, and picture on your computer. This database is used to quickly display a preview of a file or to give you a glimpse of the content of a folder or file before you open it.
The problem with the "thumbnail cache" is that it grows over time as you create new folders and files, and sometimes the database will become corrupted. You'll notice this because File Explorer will display thumbnails incorrectly, some files may not show a thumbnail preview, or sometimes thumbnails may not be available at all.
Thankfully, Windows 10 includes a few ways to reset and rebuild the thumbnail.db hidden files containing the data to display file previews.
In this Windows 10 guide, we'll walk you through the process to recreate the thumbnail database using the Disk Cleanup tool and Command Prompt to solve this problem.
How to recreate the thumbnail cache using Disk Cleanup
The easiest way to rebuild the thumbnail cache on Windows 10 is using the Disk Cleanup tool.
Open File Explorer.
On the left pane, click This PC.
Right-click the C: drive where Windows 10 is installed, and select Properties.
Click the Disk Cleanup button.
Check the Thumbnails option, and uncheck all the other options.
Click OK.
Click Delete Files to confirm and to complete the task.
How to recreate the thumbnail cache using Command Prompt
In the case, the previous steps didn't work, or you prefer to use command lines, you can use Command Prompt to delete and clear the thumbnail cache on Windows 10.
Open Start.
Search for Command Prompt.
Right-click the result and select Run as administrator.
Type the following command to stop File Explorer and press Enter:taskkill /f /im explorer.exe
Type the following command to delete all the thumbnail database files without asking for confirmation and press Enter:del /f /s /q /a %LocalAppData%\Microsoft\Windows\Explorer\thumbcache_*.db
Type the following command to start File Explorer and press Enter:start explorer.exe
Close Command Prompt to complete the task.
Now you should be able to browse files and folders on your computer with thumbnail previews showing up correctly.
Bonus tip
In the case, thumbnails are still not showing at all on Windows 10, chances are that someone or something messed up with your folder settings.
Open File Explorer.
Click on the View tab.
Click Options to open Folder Options.
Click on the View tab.
Make sure to clear the check mark for the Always show icons, never thumbnails option.
Click Apply.
Click OK to complete the task.
If the option was causing the problem, you should now be able to see thumbnails again for files and folders on Windows 10.
More Windows 10 resources
For more help articles, coverage, and answers on Windows 10, you can visit the following resources:
Windows 10 help, tips, and tricks
Mauro Huculak is technical writer for WindowsCentral.com. His primary focus is to write comprehensive how-tos to help users get the most out of Windows 10 and its many related technologies. He has an IT background with professional certifications from Microsoft, Cisco, and CompTIA, and he's a recognized member of the Microsoft MVP community.
I have a problem on my laptop but related with OneDrive green sync icons. Both OneDrive and OneDrive for Business stopped displaying these icons in File Explorer after I activated OneDrive for Business. I already tried a Microsoft Fixit executable but it didn't work, any ideas? Now I can only see that files are syncing via the OneDrive icons in system tray area.

Speaking of shortcuts, are MS EVER going to fix the fact that when using the "Large Icons" setting, the text for the shortcut are left justified instead of center justified? It's been an issue since the Anniversary Update and every day it drives me ******* insane.

I have given up hope on MS fixing that. Maybe they don't care enough? They don't know what is wrong?

I had an issue where the icon for Microsoft Edge, which I had pinned to the taskbar, wasn't showing up. I used the command line method, and it worked! I did have to navigate to the proper directory myself to get the delete command to erase the cache files, but it worked after that just fine.

How to disable Live Folder but in the meantime keep the thumbnails of picture and video files. Anybody know? Thank you☺

Oh and Merry Christmas and Happy Holidays to all!🎄❄⛄🌟

1) Right-Click Start Menu and select "System" 2) Click "Advanced System Settings" 3) Under "Performance" click the "Settings" button 4) Uncheck "Show thumbnails instead of icons" and click "Apply" 5) Follow the Disk Cleanup procedure outlined at the beginning of this article 6) Check (re-select) the "Show thumbnails instead of icons" option in the Performance Options window and click "Apply" That should fix things.

I want to do the reverse: I have several folders with large movie and video files in them. Nearly every time I open one of the folders, my computer has to rebuild all of the thumbnails one-by-one. Back in the XP days, this was not an issue, as the thumbs got saved in a large hidden thumbnail file. I think is supposed to work similarly now, but in practice, it seems to rebuild this index way too often.
Windows Central Newsletter
Get the best of Windows Central in in your inbox, every day!
Thank you for signing up to Windows Central. You will receive a verification email shortly.
There was a problem. Please refresh the page and try again.