How to tell which files are eating up your Windows 10 PC storage
By Rich Edmonds published
Advanced Solid State Drives (SSDs) with high capacity remain out of reach for consumers on tight budgets, so filling up available space on PC hard drives remains a common fear for many folks.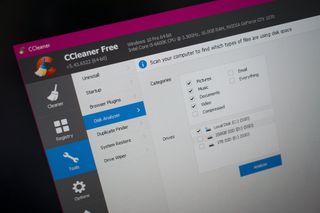 When looking at installed drives in Windows Explorer, it's difficult to judge just what is taking up occupied space. Luckily, there are a few handy tools that can help you clear out space. Here's a look at some of them.
In order to get your PC prepped and ready for analysis, it's a good idea to run your favorite cleaning tool to clear out the cache and other temporary or unrequired files that are taking up valuable space. Our chosen cleaning suite is CCleaner. Even if you're planning to use another analyzer, we recommend you use a tool like CCleaner to get rid of temporary files and other junk.
CCleaner
As noted already, CCleaner (opens in new tab) from Avast is our favorite when it comes to clearing crap from a PC, seeing what startup services are set to run, and analyzing what's taking up all the space on our drives. Not only is the free app great for keeping a PC (laptop, desktop or tablet) free from clutter, it also has other neat features, including:
Registry cleaner (not required in Windows 10).
Uninstall programs.
Alter startup services.
Browser plug-ins.
Duplicate finder.
Drive wiper.
System restore.
But that's not all. The software can also achieve help you achieve the goal of this guide with your hard drive. Go to Tools > Disk Analyzer to get started.
This feature enables you to scan all connected (and detected) hard drives for analysis. Filters can be used by selecting a specific category to see which video files are taking up the most space. All files on the drive are listed in order of size, with various options like multi-select deletion, and the ability to launch Windows Explorer and then go straight to that file.
CCleaner is not only brilliant because it's a free solution (a paid upgrade is available), but it also works wonders. It's not quite as advanced as other dedicated tools but as an overall "crap cleaner," the suite can be relied upon to keep every drive connected to your PC clean. It's also really fast and the intuitive interface makes all of the features easy to access.
An added bonus is CCleaner can be used as a portable app (opens in new tab).
Download CCleaner (opens in new tab)
WinDirStat
WinDirStat is another great tool that's available for free. Unlike CCleaner, the team behind this solution hasn't added more features than you require to get this simple job done. Simply fire up the app (which can also be used as a portable tool) and select which drives you wish to scan. WinDirStat will then take its time to carry out its analysis, so feel free to grab a hot beverage and relax.
What makes WinDirStat special is how the suite creates an interactive map of your drives. Clicking on a section of this map hones in on which file is being represented, allowing for easy filtering to see the files that are taking up the most space. Unfortunately, it can be rather confusing at first and isn't incredibly intuitive. In fact, we'd like to see the graphical representation of data better organized.
It's not available as a portable executable, but it can be unofficially downloaded in portable format from the PortableApps community.
SpaceSniffer
Should you wish to use another free disk analyzer, SpaceSniffer is a great alternative to CCleaner and WinDirStat. If you're having a hard time with WinDirStat's graphical mapping, SpaceSniffer's implementation can be easier to read, thanks to clear labeling and utilized hierarchy. Multiple drives are displayed using a window-per-mount location. This keeps it simple when managing more than one storage device.
While performing essentially identical to WinDirStat, a downside of using this tool is the lack of a traditional file tree and extension view. Lastly, SpaceSniffer is available as a portable version for easy plug-and-scan, but be sure to remember to run the app as administrator to allow access to various locations on your drives.
Other options
Here are some additional software solutions you can try if the above aren't quite what you're searching for:
Updated May 30, 2018: This guide has been updated to offer only the best disk analyzer tools for Windows 10.
Rich Edmonds is Senior Editor of PC hardware at Windows Central, covering everything related to PC components and NAS. He's been involved in technology for more than a decade and knows a thing or two about the magic inside a PC chassis. You can follow him over on Twitter at @RichEdmonds.
Wiztree is the program I use. There are many great ones that do the same thing though.

I use Treesize, it works great on file servers too.

CCleaner has been the best for me for many years now on windows.

I will check it out. I have a lot of stuff in the system volume folder from a cloned drive that I can't remove. Even after giving myself permissions and erasing all restore points.

I suppose if you use uwp, you wouldn't need to worry about this right? clean install / uninstall.

You still have to worry about free space on your drive.

Here's a little trick with CCleaner. You can use it to uninstall the stock Windows 10 apps! Under "Tools" choose "Uninstall" and go from there. ;-)

Well we all know this already

no we don't... cheers mate!

JDiskReport is a pretty solid software too, only it need Java to run. I use WinDirStat instead because of this but it used to be my favorite : http://www.jgoodies.com/freeware/jdiskreport/

For many years ago I wrote an application that could do things like this. And now I'm in the process to publish it to Windows Store :)

Please do we all want more apps on store

Please do. We all want more apps in the store.

Windows 10 Manager from Yamicsoft.

I use Directory Report
It looks just like the MS-Explorer but always shows the folder size (WinDirStat's treemap is confusing)
Faster than WinDirStat
http://www.file-utilities.com

But its not recommend to use something like c cleaner with an SSD right? Because too many writes, rewrites?

Cleaning up your SSD with CCleaner has nothing to do with writes, rewrites. Since an SSD stores files nice and tight together as 1 package compared to a hard drive. SSD uses trim to cut off the open space unless its needed to keep your device fast. Its about just cleaning up your SSD or Hard drive.

So, c cleaner is safe (apart from registry cleaner) to use on a SSD?

For Windows 10S users out there there is a good Microsoft appstore program called TreeSize Free, is good To sort folder sizes by % and see if you have too many photos you need To backup in external HDD

Can't see the benefit of using any of these programs as Windows 10 shows you app usage easily. Just go to Settings -> Apps & Features, wait a few seconds and browse how much space your apps are taking. Click on the Advanced Options for the app and then Reset it. This will delete the cache of the app, but keep all your settings and logins for the app. Drive space is free again. I found two apps hogging drive space. Tweetium was consuming 20GB!! Client for YouTube taking up 4GB.

A twitter app taking up 20GB. Nightmare.

Its not only about seeing what app uses how much what with those programs :/

TreeSize Free is in the store. And it's way faster than WINDIRSTAT.

Lots of UWP games download tons of stuff. RobloxUWP on my daughters pc is taking up 50gb sometimes. Resetting the app clears it out. UWP ftw!

These recommendations are all pretty bad. CCleaner lost my trust when their codebase was breached a few years ago, and none of the other apps have been updated recently.

There's a program in the Windows Store called SpaceKeteer.
I think it does the job

I'm partial to SpaceSniffer. Its very easy to use and fairly intuitive. All those NVidia updates kill the free space. GTA V is a space hog as well!!!

Check out Wise Care 365. Free and paid version work amazingly good. When having Micro stutters in heavy games for example after a while of use of your device. Wise Care 365 takes it away easily and makes everything as it should be.. Fast. Also optimizes your internet connection next to all the cleaning and deep cleaning it has. Worth checking out.

Ironic that when I went to try CCleaner to clean up unwanted space, it tries to install the bloated Chrome on install. UGH. It also defaults to be constantly running and "monitoring" something in the background. Another UGH. Maybe it should be renamed to BBloater? (Uninstalled.)
Windows Central Newsletter
Get the best of Windows Central in in your inbox, every day!
Thank you for signing up to Windows Central. You will receive a verification email shortly.
There was a problem. Please refresh the page and try again.