How to setup and start using WhatsApp for Windows 10 Mobile
How do I get started with WhatsApp on Windows Phone?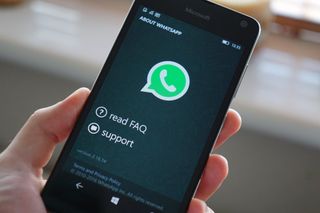 Do you travel for work? Do you have friends on the other side of the world? Do you hate paying extra for texts when you're roaming? WhatsApp is the way to go! You can send texts, photos, audio, video, contacts, and locations. Let's not get ahead of ourselves, though. Setting up your WhatsApp account is priority numero uno.
How to download WhatsApp on Windows 10 mobile
Before all the messaging fun can begin, you of course have to download WhatsApp from the Microsoft Store.
Launch the Store from your home screen or from All apps. It's blue and looks like a shopping bag.
Tap the search button on the top right of the screen. It's the magnifying glass.
Type WhatsApp in the field.
Tap WhatsApp in the search results.
Tap Install.
Once downloaded, tap open.
There we are. Much like He-Man, you now HAVE THE POWER… to send messages and media anywhere in the world over an internet connection for free. Note that any time you use WhatsApp without a Wi-Fi connection, you could be racking up data charges.
Now that you've got WhatsApp, you probably want to start using it. Right? No? You just want to admire the icon? Of course not! Let's get you set up.
How to pin WhatsApp to the Start screen on Windows 10 Mobile
To make life easier, you'll want to pin WhatsApp to your home screen. This way you don't have to constantly search through all your apps. Here's how:
Scroll down the Home screen to the bottom.
Tap All apps in the bottom right corner.
Type WhatsApp in the search bar at the top of the screen.
Tap and hold WhatsApp in the search results.
Tap Pin to start at the top of the menu that appears.
Now that WhatsApp's on your Start screen, you won't have to dig through all of your apps every time you just want to send a quick message!
How to create your WhatsApp account on Windows 10 Mobile
With WhatsApp now on your Start screen, you're ready to get it set up. Here's how to set up WhatsApp your account!
Launch WhatsApp from the start screen.
Tap agree and continue at the bottom of the screen.
Tap the field under "Your country" and select your country.
Enter your phone number in the field beneath "Your country code and phone number."
Tap the next button at the bottom of the screen. It's the arrow in the circle. You'll advance to the free service confirmation screen (WhatsApp used to run $1/year, but they have since nixed that charge)
Tap the next button at the bottom of the screen.
Tap ok. WhatsApp has automatically added all of the contacts from your phone who already use WhatsApp.
You're ready to start using WhatsApp! Now that you have a WhatsApp account, you can add contacts and send messages and media around the globe, so long as you're connected to the internet! Don't forget that you may incur data charges without a Wi-Fi connection.
Windows Central Newsletter
Get the best of Windows Central in in your inbox, every day!
Mike is a staff writer at Mobile Nations and fancies himself a musician and comedian. Keep dreaming, Mike.
They always do this. Just for establish a tutorial and be found on google.... Because whatsapp is popular

This is the most likely reason! Still wack AF tho

Simple! Articles... And that's what they do.

Wasn't expecting this.. Maybe too many people asked for this :P

I thought that WhatsApp has made a UWP. :(

Thought there was a new windows 10 mobile app when I saw this.

I was thinking the same too...

We sure are running out of windows 10 mobile apps to write about.

Tomorrow will about Viber setup.
Then hike, Line etc.

What? Is it in this supposed to be the New WhatsApp app? Am I missing something?

Nothing to write about these days, I guess. Posted via the Windows Central App for Android

All this article had to say was download the app and follow the instructions on the screen. This is worse than Jason's 10 part articles.

Eagerly waiting to know how to setup & start using Skype, Viber, Line, WeChat & IMO.IM..!!!!

good start for those migrating to windows mobile , but i guess it too late already. More walkthroughs are welcomed ;)

Better write tutorial how to setup wifi rental.. Plz..

We will have at least 300000*2 entertainment articles if you keep writing articles like this. Keep it up :D Posted via the Windows Central App for Android

So,,,,nothing to write about and fill in with this bizzare article?

could you follow up with a 2 hour video too

Wow, wait wait... First, how I turn on my phone?

I was wondering the same. Everytime I try to install Whatsapp without turning on the phone, the install fails.

How to delete cache, my WhatsApp is taking almost around 670 MB in my phone

Check you photos/video folder. WhatsApp automatically saves any image you view on your phone...

You guys should've added a section on how to pin individual contacts to Start; that one's unique to Windows phone, right?

Plus that we can give each chat it's own background, can't do that on IOS or Android. And on IOS if you want Whatsapp to store the pictures, they are mixed inseparably with your camera pictures.

I think they wrote this a few years ago and it got back in by mistake. If someone thinks this is worthy article in 2016 then none of us will be taking Windows Central serious from now on. No news is better than old news

Do viber and telegram next. Don't forget Group me too.

Good article, but i have one question/problem :/ How do i Access store from a broken phone? My 950XL came without keyboard (or keypad) and MS refuses to fiz it, but now its a useless phone, as i cant nake a damn thing with it! Can i Plug in a New keyboard? Ir só, can you recomend me one that works with the New usb port?
Hope you can make an article for this!
You're awesome guys!

If they had to write a filler article, they could have at least reviewed my app Strawberry Weather! :p https://www.microsoft.com/store/apps/9nblggh4nq3t

Now they told me how to call to otger

Seriously, this post is pointless, anyone who does not know how to install and use WhatsApp on any mobile device does not deserve to have a phone.

But werent apps dead? I thought we were getting bots. /s

Posted long way back via internet explorer i think!

I just can laugh... Laugh a lot. This is bizarre!

This comment section thou... I'm dying here rofl

Article left me hanging. Detailed instructions on how to find WhatsApp in the Store, how to install it, how to start it from the Store, how to pin it to my Start screen, and how to setup my WhatsApp account. But no info on the assorted features available in WhatsApp? Coming in part 2?

Srsly unexpected useless article.More Surprising is that W10 completed 1yr even the 1st major update is released but no sign of UWP WhatsApp.We just received minor UI changes FB & Messenger app which i think r from same Company received major changes not satisfying but at least did

Lol. I should report spam.

I simply thought this is about the Beta.

Next what? How to make calls in Windows Phone or Windows 10 Mobile? Or How to lock and unlock the phone? Or How to use touch screen?

Also please tell, how to add emoji and how to send messages.. LoL :P

Must be WindowsCentral team thinks its readers are challenged in their heads. We're not. We can set up WhatsApp by ourselves. I don't think newcomers are either.

it is likely that Windows Central team makes an important percentage of their revenue from these paid-for type articles, just look at all the coverage that EnPass is getting lately. Whilst the journalists don't admit it, these articles are almost certainly sponsored by someone with an interest in the publicity (unless the vendor). It is also a way to generate revenue from advertising. By writing these almost "click bait" type articles they can increase the advertising views and therefore their income from it.

It's because of all the visitors who switched to using Opera (with built-in ad blocking) to make site performance more acceptable.

People who don't know how to create an account like this on a smartphone shouldn't own one!

When you wake up you have to open your eyes to complete the procedure.

thanks didn't know you can add new apps to phone

Does beta version back up on OneDrive?

Whatsapp has ruined UI experience. I don't know why it's difficult for Whatsapp to understand that the selection button at bottom is as useless as the sand in the sand desert. If they want remove the send button from there, fine, remove the bar completely instead wasting space estate with a damned selection button.

wake up wake up wake up its a brand new day!!!

What a stupid deceiving article. I was on fire thinking there was a new app.:(((

Wowzers... I'm impressed with the amount of work gone into all the links at the bottom, if this does come up in bing searches they are bound to be useful for a certain demographic - My Mother for one !!!

The article is inaccurate, I tried to setup my account exactly as you did, but when I introduce the phone number ((204) 555-5555), it doesn't work... LOL!!

silly post I think...who wants to learn it..its not about a new UI.

WhatsApp team is so lazy with windows app...what are they doing really...why a new UI take such a long time to change???

I also thought WhatsApp has made UWP :-|

was this sponsored by whatsapp ? huh

Guyzz hows Pokémon go and prisma app working on WP 10..??
I asked because both of these two apps aren't available on 8.1
Windows Central Newsletter
Thank you for signing up to Windows Central. You will receive a verification email shortly.
There was a problem. Please refresh the page and try again.