How to share your PC game clips with the Xbox app on Windows 10
By Matt Brown last updated
Share your PC gaming highlights to Xbox Live through the Xbox app for Windows 10.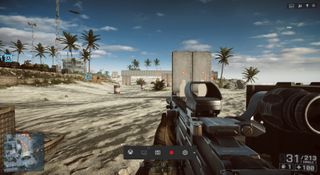 PC gamers can now share video highlights of their gaming exploits to Xbox Live with the beta version of the Xbox app! The Xbox app now supports a wide range of PC games, including those purchased from third-party sources.
As of right now, a limited number of games are supported by the new Xbox app. It seems that Microsoft has targeted the most popular PC titles initially, with more to come as the update rolls out to a wider user base.
How to record PC game clips with the Xbox app for Windows 10
Before uploading footage to Xbox Live, a clip must be created using Windows 10's Game Bar.
Launch a game of your choice.
Press the Windows Key + G simultaneously to open the Windows 10 Game Bar.
Use the on-screen controls to start recording a clip.For more information on using the Game Bar to record clips, make sure to check out our previous guide.
How to upload PC game clips to Xbox Live:
Navigate to Game DVR using the app's sidebar. By default, your most recently recorded clips will be displayed at the top of the list.
Select a clip from the list. A preview for the clip will appear on the right-hand side, alongside the options to trim and rename the clip before it's uploaded.
When the clip is ready to be uploaded, click the Upload button below the preview.
A menu will open asking for the name of the game featured in the clip. If the game is supported, it will appear under PC Games (pictured above) when entered into the search bar. If the game appears, click the game to select it.
A final confirmation step will appear, to ensure the upload matches the title you've selected. Microsoft claims that game clips will be reviewed before appearing on Xbox Live, so a small delay can be expected during the review process.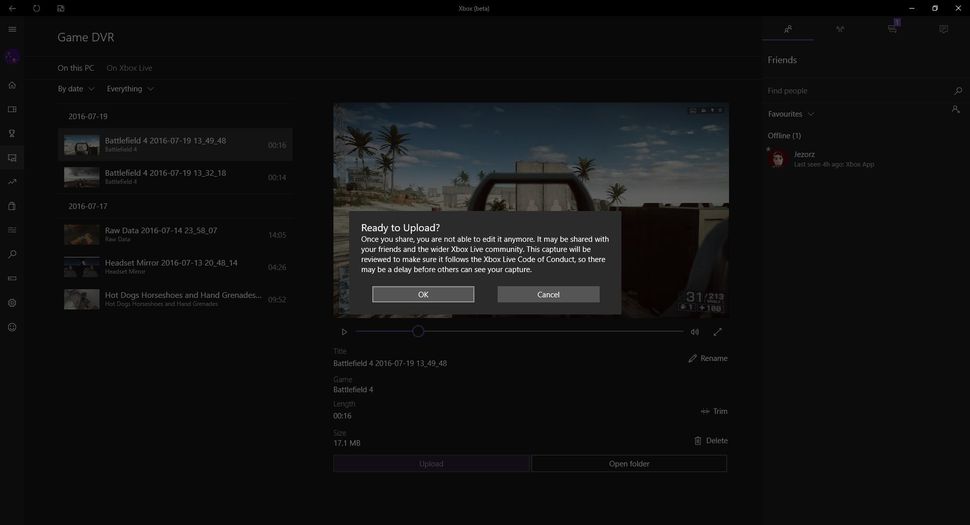 Your clip will now begin to upload and can be tracked using the progress bar below the clip preview. While we're still discovering games that support the feature, we've successfully uploaded clips for Battlefield 4 and Overwatch.
If you want to give the new Game DVR a try, download the Xbox (beta) app from the Windows Store at the link below.
Download Xbox (beta) from the Windows Store (opens in new tab)
Matt Brown is a senior editor at Future for Windows Central. Following six years of professional consumer technology and gaming coverage, he's focused on the world of Xbox and Windows PCs. You can follow him on Twitter @mattjbrown.
I tried to upload one of my AOE3 games and it didnt work. Not suported :(

It seems that the huge titles are only supported for now - hopefully we'll see an expansion once the feature leaves beta

Just a quick tip, sell every FPS game you have and play them on PC...

The best FPS isn't on PC.

It sure as F-U-C-K ain't on the Xbox One, either.

So you're a Killzone fan, then.

Some of us hate playing on PC. I don't get on well with keyboard and mouse, I feel it strains my fingers too much. I'm comfortable with a controller.

thats why you can use your xbox controller on PC I practically game on PC, all though i'm thingking of getting myself a console before the end of the year, the rates are just terrible

I don't think using a controller was what he was getting at. Sure it looks prettier on PC, but if I'm using my controller I'm just going to buy it on Xbox.

Exactly, you're more comfortable with a controller. A mouse is better then a joystick for fps. Just have to get use to using keyboard.

Every time I hit Windows + G 95% of the games the screen flashes but never opens the game bar Posted via the Windows Central App for Android

Some games have trouble when being played in full screen actually - give windowed/borderless windowed a go, and it should have a higher chance of working

This is good news. I tried Killing Floor 2 a few months back and now I will try again.

It used to be it had to be a game installed through the Windows Store, and I think any PC gamer can say just how well that Store has gone over with game developers that aren't owned by Microsoft. ;D Anyway, that tidbit made virtually all of the social aspects of the Xbox app's DVR features largely worthless, and with the large number of long standing software out there that PC gamers already use for recording/screenshotting.... Anyway, until they actually relax their incredibly restrictive policies with the Xbox app on the PC, I just keep loling whenever Phil Spencer keeps shouting to the hills that he cares about PC gaming. I suspect it'll take some digging to find much sentiment in the PC gaming community that doesn't laugh a bit whenever he keeps saying that.

Now everybody can search "DVR HUB FOR XBOX" from both android and windows store to download free APP which can share your xbox screenshot and game clip to FB/Instagram/twitter by cell phone directly. It is usefully
Windows Central Newsletter
Get the best of Windows Central in in your inbox, every day!
Thank you for signing up to Windows Central. You will receive a verification email shortly.
There was a problem. Please refresh the page and try again.