How to use Game DVR in the Windows 10 Xbox Game Bar app to record games and apps
The new Windows 10 Xbox Game Bar is a great and easy tool built into Windows 10 for recording gameplay and making screenshots. Here's a quick primer on how to get it working.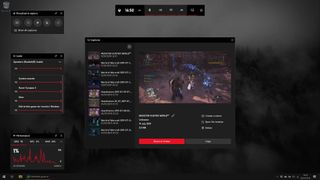 The Windows 10 Xbox Game Bar has been massively updated, adding tons of new features and modularity. For a full rundown of its features, head over here.
In this guide, we're going to take a look at game screenshotting and recording specifically, so you can quickly and easily capture and share your greatest gaming moments.
Xbox Game Bar set-up
First, ensure your Windows 10 Xbox Game Bar is fully up to date by visiting the app page here (opens in new tab). It's available on all Windows 10 PCs on the October 2018 update and above.
The quickest and easiest way to access the Xbox Game Bar is to press Windows Key + G on your keyboard.
On the first load, you will get this screen. You may be asked to sign in with your Microsoft Account.
Once you close the welcome screen, head up to the cogwheel icon at the top to alter the settings.
Select capture to enable the game DVR. This will store the previous 30 seconds of gameplay for instant clip recording.Note: Background recording does use some limited system resources. If you're on a lower-end system, you may want to turn this off.
Next go to shortcuts, here you can configure additional keybindings for faster recording, or view the defaults.
Finally, if you move your cursor to the top of the gamebar and select the lines menu next to the clock, you can add additional widgets, such as the capture browser by clicking the star icon.
Play around and see what widgets you fancy keeping on the bar too. You can add Spotify, Xbox friends, messages, and more using that drop-down menu. Once you're happy with your settings, you're ready to record.
Xbox Game Bar more settings
Not all game capture settings are available for the Game Bar. Here's how to access a few more features.
In the Start Menu, click the cogwheel in the bottom left to open the Settings menu.
Click on the Gaming category in the Settings menu.
Click on Captures sub-menu on the left.
Here, you can configure the length of background recording DVR available, the maximum amount of time used for manual recording sessions, whether or not you'll capture audio while recording, whether or not you'll capture microphone audio while capturing, the audio mix between system audio and game audio, the video recording quality, and frame rate, and whether or not your cursor is captured also.
Xbox Game Bar How to record and screenshot
By default, the capture widget is enabled in the top left corner of the screen, as shown here after pressing Windows Key + G. If you mouse over each button, it informs you what each control does. As of July 20, 2019, we have the following options from left to right. You can either click them or use the configured keybind to fire them off.
Screenshotting (Windows Key + Alt + Print Screen)
30 second clip recording (Windows Key + Alt + G)
Start recording session (Windows Key + Alt + R)
Toggle microphone access (Windows Key + Alt + M)
Mixer.com live broadcasting (Windows Key + Alt + B)
Show all captures which opens a panel with all the content you've recorded.
Captures are stored in the C:\Users\
[[ your user name ]] \Videos\Captures folder directory. You can quickly access this via the Show all captures menu option in the game DVR control widget.
It's also worth noting that you can use the Game Bar to record any Windows 10 program, but it will only turn itself on for games by default. Simply hit the record button if you want to capture an app like Microsoft Paint or so on.
That's a wrap!
The Xbox Game Bar is still a work in progress with a few features, such as the Xbox Social widget, currently running as part of a beta test. There are a few missing features too, such as Xbox Club support, but the team at Microsoft has been diligent with updates and bug fixes.
More Windows 10 game feature guides
Additional resources
For more helpful articles, coverage, and answers to common questions about Windows 10, visit the following resources:
Windows 10 help, tips, and tricks
Jez Corden is the Managing Editor for Windows Central, focusing primarily on all things Xbox and gaming. Jez is known for breaking exclusive news and analysis as relates to the Microsoft ecosystem while being powered by caffeine. Follow on Twitter @JezCorden and listen to his Xbox Two podcast, all about, you guessed it, Xbox!
This do work for Desktop games? I tried Windows+G while running FarCry 3, but nothing happened.

It works in any program far as I know.

The bar doesn't display in some full screen games, you need to use the keyboard short cuts in this instance or run the game in window mode. (:

Need to run it in a borderless window, I hope they resolve this at some point by overriding something at the OS level to allow the game bar to show over full screen games.
Borderless window can reduce performance in some games and can cause a problem with triple monitor gaming sometimes

The Game DVR can only record the video game in Xbox app. I think you can try some other professional recording programs that can capture anything happening on the scree. This post may be helpful to you. It offers some workable solutions for Game DVR not working cases.

Yup, the Windows+G does not support all the games, sometimes it won't start capturing or record game in balck screen, this is because some games prevent from capturing. To solve it, you may try other Windows 10 screen recorders.

You first have to enable it. Make sure it's enabled in the settings

I guess that leaves put baytrail tablets. :(

not all hardware are supported. Certain display graphics hardware is required. For example, i have a HP EliteBook 8440 and the only thing that works for me is screenshot. Video option doesn't. On my other more recent laptop (Acer Aspire ), no issues there. Just a warning for others.

Yeah, no go on my desktop pc with Radeon 5000 series but flawless on DV8P

Doesn't work with Candy Crush, pops up saying this game doesn't allow recording. So it may seem devs have a say or maybe because it's a port

I assume it's disabled on anything that prevents screenshots. I already know Netflix doesn't allow screenshots of its app, and Netflix therefore doesn't work with Miracast. So it's probably the same deal here: Anything that prevents screenshots also prevents GAME DVR. It's an API that's been available since Windows 8.1, maybe earlier.

Works great. Adding games to Xbox app is troublesome. If you installed the game after you updated I find you can add it. If not like most of my steam games it doesn't see them I don't redownload my games after an upgrade.

Recorded playing Plague inc on my Asus T100 (my touch screen is broken). Wanted to see if it worked and it did.

My PC does meet the requirements I mean its on the line eg I have NVIDIA GeForce 610 4gb ram and core i5 but I don't have the recording feature only screenshot!

For laptops it requires GeForce 800M+

What about system impact? How much lowers the performance?
If it isn't different from any other capture program like Dxtory, OBS, Bandicam, it's only useless junk for its additional limitations.

Anyone tried Max Payne 3 or Batlefield 3. Its not working on desktop games. But its working for simcity but its recording the launcher not the game.

Is freature is really great. Having build in screen capture that captures the last couple of seceonds/minutes is just fantastic. Great when you do an awesome move in any game and you just wish it was recorded. Now it is.

I think that's the best part. The recordings are only saved if you want them to be: Otherwise they're automatically deleted. And it goes backwards, so you can save /after/ you pulled off that kickass move, instead of having to worry about it before. Very nifty.

I've used it a lot with my current MMO. It works very well (I've always used Fraps) the only criticism I have is you can't change the output folder. I have a large HDD I would prefer to send my recordings to. As it is now I have to move them from my SSD OS drive to the other manually.

You could try replacing the folder it saves in with a symlink, I don't see why it wouldn't work.

It works great to capture other apps... I wonder what settings I'd need to make to be able to record my voice from a MIC while recording the app? Hmm... if I can figure this out I'll not need to buy Camtasia.

You could theoretically, after the fact, edit the output video and add your mic audio using any decent video editing software. I'm not saying this is the most ideal way to do things, but it would work.

I know but it's a lot easier if I'm talking as I'm showing someone how to do something.

Windows+M while recording ;) It toggles it on or off. You have to have audio recording on for it to work by the way.

So .. how to access the Game DVR bar from a tablet without a keyboard?

You'll need an Xbox One controller.

XBox 360 controller works to.

I think the lastest Xbox App update enabled Game DVR for more graphic cards. My laptop Mobility Radeon 4570 didn't support it earlier but now it does. And its kinda cool :)

Rather just use ShadowPlay thanx.

Shadow play is better as in it has higher quality. Problem I've had is that the Nvidia experience app hasn't always been on our it's on and cuz of updates needed for Nvidia experience, the app doesn't really run and shadow play isn't turned on. I expect that app to just work and it is often off. Also, doesn't support some games. I haven't had a problem with the game bar.

On both my office PC and my home PC it starts recording for 10 seconds and then says there is nothing to record. Anyone else having this problem? It is doing it with games and other applications I have tried to record.

I have the exact same problem. The game I'm trying to record is Blizzard's Hearthstone. It recognizes it as a game but when I turn the recorder on it stops after 10 seconds and says "There's nothing to record. Play some more and try again." I think it only works for games that are full-screen mode because it works for Heroes of the Storm (which I don't really need to record because that game has built-in replays). Anything windowed or "full-screen windowed" will not work as it thinks it's recording the desktop.

I recorded a Age of Empires 3 game and I could not share it. It saying game not recognized. Bummer :'(

Works great, just doesn't work for some full screen games. You have to change it to windowed in order to pull up the game bar or keyboard shortcuts. But other than that, it's awesome.

Great to know my aw is running ivybridge and a dual 7970 setup

Let's please wait for Microsoft and/or Nvidia to fix the breaking issues with the GeForce display drivers for Windows 10, before posting any more articles about PC gaming on Windows 10.

Kinda useless for real PC games. Was interested if they could be shared to XBox but even Battlefield4 cant be shared. Will stick with shadowplay

Does anyone know how to REMOVE GameDVR support from an APP once you have set it as "This is a game"? The problem is, everytime you open that App again the GameDVR service will start up. I have definitely noticed it has an impact on system performance. Heck since installing Windows 10 my laptops fan never turns off anymore. I suspect a lot of background services like this are to blame.

You might have the buffer enabled, if you turn off background recording the "Broadcast DVR Server" process should be silent.

Sweet. Looks like Baytrail Atom SoCs are supported. Just recorded and uploaded a capture of Dungeon Hunter 5 on my HP Omni 10. :)

I have to say I do like this feature :)

Been using this feature on xbox one alot. Seems some issues with the pc game dvr, but im sure it will get ironed out. I'll be buying all my pc games from xbox app now. Steam will slowly get outed from my system.

Need TV streaming DVR next pretty please.

I need some help, btw this is awesome feature I love it, the only problem is I cant record my own voice XD it only gets game audio not mic audio please help???

Im having the same problem plz help

Yeah, im having the same problem. Windows Central please help us..

when i record i dont get any game audio when i go to watch the clips. anyreason my? my specs are way above the requirements. could it might be because i use my sound blaster zx for audio and it cant record through that?

I have the same issue. If I open the output video in MKVMerge GUI, there is no audio track in the file at all. I can't figure out why that is. Audio is set to record at max quality.

lol i have the opposite problem. the thing wont record my voice when i record but it'll record other people's, my music, and my games.

How do you set it to record using a headset?

This wont work at all unless I'm using a windows store app with an xbox controller. The keyboard shortcuts won't work or anything...

Please help, every time I record with this device, it never seems to record my voice when I watch it afterwards. It records literally everything else on my pc (even other people's voices) but not mine. My headset has a mic on it and it works so I don't know what else it could be. Please help meeee.

I tried Game DVR and had the same problem with you. My friend recommends a freeware name acethinker screen recorder to me, it supports recording system and microphone or both, you might check it out. It is a web-based tool that lets you record your screen right from your browser. It doesn't require you to install any additional plug-ins or add-ons.

I downloaded a video card but the screen recorder still don't work! it's written: your pc CAN'T record because it's not adapted​ please help me my youtube chanel is really important to me
Windows Central Newsletter
Thank you for signing up to Windows Central. You will receive a verification email shortly.
There was a problem. Please refresh the page and try again.