How to: Standalone HTC eReader + 300 free books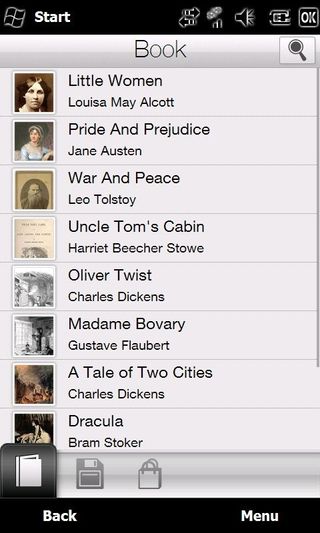 For those of you who like reading them there book things on yer phones, but don't like installing the latest Manila/Sense from HTC, you can now just install the standalone reader.
Thanks to Mr.X, with a simple .cab file you can be up and reading various books on your WVGA device with a standalone version of HTC's eReader. (Scan the MS Tag below for direct download).
Going further, Patcat007 over at XDA has compiled 300 free books from ePub. Just download the five .zip archives with all the books, extract to your device and use the free indexer to sort and browse your files.
Not too shabby folks, not bad at all!
George is the Reviews Editor at Windows Central, concentrating on Windows 10 PC and Mobile apps. He's been a supporter of the platform since the days of Windows CE and uses his current Windows 10 Mobile phone daily to keep up with life and enjoy a game during down time.
A Microsoft Tag pointing to a RAR file? I don't get it.

I was able to scan the tag and it took me right to the download! Isn't MS Genius!

Guys, what am I doing wrong. I download this .rar file and then Windows tells me there is no associated application to open it! I have a Verizon HTC Touch Pro 2 running 6.5 Can someone help me?

.rar files are like .zip files; you need something to open them on your phone like Resco Explorer or WinRar for windows mobile.

Well, I installed PocketRAR so I got HTC reader installed. Thanks! But the books that are listed won't open! Oh well, guess I'll get to work figuring that out.

OK. Installed just fine on my device (stock Verizon 6.5/2.1)... Program starts/runs without errors and brings me to the screen pictured in the screenshot. But when I click on a book to open, nothing happens. Help me, I'm stupid.

Apparently both of us are stupid and I have a degree in Physics and an MBA!

I too wasted a lot of time trying to get this to run under Sense 2.1 and finally gave up. My guess is you need to have Sense 2.5 on your device. Anyone get it to run on a stock Sense 2.1 rom?

Somthing... I got the reader installed on my device, no problem. Transferred all the books/cover art to my storage card. Added the other books and updated the library with the index .cab. Every book and cover showing up perfectly in the HTC reader... but click to open a book, and nothing happens. No error. No crash. Just nothing. Lame. I guess I'll be sticking with Freda after all. Doesn't have that HTC Manila feel to it... but it's free and most importantly, IT WORKS.

Worth pointing out that this only works with WM 6.5 not 6.1 (according to http://forum.xda-developers.com/showthread.php?t=642463&page=5). Shame :-( Oh well, at least I found some freeware for decompressing RAR files on a PC 'Free RAR Extract Frog'.

Rats. Every website is saying this works on ALL HTC WM phones. Guess they didn't check it out very well. Just because it installs doesn't mean it works.

I've got exactly the same problem: books won't open. Already dropped this at XDA but nobody reacts. I have WM 6.5, but I don't use Sense. Could that be it? It's supposed to be a stand alone app. And Freda is OK, but won't read DRM files.

For what it's worth: read on a Dutch site that this only works on ROM 2.xx.

Did anyone get this to work on a TD2 running the stock 6.5 ROM? I installed twice, first time onto the storage card (didnt work), second time into main memory and it still fails saying "'HTCBookList' is not a valid Pocket PC application." when I click on the program icon. Am I missing something?

Have you tried soft resetting after install? The program didn't open after I first installed. I had to soft reset first. Also, is anyone having trouble w/ the indexer? When I run it, I get the message, "Can't delete table. Program exit." I noticed that the ereader already installs a Reader folder onto the device and has a few book preinstalled. But, I can't find any option to change the library to point to my storage card instead.. nor can I get it to even find books I put in the existing folder the ereader preinstalled.

No, I don't believe I did do a soft reset afterwards. I will give it a shot and report back. As far as the indexer directory, I automaticlly searches for My Documents\Reader\Books or Stoage Card\My Documents\Reader\Books. Try putting the books in one of those (created if necessary) locations and see if that doesn't help.

Nope. Soft reset made no difference with the version provided in this write-up. However the version linked in the comment below worked fine. Thanks.

Had the same problem with it not opening books on VZW TP2, this version actually works for me; http://forum.ppcgeeks.com/showthread.php?t=113422

This version worked fine for me on Verizon's WinMo 6.5 with Sense 2.1. After intalling and playing with it for a while, I pretty much decided to uninstall for the following reasons: -It pretty basic. Doesn't appear to allow for any adjustments with regards to the display, font, background, line and margin spacing, etc. (basics for mose e-readers). -It's a huge storage memory hog. It will not allow you to install the program to a storage card, even if selected during the install process. I was able to move the included books to a storage card, delete from main memory and re-index. What remained of the program however sucked up a full 4% of mt TP2's 252.4MB of Storage memory (again, AFTER moving books to the SD card and deleting from main memory). So for some reason, this simplistic reader sucks up close to 10MB of space, NOT INCLUDING BOOKS!?! Unacceptable IMO. Now, if someone has found a way to trim it down to a reasonable sioze, I might be interested. But 10MB just to match the Sense skin just won't do.

I prefer to read a good book in my bed. So that i can do whit your tool. Thanks anyway

i installed the application and it works fine..
my question:
how do i add books to the application (did not get the indexer part)
so if i have a medical book for example.. which folder i should put in to open from the Ereader?
thx every1

I am buying a htc desire in th enext week or so and was wondering if it is possible to sensibly read a book on a smart phone ? I am also considering buying a sony ereader book (PRS 600) as i thought the size maybe more practical for reading ......regards phil

I had the same problem, where I could see the list of books, but when I tapped on them, nothing happened. It worked after I reinstalled it into the main directory and NOT in the storage card.
Windows Central Newsletter
Thank you for signing up to Windows Central. You will receive a verification email shortly.
There was a problem. Please refresh the page and try again.